An impressive defensive performance propelled Superfly to the victory.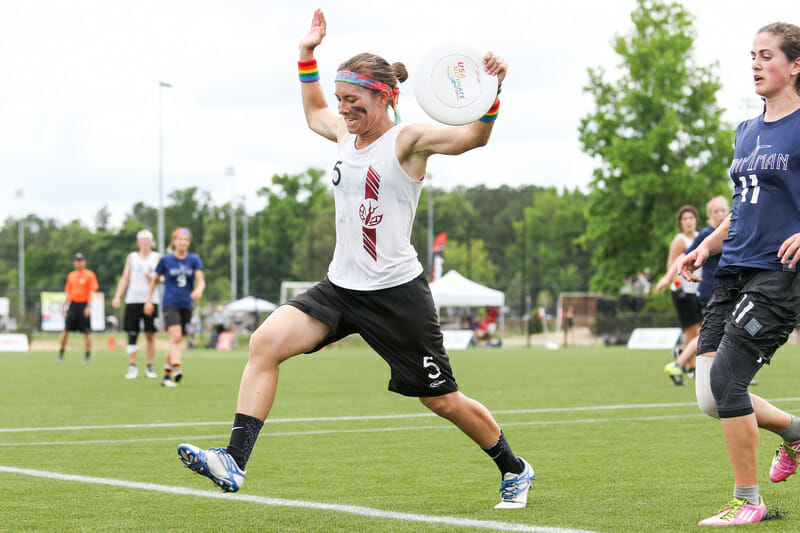 This article is presented by Spin Ultimate; all opinions are those of the author. Please support the brands that make Ultiworld possible and shop at Spin Ultimate!
RALEIGH — On a humid Memorial Day in North Carolina, Stanford rode a stout defensive performance to a 12-10 victory over the stymied Whitman Sweets. Playing in their second consecutive final, Superfly accomplished what they couldn't last year: they won a national title, the eighth in the program's storied history but first since 2007.
Victory wasn't so certain in the game's first points. Whitman blazed through Stanford's person defense with assertive away looks at the Soo sisters, Linnea and Alissa. Whitman set an early zone on Stanford and, after several turns, Nina Finley launched a breakside backhand to Ari Lozano, who had to execute a toe-dragging bid over the line to score for the break.
The bid and the break were tantalizingly similar to a pregame storyline: could Whitman take over and run away with this final like they had all weekend?
Two factors would deny Whitman that pleasure. First, Lozano's incredible bid hurt her toe, and she wouldn't play again that half. Lozano has been the anchor of Whitman's zone all season, and she's been the team's most productive D-line player. Without Lozano, Whitman's zone didn't get them another break.
"Sitting out and not being able to contribute to the team on the field was incredibly hard," Lozano said, teary-eyed, after the game. "Just sitting and listening to the announcer… it's a hard mental space to be in because I just wanted to give everything to the team and push through it."
The second reason Whitman never took off is that Stanford abandoned their person defense. They threw a slew of different forces and zones at the Sweets until one stuck and they broke back to tie at 4-4.
The next point defined the finals. Stanford set their traditional zone, with one person in the cup cutting off Whitman's resets. The zone got Stanford the disc, but floaty throws and scrappy defense kept Superfly from closing the point quickly. After more than six possession changes, Caitlin Go connected with Rachel Thomson for another Stanford break, 5-4.
Superfly runs through a small rotation of players, but they seem to have legs for days. Veronica Cruz, Anne Marie Gordon, and Michelle McGhee were tireless downfield. Only the feat of guarding Oregon's Jesse Shofner could tire out Stanford's Shayla Harris, who played considerably fewer points in the final than she did yesterday.
Stanford's defense neutralized the Whitman deep game – run largely through Claire Revere – that had carried the Sweets to the finals. Revere still managed to reel off a few highlight-worthy plays, but she wasn't able to take over points. During the final point, with the game on the line, Whitman chose to rest her, hoping she'd play on a double game point line they never saw.
On the other side, Monisha White, Superfly captain and center handler, played every point. She played every point of their semifinal, too. White was Stanford's primary gunslinger in last year's final against Oregon, and her itchy trigger finger led to many of Stanford's turns. One year later, White was far more calm.
"I had so much confidence about us the entire game," gushed White after the game. "Confidence that we would play our game, we would come out fired up, we would work hard on defense." That confidence translated into a more composed, smarter game from White.
"She's just a rock," said coach Robin Davis. "She's not the fastest person on the field, but she is solid, and she will do anything for the team."
With White patrolling the deep space, Stanford's zone hindered Whitman's offense, and they took half 8-6. Margo Heffron, Nina Finley, and Alex Hardesty swung the disc endlessly, but they couldn't advance the disc. By contrast, White and Annë Rempel were syncing on another level. They found each other every other touch, and when White broke deep, there was no question about Rempel rewarding her.
"The only thing I've ever wanted was to go deep and score," said White, crying. "And I did it in the finals of Nationals. Annë hucked it to me and told me afterward that she knew whatever she put up, I would come down with."
Lozano returned to the field in the second half, when she took on Gegg in the best matchup of the game. With Lozano back on the D-line, Whitman recovered a break to close within 9-8. The rhythm of the Sweets' zone offense improved late in the game, but they couldn't contain Stanford's fast breaks. Gegg showed up in the second half with one goal and two assists, including the final shot to Anne-Marie Gordon, who toed the line for the victory.
Stanford earned their 12-10 victory through smart adjustments and the best defense in the division. They played the best ultimate all weekend, and today was no different.
"We said today is going to be our peak," White said, "Yesterday we balled out together, but it won't be our peak. Today's the day we play the best we've ever played together."