Belgium's strong domestic ultimate scene brings strength to Worlds roster.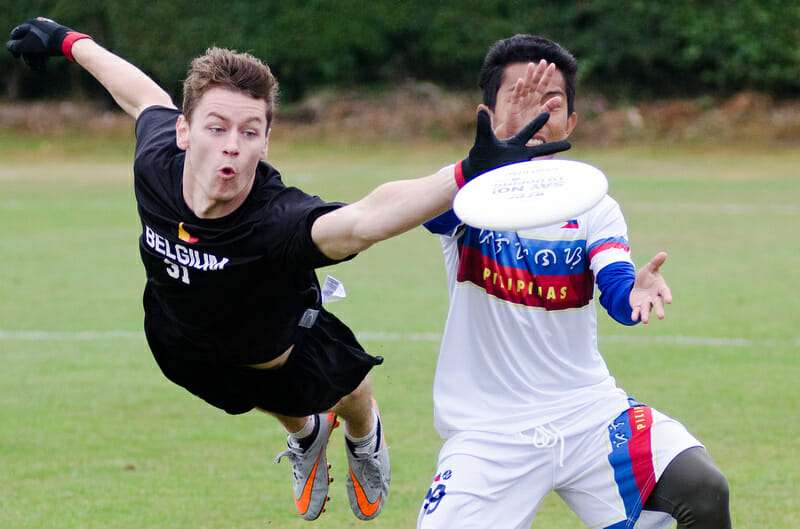 There is a storm building in Europe — spinning in the streets of Salzburg, ploughing across French fields, and lurking in Swedish parks — and it's heading straight for London. With WUGC nearly upon us, it is time to learn a bit more about some of the men's teams who will be competing in England next week, squaring off against the best the world has to offer.
Coalescing Club Contingents
With their pivotal roles in almost every significant European development of the last hundred years, the Belgians have a taste for making themselves relevant. This trait is continued through their endeavors in ultimate. Bucking the trend of other rising European powers, the Belgians are currently enjoying a positive trend across all divisions. Their Mixed and Women's teams both finished in the top six of the European Championships last summer, while their Open squad was unfortunate to miss out on a medal placement in their third place match against France. Since their last trip to London as  U23 squad, the Open team has added a few new ingredients to the mix.
Belgian ultimate, as an organization, reflects the multicultural roots of its country. The Belgian Ultimate Federation (BUF) serves as the umbrella administration of the Vlaamse Ultimate Frisbee Federatie (VLUFF) and the Fédération Belge Francophone de Disque Volant (FBFDV). BUF handles the international relations of Belgian ultimate as well as organizing the National Championships and appointing and assisting national team leadership. This may seem convoluted to those from the outside, but these organizations help provide in depth assistance to their relevant communities.
The administration of the national side is, mercifully, much simpler. Yves Mans has been at the helm of the squad since the start of their EUC campaign in 2014. Along with assistant coach Peter Lemmens and team manager Veerle Van Bael, Mans guided Belgium to their highest-ever finish at the European Championships. Not content to rest on their achievements, the leadership quickly began preparation for WUGC 2016.
When it came time to assemble their squad for the tournament, they held two tryouts in November 2015. Rather than just carry over their historically successful side from the previous year, they chose to invite them all to trials along with 25 additional players. The only two players not potentially on the chopping block were captains Dajo Aertssens and Mike Palmer. This process helped keep the established members on the team from getting too comfortable, while allowing the coaches to measure the decisions of their past against the prospects of their future.
"We aimed to have a young, yet experienced team, with lots of athleticism and high work ethic," said Mans.
Rewarding the, empirically, best Belgian national side ever by making them earn back their spot on the roster is certainly one way to ensure a strong work ethic. Threatening to give those spots to some of the country's rising youth players is another.
The current squad is made up of players from Belgium's top four clubs: FreezzzBeezzz (Bruges), Gentle (Ghent), JetSet (Leuven), and Mooncatchers (Brussels). These four clubs have been pushing to make themselves and their peers relevant on the European Club scene, and in doing so have formed the primary force driving Belgium's Open division forward1. Prominent amongst these endeavors is Mooncatcher's fourth place finish at the European Club Championships last summer.
By leaning on the drive and development of their club scene, the national outfit is hoping to reap the benefits of Belgium's domestic progress while augmenting it with their own tenets. As a result, this squad is the product of a relatively continuous coalition. The majority of the squad joined together in December 2014 during preparation for the European Championships. They have been playing together monthly since December 2015 and almost weekly since May.
This alliance is built upon the work of both Belgium's Junior and Club systems. The result is a surprisingly youthful and energetic team that belies its presence of mind and coordination on the pitch.
"Although many players in our team are quite young, they all have lots of experience," said Mans. "Some of them have played abroad for a while… others have regularly played high-level tournaments with other European top teams." From outside experience to home-fermented talent, the Belgians are using every resource available to them to ensure they produce the highest quality National team.
Players To Watch
Pieter-Jan (PJ) Demeulenare
A member of the rising group of second-generation ultimate players in Europe, PJ was literally born to play ultimate. Possessing throws that come as naturally to him as sitting on a couch comes to normal people, his play is, in a word, effortless. Size and speed guarantee he is always a threat when in the right position; hereditary ultimate intelligence guarantees that's exactly where he'll be.
Dajo Aertssen
Head coach of Gentle and fitness coach of Belgium, Aertssen is a man of many talents. He has plied his trade around the world, most notably with Australia's Juggernaut at WUCC 2014. The well-rounded Aertssen can slot into whatever hole is starting to appear in Belgium's game, allowing the other elements of the team to reach for the stars, confident that — if they fall — he will catch them.
Merlin Wollast
One of the younger players on the team, Wollast is well versed in international ultimate. He has played for Euforia in Colombia, as well as for the Colombian U23 side in London last year. He plays with the grace of a salsa dancer and the technique of an instructor. Simply put, the boy is magical.
What To Expect
Belgium has been known as the 'battlefield of Europe' for longer than most amateur history buffs are aware; more widely acknowledged is the fact the land breeds fighters. The Belgians are well travelled as individuals and well drilled as a unit. They have overcome the pitfalls of annual national team turnover by drawing heavily from domestic wells. Their team is a product of the last few years of Belgian ultimate's advancements and will be vibrant, cohesive, and ambitious. Much like their record from EUC last summer, this squad is eager to prove their fighting talk is lot more than just waffle.
---
We should note that two players on the National team had to temporarily move to one of these four clubs for cohesion's sake. ↩