Great matchups for the semifinals.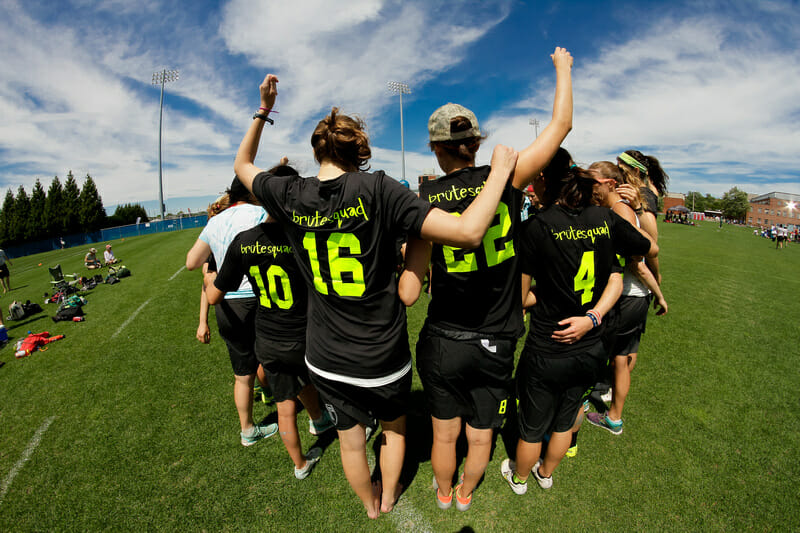 This post is presented by Disc Store. All opinions are those of the author; please support the brands that make Ultiworld possible and shop at Disc Store!
PROVIDENCE — Four exceptional teams will take the field in the US Open semifinals on Sunday in Rhode Island. Each game has a history and all four contenders are hungry to win their first tournament of the season.
Boston Brute Squad vs. D.C. Scandal
Boston Brute Squad and D.C. Scandal are set to square off for the third time in as many US Opens. Brute Squad, the tournament's first seed, has been smashing through the competition in nearly every game, while Scandal has gotten off to an impressive, albeit flawed, start. There's plenty on the line as the pressure mounts in the semifinals.
The start for Brute Squad has been just short of perfect. The reigning National Champions were tested only once, in a 14-12 slugfest with Fury where they were able to use superior depth to outgrind the San Francisco women. All of their other opponents combined didn't score enough to win a single game against Brute. Nobody, including quarterfinal opponent New York Bent, has had an answer for Boston's defensive intensity and team speed. They have unquestionably been the best team in the women's division thus far.
While that sort of domination has eluded the D.C. squad, they have put together an impressive performance of their own. They went 3-0 to start the US Open, even if there were runs of weaker play along the way: they let Boston Siege back into their game before putting them away 14-9 and also gave up a late lead to Riot to put their own backs against the wall before winning 15-14. Sloppy play doomed them against Molly Brown, but they had already done enough to lock up a quarterfinals berth despite the 15-13 loss. They took care of business against Winnipeg Fusion in a 15-8 quarterfinal victory.
"I'm really happy with how they were able to meet our intensity and focus goals," said Scandal coach Alex Ghesquiere after their double game point win over Riot in pool play, their marquee W thus far. He admitted that was more important to him than to their winning result.
Recent history favors Boston, in more than that they currently hold the title that Scandal claimed for two years prior. Brute Squad has won four of the last five matchups between the pair, and Scandal has never beaten them at this tournament despite getting an opportunity at each of the past two US Opens. Of course, D.C.'s last win in the series was by far the most vital, when they decimated Brute Squad in the semifinals at Nationals in 2014.
There are plenty of stars along the rosters, and a few less touted names that are playing well in Rhode Island that could be big factors. Boston continues to get excellent production out of Kami Groom and Cassie Wong, whose devastating quickness has forced a lot of turnovers and generated many Brute breaks. Shira Klane and Angela Zhu are also both putting up strong showings. Scandal is, of course, being led by Jenny Fey's offensive prowess, Sarah Itoh's downfield activity, and Sandy Jorgensen's penchant for blocks. But D.C. is also getting crucial points out of younger players like Theresa Hackett and Amy Zhou, who are taking on and winning big individual matchups.
The question is if Scandal can rise to the execution level of the #1 ranked team. D.C. has benefited from some sloppy play, which has allowed them to get away with too-frequent turnovers and a relatively low defensive conversion rate. It sank them against Molly Brown and caused issues versus Riot. A stingy Boston team has the deft handlers to stack up holds if Scandal isn't frugal with their opportunities. Even at this early point in the season, Brute Squad's relative lack of roster turnover and wealth of WUGC participants means they can click quickly.
Brute Squad v. Scandal will be filmed by Ultiworld and made available in the Ultiworld Video Subscription.
Seattle Riot vs. Denver Molly Brown
After three years of dodging each other at tournaments, Riot and Molly Brown will take the line across from one another for the second time in three days. Their previous meeting was close before Riot rattled off four straight to win 15-10 in pool play. But Denver looks to be playing much better ultimate and would like to advance to their first ever US Open final. They've gotten two great wins in a row, beating Scandal 15-13 in pool play and Fury 15-11 in quarterfinals; Riot needed a big run to pull away from Showdown in their own quarterfinal.
"Our offense is coming together a lot better than it was in the [first] Riot game. We have gotten better offensively and that'll help quite a bit," said captain Claire Chastain after their quarterfinals win. "Our defense is fine. We get blocks, we have good matchups, but we weren't able to convert and got broken a lot."
Riot pulled out to the early advantage in their pool play meeting. Seattle scored the game's first two goals before Molly Brown recovered and went up 4-3. From there, Riot went on a 5-1 win to take half 8-5. The closest Denver would get in the second half was within one at 11-10 before another Riot run closed it out. Strong performances from Alicia White, Megan Cousins, and Lisa Pitcaithley were not enough to overcome Molly Brown's offensive miscues and mistakes.
Meanwhile, the Seattleites have played a lot more close games than predicted and have often needed late strings of breaks to open up leads. They aren't yet in rhythm, but their talent has often been enough to win them games against less experienced opponents like Siege and Bent. Rohre Titcomb and Charlie Mercer have been driving forces for their offense and Shira Stern is adept at creating scoring opportunities for herself.
The semifinal may hold some new wrinkles as teams have tinkered with sets, rotations, and even some personnel choices. Sarah Griffith took a hard shot against Scandal and could be questionable to play for Riot, while Megan Cousins tweaked a hamstring and could be out for Denver. Poaching upfield could help Molly Brown contain the spacing and break throws that characterize the Riot offense. Seattle may move Kelly Johnson, who struggled to get going offensively with Opi Payne hounding her.
Adjustments will be key. Both teams will still be focused on the big picture, as every team is in early July. But they also know what scoring big wins can do for team development and confidence, not to mention earning another pressure opportunity against a top end competitor. The competitive level has picked up when opponents of this caliber have had a chance to match up; expect to see that trend continue.
Riot v. Molly Brown will be livestreamed by ESPN3 at 3:30 PM Eastern.