A semifinal scrap between Riot and Molly Brown went down to the wire before Seattle closed it out on double game point.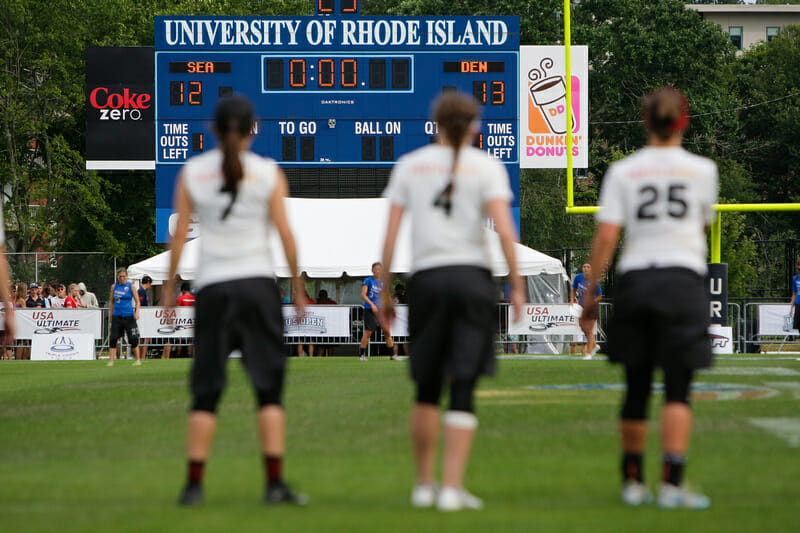 This post is presented by Disc Store. All opinions are those of the author; please support the brands that make Ultiworld possible and shop at Disc Store!
PROVIDENCE – Seattle Riot advanced to the US Open final with a double game point victory over Molly Brown, 14-13. It was the second time Riot topped Denver in the past three days1, but unlike the first, this one was tight from beginning to end. And this time, there was a lot more at stake.
The first impression to take away from this game was that both teams were still very much works in progress. The gusts of wind certainly played their part in the contest's 32 turnovers, but it mostly just looked like incomplete rosters playing in basic versions of unpolished systems. Riot is experimenting with a vertical stack-based offense while Molly Brown is implementing new systems and groupings. Both teams struggled to connect on backhand continuation swings throughout the first half and were resistant to taking difficult deep shots.
But that was soon countered by the intensity of the level of play. Women from both sides were aggressive in leaving their feet, using physicality, and bringing a high level of energy and pace. The game moved briskly despite the turns because there was some sense of urgency. This wasn't your average preseason warmup.
In the game's first chapter, it was Molly Brown who delivered the initial strike. After a hold each way, a Calise Cardenas turf in Riot's attacking half triggered a Denver drive that concluded with a Dori Franklin throw into the end zone for Maggie Chen and the game's first break. Only a few points later, Molly Brown pushed the margin out to three, with a 5-2 lead — the game's largest — after Paige Soper couldn't hang on to a wide open swing near her own goal line.
"We came out a little bit more fired up," said Molly Brown captain Claire Chastain, who racked up two goals in the run, "and then eased up once we felt comfortable."
Riot replied with a trio of scores, outgrinding the opposition through multiple multi-possession points. Alyssa Weatherford concluded a Seattle red zone possession with a shot into the endzone to Jaclyn Verzuh — the second such connection of the run — to tie it up at 5-5. A pair of scores for each team followed, setting up a single point to decide who would take half. Riot got the turn they needed and Qxhna Titcomb hit Charlie Mercer with a forehand on the open side to take the game into the intermission.
"We were throwing a bunch of different stuff: we were doing a [force middle], we were throwing some our junks, some standard zones, and practicing a lot of those things for ourselves," said Riot's Callie Mah. "We had a mentality that we would make microadjustments and macroadjustments to what they were doing. I don't think anybody was nervous when they went on a run because this whole game is about runs."
The second half kept the score very close, with neither team ever claiming a multi-goal lead. The squads mixed up their defensive looks and struggled with execution, but could never gain separation from one another. Denver retook the advantage at 11-11, capitalizing on a turfed Riot throw with a patient possession led by Opi Payne, Chastain, and Alicia White. It was capped off by a Chastain around backhand to White for the first break of the second half. Molly Brown's sidelines let out full-throated cries of celebration.
"That line has a bit more chemistry. It's a lot of offensive-minded people. It's sort of our O-line," said Chastain of that personnel grouping. "We go on to play D, but we go on to convert a D point."
The trio was the game's most successful unit, often benefitting from support from Lisa Pitcaithley, Lindsey Cross, Dena Slattery, and Lauren Baecher. Payne poured in a game-high six assists, while White and Chastain contributed four and three goals, respectively. 10 of Molly Brown's 13 points came with that trio, and most of the others mentioned, on the field. Chastain credits, in part, the time she and Payne spent working together for Team USA's gold medal run in London at WUGC 2016.
From there, the two teams traded holds through the soft cap and until it was tied at 13-13 in a game to 14.
Molly Brown sent out of their top unit, featuring Chastain, Payne, and White, to receive the pull. They got things started, advancing up the open side towards midfield. Inexplicably, Payne locked in on a short upline throw into a small window for Chastain. Cardenas — another member of Team USA women's — recognized the familiar pattern and rushed the throwing lane to force the turnover. A few throws later, Angelica Boyden hit the ground to save possession and then hit Mercer for the clinching break.
"My connection with Opi is one of our greatest assets and in that moment, on that last point, one of our weakest," admitted Chastain, "A bit of tunnel vision."
"I honestly don't think anyone on our team knew we were getting down to the wire with the clock, so it was a big shock when we scored that last one and it was all over," said Mah after the game with a laugh. "That type of mentality of driving hard the entire game clearly showed in those last few points because we weren't acting any differently because we didn't even know. And we got the job done it a gritty fashion, which is what we know we are capable of. We weren't able to show that in the first few days."
They were able to show their resolve in the face of difficult situations. Riot could have been buried by a seven drop game, including five in the first 8 points. They could have folded after an unforced error gave up their precious late lead or when Chastain and Payne sliced through their zone. But they turned what could have been a sloppy loss into a gritty victory.
Seattle got some big performances to key them to the win. Jaclyn Verzuh was a force, scoring three goals and adding a block; she was also one of the team's most effective reset throwers, especially from the sideline, using her height and craftiness to evade pressuring marks. The second year Riot returner also had the play of the game when she made an acrobatic grab in the second half to haul in a Riot huck for a score. Charlie Mercer contributed two goals and an assist and some aggressive cutting. Julia Snyder was quiet on the stat sheet, but proved to be one of the most deft disc-movers in the game.
Their new look vert stack improved over the course of the game, particularly in the handler spaces. It's an offense which could be potent with the team's aggressive ability to break on both sides of the mark if it comes together.
For Molly Brown, they'll need to fine tune some execution elements and reintegrate missing returners, but mostly, they'll look back at fighting to keep their lead.
"We were up one or two breaks in the first half, and there's a big scoreboard that you can see and I think that it just affects you a little bit mentally and allows for mental lapses," said Chastain. "That's definitely something we're going to work on. Mental toughness is something that we've been focusing on since that Nationals game against Brute last year. We felt like it was our weakest area and I feel like we've improved so much, even just this weekend. That last game against Riot and our earlier game against Riot were two completely different games."
Those two different games had the same ultimate outcome. And now Riot will move on to the final while Molly Brown has to watch, just as they watched Seattle in the finals of last year's US Open2 and National Championship. While they went on to lose both of those games, Riot has earned themselves a chance to recognize the pattern, and like they did on the game's final point, break the trend and triumph under pressure.
Watch Riot take on Brute Squad in the Women's Final of the US Open today at 12:30 PM Eastern.
---
the team's hadn't played in three years outside of Friday's 15-10 Riot win ↩

Molly Brown did not attend ↩