Game advisors are here to stay.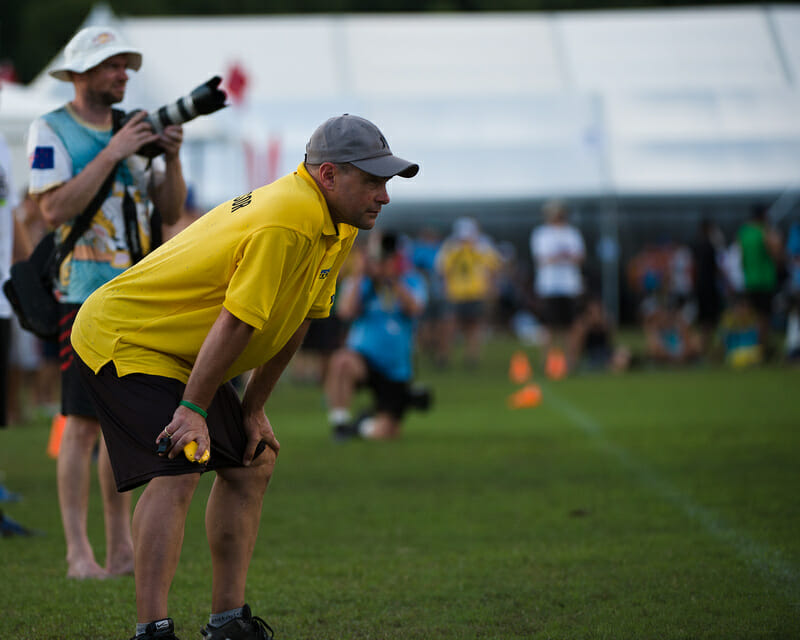 The 2016 World Championships were an education for the global ultimate community. In every division, the Americans gave us a glimpse at the power that courses through USA Ultimate and the heights to which our sport can ascend if properly cultivated. On the final day, we were allowed to briefly step into the future, into a world where ultimate has moved to the mainstream and fans pack stadiums on the weekend. But the most tangible and pressing of potential timelines in which we indulged was that of officiation.
There have been few instances of third party officiation being implemented outside of the North American countries. Colombia has been using its own version of the North American observer system, and the game advisor role enacted in London was seen last year at the U23 World Championships and in 2014 in Lecco at the World Club Championships (in a limited role).
While WUCC may have been bigger in terms of total attendance, there are few events with a larger impact than WUGC. There is a higher proliferation of club representation on national teams. This means that the experiences gained at Worlds have the opportunity to affect the way considerably more people understand the sport than at a club event.
So what was the general consensus regarding game advisors?
Greg Connelly was the man tasked with bringing officiation to the world stage for the third time. A leader in the establishment of observers in USAU for over a decade and chair of WFDF's Game Advisor sub-committee, Connelly was the perfect man to flavor officiation for international palettes. "The Game Advisor system is still quite new, and we have a lot of work to do to expose more players to it and also refine the specific duties of GAs," he said. WUGC was another testing ground en route to the future.
In short, game advisors are passive versions of observers. They are a measure that WFDF decided on "while keeping in mind that most ultimate players outside of North America are much more reluctant to cede any player control of the game to third party officials." Advisors operate a step behind the jurisdiction afforded their American counterparts. At WUGC they existed as fountains of information, offering non-binding objective perspectives (if asked for them), rule clarifications, and time-keeping. The most invasive action taken by an advisor in London was the sound of their whistle cutting through a too long team talk.
This passive approach helps to counter-balance some of the fears people have surrounding authority in ultimate. To many ears, "referee" is a term they left behind in conventional sports. Great Britain Men's captain Justin Foord summed up these fears well. "Sometimes the observers set a tone," he said. "I think that's something the players should manage."
The autonomy over how we play the game is one of the great denominators of ultimate. If two opponents want to play physically, they can police it along a standard they set themselves, not one set by a referee. There is a fear that if we start to surrender some of our freedom in exchange for a measure of security, we may not retain the principles our sport was founded on.
So how did the wide world feel about a concept that simultaneously assaults and salves the spiritual column standing at the core of the sport?
General Consensus
The advisors were largely a success. "They helped teams stick to the time limits in the rules," said Connelly. "They also assisted players with rules questions and/or perspective on disputed calls. The feedback I got from talking with players was overwhelmingly positive."
Ultiworld reporting confirmed that sentiment. The majority of the players and coaches present could have their opinions summed up by Sweden Open's coach Johan Sundstrom: "We are thankful for the advisors. They help in a tight game, especially for line calls."
Experienced advisor and Germany Women's coach Yelena Gorlin pointed out that on some fronts, players are just generally wrong. "Most in/out calls are not made correctly by the players," she said. "It is not possible to have a good perspective unless someone sprints and positions herself right on the out-of-bounds or endzone line."
For the most part, the issue was as simple as that. A passive observer system was a welcome addition, a useful resource to call upon when required. "I think it is good to have, here to advise but not to call," said Belgium coach Yves Mans. "…Even at this level, if people talk to each other like adults, we will be fine."
So what happens when we can't?
Major Issues
It is understandably difficult to make a clear decision when competing for medals and glory at the highest levels of the sport. You have seen it time and again in games: the final of a tournament gets lost in a sea of calls, the hope of an exhibition sinks under waves of chippiness. WUGC was not bereft of such moments in any division; it seemed when the going got critical, some teams started to flaunt the rules.
"There are things that ideally don't happen, but they do happen," said Germany Mixed coach Allen Clement said after one such game. "Sometimes the game advisors are not enough. No teeth behind it, no way to stop that consistent half step over the line."
This position reflects the reality lurking in the dark corners of the house that Spirit built. Some people game the system, some people struggle in pivotal moments to believe a truth opposite to the one they want, and, most importantly, everyone can just be wrong in their convictions, sometimes.
Boston Ironside coach Josh McCarthy, who had direct interaction with game advisors at WUCC, was over visiting London for the tournament and gave his perspective on the issue. "At this level, you can still have spirit ethic built in, but people get caught up in the moment," he said. "It's too much to ask for people to be unbiased." His position is not a lonely one. Colombian Men's coach Andres Angel said, "It asks too much of the players."
"The advisors are not strong enough," he continued. "I think WFDF are out of their minds if they think we don't need [observers]."
There were instances during the week where players ignored the recommendations of game advisors. They were legitimate decisions to make under the rules of WFDF, but contentious ones nonetheless. In the world of passive observation, to ignore the perspectives offered can be perceived as choosing to ignore the truth. Of course, this is not necessarily what was happening, but perception dictates attitude and attitude dictates Spirit.
This adage works in the other direction as well. By introducing regulatory authorities, do we not introduce the temptation to game them? Power cannot exist without corruption, after all. At WUGC, there were several opponents to the advisor system altogether.
"We are aware of perspective but it is not necessarily binding or correct," said Philippines Mixed coach Carlo Corpuz. "I think the game is better at present [in the no third party] system. I think we can play at this level and police ourselves." It is an old line to draw in the sand, but a relevant one.
In the heat of the moment, it is understandable that a receiver is fully convinced they caught a disc before it hit the ground. It is equally understandable that his defender would swear on his grandmother's grave the opposite. Therein lies the issue advisors are trying to solve. But where lies the heart of Spirit?
It is moments such as the above example that first gave life to the concept. It is moments like that where Spirit truly lives.
One of the great attractions of ultimate is the fact from the lowest to the highest level you must look your opponent in the eye and be honest. Each critical moment requires those involved to be true to the game and, crucially, to themselves. Such a grand undertaking is one of the cornerstones of ultimate. It is what makes us who we are. As Philippines assistant coach Akira Yamaguchi puts it, "Don't sell our players or community short."
Great Britain captain Jamie Cross agrees: "All the useful things that advisors do – call offside, provide perspectives, clarify rules, signal calls – are things that players can do, and making that 'easier' is not the same as making it better."
Private Misgivings
It's a toss up, right? That classic battle: utopia or utility?
With officials, you have a sport where decisions are made quickly, objectively, and with ideal perspective. Without, you play a contest in the pursuit of ancient gaming ideals: respect, equality, the thrill of competition at its purest.
For me, it's about compromise. We do have a unique beauty codified into our sport. We also have several glaring issues that stem from it. That said, I talked to multiple captains and coaches on the losing side of close, call-heavy matches. To a person, each one gave the same reason as to why they lost: we squandered our chances.
They didn't blame the rules, though the temptation was immense and, at times, somewhat justifiable. Yet in their moment of reflection, their thoughts went back to an endzone drop or a lazy dump cut. This attitude comes from the culture ultimate breeds, one that does not exist in sports with referees.
Final Thoughts
Connelly asserts that maintaining this culture isn't an issue, arguing that observers have "helped improve player adherence to Spirit of the Game in North America in lots of ways."
"Game advisors or observers can often simply serve as a reminder to players to try and uphold SOTG and do the right thing," he added.
In terms of helping with line calls, offsides, and time constraints at WUGC, almost every participant found advisors to be a positive addition. Players' willingness to listen on foul calls was slightly less consistent, but few talks wandered from civilization.
Connelly, along with the majority of participants, considers WUGC a success, though far from a definitive one. He thinks the best way to deal with the issues presented at WUGC is to "expose players to a consistent implementation of the system." WFDF's sub-committee on game advisors is looking to expand the program through increased training, practical refinement, and a proliferation of GAs at international tournaments.
The future is bright. Game advisors enjoyed a warm reception in St. Albans. Their approach seemingly has the strength to clarify murky situations while being deft enough as to not disturb the flow of a game. It remains to be seen whether we are at the start of an American-styled transformation or simply the beginning of a new paradigm.
It will end as most disagreements in ultimate eventually do: compromise.