Can any road teams score the upset?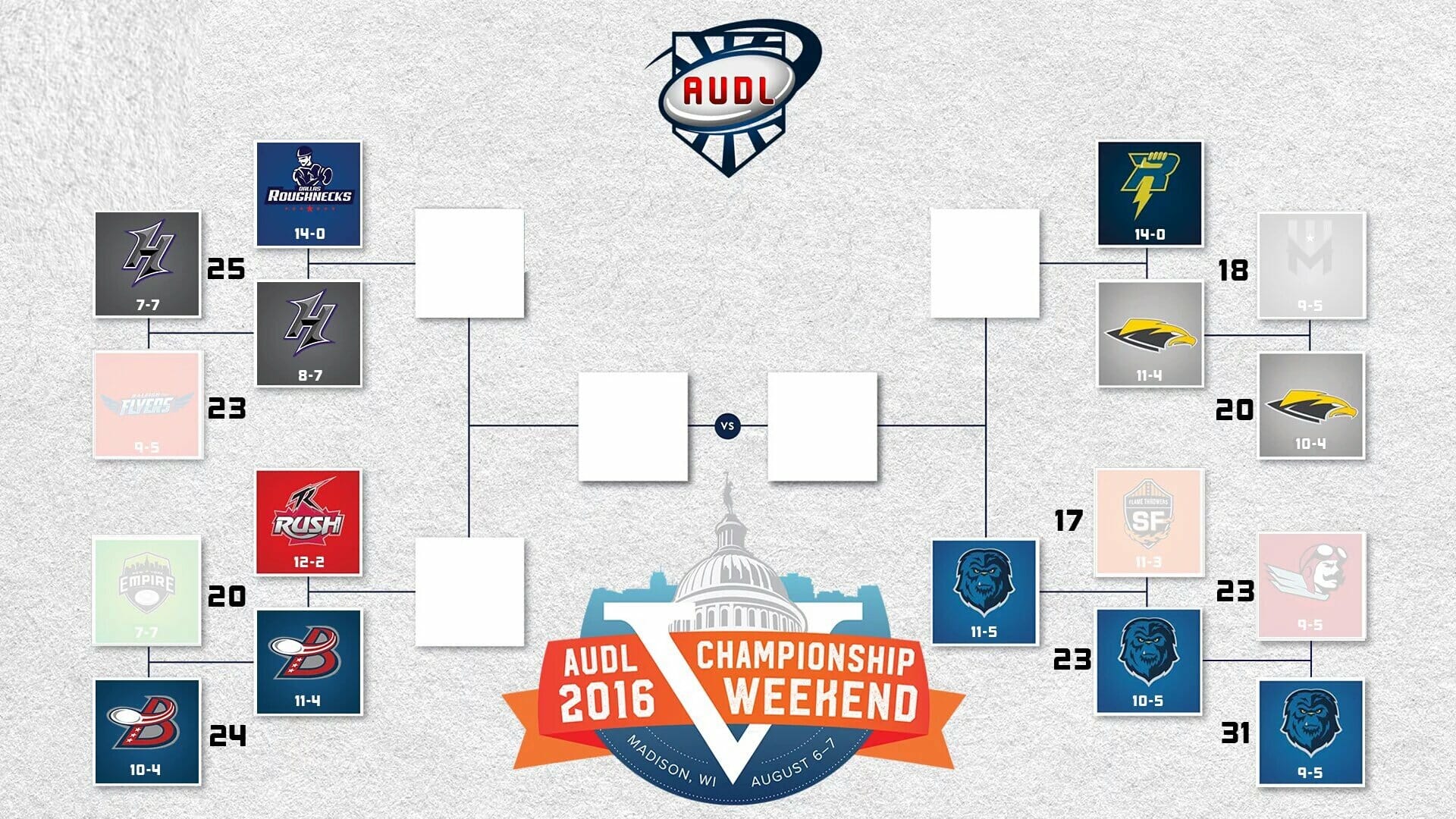 Entering the second week of playoff action in the AUDL, there are three games on tap this weekend. By the end of Saturday night, we'll know which teams will join the Seattle Cascades for Championship Weekend in Madison.
East Final: DC Breeze @ Toronto Rush (-1)
Saturday, 5 PM EST
DC and Toronto have faced off three times this year with Toronto winning the season series 2-1 (both victories were by a single point). Both of those wins came back in April, though, and in their most recent game in DC, the Breeze walked away with a five point victory.
Toronto is playing at home and has to be considered the favorite, but there's reason to believe that DC has more momentum coming into this game. Not only did they beat Toronto in their last meeting, but DC is coming off a four point win over New York and isn't doing nearly as much experimenting with its offense, defense, and lines as it was when it lost those two games in April.
There were a lot of differences in that third game that led to the DC win, but the biggest was probably increased efficiency in converting turnovers into breaks. With Alan Kolick and Brett Matzuka joining Nicky Spiva on the D-line, the Breeze can pick up the pace after a turn, or slow it down. In their first game against Toronto, the Breeze D-line converted 12 turnovers into five scores. In their third game, they converted 15 turnovers into ten scores.
On offense, the Breeze have looked their best against the Rush when they're looking deep, and Jonathan Helton is a big part of that. Helton is one of the cutters on the DC O-line that is happy to cut under and look deep (often to Jeff Wodatch) or go deep and score the goal himself. Helton was MVP of the AUDL back in 2012 and 2013, and though his stat totals aren't as impressive on a deep DC team this year as they have been in the past, he's showed up in games against Toronto. In those three games Helton is second on the team in goals and assists. He was somewhat banged up in the game last weekend against New York; a healthy Helton could be a big difference maker.
Toronto is no stranger to the AUDL playoffs, having reached Championship Weekend every year in its three year history. Given the large overlap with GOAT, the Toronto club team, most teams know the scouting report on the Rush already. Toronto is unlikely to play any sort of zone or junk defense, instead relying on their man coverage to get the job done. The Rush run set plays every pull they receive, and are at their best when they're looking to move the disc to the break side.
This group of players has been together for a long time. Even when teams bracket or sag into the lanes to disrupt their pull plays, it is very difficult to fluster the Toronto offense. It's a veteran heavy line that's been around the AUDL, and typically does a superb job of converting in late quarter situations with the clock running down.
The question mark for Toronto is its defense. The Rush have long had one of the statistically superior D-lines in the AUDL, playing in the historically weaker Eastern Division. Even against the top teams in the league, their defense has always been able to produce turnovers, but has struggled to convert them into goals. That hasn't been the case nearly as often this year, with the Rush defense looking better than ever against improved competition in the Division. That's been in part due to importing several players from Boston, but those players aren't listed as active this weekend. If the Rush want to get back to Championship weekend, they'll have to lean more on players like Anatoly Vasilyev to help the defense convert breaks, and make sure they use their timeouts wisely.
Midwest Final: Pittsburgh Thunderbirds @ Madison Radicals (-5.5)
Saturday, 6 PM CST
The Thunderbirds haven't had the prettiest season so far, losing twice to Madison and Indianapolis and scraping by with a win against a shorthanded Minnesota team in the first round of the playoffs. Last year, Pittsburgh went into Madison with a cause for optimism; this year they don't have that kind of momentum.
The Thunderbirds went 0-2 against the Radicals, losing by four at home and seven on the road. The typically elite Pittsburgh offense has withered against Madison this year. When playing teams other than the Radicals, the Thunderbirds averaged 27.6 goals per game this year, with their offense earning a hold on 70%%%%%%%% of the points it played. Against the Radicals they averaged just 17 goals per game, with their offense holding just 47%%%%%%%% of the time.
All this comes from a team that, at times, looked as though it had figured out Madison last year. The biggest difference has been that the Radicals have gone away from their previous zone heavy defensive scheme against Pittsburgh, choosing instead to rely on man defense. The few times that Madison has run its double team zone against Pittsburgh have typically been after the Thunderbirds call a timeout, to disrupt any set play that may have been drawn up.
That said, there have been moments when Pittsburgh has looked capable of hanging with the undefeated Radicals. In their second game this year, the Thunderbird man defense was forcing many Madison cutters to go deep, in an attempt to take the Radicals out of their comfort zone. At first it worked fairly well, resulting in a somewhat sloppy back and forth between the two teams. Later on in the game Madison started connecting on those looks regularly, but that's something that Pittsburgh will probably try again at some point on Saturday.
The other question mark for Pittsburgh has been the roster turnover from week to week. Even against Minnesota in the first round, the Thunderbirds were missing players to injury or other commitments. This weekend, both Pat Earles and Johnny Bansfield are listed as active, and each could provide a boon to Pittsburgh.
The Radicals have been on a different plane this season. For the first time in franchise history, they finished the regular season undefeated, with an average margin of victory of 9.7 points. Madison has dominated the Midwest, with players like Brian Hart, Peter Graffy, and Andrew Meshnick all playing especially large roles this year. Graffy led the league in blocks with 41, Hart has been acting as an initiator for the offense, and Meshnick was third in the league in points played.
The Radicals have won their past thirty games at home, and are the heavy favorite this weekend. Madison has controlled nearly every game they have played in this season. With Andrew Brown back in the fold after returning from an injury, it's tough to see the Madison offense struggling the way they did to begin their most recent game against Pittsburgh. If it does though the door could open for Pittsburgh.
South Final: Atlanta Hustle @ Dallas Roughnecks (-9)
Saturday, 7 PM CST
With Atlanta's win in Raleigh against the Flyers last weekend, the Hustle find themselves facing an even steeper hill to climb on Saturday. The Roughnecks won their two games against the Hustle by six and ten points, though it's difficult to read too much into those games. Jimmy Mickle, Kurt Gibson, Beau Kittredge, Dylan Freechild, Cassidy Rasmussen, and Chris Mazur combined to play zero points in those two games. All six are active this weekend. The Roughnecks were able to handle the Hustle even without their six Team USA players. What could they accomplish with them?
It's shouldn't be understated that Atlanta enters this game as possibly the biggest underdog that the AUDL has ever had in a playoff game. That said, there are some advantages that Atlanta has going into this game. When Austin and Jacksonville played against Dallas they largely tried to fight fire with fire. Those teams looked to win jump balls against Dallas, to use their size as one of their main weapons on offense. Atlanta has some height, but primarily on defense.
The Hustle offense relies on shorter players like Austin Taylor and Matt Smith to use their speed to get open underneath. Smith is one of the primary deep targets on the team, and Dylan Tunnell is often the one to huck to space with Smith running it down. Tunnell threw 17 assists to Smith this season.
Of course it's not like the Roughnecks are big, lumbering, and unable to keep up with Atlanta. Dallas undoubtedly has height and speed, and they matched up well with Atlanta during the year even without their star players. Matt Jackson has been great for Dallas this year, and when he matched up on Matt Smith for much of their last matchup, Smith only recorded two goals and one assist. In their two games against Atlanta this year, Dillon Larberg has eight assists, four goals, and six blocks. And those are just two players. Dallas has the kind of depth that Atlanta simply cannot match.
If Atlanta is going to keep this game close, one thing the Hustle may try is to push the pace on offense after turnovers. When Charlotte played in Dallas earlier this year, a game in which the Team USA contingent on Dallas was playing, the Express hung tough with the Roughnecks for the first half. That's in part because Charlotte acted quick after the turn. The Express, who finished 4-10, found themselves only down two at halftime on the road. Charlotte ended up losing that game by ten, but showed something of a blueprint for how to stay close with Dallas despite a sizable talent disparity.
Atlanta has accomplished a lot just by getting to the conference final. But the Hustle face the longest of odds in this game.