It's time to expand the field again.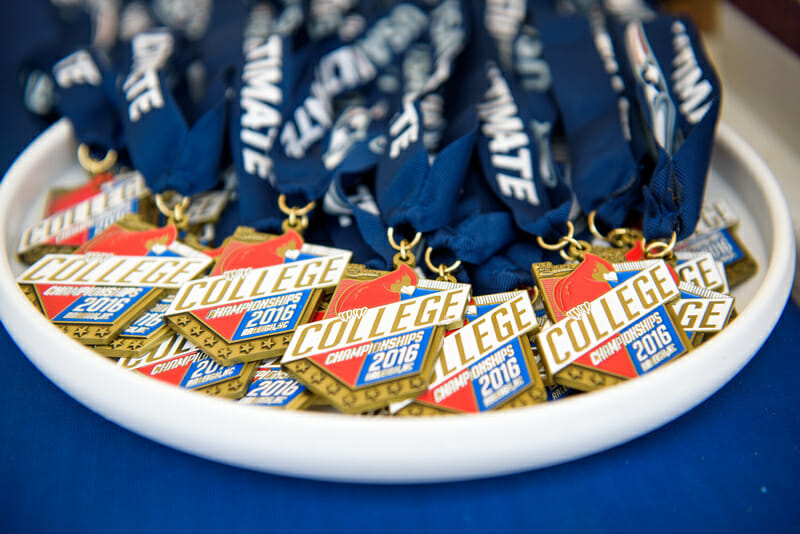 Let me start by getting this out of the way: I began thinking about this idea shortly after my team, Washington Element, lost to Stanford Superfly at this year's College Championships. It was day one in Raleigh and the temperature was near 90 degrees. We were in our second game of the day and Stanford was in their first. We jumped out to a 9-7 lead — the latest in any game Stanford trailed all weekend — before Stanford capitalized on a series of errors from our team that looked (to me) like fatigue-related mistakes to take the game 15-11.
Perhaps our early lead was due to having already gotten the jitters of Nationals out while Stanford was just stepping into that butterfly-inducing environment. Or perhaps Stanford's comeback was assisted by having fresher legs, having played 22 fewer points than we had that day. Or perhaps none of that was an issue — all season we had consistently played tight with Stanford before losing by two to four points. But, I found myself wondering why, for the most important college tournament of the year, we settle for a format that has built-in competitive imbalances.
Beyond the issue that we faced of two teams having played a different number of games prior to their match-up, the current format is filled with more competitive imbalance issues. With five team pools, one team faces a bye every round. This means many teams will face playing a back-to-back game situation against an opponent coming off of a bye. In addition, pool winners are granted a significant advantage by getting a pre-quarterfinal bye, an advantage exacerbated by the fact that the pre-quarters round doesn't end until nearly 7 PM on Saturday while quarterfinals begin at 8:30 the next morning.
Five teams in a pool also means that frequently final round games don't matter for some teams that have locked up pools or are already assured of playing in consolation games. This is even more problematic when those games matter for one team and not the other. Twice in the last four years, Element has been in final round pool games where both teams have qualified for pre-quarters and the crossover pool has been a toss-up with no apparent benefit to winning the game — but clear benefit to being more well rested for pre-quarterfinals.
With five-team pools, there is no way to get around many of these issues. Expanding to 24 teams with six-team pools can reduce the issue of unmatched byes, but it will likely lead to even more meaningless games between teams who have already assured themselves a spot in their pool. It also expands the number of pool games per division from 40 to 60, which puts significant additional demand on the field site and event resources.
A 32-team Championships greatly minimizes the competitive imbalances while requiring far fewer games than a 20 or even 24-team Championships. Eight pools of four teams each requires 48 pool games per division. It allows for a bracket of sixteen where the top two teams in each pool advance. And all of it can be done with just 12 fields, which is the same current field requirement as the current format.
The 32-Team Format:
Six rounds of play on Day 1 and Day 2 (8:30, 10:30, 12:30, 2:30, 4:30, 6:30)1
Teams play two pool-play games on Day 1 and one pool-play game on Day 2
Every pool plays games during the same round and no pools play back-to-back rounds
Pre-quarterfinals are played in the final three rounds of Day 2
All teams eliminated after pool play receive two consolation games (one on the afternoon of Day 2 and one on the morning of Day 3).
All teams eliminated in pre-quarter receive one consolation game (morning of Day 3)
Semifinals are staggered as they are currently on Day 3 (12:00, 2:30, 5:00, 8:30)
Finals are played on their current schedule
The Pros of the 32-Team Format:
A beautifully simple, competitively-balanced, easy-to-implement format
12 more teams per division extend their seasons 3-4 weeks, improving the quality of play in college ultimate
Dozens more teams in each division have a more realistic shot at qualifying for the Championships and so will have more meaning to their season
60% more players means more revenue for USAU and lower player/team fees
A true Sweet Sixteen round!
The Cons of the 32-Team Format:
Dilution of quality of pool play games (currently most pools have a "quarterfinal" like match-up, whereas 32 teams means most pools have a "pre-quarterfinal" like match-up)
More resources (volunteers, observers) required
More tightly packed schedule means weather issues harder to manage
Still possibility of meaningless pool games where a 2-0 team matches up with an 0-2 team in last round
Possibility that teams can be eliminated from Championship contention with just a single pool play loss
One area that I was curious about was the total size of each division and the number of Championship spots available. Would expanding the Championships lead to a damaging dilution of play?
In the past 20 years, the college division has seen incredible expansion in the number of teams playing. Since 1998, the men's division has expanded by almost 250% and the women's division has expanded by 350%.2 Meanwhile, bids to the Championships have only expanded from 12 to 20 (67%). As the total number of teams has expanded faster than the bids to Championships, the competitiveness at the Championships has improved consistently and the number of upsets in both divisions has continued to trend upward.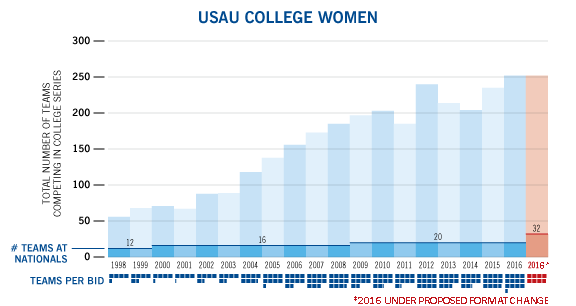 In the women's division, we now have by far the most teams per Nationals bid (12.6) than we have ever had before, while in the men's divisions, we are nearing that peak (20.65).34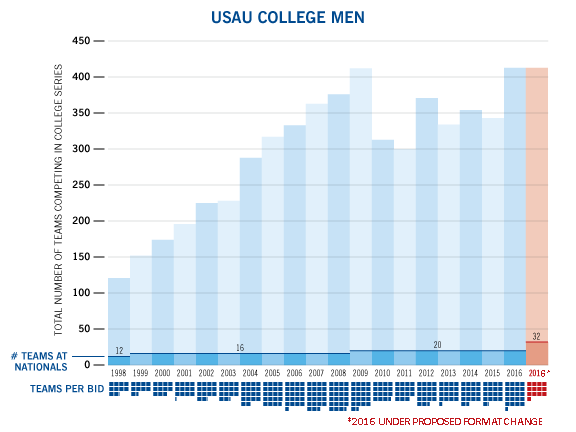 Moving to a 32-team Championships would put the teams per Championships bid in line with what they were between 2001-02 in the men's division and 2004-05 in the women's division — right in the heart of both divisions' periods of maximum growth.
While a 32-team Championships may see a short-term dilution in the number of pool games that are competitive, it would create added intrigue in bracket play. Further, while overall growth is multi-factorial, it is possible that expanding the Championships pool could contribute energy toward a new period of fast growth in both divisions in college.
---