Truck vaults to #1 in the USAU rankings with this weekend's performance.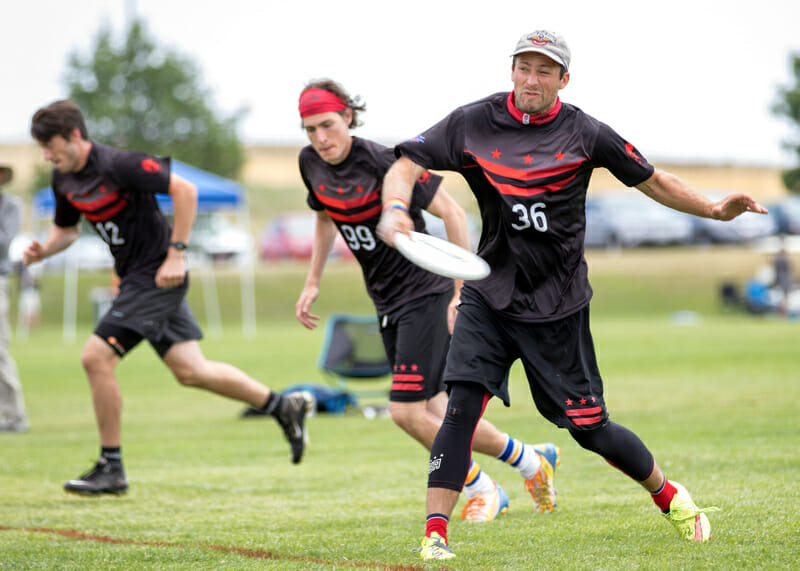 DENVER — Washington DC Truck Stop may have just opened their 2016 season but they didn't wait long to get rolling.
Truck burst out to a 4-0 lead to begin the Pro-Elite Challenge final against Denver's Johnny Bravo and never gave Bravo a chance to get back in it, claiming a 13-7 victory and a tournament title. They premiered at #1 in the first official USA Ultimate rankings.
"It's good for the team to learn how to win," said Truck Stop captain Peter Prial, who noted that many players on the team have never won a major regular season tournament.
Truck Stop was dominant in the final, notching five breaks and yielding zero. The offensive line was deadly, especially in the first half, when they often scored in two or three passes, even from the brick mark. The win avenged their only loss of the weekend — 13-10 to Bravo in the second round of pool play on Saturday.
"We dictated the terms yesterday and today we let them do what they wanted to do, which was huck," said new Bravo head coach Jim Schoettler (the former coach of Colorado Mamabird). "I don't know if we were tired or just a little bit out of sorts, but we didn't adjust."
Indeed, Truck hucked early and often, opening up the field in the first few points with simple throws to space. The D-line's three breaks to open the game were all set up or scored by deep throws to one-on-one coverage.
"In the thin air in Colorado it's pretty easy to float a disc out into space and let your fast, athletic defensive cutters run onto it," said Prial.
Former Truck star Sean Keegan made a triumphant return to the team this weekend and was everywhere for the Truck offense, finishing with two goals and two assists on the O-line's eight holds. One one of the few points in which the Truck offense turned it over, Keegan got a layout catch block to retake possession and threw from his knee to get the immediate assist:
"We had opportunities to take away their momentum and we didn't execute on those," said Schoettler.
There was also just a simple energy differential between the two teams, despite Bravo playing at home with a high altitude advantage. Truck was running harder and playing with an edge that Bravo did not match. Many of Truck Stop's deep cuts were hardly contested.
But firing deep was part of Truck's game plan. "We're trying to be an aggressive team," said Prial. "Our mentality the past few years has been trying to become more attacking."
Bravo was coming off of an excellent win over Chicago Machine, the US Open champion, in the semifinals. In that game, Bravo's offense was much more crisp and they forced a flat Machine team onto their heels with effective defense. But they seemed to catch Machine's malaise and suffer from it in the final.
Jimmy Mickle played his first tournament with Bravo this weekend and was their best offensive weapon. But it's clear that the team is still learning its new vertical stack offense, and Schoettler said success came and went from game to game.
Bravo had a chance to regroup after a tough first half, trailing by three. But they gave up a very quick hold to go down 8-4, and then a fourth break after a turnover on a huck set up an excellent Truck D-line drive. After a timeout on the goal line, Matthew "Rowan" McDonnell threw a high stall scoober that was pulled down by Brian Marshall with a big grab at the back of the endzone to extend the lead to five:
For Truck Stop, the tournament win after a dominant Sunday confirms their status as a 2016 title contender. With roster continuity and legitimate star power, including multiple Team USA representatives, they have the tools to succeed against the best teams in the country.
But do they have the mentality? Last year, they often built leads against elite opponents, including eventual National champion San Francisco Revolver, but struggled to maintain them in the second half. They blew a lead against Revolver at the 2015 Pro Flight Finale and then again in the quarterfinals at Nationals.
Prial was pleased with the improvement on that front in Denver. "We played good teams and, on Sunday at least, we didn't lull at all," he said. "We built up leads in the first half and maintained that, adding breaks in the second half."
But he was quick to point out that success now is not the end goal: "They don't give out trophies for regular season tournaments."
Watch the full game footage of Truck Stop v. Johnny Bravo — and nine other games from the Pro-Elite Challenge — with an Ultiworld Video Subscription.