After a finals victory over a solid Metro North squad, Boulder emerges as a legitimate contender in the mixed division.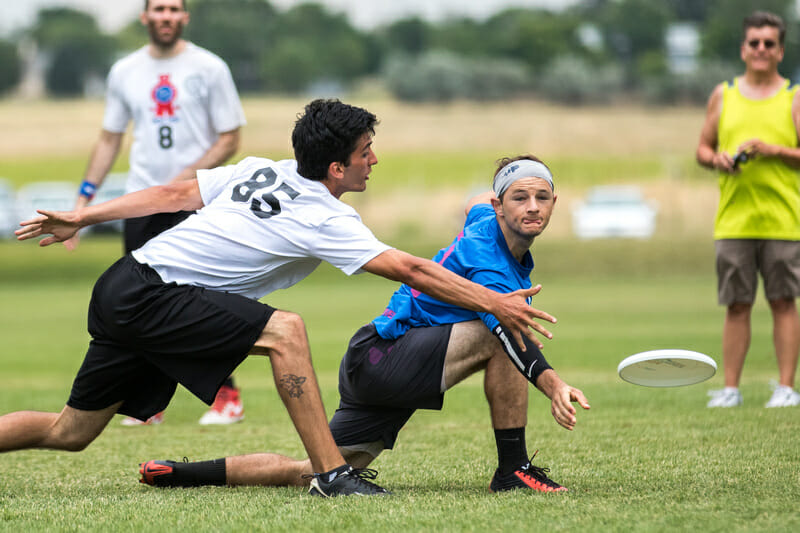 This article was written by guest author Kevin McCormick, a longtime player for Philadelphia Amp.
A well-known component to success in the mixed division is getting balanced contributions from both male and female sides of the roster. On Sunday, Boulder Love Tractor embraced this philosophy en route to a convincing 13-10 victory over Connecticut Metro North in the Pro-Elite Challenge final.
Love Tractor's women tallied a total of 15 blocks, assists, and goals in the game — the same number generated by the male half of their roster. The team also used their impressive depth to their advantage, with sixteen players contributing to the final scoresheet, no one accounting for more than four.
Both of these teams entered the tournament with a 10-3 season record,1 and were a perfect 5-0 on the weekend heading into the final. Both were hungry to make a statement after losing in the semi-finals of their previous tournaments.2
On Sunday, it was Love Tractor that used that hunger to fuel success.
"We have a lot of players who haven't been in a situation like this, but I thought this tournament especially, we learned and got better," said Love Tractor captain Jack McShane.
There was a bit of a breeze throughout the game, although both teams were able to put up full field throws in either direction. Most possessions featured tight person coverage from the defense; Metro North attempted a zone early in the game, which Love Tractor promptly shredded for an easy score. While defensive bodies flew frequently, neither team was able to come up with a layout block. In general, both offenses thrived when they focused on patience and execution, with the vast majority of turnovers coming on low stall counts or on routine passes to open receivers.
In the first half, defense proved to be the difference for Love Tractor. They applied proactive, flat marks that prevented the normally huck-happy Metro North offense from utilizing their strong deep game. And when they couldn't huck, smart defensive positioning on the Connecticut resets forced three short field turnovers on their first five possessions.
"We came out a little flat in the first half, frantic," said Metro North captain Andrew Bosco after the game. "We had three or four turnovers just outside our end zone. If we clean that up, it's a totally different game."
By contrast, Love Tractor's offense maintained impressive composure against tight defense from Metro North, and continued to go for it on "4th and inches," throwing medium risk resets instead of putting up low percentage punts, with great success. For the game, Boulder committed zero turnovers on resets. That efficiency kept their D-line on the field and allowed them to continue their hot run of play on the weekend.
"Defensively we figured it out this tournament," said McShane, when asked what has improved for them. "In Columbus our defensive O was a little choppy. [This weekend] they just took over. In every game, [the D line] got at least four breaks — probably six, seven in some games — which is awesome to see because as the pressure increased on the O-line, we were able to sit back and watch the D-line get breaks."
Indeed, Love Tractor capitalized on each of their four first half break opportunities to take what would be an insurmountable 7-2 lead at halftime. The first half included only 12 minutes of game play, featured four total turnovers and exactly one throw for greater than 30 yards.
All that would change in a far sloppier second half.
Metro North began to increase pressure on Love Tractor's resets, which broke Boulder's offensive rhythm and generated plenty of turnovers, but the Connecticut squad couldn't capitalize on enough of them, converting only two of their five break attempts. The reset problems Metro North faced in the first half may have hurt their confidence in grinding out breaks; their three failed break opportunities included turnovers on a rushed first throw from their own goal line and two questionable hucks.
As the afternoon wore on, both teams became more aggressive with their deep shots, as Connecticut attempted to claw their way back into the game, while Boulder looked to close it out. Unfortunately, neither team found much success with the long ball. Metro North finished zero for six on huck attempts while Love Tractor only managed to complete one of their nine, a beautiful pull play shot from Matty Zemel to a wide open Megan Henderson to make the game 10-5.
Metro North got their first break back at 11-7, after solid defensive pressure kept Boulder pinned in their own endzone for several consecutive throws. Still, in a game to 13, time was running out on a comeback.
Down 12-9, an acrobatic layout grab from Lucas Murphy gave Metro North another break to close the gap to two, but that was as close as they would get. On the ensuing point, a foul on a floaty end zone throw gave Kate Pearson the disc on the goal line. She then hit McShane on a short button-hook for the win.
McShane finished the game with one block, one assist, and one goal, though that understates his importance in the game; at times it felt as though he was getting every other throw for the Love Tractor O-line. Boulder also got a solid, two-assist performance from Zemel, who moved back to Colorado from Seattle for med school this past offseason. He is one of several additions to the Love Tractor squad this season, as McShane commented that they were able to draw strong talent this year thanks to the team's success in 2015.
On the other side, Bosco finished the game with two goals and an assist, while Chris Mazur tallied a goal and four assists for Metro North, despite also looking a little out of sync with his teammates in his first TCT event of the season and throwing several miscommunication turnovers.
The weekend should be seen as a success for both squads and continues their strong runs of form throughout the first half of the regular season. Both Love Tractor and Metro North have positioned themselves as real threats to make noise at Nationals. The next tournament for each is the Pro Flight Finale, to be held August 20-21 in Vancouver, WA, just outside of Portland. The competition will be a bit stronger there than at the Pro-Elite Challenge, featuring seven of the eight Pro Flight teams and no team ranked outside the Top 25.
Love Tractor will look to ride their success in Colorado into Vancouver.
"We kind of consider ourselves still a little bit of an underdog, but we found out, especially in this wind, that we can step out on the field with most other teams," said McShane. "Our systems are down, and [now] it's all the details. Just making sure everything's sharp, all the details are there, so that when we walk into Portland, we can feel confident."
Full game footage of this game is available now in Ultiworld's video store for monthly subscribers and those who have purchased a 2016 club season package.
---
Five of their combined six losses came from teams in the top eight of the latest USAU rankings; the sixth came when #21 San Francisco Polar Bears defeated Metro North in pool play at the US Open after Metro North had already secured the top spot in the pool. ↩

Metro North lost to Slow White 15-10 in the semi-finals of the US Open; Love Tractor lost to Steamboat 12-8 in the semi-finals of the Elite-Select Challenge. ↩