Dallas continues their storybook season.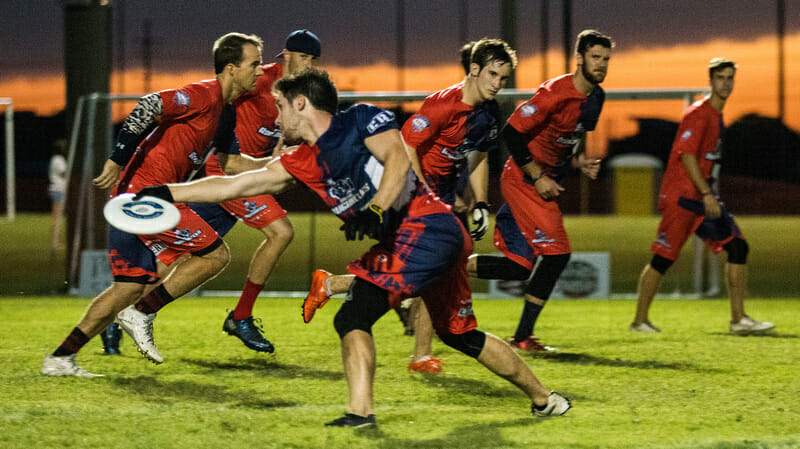 MADISON — It didn't take long for the Dallas Roughnecks to silence any remaining doubters. A fast start from Dallas delivered an early lead that they would never relinquish, as they advanced to the AUDL final with a 27-20 win over the Toronto Rush. Despite taking some sloppy looks at points during the game, their depth shone — as it always does — en route to their sixteenth straight victory.
The first semifinal of Championship weekend was decided in the early quarters. Outstanding play from Kurt Gibson and Chris Mazur kept Dallas consistent through four, but it was the slow start for Toronto that dug the Rush into a game-defining deficit.
Before the game, the Toronto offense wasn't considered a key factor in the matchup because of its consistency in the regular season. But the Rush offensive unit met a different animal this weekend. After a hold from the Roughnecks to open the game, the Toronto offense turned it over on the centering pass, as Adrian Yearwood simply dropped it. Dallas made quick work of a short field, and Matt Jackson assisted for the quick 2-0 start. Another stone cold drop, this time from Isaiah Masek-Kelly, led to Dillon Larberg hitting Dalton Smith for the 3-0 lead. The game already felt like it was slipping away from Toronto.
A major defensive weapon for Dallas was Dan Emmons, who registered three blocks on some of the toughest matchups downfield, particularly Isaiah Masek-Kelly. "I've played against him with Doublewide, so I know what he likes," Emmons said. "The biggest thing was going out there with an aggressive mindset."
Four turns in four points was not the way the Rush, the clear underdog, needed to start. An exceptional layout block from Anatoly Vasilyev set up Toronto to finally hold. But by the time Toronto cut out their senseless drops and miscues, the Dallas offense was running on all cylinders. Unbothered by man defense, their offense cruised on long offensive possessions.
"You go into the game knowing your the underdog, and you have to try as hard as you can to get that momentum early," Rush captain Mark Lloyd said after the game. "You start building that belief, within us, that we already have. And you build the belief with everyone else." The Rush were absolutely more aggressive in the first than usual, but it took more of a gameplan adjustment to fight back, as opposed to an attitude one.
Toronto switched to a junk zone that they would experiment with for the rest of the game. In its first showing, Jimmy Mickle threw into an easy block, leaving five yards between the Rush and a mere 5-4 deficit. But with their Boston contingent out for Championship Weekend, the Toronto D-line suffered. A hastily taken upline look wasted the easy break chance, and Dallas eventually for a 6-3 lead.
Toronto hit their stride on offense near the end of the first quarter. It was around this time that they adjusted away from what Lloyd called the "north south offense." "Out of set plays they were looking to score quickly, but that was what they were ready for," he said. "So in the second half we went to more a small ball, west coast style."
A calm point of Rush possession gave fans a glimmer of hope that a better game might be coming. Yearwood found Lloyd in the end zone with only two seconds on the clock to seemingly end the first quarter. But Dallas needed an exclamation point to their opening quarter. With only two seconds on the clock, Mazur put up a prayer to the end zone for Dallas. Kai Marshall skied a group of at least six for the incredible goal at the buzzer. 8-4, Dallas.
Dallas finished off the second quarter with a bang as well, when Dalton Smith found Dillon Larberg after another poor Toronto turn. If its possible to have a game-ending dagger in the first half, the 14-8 Smith goal was it. Toronto had their chances in the first half, but they couldn't put the pieces together with their D-line offense. In the first half, Dallas registered a 92% completion percentage. While not perfect, the Rush at 85% dug themselves a deep hole against an elite unit.
"The defense really came out hot from the start," Roughnecks star Kurt Gibson said after the game. "They set the tone. It helped our mindset and positivity, and it lasted through the whole game." Dallas' defense was absolutely their most consistent attribute, with the pressure not letting up as long as the standard personnel was present.
At the start of the second half, Toronto gave their best in an attempt to surge back into the semifinal. Mickle's four throwaways would have been a huge help, if not for the unwavering depth of the Roughneck's roster. "It's hard to come back," Lloyd said. "Especially when you break one of their lines, and they bring out another line that's anchored by some of the best in the world, no matter who it is."
Despite Dallas retaining control, Toronto played even in the second half. "We tried an onside pull, or purposely pulling it out of bounds for most of the second half . . . or different zones or junk looks," Lloyd said. Their creativity on defense was giving them opportunities, but they still struggled to collect breaks. Dallas didn't run into that problem, with their D-line staple Matt Bennett throwing a backhand dime to Matt Costello for the 20-13 lead.
After trading points for the rest of the fourth, Dallas clinched a Championship spot in their first year of existence. "If our defense comes out the way it did today, I don't think a team can beat us," Gibson said after their win. "They took it to them at every level."
Dallas has some things they need to clean up if they want to be successful in the season finale. Kurt Gibson was excellent, finishing with two assists and six goals. He registered a stat in one of those categories on 35% of the points. Jimmy Mickle could have been better, with four throwaways tarnishing what was otherwise a decent performance.