It was a scorcher.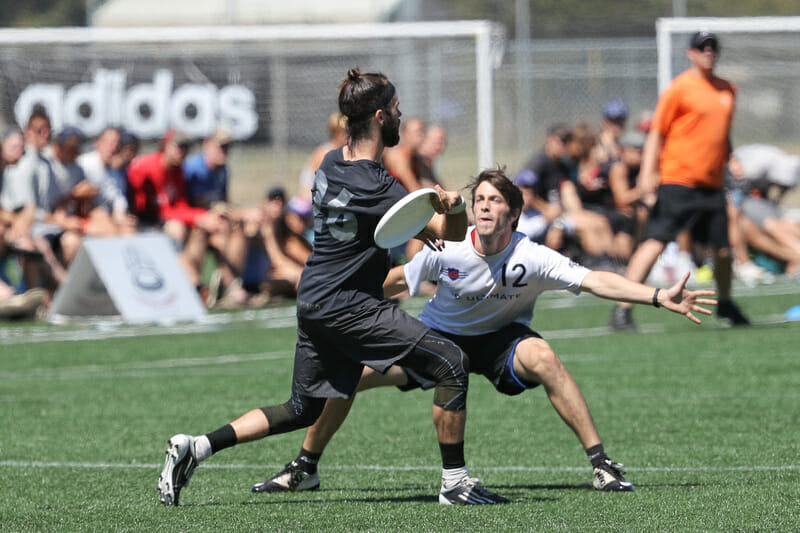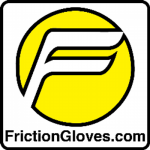 Our coverage of the 2016 Pro Flight Finale is presented by Friction Gloves; all opinions are those of the author. Please support the brands that make Ultiworld possible and shop at Friction Gloves!
VANCOUVER, Was. – The forecast for an unseasonably warm weekend did not disappoint in the Pacific Northwest, where San Francisco Revolver, methodical as ever and brimming with talent, outplayed and outlasted the competition to take home their second Pro Flight Finale title in as many years.
The defending national champion in the Men's Division came from behind in the final game of the weekend, beating a Washington D.C. Truck Stop team that was powered by a turbocharged offense and a near-perfect first half.
As impressive as the final game was – and it did have pacing and intensity that were unmatched compared to nearly every other men's game throughout the weekend – the 2016 Pro Flight Finale was host to more than just the best reaffirming their pole position in the rankings. It featured a surprise run from an eighth-seeded Kansas City Prairie Fire to semifinals and a third place finish, the Saturday collapse of an early season favorite in Seattle Sockeye, and the steady rise of a young Denver Johnny Bravo team that may have a much higher ceiling than anticipated.
Oh, and on Saturday, while the air approached 100° F, the turf itself on the showcase field matched the inside of a well-done sirloin.
https://twitter.com/Ulti_world/status/767089071671816192
Here are some of the weekend's biggest takeaways.
Revolver Again The Frontrunner?
The standout defense and nigh-unstoppable offense that brought Revolver a title on Sunday wasn't entirely present when the division's best took the field first thing Saturday morning. As the end of the first round arrived, Johnny Bravo nailed in the final point of a 13-11 first round upset. It was quickly gut-check time for the champs in their first postgame huddle of the tournament.
"Beau [Kittrdege] kind of woke us up after that Johnny Bravo game where they smacked us in the mouth," said captain Lucas Dallmann on Sunday. "I don't know if there was a sense of entitlement, but it kind of came out that we deserve a win maybe and obviously no one would admit that, but that checked us back into earning everything."
Even for Revolver, a team with a pedigree of winning so strong that they have dominated the decade with national titles, the ebb and flow of players between rosters and more players elongating their season with semi-pro competition and travel, it's difficult spending the final weekend of the regular season searching for chemistry and cohesion for the first time. Dallmann said the loss to Bravo renewed their ability to focus on "..earning this jersey, earning the opportunity to play with these guys. And it makes some memories and have a lot of pride."
Kittredge's reminder held fast for the rest of the weekend. The team went on to win five straight games, capping Sunday with their comeback win against Truck Stop. On offense, while Kittredge played limited points and 2015 Ultiworld Player of the Year Cassidy Rasmussen's impact was less noticeable, newcomer Grant Lindsley was excellent, tallying three goals and three assists while chewing up yards alongside Simon Higgins and Joel Schlachet as if he had been playing with the team for years.
On defense, Russell Wynne continued to take top matchups with Dallmann, while Gregory Cohen and Marcelo Sanchez were excellent in coverage and provided serious firepower downfield after the turn.
Despite the different path, location, and kinder weather, Revolver's road to their second Pro Flight Finale title was largely the same as last year: a reality check and three decent wins on Saturday, and a clear demonstration of their talent and depth on Sunday to close out the weekend. Still, it had to feel nice to put up six breaks in their 13-8 win over a star-studded Sockeye on Saturday afternoon and simultaneously win the pool.
What's most impressive about Revolver's performance – and perhaps what's in store for the 2016 postseason – is that even with some newcomers and notable losses (Ashlin Joye and Robbie Cahill), the San Francisco squad presented the same, top-quality game as always. Their offense was fast and coordinated, with excellent fundamentals in the backfield from Eli Kerns and Chris Kosednar, while their cutters worked relentlessly to isolate open lanes for long, crushing undercuts that featured two or even three fakes before receiving the throw. The defense was strong, athletic, and able to get blocks in just about any point – like always. The D-line will need some increased focus coming into Regionals, however. During the first point of their semifinal with Prairie Fire, the D-line missed on four chances to score an opening break.
After joking about the team's weekend goal being "not running a loser's ladder," Dallmann reiterated that this Revolver team is dialed in on earning their way to recognition in 2016. "We're excited to…I think we have three weekends before Regionals, so, it's likely going to be a one-bid region, just like it always is and we don't want it any other way," he said. "So we just have to earn our spot as always. And we're excited to do that, proud to do that, and to hopefully, if we're lucky enough, to represent the region."
Truck Stop Stays Focused Inward After Another Successful Weekend
Golf carts whizzed around the field complex after Sunday's final, briskly cleaning up after 30 teams spent the weekend under a hot sun. And while the rest of the tournament wrapped up, Washington D.C. Truck Stop de-cleated, circled up, cracked a few post-competition drinks, and looked back on a 5-1 weekend.
Coming in as the tournament's top seed, Truck Stop landed in Pool A, safe from facing Revolver on Sockeye on day one. But Saturday wasn't all smooth sailing. The D.C. offense is loaded with talent and primed to look for long shots early and often. When cutters struggled to hit their throws, opponents capitalized. Portland Rhino fashioned a comeback out of those turns against Truck in the first round, nearly erasing a large first half deficit before D.C. closed the action at 13-11. (Watch the game with an Ultiworld Club Subscription!) It was the first of two close wins during the 4-0 Saturday; the second was a 14-12 win over Doublewide to finish the day.
Sunday offered another early test for Truck Stop: a semifinal matchup against a Johnny Bravo team that was performing much better since the two last met in a blowout win for Truck at the Pro-Elite Challenge. This matchup pushed to double-game point after four lead changes, with both teams breaking numerous times to keep the game close. Bravo made efficient work of Truck deep shots that missed, while D.C. returned the favor by winning one-one-one matchups by contesting as many unders as possible. In the end Truck Stop forced the turn they needed after pulling at 12-12. Nicky Spiva picked up the disc and bombed a backhand for the goal. It was a big mental win, one that may have charged up D.C. heading into the final against San Francisco.
"I think it gave us a little confidence boost coming in," said Jonathan Neeley, a Truck Stop handler. "Knowing that we, with our backs against the wall, have what it takes to dig in and come out on top. It definitely left us feeling good coming into the game, but I think once we hit this turf, that was behind us."
There was a clear level-headedness about both Neeley and his teammates as they broke camp after Sunday's final. Had the Revolver loss stung at all?
"No. Nope. It doesn't," Neeley said.
D.C.'s expectations for the weekend were an indicator about their team mentality and speak to the elite approach to the regular season. Wins are nice – no one on these top teams is going to deny that winning feels good, and that learning how to succeed together is important. But with a bye to Regionals secured, and the regular season constrained by both the Triple Crown Tour and semi-professional schedules, the Pro Flight Finale was felt a lot more like a mid-season test run than it did a must-win event.
So Truck's postgame huddle wasn't an analysis on their close loss to Revolver, in a game where they had held the lead until late. "We talked about getting better. Perhaps, had we executed some things better than we did in [the Final], it would've led to a Pro Flight Finale championship, but that wasn't the focus going in," said Neeley. "The idea really is to leave here evaluating what we did well, what we did different, and have this be our worst day of the year, moving forward."
Rankings released yesterday slot D.C. into the #2 spot in the country, pointing to their largely excellent performance through three regular season tournaments. They reached the final in each of them and won the Pro-Elite Challenge. If Truck can truly hold themselves to Sunday's final being their worst performance of the year, especially after owning yet another lead late in a game against Revolver that just barely slipped away, this Pro Flight weekend was just a stepping stone.
Johnny Bravo's Back-to-Basics Approach Producing Advanced Results
For a young team that believes they are still in a rebuilding year, Denver Johnny Bravo locked in a fundamentally sound and successful weekend, taking fourth place with a 4-3 record.1 And they started competition with a huge bang, a 13-11 win over Revolver in a nearly windless game where they continued to out-throw the excellent defense from the defending champs.
Both Revolver and Sockeye threw out defenses designed to slow down a vertical stack, but the faking and throwing coming from Jimmy Mickle, Ben Lohre, Mark Rauls, and Owen Westbrook moved marks enough to allow the offense to work onto to the sideline, and then throw long gainers to the other side of the field. They were particularly effective against force middles.
Having Mickle, both as a presence that sucks defenses away from other parts of the field and as a top talent, continued to pay off. He opened the weekend with five goals and two assists against Revolver and never looked back.
On top of putting away Revolver and Sockeye, Bravo also notched a hard-earned 14-12 win over perennial regional rival Austin Doublewide. Austin put themselves in an early hole against Bravo, staring at a three goal deficit in the first half. But it didn't last – Bravo handed Doublewide a couple short-field turnovers, and the game was tight from late in the first half onward.
The mental mistakes – calling a force on the line and not sticking to it, or remembering to call the defense stated in the game plan to take away major threats – cost Bravo big time. Their poise and skill showed in the big wins, but when the weekend came to a close, they'd only broken seed by one despite their big wins, and lost twice to a scorching Prairie Fire team.
Bravo is still working to install their new offense, incorporating their younger guys into on-field roles with more responsibility, and learning how to communicate. Having already watched Truck Stop's Nicky Spiva send a backhand long for a break off a turn, the Bravo defense gave him the same look on double-game point, and he took it and sent Denver packing.
"Mental mistakes probably cost us that game. We had the disc to win. It was a very frustrating way to go. We have enough issues that we need to work on that we can't also add mental mistakes to that," said coach Jim Schoettler.
His team flashed moments of semifinals-at-Nationals level brilliance this weekend, showing they could beat the best with smart offense and athletic defense. The few slip ups Johnny Bravo did have just cost them. Expect improved communication by the time South Central Regionals arrives.
Prairie Fire Surges Late In The Season
In the excitement of the club season finally kicking off, it might have been easy to overlook the fact that Kansas City Prairie Fire earned their spot at the 2016 Pro Flight Finale last year, finishing tied for 7th at Club Championships in 2015 and earning a Pro Flight spot for this season. And on paper, the season so far had featured more losses at the elite level than wins.
And then they came out and beat Johnny Bravo and Seattle Sockeye…in the same day.
Talent was finally coalescing for this Kansas City-based team, which draws something close to half of its roster from other cities and states nearby. With the AUDL season drawing that talent away from practice time, it was mid-August by the time the group had a chance to hold a weekend of two-a-day practices and fit everyone into roles and responsibilities. And lock in their messaging, which proved to inspire their play in Vancouver.
"We just know that every point we get out here is extremely valuable," said captain Joe Young after their excellent start on Saturday. "There have been a lot of Prairie Fire teams in the past that haven't been able to travel and play these kinds of teams, so we just make sure we don't take it for granted and every time…every chance out here…it's like, we don't get to practice together very often, so we have to really maximize these reps and try and get as much out of every single rep as possible, regardless of the score, regardless of the opponent."
Prairie Fire took third overall this weekend, and though it wasn't good enough to push them into the top 16 teams in the rankings, they walk away knowing that their fast-paced offense is good enough to beat Bravo twice, take down Sockeye, and overcome a 7-2 halftime deficit against a similarly-speedy Rhino team to win on double-game point.2
If there had been any underestimating of this team going on, especially with a short backfield running the show, it should have stopped this weekend. Excellent resetting gave Prairie Fire cutters time to work on both the offensive and defensive lines, and Jesse White registered the kind of blocks (featuring one particularly exciting set of bookends against Rhino) that should have any team concerned when he's defending the deep space.
They'll finish the season ranked #17. That should have #16, Minneapolis Sub Zero, concerned at North Central Regionals.
What's Up With Sockeye?
While Prairie Fire succeeded, Sockeye slipped, falling five seeds to finish 7th place after a 13-12 win over Sub Zero in consolation play on Sunday.
A 1-3 performance on Saturday culminated in a rough loss to Revolver, where tempers flared and and little mistakes ceded control of the field to the defending champs, who walked away winning by five points. Drops and cutting miscues plagued the team on both of its lines, and they seemed to sorely miss captain and big downfield target Matt Rehder, who appeared to be sidelined with an injury.
"We were just trying to play well and play better than we had, the last time we played, which was last weekend at practice," captain Phil Murray said after Saturday play. "Just trying to get better. And we did not meet our goal, really. We kind of got caught by the weather, and just mentally weren't ready to play for a lot of our games."
Missing the bracket came as a huge surprise to many, especially the players, who broke off into small groups around an auxiliary field site for debriefing at the loss to Revolver late Saturday afternoon. Their coach, Roger Crafts, declined to comment on the rough day one outing.
Perhaps Seattle's struggle this weekend was the best indicator so far of what can happen when Worlds commitments and the semi-pro season drag swaths of a top club team all the way from March to August. That left limited opportunities for Sockeye to play against outside competition: they traveled only to the US Open and Pro Flight Finale this season.3 Seattle wasn't the only team fielding the majority of its roster for the first time this weekend, but they did struggle the most.
Count on Sockeye to arrive at Northwest Regionals looking much more complete than they did in Vancouver.
Quick Hits
Portland Rhino performed for the most part to expectations this weekend, outside of a remarkable collapse against Prairie Fire while playing for a spot in the bracket Sunday morning. Rhino gave up six breaks, one of which came off a dropped pull when the game was tied late. This does not spell doom for the rest of the season, but it does show that Portland needs a reliable mental game to secure a bid to Rockford and perform well there.
It was a middling weekend as well for Austin Doublewide, who showed that they were capable of hanging around against better teams, but had trouble closing the door or fully overcoming deficits. The team went 2-4 on the weekend, but should be able to focus on improving without missing nationals now that H.I.P has added a third bid to the South Central.
Sub Zero opened the weekend 2-0, with an expected win over Denver Inception (1-5 on the weekend) and a notable upset over Doublewide. And then things crumbled. A win over Indianapolis Brickyard (who went winless) got them into the 7th place game on Sunday against Sockeye.
We're also sending out our thanks to Charlie Mercer, Rusty Brown, and all of the Seattle Mixtape and Portland area volunteers who kept things running smoothly all weekend. And here's a big shoutout to our video crew: Noah Lunger battled the beating sun for seven rounds of ultimate in the scaffolding, and Scott Dunham captured eight other games that took place beyond the showcase field.
---
The losses were close, all three by a combined four points. ↩

That game will be available in the video store as well. ↩

For anyone not keeping track, that's a month and a half between tournaments. ↩