Turbine powers to second straight Sectional title while Ring of Fire falls to third.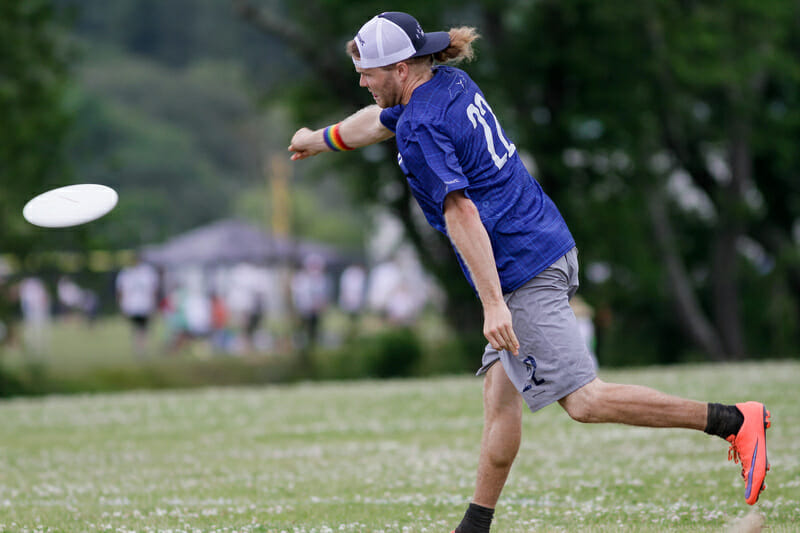 Ring of Fire had never lost to Turbine. The Triangle off-shoot — which was the brainchild of disaffected former Ring stars and players looking for an alternative to playing for Cash Crop — had never beaten Ring of Fire. Until now.
Turbine put on an impressive Sunday performance at North Carolina Men's Sectionals this past weekend, knocking off Ring in the semifinals and following it up with a 12-10 victory over rivals Cash Crop to capture their second straight Sectional crown.
Heading into Sunday morning's semifinal, that outcome seemed unlikely. Ring, long the dominant force in the state, hadn't had to compete at Sectionals since 2011 and breezed through their Saturday pool play games giving up a combined nine goals. Turbine, on the other hand, fell victim to the same inconsistency which has at times marred a deceptively talented roster since the team's inaugural season in 2015, dropping their final pool play game to Cash Crop. Still, Turbine's captains believed they were finally ready to take down Ring.
"We came in after our loss to Cash Crop in pool play with a clear mindset," Turbine captain Matthew Rushing said after the game. "The pressure was off. We didn't have to be perfect. We just had to come out and grind."
Smart poaching and high energy allowed Turbine to throw Ring off balance and take control of the game in the first half. With defensive pressure upfield and clogging by Ring's cutters, Jon Nethercutt and the Ring handling corps found themselves throwing into poaches in the lanes and consistently struggling in the red zone. Easy drops by Ring receivers led to several key turnovers that gave Turbine's D-line opportunities to capitalize on the momentum they gained through a sound defensive scheme. They did, earning a 7-4 halftime lead.
"Simple mistakes compounded by lack of defensive priorities and effort put us in a bad initial position," said Mike Denardis, Ring's head coach.
Entering the second half, Turbine braced itself for the inevitable possibility of a resurgent Ring of Fire, a team that has made a habit of late game comebacks. Turbine's captains — Matt Bode, Jesse Lieberman, and Matthew Rushing — preached maintaining their energy and trust to stay on top, but Ring opened the second half with a hold and break to inch back to 7-6.
Turbine responded with a 4-1 run, building off of inspired play from their D-line and an impressive performance by former Ring member Bode, who registered two layout goals for the Durham squad during that stretch.
Ring was not finished yet and ground out their own 3-0 run to get back to within one and seemingly seizing all of the momentum. But confusion over the lack of a horn for soft cap led to a very anti-climactic ending, as the hard cap time ended the game 11-10, snuffing out Ring's comeback attempt.
Despite the shaky finish, there could be no doubt about the pride Turbine radiated after the game. It was a moving moment for Bode and Lieberman. Turbine was a team created with the purpose of competing against the top teams in the Southeast; Sunday morning was the validation of two seasons of hard work for the Durham renegades.
Turbine's play-makers were electric the entire game, but it was the less visible players who were truly the difference makers in Turbine's victory. After the game, Rushing praised the full team effort.
"We've stuck to using everyone on our roster to get us to the bracket at our regular season tournaments," Rushing observed. "Everyone has chosen to fully trust our grind mentality."
While Ring was left licking their wounds, Turbine still had a final to win. Their performance against Ring helped fuel their energy into the finals against a Cash Crop team that was gassed from playing Wilmington Right Coast in a game that came down to double-game point. Once again, Turbine's energy and playmaking across the entire roster quickly silenced any hopes for Cash Crop to take the section. It didn't hurt that their energy was augmented by a favorable crowd of spectators who cheered the Durham upstarts to their second Sectional title in as many seasons.
Reflecting on the weekend and looking forward to Regionals, Rushing said, "We're right where we want to be. We're looking forward to another good rematch with Ring and [Florida] United is a team we like to see when we're ready."
If Turbine can play with the energy, playmaking, and strategic adjustments they demonstrated on Sunday, they certainly will be.
Ring Goes Down In Flames
For Ring of Fire, the lackluster semifinal performance against Turbine was compounded by another loss later that day to Cash Crop in the second place game. The shocking third-place Sectional finish highlights the challenges this Ring team has faced throughout the season.
"The biggest issue has been the shortened season. Many of our players have had commitments to AUDL teams, so our time together has been limited," said Denardis after the tournament.
While the absence of Noah Saul, Hunter Taylor, and Shane Sisco from the Ring D-line on Sunday certainly may have contributed to their losses, there are underlying issues with Ring's offensive consistency that have plagued this squad throughout the regular season.
"Our consistency in execution has been a problem for a large majority of the year," Denardis admitted. "But we've certainly shown glimpses of the team we can be when we play with focus and energy."
Ring will have to hope those glimpses start showing up more frequently headed into what is likely to be a brutal Regionals. Ring has a history of thriving in the face of adversity — it has been 20 years since the program has missed qualifying for the Club Championships — but they will enter the tournament in Atlanta having to battle through one of the deepest regions in the country for a single bid to Rockford. With the insurgence of Turbine and Cash Crop, it has been a long time since North Carolina has appeared to have so much parity. Also looming are top-seeded Florida United and a Chain Lightning team that is equally desperate to get back to the National stage.
All in all, the opening weekend of the Club Series provided a juicy taste of the battles to come in a one-bid Southeast region that seems to get more and more competitive every year. For spectators and fans, that is never a bad thing.