A rematch of last year's blowout semifinals features two of the most talented teams in the division. Molly Brown has a chance at not only revenge, but a chance to prove their status.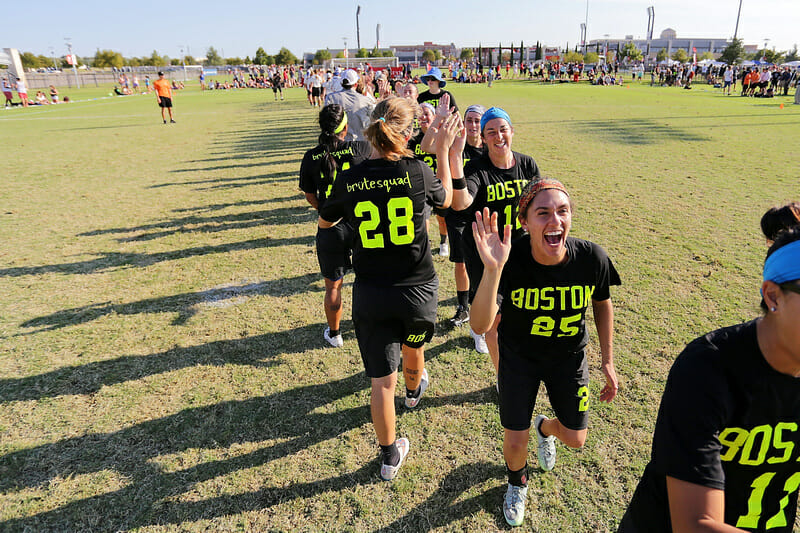 Ultiworld's coverage of the 2016 Club Championships is presented by Spin Ultimate; all opinions are those of the authors. Please support the brands that make Ultiworld possible and shop at Spin Ultimate!
We certainly have seen Brute Squad and Molly Brown's names inches away from one another on the far right portion of the bracket on more than one occasion.
"We've played them a bunch before," said Brute Squad's Claudia Tajima of Molly Brown, their 2016 semifinal opponent.
A bunch is right. The two teams have matched up five times in the past two seasons, four of them in various semifinals. They went head to head in each of past two the Pro Flight Finale semifinals, as well as the semifinals of the 2015 Pro-Elite Challenge, which was the last time Denver conquered Brute Squad. Of course, the game that comes to mind is last year's nationals semifinal, during which Boston routed the upstart squad.
But everybody knows that nationals doesn't have a script to follow.
"It's easy to be like 'oh, it's the same matchups as last year, maybe the same thing's gonna happen' but you have no idea," said Tajima. "There's new teams this year, these conditions are totally different than last year, you gotta think about like, 'clean slate. It's gonna be a battle.'"
Even calling the matchup "a battle" has some historical context. The 2016 version of Brute Squad vs. Molly Brown has been nip and tuck, each team scrapping for whatever they could get, and while both games went to the current #2 overall seed, they both were decided on double game point. There has barely been room for either team to breathe against one another. Perhaps they just bring out the best in each other now.
Going into the game, Brute Squad already seems to be finding what their best is. They are +36 so far through four games, winning by an average of 8 points. Their defense was almost impenetrable in the windy conditions of Thursday. In the quarterfinals against Nightlock, Boston broke to take an 8-5 half, and after yielding a break to open the second half, went on a 7-2 run behind more exceptional defense.
A huge aspect of Boston's dominance has been their implementation of upwind and downwind lines rather than an O-line and D-lines. A line that represents a more traditional O-line has been playing all upwind points, while Boston's endless defensive stars have been trotted out for downwind points. The strategy has worked exceptionally well to this point, but the wind is expected to die down a bit on Saturday and Brute may lose that advantage against Denver.
While you could argue Molly Brown has had a stronger schedule, they have not delivered the same amount of dominance. Denver's score differential is only +21 and challengers have given Molly Brown pause at points. Their defense hasn't been as stifling nor their offense quite as vicious as their Boston counterpart's.
The latter will be one of the biggest things to watch in Saturday's semifinals. In Molly Brown's quarterfinal against Scandal, Denver was able to overcome their own offensive inefficiencies with both their defense and the aid of their opponent's lack of rhythm. Claire Chastain had five assists and two goals and Paige Applegate added five assists of her own, often from red zone possessions. But Brute Squad's D-line, powered by Kami Groom, Cassie Wong, Elena Schwam, and Angela Zhu, won't be so forgiving.
Boston's gameplan starts on defense. And if they do it the way they want, it'll end because of defense, too. "We're gonna take shots and then play really, really hard defense and get it back," said Tajima, "and we trust our players, who are great defenders, to be able to do that."
The backfield is where Molly Brown feels like they can win the game. Their red zone offense relies on their handlers to do a lot of the dirty work, whether it be with their resets, break throws, or motoring up the line. And on defense, they will look to rattle their opponent's handlers to generate mistakes for their athletic downfield defenders.
"We plan on putting a lot of pressure on their offensive handlers," agreed Molly Brown captain Claire Chastain. She also half-joked that they planned to deny 2016 Player of the Year Leila Tunnell much room to get the disc. While Chastain and her teammates know they can't erase Tunnell's influence on the game's outcome, they certainly can make an effort to weaken it with hard-nosed backfield play.
But these teams know each other well and the conditions should be more favorable. The strategic elements –  matchups, tactics, plays, and game management – are mostly already figured out. They've been utilized in previous iterations of their matches.
For Molly Brown, this game may come down to their mental game.
"I'm a firm believer that sometimes you have to get to a level and lose before you can get to a level and win," said 2015 Molly Brown coach Mike Whitaker after last year's semifinal. The captains of Molly Brown have stated that one of their primary focuses for this season was strengthening their mental game and being able to face the big moments and flourish rather than wilt as they did last year.
"We have experience playing in a semifinal and we have experience playing Brute Squad to universe," said Chastain.
Saturday evening's showdown is more than a chance to pay back Brute Squad for last year. It's a chance to show their program is flourishing.