Can Riot change their fortunes?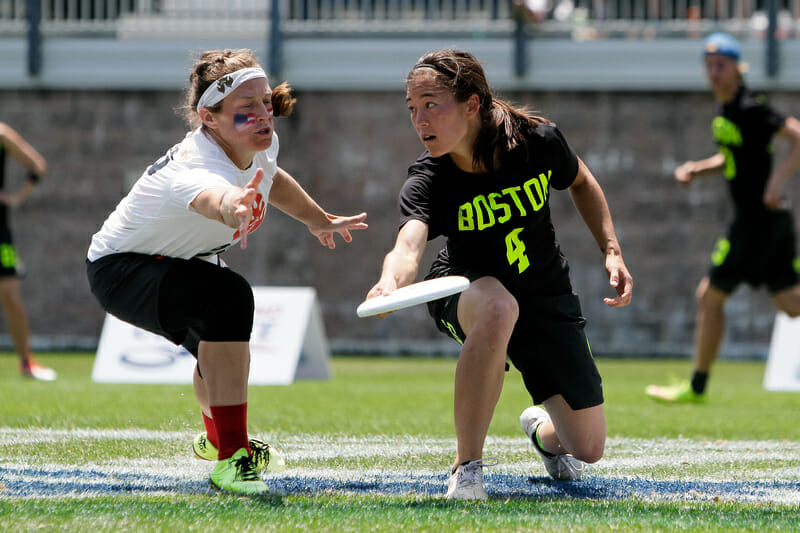 Ultiworld's coverage of the 2016 Club Championships is presented by Spin Ultimate; all opinions are those of the authors. Please support the brands that make Ultiworld possible and shop at Spin Ultimate!
The windy conditions in Rockford, Illinois, may have produced a lot of upsets in pool play, but the semifinals and the final are an echo of 2015. Riot beat Fury in a close game to advance, and Brute Squad handled Molly Brown to make the final. The difference this year is that Boston will walk onto the field as the defending champions, while Riot continues to seek their first title in over a decade.
Luckily for Riot, their battle in Frisco isn't the only final they'll be thinking about when they take the field today. Riot is 2-1 against Brute Squad in tournament finals so far this year. Brute Squad polished off Riot 14-7 at the windy U.S. Open, but Riot has won their last two meetings in the Pro-Elite and the Pro Flight finals. Riot learned how to capitalize on Brute Squad's offensive inefficiencies to earn their breaks, and when Hana Kawai and Shira Stern are heating up, they are tough to shut down.
Last year, Boston's defense earned them their first championship since 2002. If Brute Squad's performance in the semifinal was any indication, Riot can expect to face the same challenges this year. Seattle will set some of the division's best offensive playmakers against the division's best defense, and Brute Squad's excellent defense extends past their D-line and deep into their O-line, too.
"Our defense carried us [in the semifinal], and it's been a focus all season and for seasons going back," said Brute Squad coach Ariel Jackson. "I think from the stands it looks like we're not doing anything complicated, and we're not, but we focus on the little things: on marking, positioning on the mark, footwork on the mark, footwork downfield… and it really pays off."
Marking is one of the most overlooked defensive fundamentals, but big athletic marks and smart handler defense has become Brute Squad's specialty. Angela Zhu, Lauren Sadler, Cassie Wong, and Julianna Werffeli can shut down the division's best handlers, and they will have their sights set on Riot's Alyssa Weatherford, Paige Soper, and Kelly Johnson.
By contrast, Riot's best moments come from their offensive talent. Riot didn't force many of their defensive chances in their semifinal against Fury, but they pulled scoring opportunities out of the thin air thanks to incredible athletic plays from the likes of Shira Stern and Jaclyn Verzuh.
Riot is excellent at being Riot. They know how to live their culture, and they succeed when they focus on playing with heart more than tweaking their strategy. Their ability to play their own game so well, however, means that they don't force other teams to play their game, too. They don't have to make Brute Squad play like them if they can deliver their best version of Riot yet.
Riot coach Andy Lovseth said something to that effect after their semis win over Fury. He said that the team's focus in the championship game would be "us being us" before he was even aware of who they would be facing in the final. Riot's focus is on playing their game, rather than worrying about their opponent.
They may be aided in that endeavor by Brute Squad's own offense. One thing that Boston's offense does not feature is consistent high efficiency. All season their O-line has trended toward a "shooters-gotta-shoot" approach, and they've paid dearly when elite teams take advantage. Leila Tunnell and Shellie Cohen have face-melting hucks, but their shots don't always land. If their O-line gives Riot enough chances with the ball, Riot has the talent to wear out Boston's post-turn defense and could run away with the game.
Brute Squad has more on the line than a title to defend. A second title would be the next brick laid in building a Boston dynasty. Riot is a powerhouse program, and they have the accolades. But their trophy shelf is a little dusty.
"We create these stories for ourselves. We get to choose the stories we want to create," said Riot's Charlie Mercer after their semifinals victory. "Riot has chosen to create the story that we are gunning for gold and that we will not be satisfied unless that's what we get."
They're ready for the fates to finally swing their way so they can bring the glory back to Seattle.