Riot and Fury delivered one of the games of the tournament.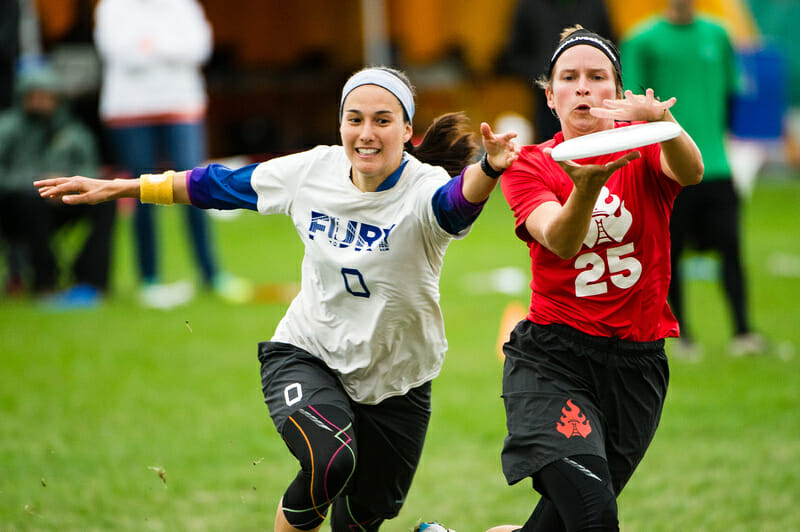 Ultiworld's coverage of the 2016 Club Championships is presented by Spin Ultimate; all opinions are those of the authors. Please support the brands that make Ultiworld possible and shop at Spin Ultimate!
ROCKFORD, Ill. — No one could sum it better than Riot coach Andy Lovseth did after the semifinal game between Seattle Riot and San Francisco Fury: "That was a fucking fantastic game."
A Riot-Fury matchup nearly always results in thrills, excitement, and a big comeback or two. This chapter in the rivalry had them all as Riot defeated Fury 15-14 on double game point.
Fury burst out of the gates with a vengeance. After two opening holds, Fury went on a series of breaks to jump out to a 4-1 lead. San Francisco mixed up their defensive looks early. They threw three distinct defenses in the game's opening point – person, a traditional 3-3-1 zone, and a diamond zone. Fury's force middle looks put pressure on Riot's offense and made them uncomfortable while Fury's D-line offense was efficient.
And then, suddenly, the game completely flipped on its head. Riot got all three breaks back before half to get back on serve. Down 5-2, Riot held for 5-3 and Jaclyn Verzuh was able to swing the momentum in her team's favor for the first time. After Kaela Jorgenson slightly overthrew Alex Snyder to give Riot possession of the disc, Julia Snyder put a floaty forehand to the end zone. Verzuh chugged down the field and got horizontal to make the first big play of the game for Riot.
From that point, Riot went on a 7-2 run to open up an 11-7 lead. Just before and right out of half, Riot was absolutely dominant. An incredible layout score for Shira Stern highlighted Riot's run, which was characterized by relentless defense, and tremendous disc handling from Alyssa Weatherford and Kelly Johnson.
In the game's first six points, it looked as though Fury would run all over Riot. Over the next nine, Riot ran rampant. At 11-8, there had been two massive momentum swings, a number of highlight reel plays, and strategic changes, and the game was just warming up.
After Fury got that first hold of the second half, Julia Snyder made an inexplicable decision and threw the disc right into Jorgenson early in the count for an easy Fury block. Katie Ryan got absolutely enormous over a pair of Riot defenders for the emphatic break. The play set the tone of play for the remainder of the game.
Riot held and then broke Fury relatively easy and the game looked over at 13-9. But there was one more major momentum swing yet to come. Fury got the needed hold to make it 13-10 and brought their best defensive pressure of the game on the ensuing point.
Claire Desmond got huge to layout block to a reset throw, but the disc popped up into the air and over Weatherford. When Anna Nazarov made an off balance, leaping block a few throws later, though, Riot wasn't quite as lucky. Fury looked to strike quickly, but Bailey Zahniser climbed the ladder for a monstrous catch block over Desmond.
Fury got the disc back shortly thereafter, and after a couple of gorgeous break throws they did punch in the break. It ended the best point of the game and started a wild final stretch.
Charlie Eide decided that it was her turn to make a jaw-dropping play and posterized Marika Austin to make it 14-11. Pushed to the very brink, Fury again stepped up their game.
A hold was followed by yet another play of the game contender, this time from Nazarov. With Riot on offense and a chance to win the game, Weatherford looked to hit Stern upfield for about a 15 yard gain. Navarov, trailing Stern by a step or two, exploded forward and launched in front of her mark for the layout block.
Fury patiently worked on O from there for the break. After a Geli Boyden throw into traffic gave Fury another great break opportunity, Desmond and Lakshmi Narayan both made great possession saving catches and Nazarov found Carolyn Finney to finish off the break to set up double game point.
With a trip to the final in the balance, Riot's offense rose to the moment. They executed their offense perfectly, working the disc up expertly. Weatherford was left all alone and she found Fontenette equally as open for the game winning score. It felt strange for a game that had been filled with turnovers and insane plays to be finished by such a simple score. But it was impressive that Riot was able to block out the potential weight of the moment.
"That last point, that was our offense," said Lovseth. "It was going back and forth, attacking downfield for yards, getting our swings, getting our breaks off; that was beautiful. That's what we've been working on since April. It was really awesome."
"Every point's a new opportunity to be great and we're looking to be great," he continued. "They executed. [Kelly Johnson] executed, Alyssa [Weatherford] executed, [Sarah Griffith] executed, Calise [Cardenas] was grinding out there, and Dom [Fontenette] is sneaky as fuck so she caught the game winning goal again. She's just awesome. I'm really proud of that last point a lot."
Fontenette had her own thoughts on what it was like to be on the field for that point. "[Rather than what's going on in my head,] it's more like what's going through my stomach, my heart, and all that. You've got the nervous energy and I just think about the simple things," she said. "Even after having played this game for 23 years, or however long I've played, I'm still nervous on that line, but I just think, 'I just gotta do my job.' And I have trust and faith that everyone on my line is gonna do their job too."
Over that long span, Fontenette has taken part in plenty of games against Fury, and she thought this one ranked up there with some of the best in the rivalry's history. "It's another one, man. I was on this team in the '90s and in the late 2000s, and every time Fury plays Riot it is a frickin' battle. And they have our number, you know? Worlds 2014 was one. This was another one. Every time you know one team is gonna come back. It's never a closed door. Even when we were up by four I was yelling at my team, 'Hey, it's not over, it's not over, you can't let up on this team."
Fury coach Matty Tsang agreed. "That was a good one right there," he said, laughing. "It was definitely exciting. There were some runs in there and definitely changes in momentum, I think you saw both offenses get in their heads and get scared."
"Fury showed a lot of heart and a lot of determination to go up," said Lovseth. "Their energy was great at the beginning. And then to fight back after being 13-9 down. We had our blips, but we kept fighting, too. I just loved that game. That was a great game."
A great game indeed.