Brute's smothering defense tired out a Molly Brown team relying heavily on three players.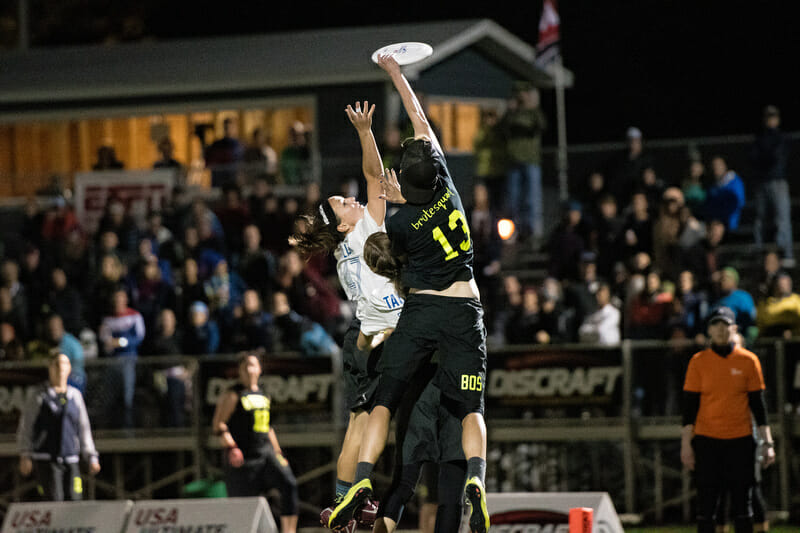 Ultiworld's coverage of the 2016 Club Championships is presented by Spin Ultimate; all opinions are those of the authors. Please support the brands that make Ultiworld possible and shop at Spin Ultimate!
ROCKFORD, Ill. — Boston Brute Squad is headed back to the National Championship game after a 14-9 semifinal win over Denver Molly Brown. Brute played their customary style — a high volume of deep shots and spirit-withering pressure defense — and it worked to a T. Molly hung tough in the first half, despite visually playing a level below their Boston counterparts, but faded in the second half as the team's lack of depth caught up with them.
Molly Brown actually got off to a perfect start. A fairly quick and easy hold was followed by a break on a marathon point. Brute Squad made their offensive gameplan clear right away, when Leila Tunnell took the centering pass and sent a bomb downfield to a less-than-wide-open deep cutter. A series of blocks and miscues from both teams led to a point that lasted more than eight minutes. Finally, Becca Miller found Opi Payne for the Molly Brown break to go up 2-0.
The point seemed like it would be especially tough for Brute Squad, as the length of it forced them to fully rotate their O-line out of the game. But with a line of primarily defensive players on the field, Brute Squad played a spotless point for the hold.
A Kami Groom block on the following point set up a Cassie Wong to Angela Zhu goal for the break. It's sequences like that that have empowered Brute Squad to play with the confidence needed to play their style. Their roster is so deep and their defense is so good across the team that getting broken and having to sub out their entire O-line – as rarely as that happens – is not a back-breaker for them.
And just for good measure, Brute broke again for 3-2 on the next point with just one player – Caitlin O'Connell – on the field from the point before.
The teams traded holds until 7-6. Points appeared more of a struggle for Molly Brown than they did for Brute Squad, but the Denver club did an admirable job of hanging with Brute on long points and winning their O-points for holds to keep the game close.
Molly was unable to keep that up into halftime, though. Groom and Shira Klane both registered blocks on the point, and Groom eventually found Lauren Sadler to break for half 8-6.
The break into halftime set the tone for the half that would follow. Brute Squad's pressure was relentless and their depth was too much for Molly Brown, their players visibly exhausted in the second half. Brute won the half 6-3 and it didn't really feel that close.
Molly did manage to get a break for 9-8, but just as they did after Molly's previous break, Boston's second O-line scored on a turnover free point. Brute then ended the game on a 4-1 run for the 14-9 final.
Brute Squad's long ball offense is bolstered by their ability to trot out countless game changers on defense and that style and advantage of depth ran Molly Brown ragged by the second half. Molly stars Claire Chastain, Paige Applegate, and Payne did not have bad games. Chastain played especially well, recording a game high 61 touches and committing just three turnovers. But Denver simply had no answer for Brute Squad's ability to rotate and still play at a high level. Ultimately, that was the difference in the game.
Chastain acknowledged that fact after the game. "I don't know how many points I played, or Paige played, or Opi played… but it was a lot," she said. "Especially with their grinding defense on handlers, they're making us work twice as hard as any other team. Even if we are getting the disc we're working really hard for it."
Brute Squad, meanwhile, was able to rotate lines heavily — no player logged more than 11 — and still maintain an elite level of play on both sides of the disc. That is not something that many teams in this division are capable of. Brute has done an exceptional job of imposing that advantage in games with their style of play. They are more than happy to drag out points and wear their opponents down.
Boston executed that strategy expertly against Molly Brown, and as a result they will now have a chance to do it again in the championship game this afternoon.