Another seven stellar women's division performers round out our 2016 Club Awards.
Ultiworld's 2016 Club Awards are presented by BE Ultimate; all opinions are those of the authors. Please support the brands that make Ultiworld possible and shop at BE Ultimate!
With Nationals over and the winners crowned, it is time to take a moment to recognize the top performers in the Women's Division this season. While the talent of the division reaches far beyond short lists, the All-Club teams are meant to honor those players who put together what we believe to be the best seasons in the Women's game this year.
While we consider both regular season and postseason performance, because of the nature of the club division, we weight success in the Series and at Nationals above all else. The All-Club teams are selected based on input from Ultiworld reporters, contributors, and editors.
Claire Desmond (San Francisco Fury)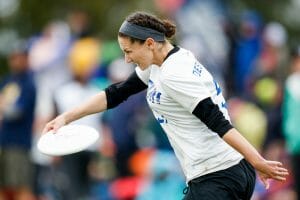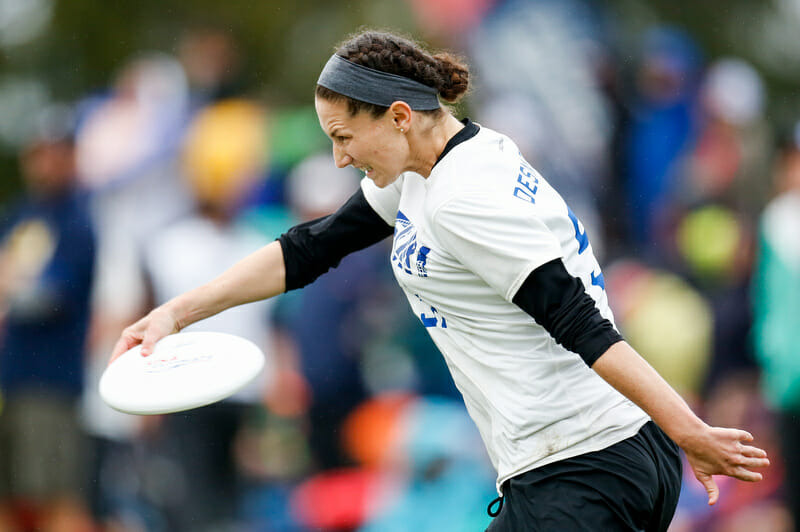 Back in 2014, we announced that Desmond "had arrived" in her All-Club 1st team selection. You can't say we didn't warn you. While Desmond's 2nd Team selection this year breaks her streak of 1st Team nods, there's still no questioning that she is a star in the women's division. She's become one of the faces of Fury, and is smack dab in her prime as a player.
The Nationals numbers for Desmond were strong again this season. She led Fury in goals, though her total dropped from the past two Club Championships. However, her assists are back up from 3 in 2015 to 7 in 2016. And she led Fury in points1 once again. But past the numbers, Desmond has clearly become a much more influential thrower over these past few seasons. She churned out under yardage, which isn't a first for her, but also produced good gains after the catch. Her deep throws and breaks have both developed and she harnesses them to much greater effect.
Plus, Fury really needed her to become more versatile this season. They have some new deep cutters that can take on some of the scoring role — Katie Ryan, Lisa Couper, and Marika Austin all fit the bill — but, playing without Cree Howard this year, there was room for Desmond to grow as an under option. She stepped right in and continued to be one of the best cutters in the women's division in a shifting role commensurate with her expanding skillset.
Opi Payne (Denver Molly Brown)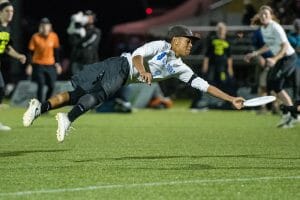 Along with fellow handler Claire Chastain, Payne was at the center of the Denver offense this season. While that system perfectly fit Chastain's break throws, it was a great match for Payne's burst and aggressiveness. There are few — if any — tougher match-ups when it comes to a give-and-go, and Molly Brown was glad to give Payne space to crush the opposition. Plus, with some big athletes downfield, Opi was given the green light to unleash her powerful deep throws.
Once off the leash, the production came. Payne tallied 16 points, including 11 assists, good for second on Molly Brown. It's a very notable increase from the single goal and 8 assists she put up in her first season with the team at the 2015 Club Championships. She showed the ability to handle heavy loads of touches while always pushing to maintain momentum for the offense. Payne never settled when her legs could gain more and she refused to let her defenders dictate her.
Don't mistake Payne's offensive position as her only strength. She wasn't on Molly Brown's O-line; rather, she was at the core of their production. Opi's defensive capabilities were on full display, generating an outstanding 11 blocks, many of them in high-impact fashion. Her quickness can strangle handlers' reset space and her athleticism can challenge cutters or cover big zone spaces. Her defensive prowess was arguably as valuable as her offensive skill set and was one of the reasons Molly Brown depended on her personnel group so heavily in their run to and during the semifinals.
Angela Zhu (Boston Brute Squad)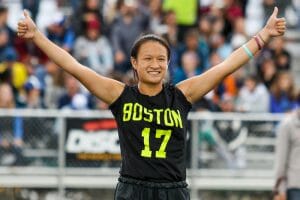 What a year for Angela Zhu. The 20 year old was named College Offensive Player of the Year after a prolific season with Dartmouth, was named as a Defensive Player of the Year runner-up in the club season, and was a pivotal member of Boston Brute Squad's championship team.
Zhu has very quickly become one of the most fierce handler defenders in the sport. Her mark frustrates opponents to no end and her ability to take options away from even the most elite throwers in the game helps provide the base upon which Brute's famed downfield defenders are able to play their game.
As good as Zhu is as a defender, she might be even more potent after the defense has forced the turn. As the primary handler for the team's merciless D-line offense, Zhu actually led Brute Squad in assists at Nationals with 13. It should be noted that for a lot of the weekend, Brute employed upwind and downwind lines, rather than pure O and D-lines, but even still, that is an absurd level of production from someone who is considered a defensive player.
Zhu possesses a rare two-way threat and at such a young age could pose an unanswerable problem on the club scene for years to come — let alone what she may do in college over the next couple of seasons. She was very strongly considered for 1st Team All Club honors this year, but as it is, the budding superstar will have to settle for being named to just the second best seven in the country.
Cassie Wong (Boston Brute Squad)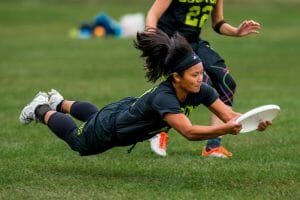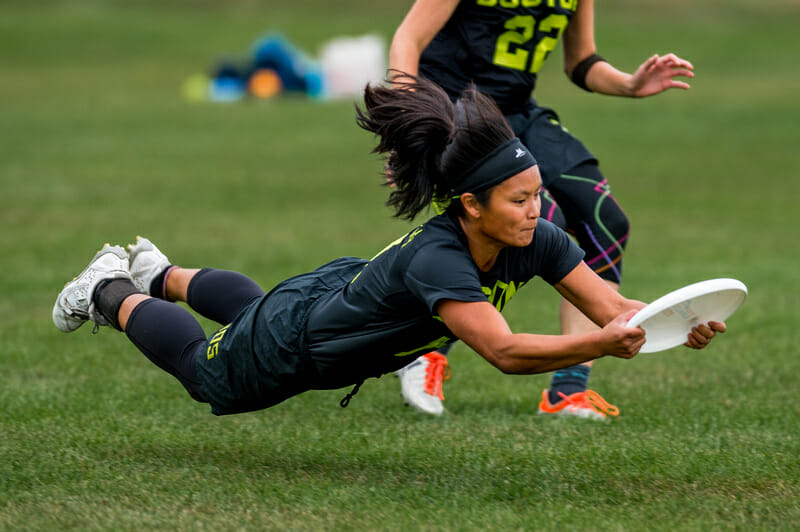 After a breakout season for Wong last year, she came back bigger — but still small — and better. She was an excellent and important part of the vaunted Brute Squad D-line, functioning almost like another Kami Groom: speedy, aggressive, disruptive, and apt to attack after the turn. Groom was the only Brute to outscore her at Nationals and her 10 goals speak not only to the prowess of Boston's D-line but also of Wong's role once her team earns the disc.
As a defender, Wong consistently finds her way into lanes and interrupting offensive flow. She does generate some blocks — often critical momentum-changing ones — with run-through Ds and even big plays in the air. The second year Brute defender also harasses cutting lanes with quick footwork and darting shifts in positioning. Her work ethic is paramount to her success, a hard grinder downfield who isn't afraid to go cut for cut or use her body to shut down offenders.
However, it might be what she did once Boston forced the change in possession that pushed her over the top. Wong's got wheels and she is just as apt to propel herself through the air to catch a disc as she is to run it down, frequently saving possessions with her bids. On top of that, her growth as a continue thrower and confident under option really opened things up for the D-line's offense. She was one of the reasons Boston could so often turn to their D-line to go on and get a hold when their O-line needed a chance to collect themselves. Those points often involved multiple touches for Wong. That added reliability allowed for an increase in not only how often her number was called, but how many big defensive points saw her running down on the pull. There's likely more to come from Cassie Wong.
Liza Minor (Madison Heist)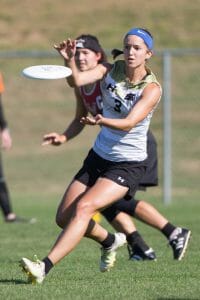 Madison Heist's Liza Minor was an absolute dust devil this season. She plays with a relentlessness and fervor on every point as if it were her last. At Nationals, she ran herself ragged and then ran some more. At times she would look done, doubled over in a seemingly hopeless effort to catch her breath, and then she would get right back to roasting her defender or latching down her mark.
At times taking over points against even some of the best teams in the division, Minor always made herself available to her teammates downfield and in the backfield too when necessary. Against Riot in pool play in Rockford, there were moments when she looked liked the best and most important player on the field.
Minor put up one of the best Nationals lines in the division with eight goals (second on the team), 17 assists (tied for first in the division), and nine D's (second most). Her season stat line is even more impressive, featuring 41 assists, when no one else on her team has more than 25. It's one thing for a player to produce at that level when she's the team's lone star on a weaker team, but Heist also has Team USA WUGC representative Georgia Bosscher and the club qualified for Pro Flight status for next season. Minor didn't rack up those numbers because her team forced the offense through her; she produced at the level because she used her all-around strong game to routinely win match-ups and let the offense come to her.
Heist's qualification for the Pro Flight is the first in team history and it would be difficult to overstate Minor's role in the team achieving that. With her elite level of production and consistent play throughout the year, Minor is more than deserving of being named to this team.
Hana Kawai (Seattle Riot)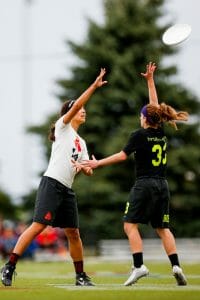 Another season is in the books where Kawai proved she is one of the more versatile threats in the women's division, particularly on offense, and would be a key contributor on any O-line. As she has done over the previous two seasons, she delivered a solid scoring line with nearly equal contributions of goals and assists. Kawai is well equipped with a flush offensive toolkit: quality targeted break throws, timely skies, churning under cuts, and solid deep throws. Despite handling lots of touches, she turned it over pretty infrequently.
Of course, being versatile in this game means being able to do more than play offense. Kawai has proven herself a capable defender and logged key D-line points for Riot all throughout games this season. She isn't a dominating defensive presence that frequently generates turnovers, but she has an active roving mark that can prove daunting to the unprepared and is a sneaky poacher who knows how to help a downfield partner defend openings.
In Riot's new vertical stack, Kawai filled a key role as a cutter. Not many cutters have Kawai's ability in the air and are so threatening with the disc. The Brown alum was a facilitator, which few players have both the skill and smarts to pull off at this level. She used those talents to get the offense in the right places and attack her system's vital spaces. Her height let her smoothly advance the disc past marks to break side cutters, moving handlers, or with aggressive continues. Her role as one of the top cutters on one of the best teams was hard earned and doesn't appear to be changing anytime soon.
Laura Bitterman (Boston Brute Squad)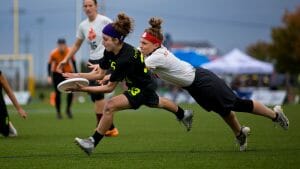 All season long, Laura Bitterman was the most reliable presence on the Boston O-line. That's no small feat, considering that line was supported by multiple former 1st Team All-Club selections and Player of the Year candidates. Bitterman combined both big playmaking and consistent production to help charge Brute Squad's offense to a second straight title.
While her numbers may not shine the way some of the other selections' do, she was an ideal mid cutter. A smart and efficient attacker who has the field intelligence to create space for her teammates, Bitterman's game is the type that makes her teammates look good. Despite often leading the team is touches among Boston cutters, she finished Nationals with just one turnover, despite the hostile conditions offenses faced. She notched a pair of goals and a pair of assists in the final, along with one of the game's best plays with a layout block — all without giving the disc away once.
It's that reliability that makes Bitterman stand out. While her throwing abilities have certainly improved over the past few seasons, and she showed some of that off this year, she didn't dominate with hucks or toss tons of assists. But she was there, especially when her team needed her, and you could often see how important she was to Brute Squad's offense by the defenders she drew to her. D-lines know that taking Bitterman out of the game is one of the most difficult, but important, tactics to slowing down Boston's championship offense. And even then, it could rarely be done.
---
goals + assists ↩