The best of the best in the Women's Division this season.
With Nationals over and the winners crowned, it is time to take a moment to recognize the top performers in the Women's Division this season. While the talent of the division reaches far beyond short lists, these players put together what we believe to be the best seasons in the Women's game this year.
Players were selected based on both their regular season and postseason performances.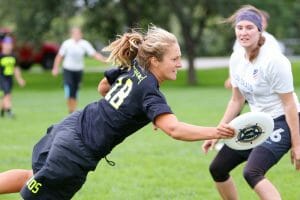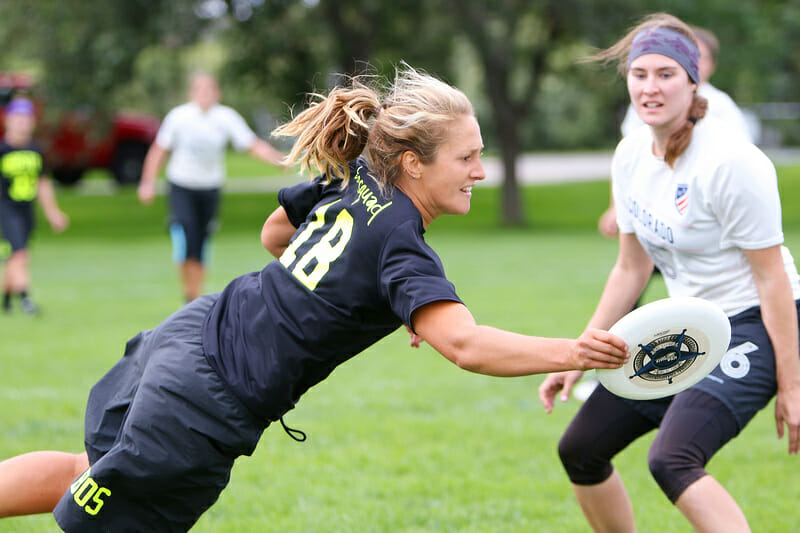 Leila Tunnell (Boston Brute Squad)
This year's Player of the Year was an easy selection to lead off the 1st Team. She was part of the most dependable and steady handler group in the division. Tunnell displayed the ability to move from enabler for her supremely talented cutters to a game-defining thrower capable of doing the work so her cutters didn't have to. With the full throwing array of rocket-propelled hucks and snapping breaks, Tunnell had marks and defenders at her mercy nearly all season. She is a dominant thrower with explosive throwing power and nuanced field vision.
2015 is hardly the first taste of success or Tunnell's breakout year. This is a former Callahan winner that is a well respected player with strong pedigree. She yet to land on an All-Club team, and her first selection comes after a season with high execution and playmaking. She adds the honor to winning the 2014 Kathy Pufahl Spirit Award. Tunnell has earned the respect and admiration of her peers with her play, and more.
She's an offensive maven who remains cool-headed on the field regardless of the context, and continues to execute. While she tallied 16 assists Nationals, good for 6th overall, but her influence extends beyond the spreadsheets. It was her leadership, reliability, and control of pace that allowed her to pilot her dynamic offense to such great heights. She was at the top of the game in 2015, as was her team.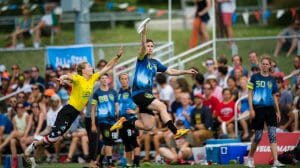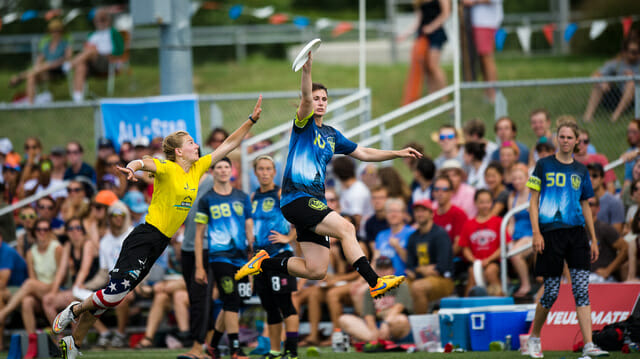 Jenny Fey (Washington D.C. Scandal)
It is no surprise to see Fey was one of the statistical leaders at the Club Championships. Finishing 2nd in assists and 3rd in goals is incredible and indicative of just how much was asked of Fey this season. If they kept the statistic for most points scored touching the disc every other throw, it's likely she'd be crowning that list as well. But if you mistake Fey for a volume shooter, you're not paying enough attention.
The fact is that Jenny Fey has a very strong argument for the Player of the Year Award, and certainly would lock up a literal MVP. So much experience and production made its way off Scandal's roster and yet they were a point away from semifinals yet again. It wasn't 100% Fey, but she played the most irreplaceable role. It didn't matter who teams put on her, how much they knew she'd touch the disc, or nearly anything: Fey was going to hurt them. Ask the All-Star Tour about taking her out of the game.
Versatility, elite playmaking, and iron will is a hell of a recipe for a player who took most of last season off. Fey's return had a crater-like impact. She stepped into one of the most demanding roles on any elite team and, with her daring throws and uncanny combination of field sense and game IQ, outplayed and outfoxed nearly every matchup.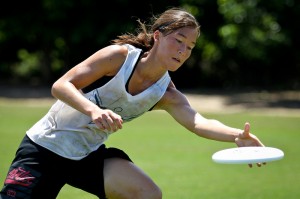 Lien Hoffmann (Boston Brute Squad)
Hoffmann may be quiet, but she plays very loud. When people talk about her, it almost sounds like a tall tale — feats of strength and athleticism that defy reality. But she somehow delivers, turning unreal fantasies in very real plays. And no matter how insane a catch or wild a block, she always looks like it's another day at the office.
She was the division's most efficient cutter this season, able to do so much with very few touches. Hoffmann's explosiveness and talent is terrifying for defenders, but she's also superbly opportunistic and exploits weaknesses and mistakes with ruthless cuts and throws. One opposing coach commented on how she capitalizes on even the smallest open window; she can do that on defense of offense to generate turnovers or evaporate any chance of them. Don't mistake her for just speed, hops, and hands; Hoffmann's a plus thrower who defenders would be foolish to underestimate.
A former All-Club 1st Teamer in 2013, she somehow keeps growing. While that year she was tasked as the focal point of the offense, this time she was pegged as a cog in a talented machine. And the former Callahan finalist found a way to still capture our attention with her dynamism. She might be the division's next true superstar.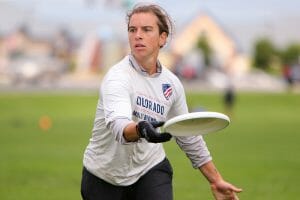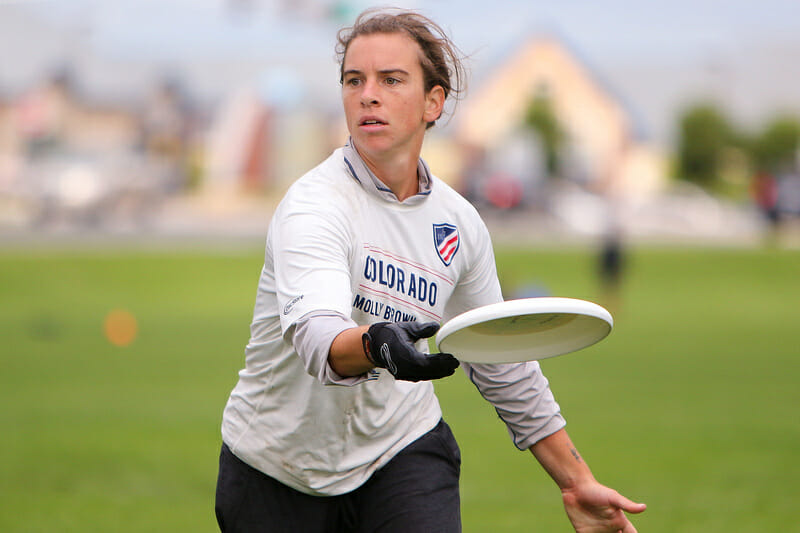 Claire Chastain (Denver Molly Brown)
Chastain's been one of the most feared handlers in the division for a few years, sharing a lot of similarities as a player with former teammate and friend, Leila Tunnell. A 2nd Team selection in 2014, Chastain's elevated play comes with elevated recognition. The former Callahan winner's immense talent has been obvious for years, but her control and management of that talent is rapidly evolving.
It is unclear how she manages to be both cucumber-cool and a lit fuse. But her explosiveness and knack for the big play at critical moments compliments her confidence and calm wonderfully. Whether a possession-saving layout is the order of the day or a backhand bomb that hits a receiver in stride, Chastain can deliver. She can defend, get up the line, huck, break the mark, you name it. She can also set the pace, control the tempo, and dictate the defense in ways that she hadn't shown off in years past.
In another parallel to Tunnell, Chastain served as the leader of an exceptional offensive unit that needed her deft hand and understanding of the game. She sees the development of a play in a way few can, helping her tally 12 assists in Frisco, tying her for 9th overall, coming from a very deep roster. There's a definite sense she hasn't hit her ceiling quite yet.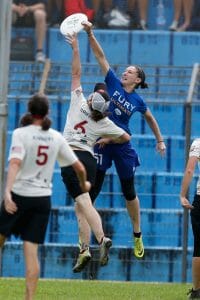 Claire Desmond (San Francisco Fury)
For a second straight year, Desmond has proven to be one of the top receivers across the division. The 25 year old Fury cutter has established herself as elite, successful on the college, club, and international stage. On a team where depth is celebrated, the roster loaded, and the numbers spread, Desmond's abilities somehow stand out, a testament to her talent.
While 12 goals — good for top 10 at Nationals and first on Fury — is a little quiet for a playmaker of Desmond's caliber, her lack of turnovers (just two) is not. Desmond is a fierce and determined cutter with some of the game's best hands. That makes her a sure target for throwers, to the point where she is expected to routinely make difficult grabs. While she isn't a devastating thrower, Desmond is comfortable gobbling up available underneath yardage.
It all adds up to a dynamic threat. The size, the speed, the deft grabs, the work ethic; it's all there. Despite missing portions of the regular season, Desmond's impact is that significant. Agile, acrobatic, and powerful, she's the type of downfield weapon every team dreams to have.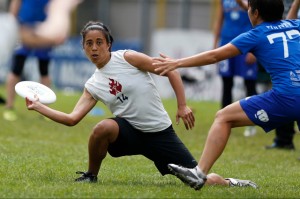 Hana Kawai (Seattle Riot)
Efficiency and execution are hallmarks of Kawai's game. She might not garner the attention of her big name teammates, but Kawai continues to produce elite numbers at every turn. Her 8G, 10A line at Nationals shows off her versatility offensively, while the single turn she produced demonstrates her level of efficiency.
And she's another player where the stats don't exactly tell the tale. Perhaps what Kawai does best is make an excellently timed under cut and then maneuver the disc to the break side, without a mark or through one. In the Riot offense, that made her a centerpiece. 
Having Kawai as a mid ties things together so nicely. She facilitates teammates' success with her throws, cutting, and clearing. Sure, she can claim her own — in three games at Nationals, she registered multiple goals and assists — but she's truly shined with strong teammates. To have that ability as a cutter is remarkable, and she was even better this year, moving from All-Club 2nd Team to the 1st.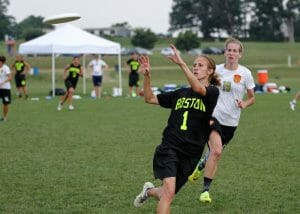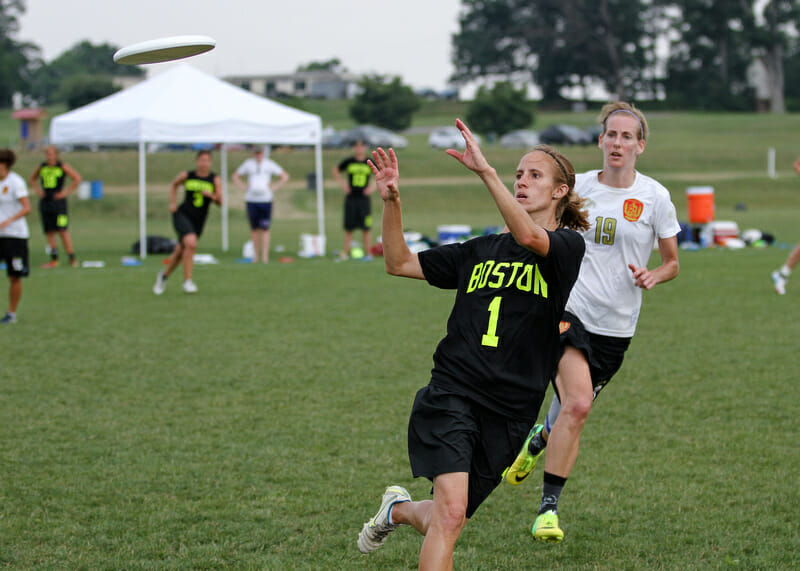 Kami Groom (Boston Brute Squad)
It has been suggested that awards and recognition in ultimate — and really, the whole sports world — favor offensive stars. Groom has the capability to, and often does, light up the scoreboard, but she makes the team on the back of being an incredible defender. Some defenders play shut down D and that's to be applauded, but when someone has to generate a turnover, there was nobody better to call on in 2015 than Groom.
Groom was a pillar of the vaunted Brute Squad defense and was especially devastating at the Club Championships. As the only player in Frisco to record a triple double (10+ goals, assists, and blocks), she had a profound impact on Boston's title run. Those eye popping numbers came with just three turnovers, giving her a +36 +/-, 10 higher than any other woman and second for any player in any Division. Those are high voltage numbers from an electrifying player, a former 1st Team selection in 2013.
Obviously, Groom's speed is devastating. There's a reason she has the nickname "Zoom Zoom." She interrupts lanes, eviscerates defenders, and creates separation as good as anyone. But she's more than MPH; her 12 assists are not five yard dishes. She is a very real throwing threat that can open up the field after generating the turnover. She showed her full array under the bright lights. Her G/A/D lines from the last two days of the season: 4/1/1 in the semifinals, 1/3/4 in final.