What a collection of players!
Disclosure: This post is brought to you by the National Ultimate Training Camp. All opinions are those of Ultiworld. Thanks for supporting the brands that make Ultiworld possible!
Ultiworld is pleased to announce the third annual Ultiworld College Awards. The award criteria can be found here — we considered both regular season and postseason performance in our selection of awards. Though the input of Ultiworld reporters is weighed heavily, final decisions for awards were made by the editors.
To see the Player of the Year Award, go here.
Offensive Player of the Year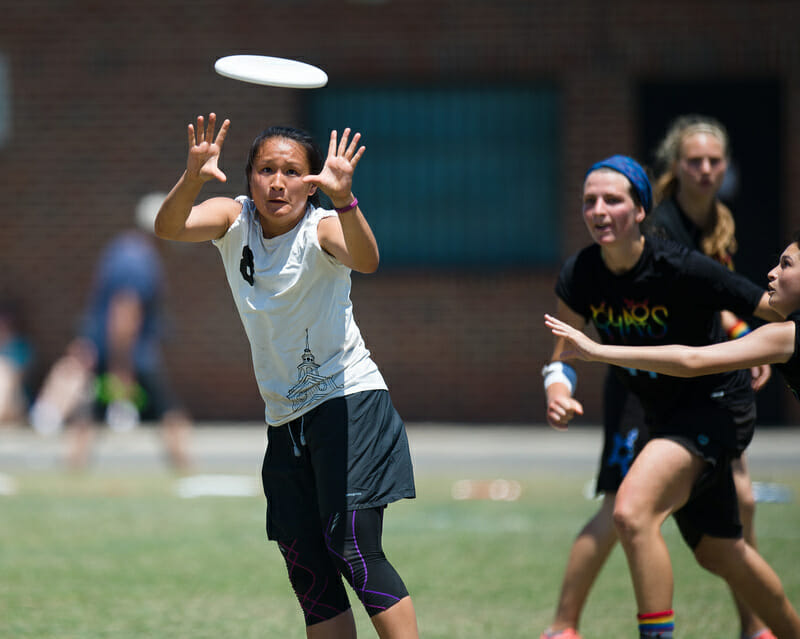 Angela Zhu (Dartmouth)
No defense really found a way to take Angela Zhu out of Dartmouth's offensive game. She revealed herself to be the most relentless handler in the college women's division. Piloting the impressive Princess Layout offense, Zhu showed a complete grasp of spacing, touch, and a wide arsenal of throws, all on top of small box cutting and body control skills that kept her getting the disc back over and over.
Obviously, the Amherst product had a stellar Nationals. She tallied 38 assists on her way to leading the tournament in that category, holding a healthy nine assist lead over second place; perhaps quietly, she added seven goals. Zhu led a team that barely made it out of the New England Region and came up a few points short of semifinals at Nationals. Most teams approached Dartmouth with zones, junks, poaches, and traps for fear of matching up with them one on one, putting immense pressure on Zhu to handle against, oftentimes, multiple defenders. And against person, she shredded through defenders and launched gracefully sailing hucks took defenses out of the equation.
And that's the thing: between the numbers, Zhu might have been even better. Zones crumbled before her blades and arounds. Her positioning as a reset is impeccable. Dartmouth had complete trust that, even in coffin corners or being defended by four out of seven defenders, on the sideline, she'd find her way out. Zhu is composed, collected, and ruthlessly efficient. The pressure on her was even more exacerbated by a regular season and Regionals where she was sometimes the lone top line player. But it seems like there is no situation Angela Zhu can't handle.
Runner-Ups: Olivia Bartruff (Oregon), Mira Donaldson (British Columbia)
Defensive Player of the Year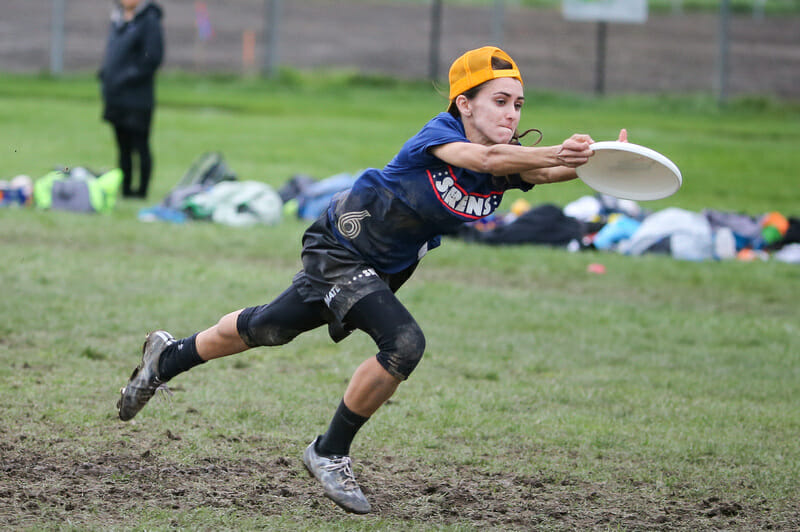 Alexa Wood (Central Florida)
Nobody would want Alexa Wood's job for UCF. It actually sounds like some form of torturous punishment. The job prerequisites are something along the lines of: Must be able to play nearly every point for the whole season, must be able to run continuously from sideline to sideline for indeterminable length of time, must be able to act as primary continuation option or primary cutter when not playing defense, must have an exceptional mark, must be able to be the most important person in a defense that will carry us to the College Championships.
Ask any team what they know about Central Florida and they'll say, "They don't have many subs and they play a crazy zone." The Sirens throw that zone nearly every possession. And it is highly effective, after all these years of tinkering and practice. Yet, when Alexa Wood twists an ankle or has to go take a break, the zone often falls apart. There's nobody else who can do what she was doing. There's not even anybody else who inspires the belief to ask someone to try.
So sure, Wood doesn't have the gaudy stat totals, the highlight reel skies, and the quantity of massive layout blocks. She is the single most important part of her team's defense, which is the single most important part of their strategy. Even when they have gone person to person for the past two seasons, she's the Sirens best individual defender. She was the most irreplaceable defender of the season.
Runner-Ups: Bethany Kaylor (Oregon), Julianna Werffeli (Dartmouth)/Lorraine Guerin (Wisconsin)
Breakout Player of the Year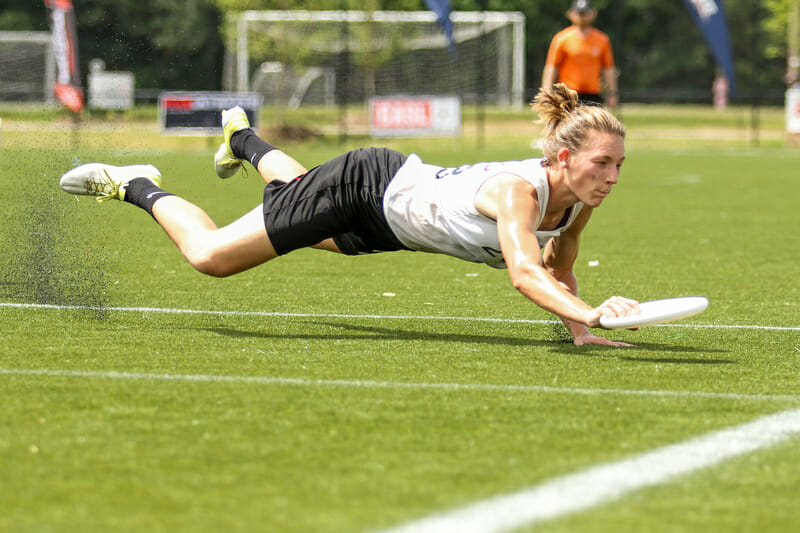 Courtney Gegg (Stanford)
In two short years, Courtney Gegg has gone from never playing competitive ultimate to one of the most feared women at the collegiate level. She's played in two National Championship finals and compiled six goals and three assists. Gegg's a National Champion now and is poised to be a star in ultimate. All from a player nobody even knew about to start 2015 and who still too few could name in 2016.
To address it up front, the question about Gegg's candidacy was never her qualifications, but rather if she should be considered eligible. After deliberation, it was decided that Gegg is everything Breakout Player of the Year asks for and exemplifies the award. There were some claims from the Southwest that she was snubbed as a Rookie of the Year candidate last year, but that was without people outside of that bubble or who faced her at Nationals knowing her name. Now she's on the verge of being a star and could easily be a Player of the Year candidate next year.
This is a true second year player who commanded and earned respect from opponents. In the semifinal against Oregon, she drew Bethany Kaylor, one of college's elite one on one defenders, as her matchup. In the final, Whitman had to send multiple players her way. She still put up a six goal, two assist line in the semifinals and a three goal, three assist line in the final. Notice those assist numbers, indicating Gegg has gone from more than a big athlete and already developed the other elements of her game considerably. If she continues at this rate, she could be winning a lot more individual accolades.
Runner-Ups: Linda Morse (Pittsburgh), Alex Hardesty (Whitman)
Rookie of the Year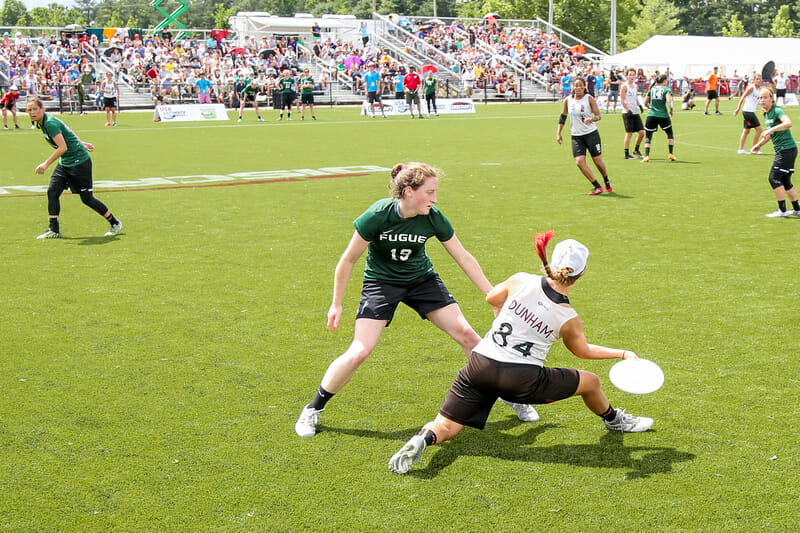 Hallie Dunham (Stanford)
Coming into college as one of the top recruits, Dunham immediately stepped into a major role for one of the nation's elite programs. For a team that lost three key handlers this season, having a rock like Dunham in the backfield was a massive boost to the team's offense. It is very possible they aren't headed home with gold medals right now if she had chosen another school.
Dunham's poise and skill are befitting of the award and make her a top quality handler from the outset. Armed with great break throws and well timed reset cutting, Dunham is particularly effective in zone offenses and under pressure. She's no slouch on D either and was one of Stanford's top pullers all season long, and, for much of the regular season, quarterbacked defensive lines to breaks.
It would be a crime not to mention or discuss Jaclyn Verzuh, the most talked about rookie in college women's history and Dunham's former teammate. Verzuh was a dominant force at the College Championships, and one of the best players at the tournament, period. There's no question about her contribution. But Dunham was there from season's beginning to the season's end – literally – and in a regular season where her team was one of the best for its entirety. That was enough to sway us.
Runner-Ups: Jaclyn Verzuh (Dartmouth), Anna Wysen (California)