Ideas for capitalizing on the changing media landscape to ensure ultimate is the sport of the 21st century.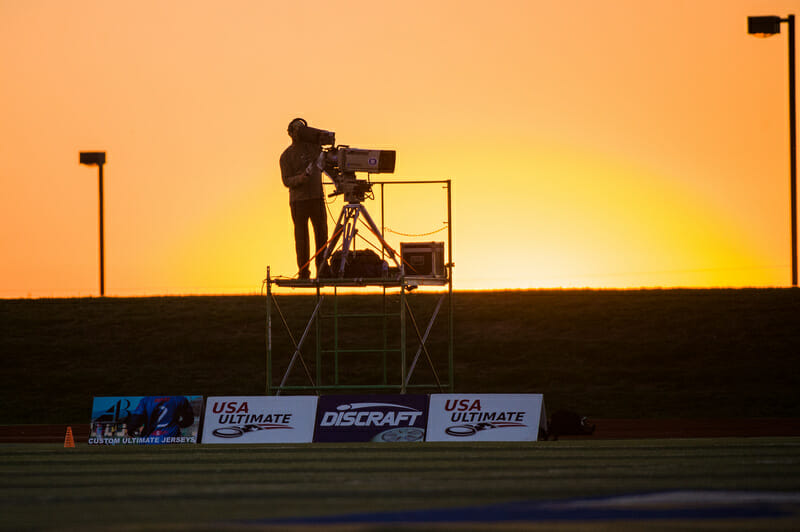 There's been a lot of talk this summer about the direction ultimate is going in terms of media coverage. In July, USA Ultimate's Tom Crawford spoke about the goal of getting ultimate on live television in the next ESPN contract. Meanwhile, a group of club players made a statement demanding an update to USAU's gender equity policy that could impact those very same negotiations.
All of this begs the question of whether broadcast television is even the right goal for ultimate in terms of our aspirations for increased visibility. The trend of US households "cutting the cord" (i.e., not subscribing to pay TV services) has taken off in recent years, with well over half of US households opting for internet-connected televisions. These trends are accelerating as younger demographics, the ones that we presumably want to learn about and play ultimate, are more likely to cut the cord. More Millennials have streaming services than have pay TV. And we should only expect the next generation of US viewers to continue that trend. Google "ESPN Viewership Decline" and you can see that our favored partner is not seeing positive long-term trends.
On top of this loss of cable subscribers, live TV broadcasts are a laborious, expensive affair. Based on conversations I've had with live TV producers in the past, the costs of our ESPN3 broadcasts likely run around or over $100,000 for two live games (although I don't know how much of that is being funded by USAU and how much ESPN is footing).
Meanwhile, the cost of streaming on the internet continues to go down while the quality goes up. Anyone with a cameraphone and a data plan can stream on services like Periscope. Add in a little money and you increase that quality exponentially. The barriers to entry are low and the gatekeepers are few. Between Ultiworld, NGN, Skyd, and Fulcrum, we've seen what our endemic producers can provide, even as we've made little or no accommodations to tailor the sport for them.
So why are we chasing a dying trend and shaping our sport around it? Why don't we use our current weakness as a sport — that we're still underneath the mainstream radar — and make it our biggest strength by building our sport unencumbered by the old-school, expensive, high-barrier-to-entry model of television broadcasting?
What would that even look like?
Well, I don't have all the answers, but here are a few ideas:
1. Ensure accessibility for live-streaming providers.
USAU should identify the biggest barriers to consistency and quality for low-budget streaming and create/ensure access to overcome those barriers. The two biggest barriers that I can think of are dependable access to internet and a good high angle for the primary camera.
Dependable internet access at all fields (wired or wireless) should be a required criteria for USAU Championship events. From there, USAU should put up scaffolding that provides a good high angle for each field. Weeks or even months before an event, USAU could auction off rights to stream each field or set of fields and access to the scaffolding.
Auctions could start with a very low opening bid ($5 or $10). Participants in the auction would need to meet some basic criteria (e.g., proof of ability to provide a stream) and would be subject to meet certain standards if they won the auction (e.g., must stream every game on the field) or be prohibited from streaming future games. Each field would have a mix of gender divisions to ensure equitable gender coverage. Top auctioned fields would have "premier" games (which could be determined by USAU, the streaming provider, or through some collaborative process). Unauctioned fields would be available to team-designated media for each round for no charge.
In this set-up in the near term, rights to streaming some fields may be purchased by our current top-end endemic streaming providers (Fulcrum, Ultiworld, NGN, Skyd) while on the other end, low tech streamers looking to try their hand at streaming could do so for almost no barrier of entry.1 Streaming providers would own the live stream and could fund themselves through commercial sales, crowdfunding, or subscriptions.
USAU could host a site that aggregates the live streams for each round, giving viewers the opportunity to watch a selection of games or switch from game to game. Even games that don't have a livestream could be captured from a high angle by the teams themselves so that the games were recorded for posterity.
As viewership and revenue streams for streaming providers grew, the market for field rights would also grow, generating additional revenue for USAU. Over time, streaming providers would invest more money in production in order to retain and attract viewers—adding more cameras, mics, commentary, instant replay, and more.
This model capitalizes on the lower barrier to entry of streaming on the internet, removes the key remaining barriers and creates a simple market to drive live video coverage of the sport. It removes the gatekeepers and allows more providers in while allowing the best to continue improving video delivery of the sport.
2. Lower Barriers to Entry and Incentivize Highlight Video Production
Pop quiz: Which ultimate video received the most views last year?
Yes, the answer is obvious based on the choices. But what's crazy is that it's not even close. Literally 100 times more people watched Nathan Kolakovic's highlight reel (3.7 million people) than the most-watched of those men's title games (2015 USAU Club Men's finals).
Highlight videos are quick and easy to digest and have the potential to spread virally very quickly. And like streaming, improvements in technology have greatly lowered the barrier to entry to making highlight videos. Also like streaming, USAU can help ultimate capitalize on these trends by further lowering the barrier to entry and creating incentives so that ultimate more quickly adopts this strategy.
For lowering the barriers to entry, USAU could maintain an open source library of games and clips that anyone could access to create highlight videos.
For incentivizing more highlight video production, USAU could host online highlight video competitions with cash prizes.2 Such competitions encourage creation of videos, sharing of videos, and provide a crowd-sourced way to identify the most appealing and viral videos (which USAU can then give an added boost). Who doesn't want to once and for all determine the best Callahan video (by gender) or the most humorous ultimate video under five minutes?3
Or, USAU can take a page out of Beau Kittredge's book, and host a highlight competition for a specific topic. If a specific event, division, or topic is failing to get the awareness it needs, USAU can offer prizes for the best highlight reel that captures that topic. I'd love a USAU highlight reel showing the best observer positioning and calls or the most respectful player discussions — topics that aren't always (or ever) top of mind for highlight makers but demonstrate unique aspects of our sport.
3. Build a Unique Sports Viewing Experience for Ultimate Utilizing the Freedom and Functionality of the Internet
Here's where things get interesting. Our sport is coming of age at the same time that video on the internet is. Instead of retrofitting our sport to the model of broadcast TV (which has included falling short of gender equity and censoring team names and the words that come out of players' mouths) and making the sport a one-way consumption experience, let's free ourselves from those limiting shackles and bake interactivity into the way that we spectate the sport.
There's two sides to this. On one side, let's allow ultimate to have freedom of self-expression. Let players and teams be who they are, package and present themselves however they want. Without the gatekeepers of TV, we don't have to follow others' norms. This doesn't prevent us from having ongoing conversations in the community about our goals and what is/is not appropriate language, team names, or behavior to help achieve those goals, but we can do it on our own terms without top down rules driven by our perception of what our external partners want. We can get rid of Technical Misconduct Fouls for language violations. We can relax the standards around team names and uniform guidelines. Perhaps most importantly, we don't have to compromise our gender equity values because a TV broadcaster does not think it will help them maximize revenue.
On the other side, this means engaging fans and spectators in new and unique ways. Imagine a live streamed broadcast in which there's a side panel in the video app where fans could vote in real time on contested calls and everyone watching could see what people thought (and if viewer opinions would change with the replay?). Or running Q Scores of players and teams that fans vote on that change when plays, calls, interviews, or discussions happen. After games, players could look back and see where their Q score spiked or dipped. Did fan appreciation of Nathan Kwon and Mark Vandenberg increase during their discussion in the semifinals of College Nationals this year? How did Cam Bailey's US Open Interview impact fan's opinion of him or Seattle Mixtape?
This type of spectator engagement then becomes a part of the discussion about what our norms should be, providing data on what people want to see out of the sport and its players. These specific examples also make what some people consider a weakness of spectated ultimate (delays for player-made calls) a potential strength (player personality exposure and opportunities for spectator engagement).
This might seem radical, and it is. But it is radical in line with the transformation that is happening in media and, due to our status as an emerging sport and the values the sport has grown up with, we're perfectly positioned to make these radical changes and be first-movers in terms of fully actualizing a sport for internet consumption.
***
It's 2016 and the discussions and goals around media seem like we are looking at the media landscape of 1955. We're giving up parts of ourselves to appeal to yesterday's media gatekeepers. Let's be the first team sport that realizes the shift in media consumption and interaction that the internet is having. And let's do it by being ourselves — authentic, real, welcoming, thoughtful, community-based, and with a low barrier to entry. We can be the sport of this century.
---
In talks with Ultiworld's video team, they prefer exclusive rights as it helps ensure viewership. There is a chance that under this model, until viewership increased or Ultiworld could better monetize streaming, that they may not chose to broadcast games.  In that case, the question becomes: "Is high-angle periscoping of multiple games better than one higher quality produced game?" ↩

board meeting in 2007 and $1,000 was added to the budget for this purpose, but the UPA never executed the idea. VC ULT Camp and Ultiworld also tried something similar but the execution wasn't great. We'll likely try again next year. ↩

Whichever ones were made by Jay Clark and Machine respectively ↩