See what happened at the most competitive tournament of the fall.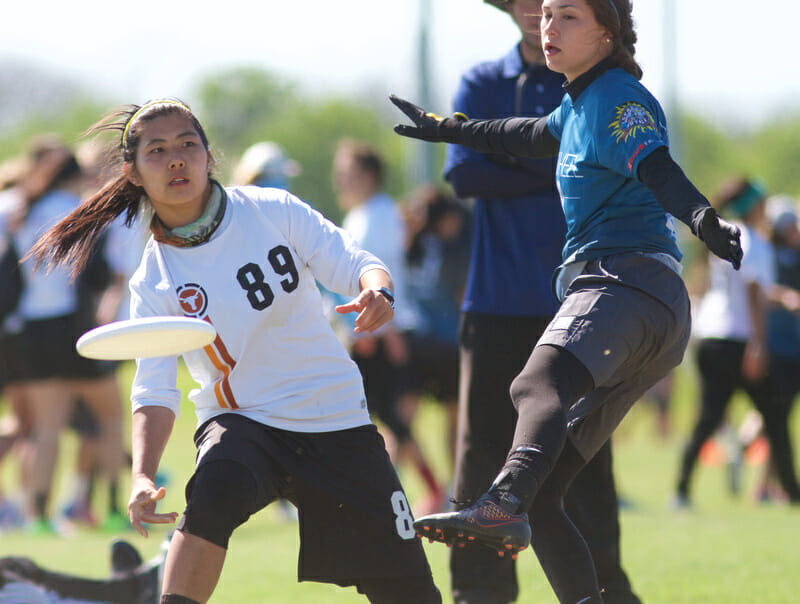 MARTINSVILLE, Virg. — Without Limits' Shootout, in its third year, has become the most important women's East Coast college tournament of the fall. With six teams from the top 25 in attendance, it was a good early look at where teams stand heading into the spring regular season. Here's a look at the action from the Sunday bracket.
Quarterfinals
In the lower half of the bracket, second seeded #11 Texas matched up against 13 seeded Triangle Tourists (a North Carolina High School club team consisting of many Triangle-area YCC players). Texas only gave up twelve total points in their three games during pool play, but Triangle Tourists came out strong, trading points for much of the first half. Eventually, Texas's depth and experience gave them breathing room en route to a 15-7 win.
Fifth seeded #16 Ohio State played a surprising 10-seed West Chester team (which won double game point games against Delaware and Penn State to reach quarterfinals). Ohio State's offensive flow was a key; they rarely turned the disc over. Very little wind made the deep game possible, and Ohio State recorded a comfortable 15-9 win.
The upper half of the bracket produced two amazing games. First, fourth seeded #6 Pittsburgh and sixth seeded #15 North Carolina battled in a nail-biter. Pittsburgh went on a 6-1 second half run to to take a 12-10 lead, only to see North Carolina score consecutive points to send the game to DGP. Despite an exciting lead up, the final point had little drama, as Pittsburgh smoothly marched downfield and scored easily without a turnover, winning 13-12.
Top seed #10 Virginia had their hands full against 14-seed Swing Cows (a combo team of Washington DC and Bay Area YCC players). Down 7-4, Swing Cows stormed back, using excellent defensive pressure to break Virginia four times and take an 11-10 lead. Virginia held the ensuing O-point, and broke to regain a 12-11 lead, game to 13. On the next point, an unfortunate goal line Swing Cows drop gave Virginia possession. Virginia worked the entire 70 yards to escape the upset bid, winning 13-11.
Semifinals
Texas Melee dominated their semifinal with a 15-5 win against Ohio State Fever. Texas's experience, combined with their strong tight defense, generated a lot of pressure on Ohio State offensive players. Offensively, when Texas gained possession of the disc, they would rarely give it back, utilizing quick handler movement and the break side. Melissa Land had a strong game for Melee, cutting all over the field. Corinn Pruitt played an essential part in the points Fever did score and will continue to be one of their strongest players.
The East Coast battle between Virginia Hydra and Pittsburgh Danger did not disappoint. Virginia beat Pittsburgh 13-9 the day before in pool play, but the semifinal had different personnel: Virginia's Tess Warner decided to rest a knee injury after the win over Swing Cows.
In the game itself, Pittsburgh showed its ability to claw back from a three-goal deficit. The game's final two points turned into a battle between Danger's Sarah Russek and Hydra's Keila Strick. First, Russek skied Strick to tie the game at 12, and then Strick boxed Russek out for the Virginia double game point win, 13-12.
Finals
With the Virginia-Pittsburgh semifinal going into hard cap, the finals started eight minutes late, featuring a rested Texas team and a worn-out Virginia one. Texas took immediate advantage, recording three breaks in its first four D-points. A mini Virginia run didn't slow Texas down, as Melee rolled to an 8-4 halftime lead. Texas's first half box score had five players with assists and six with goals.
The start of the second half was much of the same, with Texas pouring it on to take a 13-5 lead. A highlight point came when Julia Schmaltz skied for a block, skied to reel in a Texas huck, and ran a give-and-go for the goal. Shiru Liu and Andrea Esparaza starred for Texas, finishing the final with a combined seven assists.
With the game effectively over at 13-5 and hard cap looming, Virginia showed an incredible amount of defensive grit as they scored seven of the last eight goals of the game. With Warner out, Brogan Jones and Emma Price stepped up big for Hydra, combining for eight assists. Texas won the final in hard cap, 14-12.
Analysis
– Texas is a very, very good team, combining big-time playmakers and depth down their entire roster. They play fantastic pressure defense, and have an impressive array of break throws, quick movement, and a strong deep game.
– Virginia showed that they are a mentally tough team, persevering through difficult situations in all three of their Sunday games. And they did so without Tess Warner available in the semifinal and final.
– Ohio State beat Pittsburgh twice (13-11 in Saturday pool play, 14-9 in the third place game). With coach DeAnna Ball away attending the USA Ultimate Coaching Symposium over the weekend, Ohio State has to be pretty happy about their performance.
– Despite some losses, Pittsburgh also has to feel pleased with their weekend, as they were missing some key contributors, including Linda Morse.