Who really likes Babbitt anyway?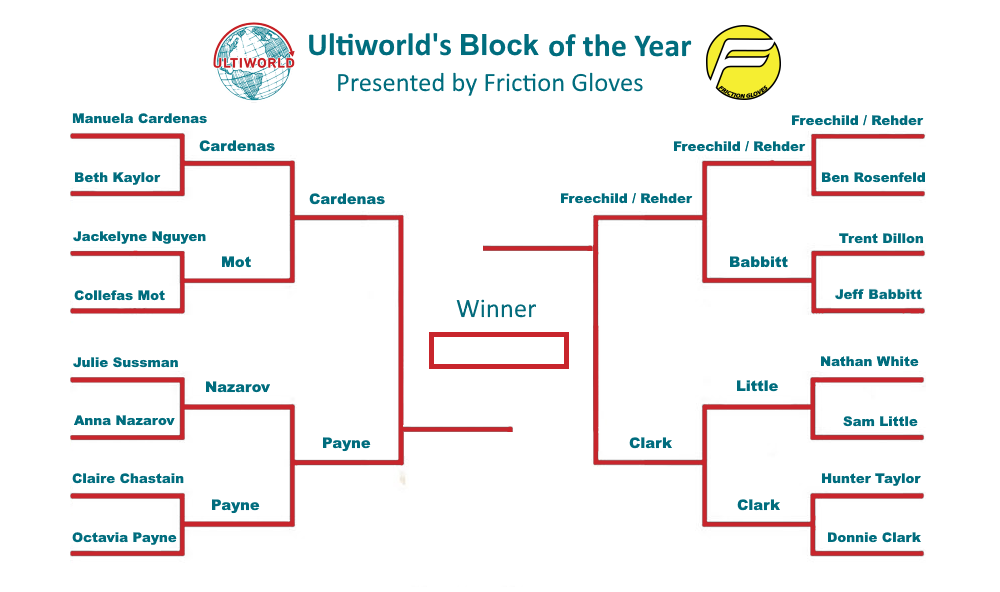 This article is presented by Friction Gloves; all opinions are those of the author. Please support the brands that make Ultiworld possible and shop at Friction!
Did you all wisen up since the Catch of the Year bracket or did we just do a better job setting this one up? Solid work narrowing this down thusfar — there are no lemons in this bunch, just four ridiculous defensive efforts from big-time players in big moments or games.1
Semifinal voting will be open from now until Friday, January 20th, at 12 PM Eastern.
Semifinals
Matchup 1: Winged Women
Manuela Cardenas – Colombia (WJUC Girls)
Another round, another blowout win for Cardenas. Yawn. I'm not sure anyone has ever completely run away from Collefas Mot like that before. Can this gif be topped? Can anyone even come close to competing with it? The next challenger up is maybe the best defender in the game. Let's see how Opi fares.
Opi Payne – Denver Molly Brown (USAU Women's Club)
Based on how results have gone thusfar, it's starting to feel like it will take a somewhat unfair advantage for anything to even keep it interesting in a matchup with Cardenas. Good news, sports fans: that's exactly what we're looking at next. Can the cumulative impact of Opi's three layout blocks on one point — two of which were against Sandy Jorgenson, no less — overcome the insanely impressive singular bid from the Colombian?
Matchup 2: Massive Men
Dylan Freechild and Matt Rehder – USA (WUGC Men's)
The WUGC boys have knocked off multiple college foes to get to this point in the bracket, and now step up to the plate against the best the pro game has to offer. No matter who comes out on top here, can we figure out what's in the water up there in the Pacific Northwest so the rest of us can get our hands on some?
Donnie Clark – Seattle Cascades (AUDL)
The din of online hyperbole with this block continues to rise to Mehta-like levels, with someone on Twitter going so far as to label it, "For sure the best block in the history of pro ultimate. Might go as far as the best in the history of the sport given the context." Easy there, @bmatis61. Before we start arranging the parade to lavishly fete this block for its place in the annals of ultimate history, let's make sure it can get out of the 2016 semifinals.
---
Mostly, I'm just thankful Mehta wasn't available to compete in this bracket. ↩