Darkside claims their first regular season tournament victory since 2014.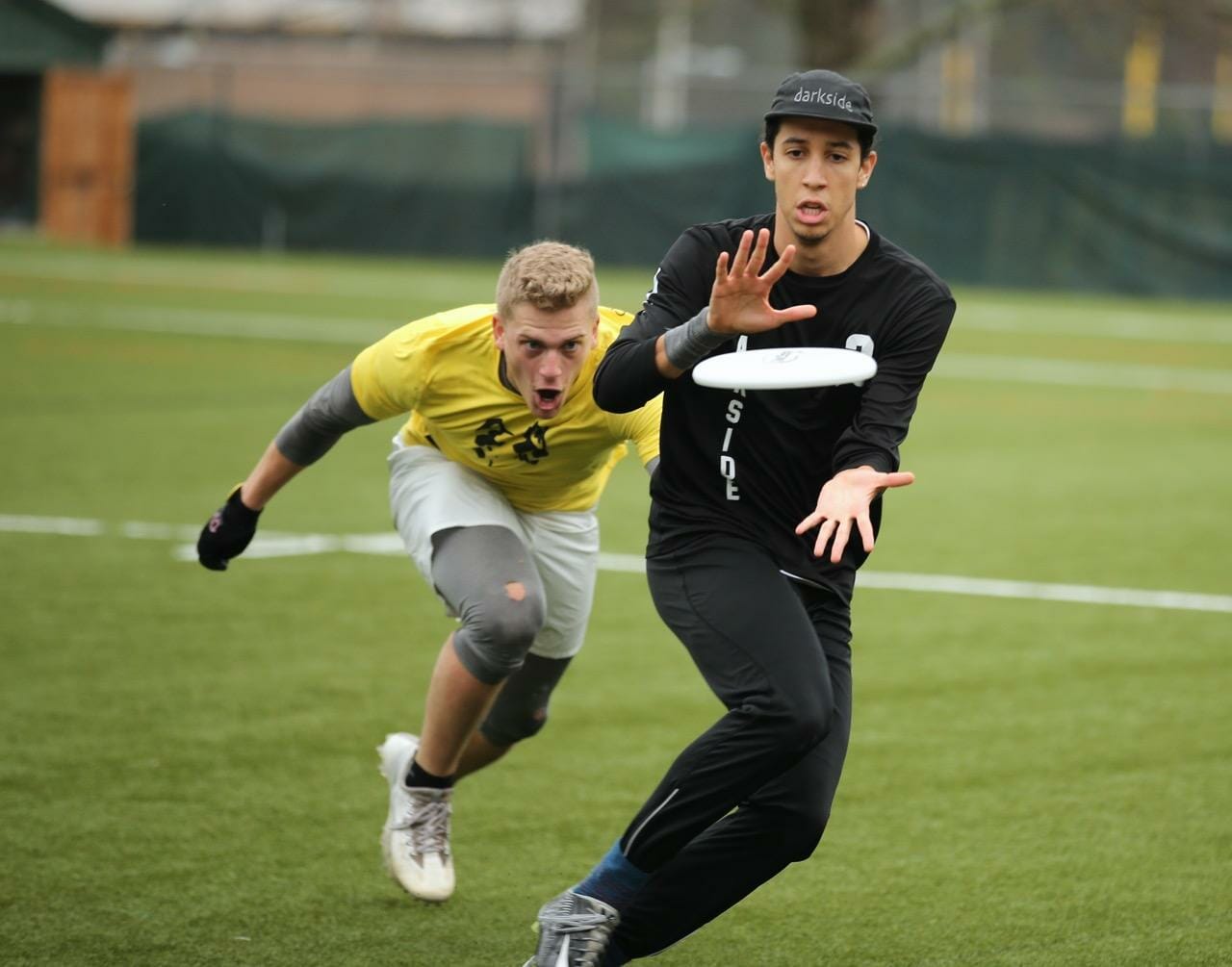 UNC Darkside dominated the competition on their home turf this weekend, turning in a clean 7-0 record at Carolina Kickoff for their first regular season tournament title since 2014. They capped the weekend with systematic 15-8 win over the Central Florida Dogs of War in the final.1
Darkside Ready For A Competitive Regular Season
The excellent weekend for #5 North Carolina was highlighted by the return of junior Matt Gouchoe-Hanas, who was healthy and fired up after being sidelined during the fall with an ankle injury he suffered at the Club Championships with Raleigh Ring of Fire. Gouchoe-Hanas has blossomed into a star since spending his rookie season as Jonathan Nethercutt's reset man and was the best player at the fields all weekend in Chapel Hill. "He can come on the field knowing all the personnel and how to call plays," assistant coach Eddie Alcorn said after the final against Central Florida. Beyond just quarterbacking the team's offense, Guchoe-Hanas came up with big plays for Darkside all weekend, including a massive layout grab that put UNC up 14-8 in the final. With his performance at Kickoff, he looks set be near the top of the Atlantic Coast's regional Player of the Year conversation all spring.
Despite Gouchoe-Hanas' brilliance, it was the team's defense that had the greatest impact on the weekend. "We wanted to use this weekend as a litmus test and see how we're doing," said Alcorn.
A six-break run against Florida on Saturday morning demonstrated early on just how deadly UNC's defensive unit has become off of a turnover. In the final against Central Florida, UNC rarely gave the disc back and was able to convert with a combination of aggressive deep shots and slow methodical offense. "We wanted to make sure to get everyone comfortable on that D line," Alcorn said. "All we've got to do is put them on the line and they make the play."
UNC's D line has all the pieces it needs to cause serious problems for any offensive system. Nathan Kwon, who returned to Darkside after spending the fall semester abroad, had a spectacular weekend, combining explosive defensive plays with aggressive cutting and throwing. Freshmen Kai Marcus and Anders Juengst also had standout performances; both defenders came up with big blocks in the final, with Juengst reeling in an impressive layout goal to punctuate a break against Central Florida.
North Carolina is now primed for a more aggressive regular season. In the previous two, Darkside adhered to a developmental system that focused on building depth with new players. Head coach Mike Denardis, who left coaching in the fall to his staff — led by the 2015 Callahan winner Jonathan Nethercutt — was impressed by how good his team looked this weekend.
"We've got a lot less learning to do this year. They're very polished," said Denardis. With a renewed focus on winning against elite programs in big games, UNC may make a much louder statement this regular season than they have in the past two years.
UCF Looks Sharp After Strong Weekend
#20 Central Florida, the other finalist, showed promise this weekend, only losing to UNC (albeit twice) and earning their way back into the Top 25 for the first time since October. With a tight, tough Southeast region shaping up this year, Central Florida's performance suggested that they are more than just the Michael Fairley show.
With fifth year Stuart Little and primary handler Ben Ostman not in attendance this weekend, Central Florida looked to their new athletes to step up and fill big roles throughout the entire tournament.
"There are a lot of players who have come up through the ranks after being here only less than a year," head coach Andrew Roca said after the final.
Kyle Reedy stepped up to fill the hole left by Ostman, working alongside Fairley to distribute the disc. Sophomores Austin Gaines and Adam Vincent stood out as defensive playmakers. At 6'7″, Adam Lapikas towered over all opponents throughout the tournament as another big deep receiver for te Dogs of War.
Still, the team's biggest individual performance all weekend undoubtedly came from Fairley, who has stepped up as both a huge playmaker and leader. In a semifinal matchup against NC State, Fairley racked up three goals, three assists, and two blocks, including this one in the endzone.
Fairley's outlook on the development of Central Florida's younger players was positive. "What separates us from teams like UNC and NC State is that we don't have a youth pipeline. We have to look for young athletes and work them into the system," said Fairley.
Central Florida's system has also been augmented by the addition of Tyler Kunsa, formerly of Pittsburgh En Sabah Nur, to the coaching staff. "Tyler's a huge pickup. The mentality of movement from Pitt is so fluid," said Roca. "We're used to being athletes who are good in the air and fast on the ground. Adding some new strategy and mentality really adds a level of depth to our game."
A more than solid performance this weekend doesn't quite indicate how the Dogs of War will fair in a tight region this year. Against UNC, Central Florida failed to demonstrate the kind of offensive consistency they'll need against elite defense.
Roca hoped that their performance will set the tone for the rest of the season. "People have had a lot of doubts about where we would be, including myself. This team found a way to grit through things and if they continue to use that grit as a baseline standard, they're going to get deadlier over time," he said.
Quick Hits
Other teams in attendance turned in promising performances at times, but lacked the consistency on display from the finalists.
#23 NC State, riding high on the talent of some underclassmen with excellent YCC experience, went 4-0 Saturday. The Wolfpack beat UConn and Auburn before eventually falling to Central Florida in the semis. NC State were unable to challenge Central Florida defensively — they had no answer for Fairley — and failed to find consistency on their offense against the fired up Dogs of War. Nonetheless, Kickoff showed that NC State could prove to be another team, like Virginia Tech, capable of making a run at AC Regionals. Davis Mossman will be a huge player to watch this year alongside the Wolfpack's very strong rookie class. Head coach Garrett Dyer heaped praise on his rookies, saying, "Not only are they playing, they helping to lead the way, and we are sincerely excited about how they are contributing already."
Florida turned in an uneven performance, notching a strong regional win over Auburn in quarterfinals, but also suffering big losses to UNC and Central Florida. When faced with elite defense, Florida's O line often crumbled. The D line was unable to consistently shake up offensive looks when they needed to. Tanner Repasky and Billy O'Bryan continue to shine for the Gators, but their depth is suspect and their results this weekend are shaky for a team in search of a return to the national stage.
Auburn also handed in a reasonably solid performance in Chapel Hill; Aetos were tenacious on defense in pool play, but just couldn't close out in bracket play. They lost 15-13 in a tight quarterfinal against Florida, but displayed the makings of a competitive D line. "We're trying to be the best defensive team at every tournament," said captain Martin Newman after Saturday play.
On the other side of the disc, Eric Sjostrom and Michael Volz — both coming off of a season with the Nashville Nightwatch — played big minutes on Auburn's O line, with the lefty Volz performing very well as a hybrid cutter and handler. Despite their efforts, the loss of Ryan Landry and Blake Galloway still have a clear effect on Auburn's offensive consistency and even against an anemic-looking UConn on Saturday, Auburn struggled to convert on the turnovers generated by their D line.
Despite arriving in Chapel Hill as the favorite in Pool A, Connecticut struggled to find its rhythm all weekend long, notching a lone pool play win against Tennessee on Saturday. While it's easy to attribute their performance to the absence of head coach Bryan Jones,2 Grind were plagued by many fundamental execution errors and drops from the moment they took the field Saturday. "We were rusty and got out of our system on Saturday," said Jones after the weekend. "Leadership made some adjustments and we came out better on Sunday."
UConn has the benefit of being the top program in the Metro East with very few challengers, but their performance this weekend dropped them out of the rankings and certainly left much to be desired.
Like Grind, Georgia Tech also came up short this weekend, lacking urgency and energy in moments they needed it most. After jumping out to a 4-1 lead against Clemson Saturday, they were unable to work through Clemson's zone defense and ultimately fell 10-8 to the Joint Chiefs. Plagued by injuries and the small roster they brought to the tournament, Tribe forfeited their Sunday morning consolation game against Tennessee and headed home.
Want to catch up on even more action from this weekend? Film from Carolina Kickoff is available via an Ultiworld Video Subscription! Purchase a team pack here.
---
For hardcore fans, this could count as revenge for Darkside's Carolina Kickoff loss to UCF in the 2015 final. ↩

Jones was serving WCBU coaching duties at a rainy Lei Out. ↩