A recap of USA Ultimate's first stop on their tour of the country's biggest ultimate markets.

Disclaimer: The author is a volunteer for both USAU and WAFC, but his recap expresses views that are entirely his own.
Representatives from USA Ultimate, including CEO Tom Crawford, Board of Directors Vice President Henry Thorne, and staff, welcomed approximately 30 members of the DC-area ultimate community to a town-hall style meeting organized by the Washington Area Frisbee Club (WAFC) on Wednesday night. Advertised as an opportunity for "community conversations," the meeting was the first stop1 on an eleven-city "Vision Tour" for USA Ultimate to gather feedback as it prepares to draft its next Strategic Plan.
The meeting was delayed by almost 20 minutes as participants had difficulty finding the location, an academic building on the campus of Trinity Washington University in northeast Washington. Julia Lee, USA Ultimate Director of Finance & Development, kicked off the meeting with a brief welcome before Thorne provided an outline of the meeting's agenda and purpose. "You have a lot of power tonight," Thorne said during a description of the various ways USAU receives and implements feedback from members, noting that the strategic planning process would guide the Board of Directors and USAU staff for the next five years.
Because of the delayed start, the facilitators elected to scrap a ten-minute small group session about "the ultimate community's hopes and concerns about the future of ultimate" and instead proceeded directly to a brief and whimsical video about the history of ultimate. Photos from the last 50 years of ultimate were paired with era-appropriate music, eventually giving way to footage from championship events, children learning to throw, and appearances of ultimate on the ESPN Top 10. The video included no footage from either semi-professional league, but ultimate historians would have recognized Kenny Dobyns in many of the photos from the 80's and 90's.
After the video concluded, Thorne introduced Tom Crawford and his impressive resume in the world of sport. Crawford then took the opportunity to tell the audience "a teeny bit" about himself, including an anecdote about his introduction to ultimate through a nephew and niece2. He described how he had seen both "the good, the bad, and the ugly" in sports throughout his years working for the US Olympic Committee and multiple professional men's sports leagues. He spent a few moments proselytizing to the gathered players about how sport, "when done right," can "advance human existence in meaningful ways"–and that ultimate, because of its focus on Spirit of the Game and opportunities for mixed gender play, is particularly well-positioned to be a positive influence in the community.
Wrapping up his presentation, Crawford then took five minutes to answer questions from the audience–a reduction from the ten minute time slot listed on the original agenda, which ruffled a few feathers in the audience. Topics addressed included the fact that the Washington, DC, metro area does not quite fit into USA Ultimate's State-Based Organization model (though neither does New England, an existing partnership with USA Ultimate); the attractiveness (or lack thereof) of the affiliate model for more mature local disc organizations such as WAFC; and Crawford's vision for how USA Ultimate might partner with a hypothetical professional league (and whether other sports could serve as a model for that kind of relationship).
Crawford pointed to USA Hockey as a positive example that, at the same time, is currently "imploding" due to the USA Women's national team decision to boycott the 2017 IIHF World Championships in protest of unequal pay and the NHL's decision not to send its players to the 2018 Olympics. Crawford quipped that the American Ultimate Disc League (AUDL) asked what it would take to partner with USA Ultimate, and Crawford's response was "ten million dollars"–the annual amount paid to USA Hockey by the NHL under their previous agreement.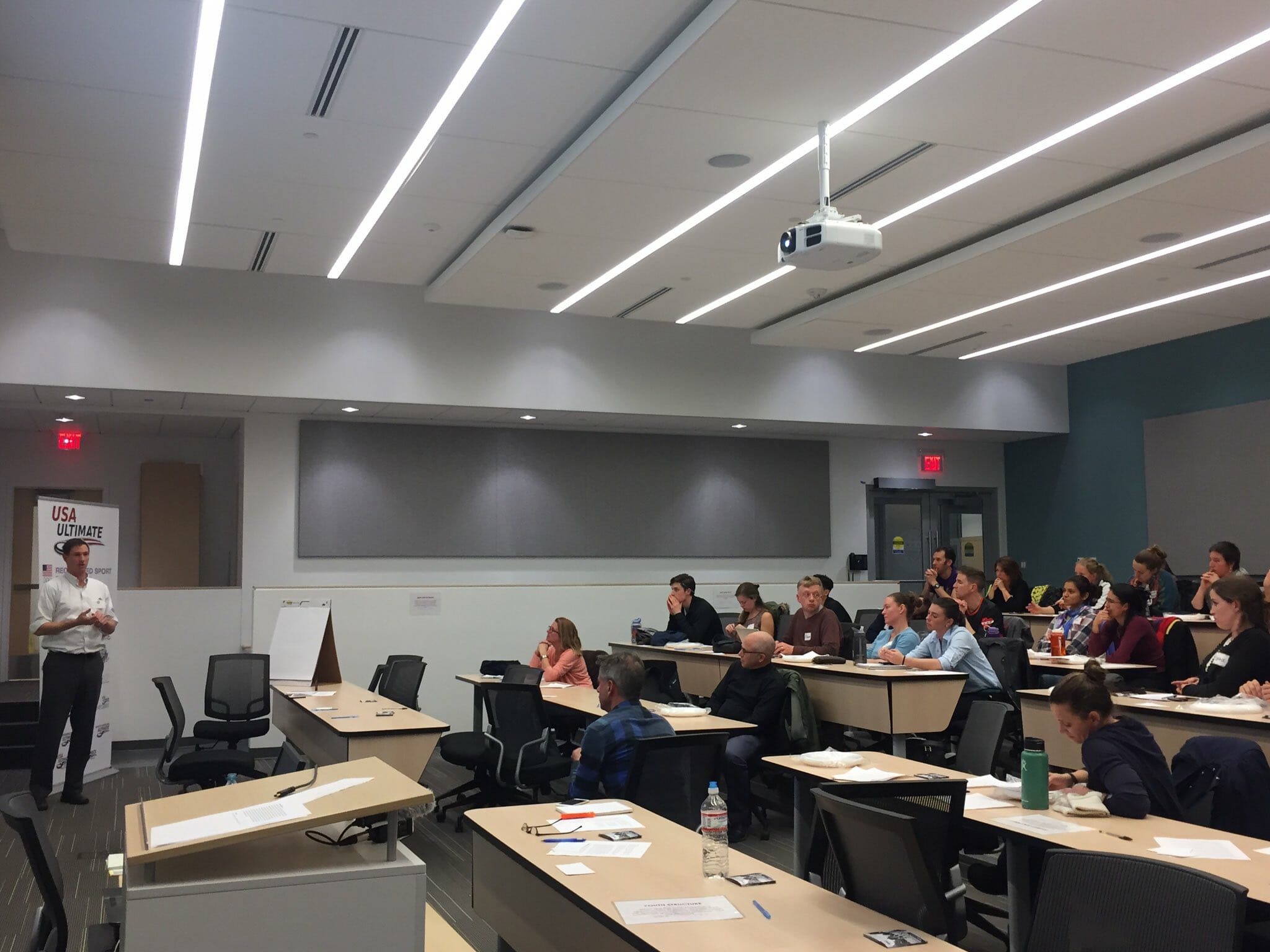 Attendees were then asked to self-select into six different small groups to discuss a set of topics selected by the Board of Directors, at which point several participants asked if the 40-minute time slot could be split into two 20-minute time slots in order to provide an opportunity to join more than one discussion. After an essentially unanimous vote in favor of the proposal, two rounds of facilitated discussion were conducted.
Julia Lee led a discussion on Equity & Diversity which focused largely on the concept that "you can't be what you can't see." Members in the session advocated for equity to replace visibility as the top priority for USA Ultimate in the new strategic plan, arguing that visibility can support equity rather than existing in tension with it. The role of mixed-gender play was also highlighted for its relevance to the equity conversation; members therefore discussed how the mixed division has been less visible on ESPN3, and how mixed players have been underrepresented at Team USA tryouts and on the World Games roster. Participants discussed the importance of grassroots recruiting for both women and players from underrepresented backgrounds and wondered how the community might move past the "friend of a friend" model for recruiting in order to better reflect local communities.
Alex "Dutchy" Ghesquiere, coach of the World Games team and the DC women's team Scandal, led a discussion on Elite-Level Play. Members were prompted to consider how elite-level play should support not only value for athletes but also values, such as Spirit of the Game and equity. Main points included the need to shift resources to reduce player costs, to restore some of the flexibility lost in the transition to the Triple Crown Tour, and to consider additional player concerns like non-standard work schedules or childcare. Members reached consensus on keeping the club championships in October in order to provide a season long enough to promote development and maintain schedule flexibility for teams of varying needs and responsibilities. The importance of equity in media coverage was reiterated, and a few formatting tweaks were discussed: balancing the number of games played per day, eliminating hard caps, and reducing the number and length of stoppages in elite-level play.
Thorne led a discussion on USA Ultimate's current policy refusing to acknowledge or partner with professional leagues due to a putative misalignment in values. Members concurred with the current policy's affirmation of USA Ultimate's values, namely Spirit of the Game (as exemplified by self-officiation and the Observer system) and gender equity, but questioned whether the policy has any actual influence on the AUDL or its role in shaping the sport. Given how the AUDL continues to showcase its brand of ultimate, appearing on ESPN3 and introducing new players to the sport at youth clinics around the country, members wondered whether USA Ultimate actually benefits from refusing to acknowledge the professional league–particularly as its teams are starting to partner with established club teams. As one attendee put it, "the longer we wait, the further we fall behind" in controlling the conversation about what ultimate is and what its values are.
Members also challenged that USA Ultimate, while citing gender equity as a reason to refuse partnership with the pro leagues, has not always upheld its own commitment to gender equity. If we are already compromising on our values for the increased visibility of ESPN coverage, for example, how different is that from partnering with an AUDL team to host a GUM clinic? One idea that came out of the discussion was an exploratory conversation with the AUDL on gradually aligning professional play–over the course of 10+ years, perhaps–with USA Ultimate's mission and values as part of a broader partnership agreement. Such a road map might include, for example, access to USA Ultimate's Observer Certification Program resources in exchange for a shift toward self-officiation in AUDL games or to support significant increases in playing opportunities for women (through mixed-gender teams, e.g.) in exchange for partnership on marketing and sponsorship.
Tom Crawford led a discussion on the Olympic Dream, focusing on the potential for widespread growth made possible by inclusion in the Olympic Games. Given the constraints of housing athletes in the Olympic Village, mixed play appears to be the best way for ultimate to break into the Games–and echoes the IOC's attitude toward ultimate as a field sport uniquely attractive for its mixed gender and self-officiated play. Members responded by asking why the mixed division has been deprioritized if it is the sport's best chance for Olympic recognition, citing (as the equity discussion did) fewer games on ESPN3 and the lack of mixed-division representation at Team USA tryouts and on the World Games roster. Drawing parallels to the USA Ultimate policy against partnering with the pro leagues, members agreed that the NGB should not sacrifice its values in order to gain Olympic sport status.
Stacey Waldrup, USA Ultimate Manager of Communications and Publications, led a discussion of the USA Ultimate brand and how members perceive the value of membership compared to the cost of dues. Challenges discussed include the lack of incentives for league players to join USA Ultimate, low levels of engagement, negative perceptions of transparency, and the inconsistency of event experiences. Members suggested that a website overhaul and more HQ staff might improve member experience.
Josh Murphy, USA Ultimate Director of Members Services and Community Development, led a discussion of Youth Structure that emphasized prioritizing growth–especially across gender, race, and socioeconomic lines. Members talked about evaluating whether the calendar of events and current geographic divisions support growth, increasing access to fields and well-trained coaches, and increasing the number of schools that have ultimate programs.
Following the small group discussions, which the USA Ultimate representatives briefly recapped for the full group, each attendee was handed a set of stickers to place next to the topics they felt were most important. Equity was by far the most popular topic, having come up in every small group discussion in one form or another; the role of mixed-gender play was also frequently brought up in relationship to equity. Participants were also given slips of paper asking for a 1-10 rating on how well members felt like they were heard, as well as feedback on how to improve future Vision Tour sessions. A number of members stayed after the meeting to speak more with Thorne and the staff, picking up on threads of discussion not fully addressed during the meeting–such as the tension between increased structure and oversight without increased resources or support from HQ.
General consensus from members after the meeting was that they appreciated the opportunity to speak one-on-one with Crawford and the other representatives from HQ. Although some were skeptical about how much the new strategic plan would reflect their individual concerns, they described the meeting as a productive interaction with USAU and a positive step towards transparency.
Feedback to HQ at the end of the meeting stressed the importance of expanding time for Q&A with Crawford, even at the expense of small group discussion time, as direct feedback to USA Ultimate was broadly seen as the most valuable aspect of the meeting. It is not clear whether the same six small group topics will remain on the agenda for each city on the Vision Tour; suggested topics for future sessions included coaching development, organizers and volunteers, and the organization's governance. The tour continues today with a stop in Pittsburgh; members who are not able to attend a Vision Tour meeting are encouraged to contact their representatives on the Board of Directors.
---
Two meetings were scheduled to be hosted prior to the one in Washington, DC–in both New York City and Boston–but both were postponed due to inclement weather. ↩

Audience members were unsure why Tom Crawford neglected to mention that his nephew and niece are long-time DC player and organizer David Branick and his wife, Kerry Crawford Branick. ↩