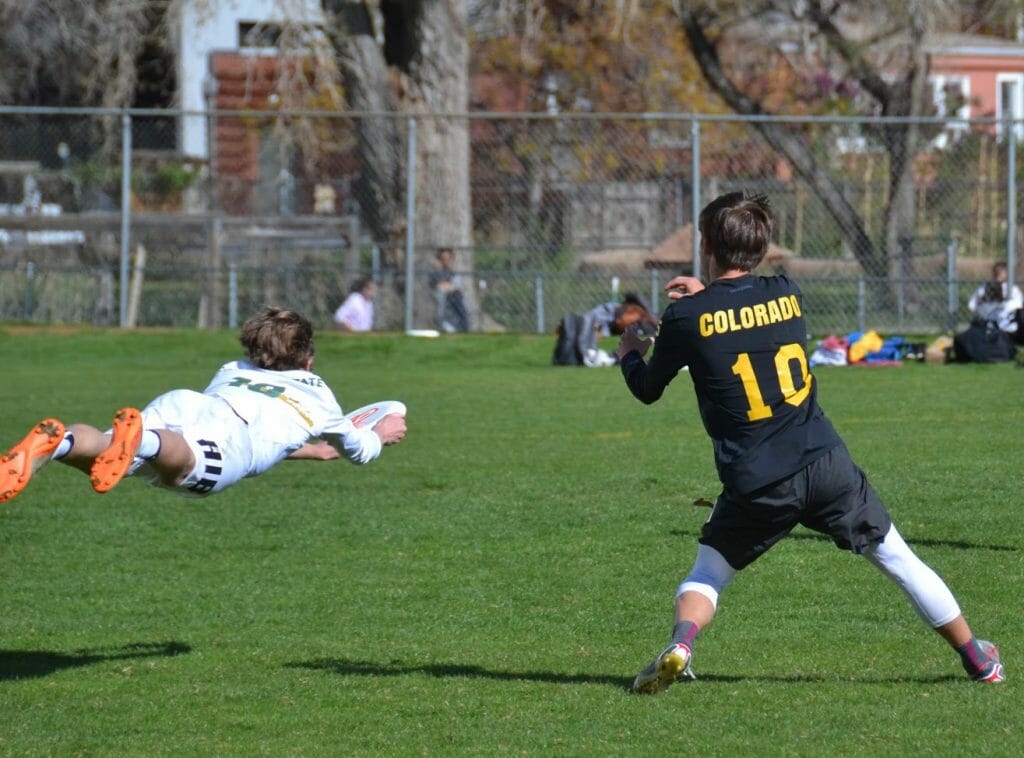 This article was written by Colorado State coach Tim Kefalas and originally published on his blog, Katfish Corner. It has been lightly edited.
BOULDER — Both Colorado State and Colorado had relatively easy days leading up to the Conference final in Boulder this weekend. With only two bids to Regionals on the table and both top seeds sitting in the top 20, the rest of the field was largely playing for pride.
I personally have been a player or coach in 14 sectionals/conference games between CSU and CU. Even in the mid 2000s, when CSU floated around the top 20, we had some mental block when playing Mamabird, and the games were almost never competitive. In 2008 (my fifth year playing), there was a decent 15-13 final, but, beyond that one year, Bird has dominated the match-up for the past two decades.
For this game, there was a slight breeze with the weather hovering right in the high 60s. This game was largely defined by both teams' defensive disruption and pressure — Bird used good brackets and intelligent poaches and we largely ran our force-middle person defense.
We opened the game with a break as they struggled to find their spacing, but then gave the break back after we struggled against their brackets. Our offense worked through the appropriate adjustments and Bird's O moved to a no-dump set to alleviate their spacing problems. After trading to 4-4, we broke again on a huge layout block from freshman Dylan Custer (he's in the picture above, but I'm 75% sure that's from the game against Colorado-B). The kid's been lockdown for us all year – taking tough match-ups in every game and always contesting them – easily top three on the season in total blocks.
We broke again after Mark Rauls went for a tough wide-side huck to Wes Chow, boosting it too far. Junior big man David Miller made a big layout catch on a trailing huck going the other way and we took a two break lead, 6-4. We traded to half 7-5, receiving upwind in the second half.
Bird broke us twice out of half, securing some some impressive defensive blocks on our deep shots and a goal-line hand block, tying the game up at 7-7. We finally punched in a clean O hold then threw out a 2-3-2 zone, seeing if we could catch them off guard and get an easy turn. They patiently worked the disc down the field, then broke a hammer over the top and scored shortly thereafter 8-8.
We scored our subsequent O point then broke again to take a 10-8 lead.
Rauls (who played just about every point in the second half I believe) secured a monstrous layout block after we traded to 11-10 and Bird broke to tie to it, 11-11. We scored our O to make it 12-11 then we sent out our normal D-line to win it. Bird overshot a break throw on an under and we put out a deep huck to 5th year captain Sten Larson, which was blocked by the Colorado defender. Bird fed the disc to Rauls and we locked down the other six members of their line, twice forcing contested stalls. On the third attempt, Rauls swung it to the front of the stack and Larson got a lanky arm on the disc, knocking it to the ground. We worked it down the short field – swung a couple of times waiting for the good break look, then scored, game over, 13-11.
Winning without a kill line was kind of the whole point of the game for us – it wasn't about having Cody Spicer and Jake Servaty and Jake Marrapode playing every point (none of whom played a single D point). It wasn't about getting Spicer to match-up on Rauls or Chow like we'd had him match up on Stubbs and Jagt in other games this season. In the scheme of our season goals and plans, winning this game didn't mean a whole lot, technically. The 1-2-3 seeds at regionals are going to be CSU, Colorado, and A&M (barring an upset in Texas next weekend); winning or losing this game would change that order only slightly.
This game was our team's affirmation and establishment of ourselves as a legitimate Nationals program. It was about knowing that we not only matched up 1-5, but that the work we've put in the past three years (after not qualifying for Regionals in 2014) is not about a couple of elite players that happened to come to our school, it's about a program and a system, on par with something like Colorado (a team for which I have the utmost respect). A system where you win games both at the front and back of your roster. A system where you cultivate a hard-working culture, develop good spirit, and trust (while you certainly allow some players to do the heavy lifting) that your whole squad is ready to rise up to the moment at any level of play.
I don't mean to suggest that our win, playing deep into roster, vs Bird playing tighter means we're the better squad. I'm not that guy and I don't think that's the case. We had everything to play for and this was just another competitive game for them. We haven't qualified for Nationals yet this year and this game certainly doesn't change what we need to do at Regionals to really affirm our status on the national stage. It's simply one step closer.
When we scored the final goal, the team went nuts. I was down in the far end-zone on the opposite sideline from most of the squad. I walked down the field and got in the back of the line to shake hands. Guys kept jumping in my face, shaking me and wondering why I wasn't smiling or cheering. I'm sure I've lost more games to Mamabird than any other single player/coach in the country and I doubt that's a record that will ever be broken. Why wasn't I jumping up and down and screaming along with the team?
"I knew you guys were good enough to do it."