The Truman State star's quest to support Spirit of the Game and push for better mental health awareness in ultimate.
TW: This article covers a player's mental health journey, which includes mention of sexual assault.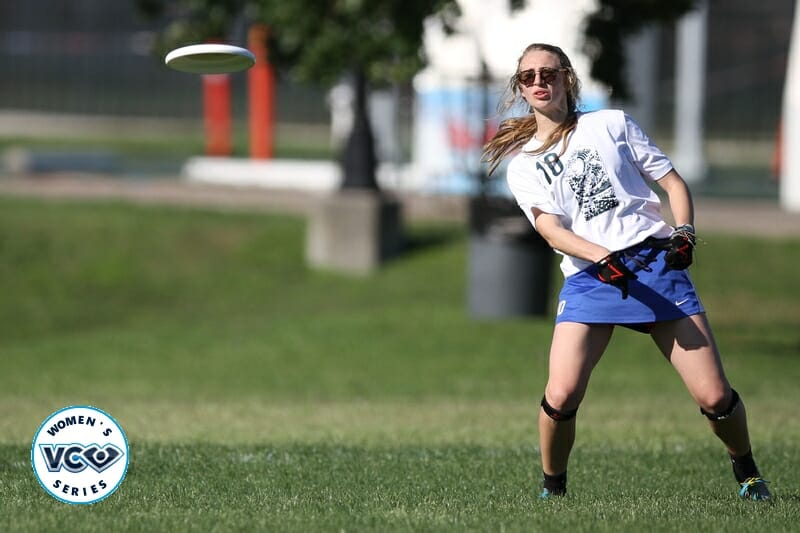 This article is part of a series presented by VC Ultimate to spotlight teams and individuals shaping women's ultimate. All opinions are those of the author. Please support the brands that make Ultiworld possible and shop at VC Ultimate!
As almost any player can attest, ultimate can have huge effects on not just our physical well-being but also our mental and emotional health. The endorphins released while playing and the community bond that we gain are amazing benefits that frequently turn casual pick-up players into lifelong enthusiasts.
But there are also numerous ways we can abuse this sport. When we push ourselves to two-a-day workouts that exhaust our bodies or when we see our worth tied up in how fast we sprint a forty or when we compromise player safety while making a dangerous bid, we can lose track of what attracted us to ultimate in the first place.
Part of the rush of success in sports is seeing your body's potential grow. But we must also recognize our body's limits, accept them for ourselves, and then be prepared to openly communicate them. Few players understand that better than Truman State's Emilie "Willie" Willingham, a leader in the D-III women's community.
***
When Ultiworld surveyed D-III women's teams at the beginning of the year asking about opposing players that stood out, numerous responses mentioned "that tall, blonde handler from TSU." It did not take much to deduce that they were all talking about Emilie Willingham. Opponents and teammates alike are struck by both her unstoppable break throws and the genuine spiritedness she brings to every game.
Willingham was first introduced to ultimate when her Missouri high school started to form a team. The team was small but lively — coed because there weren't enough numbers — and often practiced in parking lots. High school Willingham was used to hearing opponents call out, "I got the girl," whenever they marked up.
Tall, athletic, and experienced in team sports, Willingham was content to compete with the boys. Two years later, when she entered Truman State in the spring of 2013, she was delighted to find a women's team. A strong program, Truman State TSUnami had already been around for a decade when Willingham arrived and have finished in the top five at the past three D-III College Championships.
At her first D-III Nationals, Willingham was already making moves as a freshman — she ranked in the top five at the tournament for both goals and defensive blocks. From there, her ultimate resume has only grown more extensive. In 2015 and 2016, she was named to the D-III All-Region 1st Team for the South Central region. Just two years after her first competitive women's season, Willingham made Chicago Nemesis and competed at Club Nationals. In that same year, 2015, Willingham was selected to try out for the USA U23 National team; she was recently invited to try out for the U24 National team as well. At the most recent D-III College Championships, Willingham tied for the second most assists — throwing more than half of her team's goals.
Willingham is now the captain of Truman State, and while she cuts at the club level, she has stepped into a handling role for TSUnami. With the disc centered to her, she stands at the helm of the offense. Willingham plays with a cheery smile on her face, unfazed by stressors like 25 mph winds or covered cutters. But don't mistake her calm decision-making for a bland playing style; Willingham was nominated for the D-III All-Region team in large part because of her propensity for making big plays. She takes the necessary risks to help her team — like squeezing the IO flick into a crowded endzone or putting up the deep shot.
In the current 2017 season, Willingham is once again dominating the D-III Women's coverage. In emails and tournament recaps, opponents remark on her "deadly" deep throws, her inside flick breaks, and "the huge challenge she is to mark." At Midwest Throwdown, Ultiworld reporter Kailee Karr watched Truman State's windy game early Sunday morning against #1 St. Olaf and wrote that "Willingham had the best throws of the game," taking control and dictating the overall pace of the match.
Willingham also stands out to opponents because of her sincere and enthusiastic commitment to Spirit of the Game. At D-III Nationals last year, during a muddy fifth place game in consolation, a questionable travel call was made on Willingham as she threw an assist. She raised her eyebrows — knowing it was a call made out of a misplaced competitive spirit — but chose to respectfully engage the player in a conversation so that they, and the many rookies playing, were clear on the rule. Without being able to come to an agreement, the disc would go back and the other team ultimately scored — but it was Emilie who ran up to the opponent afterward and slapped hands for a hard-fought point. It was noticeable then, and clear now, that Willingham is a player who truly treats each opponent with grace and values every point for what she can learn from it.
Yet all the success Willingham has achieved belies the remarkable physical and mental health journey she has gone through during her ultimate career. Injuries to both her body and her state of mind have given Willingham the perspective to play with such grace and humility. They inform her understanding of the game, her love for Spirit of the Game, and her commitment to growth. Beyond Willingham's desire to win on the field, her passion is to shed a light on the connections between physical and mental recovery and how the ultimate community can do even better to support both sides of an athlete's recuperation.
***
To put it lightly, Willingham had an incredibly challenging first year of college. Entering school on a competitive volleyball scholarship, week one she was hospitalized and eventually quarantined with E. coli. Her recovery was hampered by both her doctor's malpractice and a coach who pushed her to return to the court too soon after she got the infection. Almost immediately after returning — when she perhaps shouldn't have been playing at all — Willingham hyper-extended her right arm. Her volleyball coach continued to push Willingham beyond her limits, punishing her with running laps in her sling after practice had ended. This destructive experience with an authority figure responsible for her physical development and health would have long-term effects on Willingham's health — both physically and mentally.
She quit volleyball and transferred to Truman State to begin anew in the spring. That same semester, she suffered a concussion when a lab instrument malfunctioned — at no fault of any individual — and as a result she lost part of her vision for five weeks. With this surreal setback, Willingham was unable to play ultimate, which she had rediscovered when she arrived at Truman State. But, she was cleared to play on the Friday before Nationals and still managed to put up some major stats — scoring 16 goals and 15 assists for TSUnami.
Unfortunately, the return to full health would be short-lived. Willingham tore her ACL that summer playing ultimate with some high school friends. A tough injury, but not an uncommon one in the sport.
Finally recovering from ACL surgery, Willingham returned to the field the following spring. Within a month, another devastating setback — Willingham was sexually assaulted. Along with the emotional pain and trauma, the assault resulted in further physical injury, pushing the screws from her knee reconstruction into Willingham's tibia, causing multiple fractures and re-tearing her ACL.
Willingham realized the toll these events were taking on her, and she took a leave of absence during her sophomore spring to enter a women's rehabilitation center to begin the process of overcoming the effects of PTSD.
Emilie Willingham went through more trauma in the span of two years than many of us will experience in our lives. Publicizing these personal experiences is not meant to evoke pity for Willingham, rather to illuminate a humanity that cannot be decoupled from Willingham's game. To appreciate why Willingham plays the way she does, one must understand her story and the external pressures that were put on her body.
***
Emilie's challenges with her physical and emotional health pushed her to a deep reflection that inspired her passion for Spirit of the Game. She realized that, for her, Spirit of the Game can be summed up as respecting every player's body and ability. If she was not able to respect her own body's limits, how could she respect another's?
Today, Willingham's top priority as a teammate and captain is making sure her teammates are experts on the rules so they are empowered to make their own calls. She also wants each player to be able to effectively communicate in the heat of the moment when a tight call is made.
Truman State focuses on "cultivating individual players, building the future of TSUnami, and introducing people to the sport." In Willingham's words, D-III teams must play the "beautiful hand we are dealt," which means starting at square one with the basics every year because, unlike some of their D-I counterparts, they do not have the luxury of experienced recruiting classes or making cuts. In her role as a captain and a leader, Willingham works to make sure every player is encouraged to make and learn from their mistakes and has ample opportunity to practice communicating the Spirit of the Game.
"Experiencing struggles with mental health made me a better teacher, a better friend, a better communicator," says Willingham. "And this is what being a good ultimate player is. It's not exclusive to great throws."
In describing how ultimate has affected her mental health, Emilie shared that, "I was given the opportunity to learn more about myself through ultimate. In a lot of ways, ultimate pulled me through. The Spirit of the Game is so engrained in my thinking that, even through trauma, I can see that I am empowered. That I am strong. That I am not a victim."
After Emilie's mom — a huge role model who cannot be praised enough — it was Willingham's ultimate community that empowered her to prioritize her physical and emotional needs and take the time off. Her teammates were some of the deepest roots in her support system.
Willingham's junior captain Claire Trumbull reflects that this is an entirely reciprocal relationship. "TSUnami thrives because of the value we placed on mental and physical health recovery, as strongly exemplified by Emilie," says Trumbull.
The reason TSUnami players see it as such a "supportive and safe organization" is due to the atmosphere created by Emilie's openness about her health. Willingham's emphasis on clear and open communication with Spirit of the Game extends to the team's internal communication.
Willingham's co-captain Callie Warren explains how Willingham understands the importance of setting high expectations as a captain, but also the importance of treating each player as an individual who has the ultimate say over their needs.
"Willie is great at listening to what each teammate is feeling, making a communication plan, and being in touch so the captains always know what's going on," Warren says.
In envisioning how ultimate teams can better support challenges with mental health, Emilie calls for leaders to do the work to open the door. Ideally, this work would go so far as to remove the stigma around mental health and discourage handling one's emotional and physical health alone. Because, as Emilie put it, "strength is the ability to talk about what is hard."
Additionally, Willingham calls for all teams — male and female — to hold discussions about the importance of prioritizing and advocating for consent, which includes normalizing consent as a core value of all relationships. She believes male teams in particular need to be checking pervasive heteronormativity and sexism — baggage that often comes with playing a sport — and need to stand up as allies. For every ultimate player, it should be a personal responsibility to accept the limits that each individual has for their own body.
***
This weekend, Willingham and Truman State TSUnami will be competing at the South Central Conference Championships against top D-III competition that includes Rice Torque and John Brown Savage Skies. With only one bid to Nationals, TSUnami will have to work hard to earn a trip to Lexington. But as Willingham has said, the team's #1 priority is Spirit — getting to Nationals comes second.
Spirit of the Game is core to what sets ultimate apart. It is the coming together as a community to make a game a success. It is owning your mistakes and calling someone out for theirs, while also acknowledging that mistakes are bound to be made! It is a pursuit of honesty with yourself, your teammates, and your opponents.
Lindsey Hack, Willingham's club coach on Nemesis, believes Emilie understands this as well as anyone, and that she provides an example for all ultimate players to aspire to:
"Individuals with Willie's past, to some degree, have a 'pass' when it comes to standing up for Spirit of the Game in tough situations," Hack says. "She could easily conclude — and we would more than likely excuse her for thinking — 'I've been through too much; someone else should bear this burden.' But instead of passing it on, she carries the weight of where our community falls short and works hard to learn, educate, and develop a plan to make ultimate a safer, healthier community for not only herself, but all of those around her."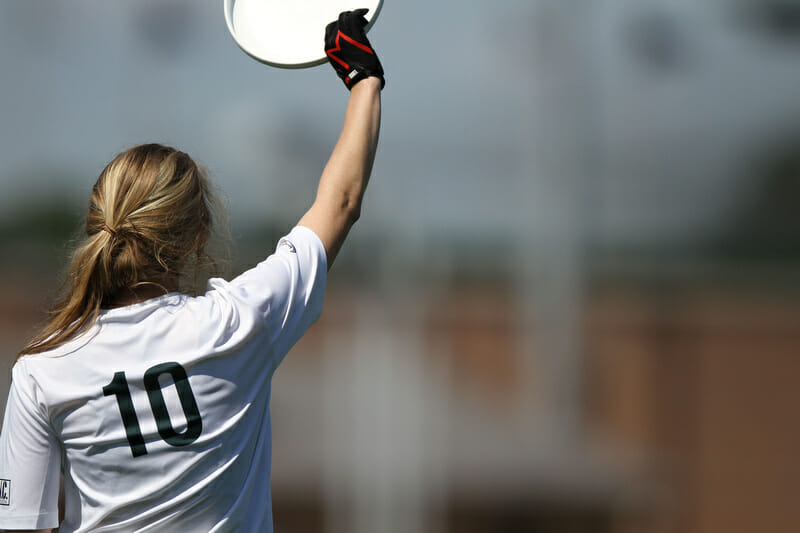 ***
If you or your loved one has experienced trauma, depression, or mental health issues, do not remain silent. There are resources available. Contact your health care professional or call:
24/7/365 Crisis Call/Text Center Hotline
(775) 784-8090, or 1 (800) 273-8255 or TEXT "ANSWER" to 839863