Carleton crushes all comers en route to a Regional title.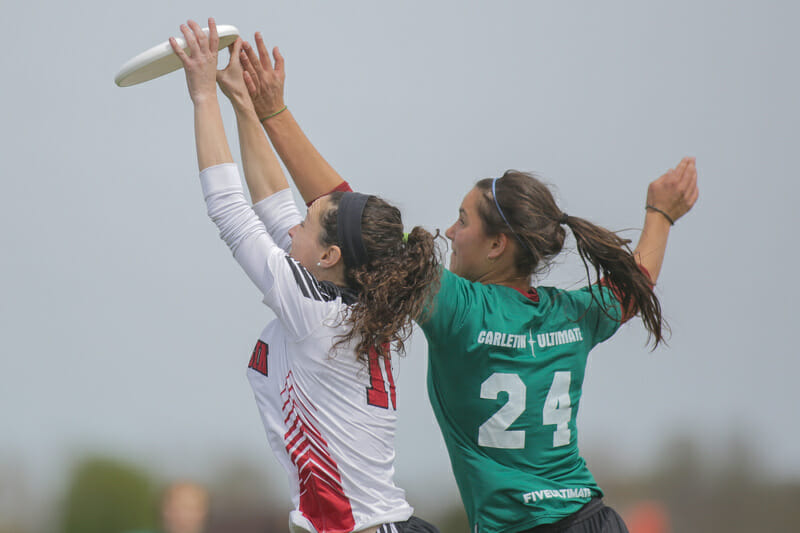 This post was written by guest author Kate Magruder.
BLAINE, MN – It wouldn't be North Central Regionals if it wasn't raining, 40 degrees, with 20 mile per hour winds.
Armed with numerous layers and a sideline intensity that drowned out any indication of the weather conditions, teams stormed the fields this weekend in Blaine. With only one bid to Nationals, every team brought a fierce level of competitiveness, but #17 Carleton College still managed to regain their regional title and the lone bid, beating Wisconsin 15-6.
The weather conditions provided each team an opportunity to showcase their unique spin on zone defense. While some teams rose to the occasion demonstrating a fearsome mental-toughness, others faltered.
Carleton Heads To Nationals
Carleton College Syzygy entered North Central Regionals as a favorite, and they lived up to this expectation in every way imaginable. Their focused offense and quick continuations downfield coupled with their impenetrable zone defense made this team truly unstoppable.
Carleton swept the competition. At the end of pool play, their defense had only given up six total points in three games against Iowa, Nebraska, and Wisconsin. Syzygy made sure to let others know that their loss to Iowa State in the Western North Central D-1 College Women's Conference final was an exception, not the rule.
Carleton's athleticism and intensity facilited their impressive completion rate downfield. Handlers Hannah Barnstone, Claire Thallon, and Naomi Price-Lazarus dictated the Carleton offense with ease. Syzygy's handlers combined precise technical skills and lightning fast disc movement to shred through zone defenses as if cups were invisible.
"On offense we were calm, focused, and moving quickly," commented Syzygy captain Katie Ciaglo.
During the final, Carleton rapidly moved through and around Wisconsin's defense, constantly finding the open player. They moved the disc so quickly that the Wisconsin zone defense frequently missed their opportunity to set. This fast movement enabled them to score four breaks in a row early during the final, resulting in a 6-1 lead.
Syzygy's defense was impeccable. Their zone forced endless short, difficult throws from Bella Donna, resulting in lots of turnovers. "Our zone is something that we have been working on and it really showed," said Ciaglo after their final win.
Wisconsin struggled to move the disc around Carleton's four-person cup zone. When Bella Donna handlers were successful, the speed and field awareness of Ciaglo in the deep space shut down most opportunities for Wisconsin to capitalize on any momentum. Throughout the game, Ciaglo seemed to operate seamlessly; she had a string of big plays that incapacitated Wisconsin's deep throws, one of their most lethal offensive weapons.
With the score at 7-3, Wisconsin transitioned to an intense, physical person defense with a flat mark. Bella Donna made another change shortly after half, switching the force again. Both of these shifts were effective in slowing down Carleton's offense, but the powerful wind ultimately made their transitions amount to too little, too late.
Syzygy maintained a positive sideline and hilarious cheers that kept spirits high despite their numb fingers. "Our sideline energy is the thing I am most proud of from this weekend," remarked Thallon. "It really gave the players on the field that needed energy."
With a final score of 15-6 against Wisconsin in the regional final, Carleton secured their bid to Nationals, bolstered by their fast disc movement on offense and impenetrable zone defense.
Wisconsin Goes Out Fighting
No. 4 seed Wisconsin Bella Donna exhibited intense, physical person defense throughout the weekend, exemplified by numerous big layout turns generated by Sarah Mondschein, Sabrina Hoffman, Jaime Brown, and Caitlin Murphy. This defense helped them break seed to reach the final, where they gave Carleton their toughest competition of the weekend.
Wisconsin's lethal handlers Anneke Vermaak and Brittney Kokinos ran the Bella Donna offense with a confidence that made you question whether it truly was raining, with wind gusts up to 30 miles per hour. They decimated marks with rapid-fire high release backhands and jaw-dropping upwind inside break throws.
Wisconsin also displayed an unmatched mental toughness. Their sideline presence was overwhelming, and it frequently drowned out the cheers of their opponents — even after Bella Donna was scored on.
A Wisconsin favorite cheer frequently led by Amber Heffernan is a call and response: "When I say sham, you say poo…when I say turtle you say neck…when I say woo, you say hoo…let's go Bella Donna!"
If you're asking yourself how this cheer relates to ultimate, well, worry not — the rest of us are asking the same. Nevertheless, it fired up Bella Donna.
Wisconsin patiently worked their way to the high side against zone offenses and frequently utilized the break side. But ultimately their inability to convert in the end zone prevented them from pushing past Carleton to advance to Nationals once more.
Iowa State Taken Out By Weather
Iowa State Woman Scorned came into the tournament as the top seed, but the rain and wind crashed their party and they were knocked out of the bracket during semifinals.
Iowa State's frequent swings, handler give-and-go movement, and crashes through the cup were extremely effective against most zone defenses. Linda Behrer's break throws were critical in powering their offense because they enabled Woman Scorned to utilize the entire field. Brittnee Grimshaw's speed made her end zone cuts untouchable, and Iowa State's fearsome marks made it easier on their downfield defenders.
But during semifinals, the rain smothered the fury of these scorned women. Wisconsin's formidable defense generated a stunning volume of turnovers. After Bella Donna completed a series of breaks early in the game, Iowa State lost their hell fire, falling in a final score of 12-7.
Minnesota On The Horizon
Despite graduating 15 seniors last year, Minnesota Ninjas played with impressive athleticism and energy that generated a constant stream of turnovers. Their transitions from defense to offense were fast and seemingly flawless.
Sarah Espinoza was the handler everyone loved to watch: elite agility, an impressive vertical, and precise deep throws made her versatile for the Ninjas. Espinoza's connections with cutters Ellie Sjordal and Danica Cutshall in the end zone made these three a dangerous threat during pool play.
Unfortunately, the turnover from 2016 was too much for the Ninjas. They were blown out 15-2 by Carleton in their semifinal on Sunday. But be on the look out for these sneaky Minnesota Ninjas in the future; after they polish their fundamentals, this fast athletic team might be among the favorites in 2018 for the bid to advance to Nationals.
What Prevented Them From Advancing?
Iowa Saucy Nancy
Iowa handler Elizabeth Gronert made continuous, perfectly-timed deep throws that advanced their offense quickly. However, Saucy Nancy's defense frequently found themselves chasing after their opponents' handlers, and they struggled to prevent the reset. Iowa could have made it a lot easier on their downfield defenders if they limited the strike cut or stifled their opponents from getting into power position.
University of Wisconsin La Crosse Galaxy
University of Wisconsin La Crosse handlers Dayna Trimborn and McKenna Hage displayed elite field awareness. They demonstrated an inspiring fearlessness for putting it deep. It was clear that these two handlers were a major contribution for Galaxy's advancement to Regionals for the first time in the program's history. What lead to Galaxy's downfall? Their marks. When playing person defense, La Crosse kept biting on fakes to the open side allowing them to be broken too frequently.
University of Nebraska Cuddle Raptors
Despite Nebraska's ability to effectively move the disc between handlers Christa Fisher and Megan Eisenbeis, they struggled to consistently make connections downfield. Slow clearing by their cutters often left the open throwing lane clogged. Their opponents utilized tough marks, which ultimately prevented their handlers from making the necessary breakside throws. This left the Cuddle Raptors trapped, both literally and figuratively.
University of Wisconsin Steven's Point Shockwave
University of Wisconsin Steven's Point demonstrated a patient and chilly offense. Shockwave's cutter McKenna Schaffer was the all-star of this team's offense. But Steven's Point struggled to get the disc to the high side against zone defenses. Their small numbers left these woman running ragged as their opponents frequently capitalized on Shockwave's weak spots, leaving this almost savage team too exhausted to keep the necessary pace on defense.