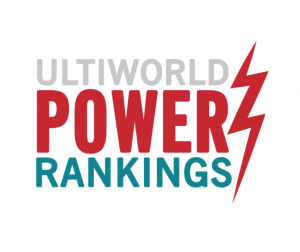 Every week, we update the American Ultimate Disc League Power Rankings. After a wild week seven, we couldn't help but to jot down some thoughts on where teams stand.
Check out the full Power Rankings below and share your thoughts in the comments.
1. Raleigh Flyers (6-1)
To be the best you have to beat the best, and the Flyers just did, taking down the Roughnecks in Raleigh.
2. Dallas Roughnecks (6-2)
Yes, they're on a two game losing streak. But this is still Dallas. They had their star players this weekend but were missing their depth. Still, Dallas no longer controls their own destiny to finish first in the south and lock up that first round bye. The Roughnecks have two losses to the Flyers' one and don't play Raleigh again during the regular season.
3. Minnesota Wind Chill (5-0)
The Wind Chill survived their first road trip of the season, beating Chicago and Detroit. They didn't win pretty but Minnesota was always in control of those games. At 5-0, they're the last undefeated team in the AUDL.
4. Jacksonville Cannons (5-1)
A 24-22 win against Dallas is a big win, especially given that it was the Roughnecks' first game of the weekend. That listless home loss to Raleigh is what's keeping them down, but given how good Raleigh has looked it can't keep them down very far.
5. D.C. Breeze (3-2)
D.C. may have lost in Toronto but not anywhere near as badly as Toronto lost in D.C. The only other blemish is an overtime loss in Raleigh, which looks more and more like a quality loss, if there is such a thing.
6. Toronto Rush (4-2)
The Rush exacted some vengeance over the Breeze this weekend, defending their home turf. Given their track record, it's fair to question whether they should still be behind D.C. but the Rush also lost at home to a Montreal team that wasn't at full strength.
7. San Jose Spiders (5-1)
The Spiders now have wins over every team in the West. They're on a five game win streak. It's crazy to see them ranked above San Francisco but the Spiders took care of business against the Cascades in Seattle; the FlameThrowers lost to them at home.
8. San Francisco FlameThrowers (4-2)
The loss to a Seattle is a setback. What was previously assumed to be a three way race for second place now looks like a four way race for first. The Flamethrowers were missing some players and coming off a Revolver practice but they'll always be missing some players and Revolver isn't going anywhere. They probably won't be this low for long but with how this season has gone there's no telling what's next.
9. Seattle Cascades (4-1)
A win in San Francisco, even a squeaker, means a lot. The Cascades are legit and Mark Burton is once again an MVP candidate. The home loss to the Spiders stings even more in hindsight knowing that's the only thing that's kept them from a perfect record so far.
10. New York Empire (2-2)
The Empire fall a bit this week, through no fault of their own. Seattle, San Jose, Jacksonville, and Toronto all scored impressive wins to pass them.
11. Madison Radicals (3-1)
What has been the best game for the 3-1 Radicals so far this season? I actually think it's their two point loss in Minnesota. They've always trailed at half, and look like they're sleepwalking through the season. Yes, they pulled off the comeback win over Indianapolis this weekend, but the AlleyCats are 1-5 and gave that game away.
12. Pittsburgh Thunderbirds (2-1)
The Thunderbirds were on a bye last weekend but have a big game coming up in Madison, where the Thunderbirds have never won.
13. Los Angeles Aviators (3-2)
The Aviators lost in San Jose, and, though they haven't played Seattle yet, their only wins have come against San Diego and Vancouver, two teams that don't look like they're going anywhere.
14. Austin Sol (1-5)
15. Atlanta Hustle (2-3)
These teams have yet to beat anyone other than Nashville, and they face off in Austin this Saturday. Any remote chance either of them has at winning that final playoff spot is dependent on taking that game.
16. Ottawa Outlaws (2-2)
Ottawa's 2-0 record against Philadelphia looks better after the Phoenix won their second game of their road trip in Montreal on Sunday.
17. Montreal Royal (2-3)
"Woah, the Royal beat the Rush in Toronto!"
"Wait, Montreal lost at home to Philadelphia?"
Welcome to the Montreal Royal.
18. Indianapolis Alleycats (1-5)
An Alleycats fan may look at their record and say they really should be 3-3, or maybe even 4-2. That ignores the pattern: Indianapolis cannot close games. Maybe it's fatigue, maybe it's nerves, maybe it's something else. The schedule will get easier but they're 1-5 for a reason.
19. Philadelphia Phoenix (1-4)
Not only did Philly finally win a game, but after playing some competitive games at home, the Phoenix won a game on the road. This doesn't vault them to playoff contender status but it is something.
20. San Diego Growlers (1-5)
21. Vancouver Riptide (1-6)
Neither of these teams have beaten any other team in the West, and Vancouver barely held on at home against the Growlers. At some point, they'll get wins against the rest of the division, they're too good not to, but the ship has already sailed on either of these teams making their first postseason appearance.
22. Detroit Mechanix (1-2)
23. Chicago Wildfire (0-4)
Both teams played competitive home games against the Wind Chill, even if the outcome was seldom in doubt. They'll play again this Sunday but what will be interesting is to see whether either of these teams can challenge Indianapolis for the fourth spot in the division.
24. Nashville Nightwatch (0-7)
The Nightwatch lost by 12 in Atlanta. They are now on a two week bye. That will probably be good for them.