A powerhouse matchup at the top headlines Pool C.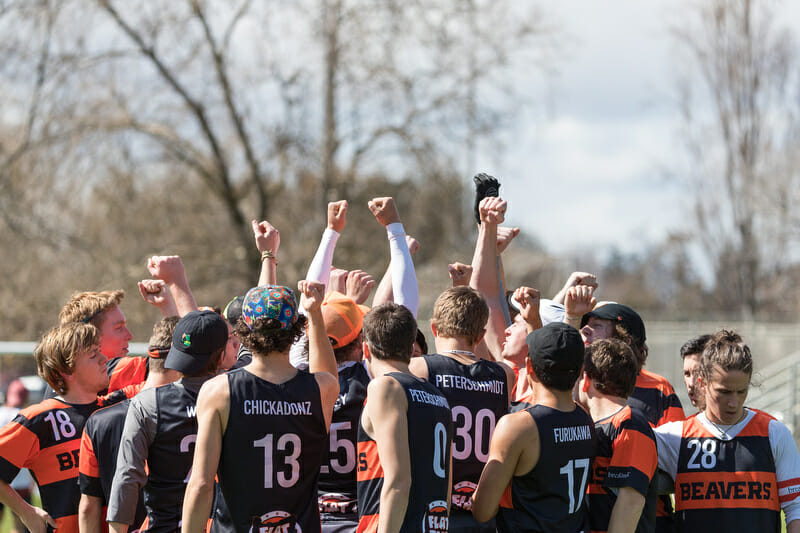 Ultiworld's reporting on the Men's division of the 2017 D-I College Championships is presented by Spin Ultimate; all opinions are those of the author. Please support the brands that make Ultiworld possible and shop at Spin Ultimate!
Pool C is not where you want to place your bets. With three historic programs and one upset machine, picking a winner is not easy. Looking to throw a wrench into it all is Oregon State, who has already beaten two College Nationals qualifiers this year. Four realistic winners also means one powerhouse is not making the championship bracket, setting up some early high-level elimination games.
North Carolina Darkside
Seeding: C1, Overall #3
Power Ranking: #5
Overall Record: 35-4
Against the Nationals Field: 7-4
Against the Pool: 1-0 vs Carleton
Key Matchup: Carleton, 2:30 PM Friday
Dominance so far in the Series was enough to give North Carolina the third overall seed and the top spot in Pool C. But after starting the season with 21 straight wins, a rocky Easterns revealed some questions for last year's semifinalists. Still, this deep roster of talented players has to be the favorite to win the pool.
A semifinals run at last year's College Championships showed how high a Mike Denardis team can peak when the pressure is on. Even after losing standout cutter Elijah Long to an injury at Centex, Darkside is littered with stars.
Norman Archer, Ben Maxson, and Walker Matthews are tough to stop — even without Matt Gouchoe Hanas throwing to them. But the difference maker for Darkside will be their physical defense that is sure to have some unique looks prepared for Nationals. Look out for Nathan Kwon — the lightning-fast junior flies into passing lanes for the D-line and churns out blocks.
With UNC finishing strong for the last few years, it's easy to assume that head coach Mike Denardis will have them prepared for the big games. But beyond that, there are consistently new zone looks that are prepared specificlly for Nationals. Remember Jon Nethercutt's roller pulls to set up sideline trap zones? Teams in Pool C will have to be ready to adjust to traps, junks, and clams from the versatile and creative Darkside defense.
The offensive stars for Darkside should be too much too handle for anyone in the pool. Isolation cuts are never easy to cover, but the number of players UNC can turn to for initiating the offensive flow is scary.
The pool-deciding game will likely be between UNC and CUT, a matchup that Darkside took back at Easterns. Their zone should stifle Colorado Mamabird, who unsuccessfully adjusted to Colorado State's zone in the South Central regional final. Against Auburn, the sideline energy of towel-wielding Jesse Kovacs will challenge the now famous, trombone-wielding Hank Womble.
UNC will undoubtedly have their sights set on elimination play and, if all goes well on Friday and Saturday, could earn a bye straight to quarterfinals.
Carleton CUT
Seeding: C2, Overall #6
Power Ranking: #6
Overall Record: 26-8
Against the Nationals Field: 12-6
Agianst the Pool: 0-1 vs. North Carolina, 1-0 vs. Colorado, 1-0 vs. Auburn
Key Matchup: North Carolina, 2:30 PM Friday
After an impressive regular season, Carleton is looking to finally put it together for a deep run in Cincinnati. But a heartbreaking loss to Minnesota in the North Central regional final puts them in a tough spot for pool play. They can feel comfortable having already beaten Auburn and Colorado this year, but North Carolina handily defeated them at Easterns, 13-9.
CUT wields a deep roster with talented disc skills and limited reliance on standout players, as has been the case for many Carleton teams that have come before. Despite their commitment to a system, Nationals may be the time where the stars finally take over for CUT. Henry Fisher and Sol Yanuck are the two most likely candidates, both hailing from UNC's territory.
If this talented roster can reach their full potential, they could easily be in position to fight for a National Championship. But that has yet to happen and they'll have an early test against North Carolina. Darkside matches them on depth of disc skills, but brings a physical defense to an injury prone CUT. Earlier in the year at Stanford Invite, coach Phil Bowen watched as his team lacked tenacity in a brutal second half of a quarterfinal game against Oregon Ego. This team needs to handle both the mental and physical pressure imposed by the national stage in order to succeed.
It remains to be seen whether or not the CUT superstars can take over in the big moments. Yanuck has grown into one of the best throwers in the division and Fisher dominates the deep space better than anyone they'll see in pool play. If they can carry the weight down the stretch in a few tight games, they'll have an excellent shot at taking the pool — and going much further.
Colorado Mamabird
Seeding: C3, Overall #10
Power Ranking: #7
Overall Record: 25-7
Against the Nationals Field: 6-7
Against the Pool: 0-1 vs. Carleton, 1-0 vs. Oregon State
Key Matchup: Auburn, 2:30 PM Friday
Nationals is a familiar sight for Colorado Mamabird — 2017 marks the 20th consecutive year the team qualified for the season's biggest tournament. But after two Series losses to Colorado State, Mamabird's stock is on the way down. Some inconsistent results in the regular season show a vulnerable team, but their thriller in the final of the Stanford Invite against Pittsburgh was a glimpse of how far they can go if they're firing on all cylinders.
It's rare to see a team that so heavily relies on consistency and patience struggle against a force middle zone. But in the final of Conferences and then again at Regionals, that's exactly what happened. Despite those missteps, this Colorado team looks remarkably similar to that of years past. They give a clinic on the vertical stack, with every player on the roster having the skills needed to run it.
What they lack this season is the game-changing player that will be needed to beat teams like Carleton and North Carolina. Mark Rauls shined in the club season with Johnny Bravo, but has yet to be the force that many thought he would be for Mamabird. Whether that is a byproduct of a system or not remains to be seen, but someone in the crew of Rauls, Wes Chow, and Eric Hotaling will likely have to play beyond expectations if they want a deep Nationals run. What's more, if the system isn't working against a smart defensive set, Colorado will need some imagination to find and threaten different spaces than the rail lanes their vert stack is designed to exploit.
With disc skills up and down the roster, you won't catch Colorado slipping in major ways. But without a clear leader with takeover ability, it will be tough for them to rise above the top two in this pool. That being said, you can't write off the experience from attending 20 straight National Championships.
Auburn Aetos
Seeding: C4, Overall #15
Power Ranking: #24
Overall Record: 22-11
Against the Nationals Field: 3-9
Against the Pool: 0-1 vs. Carleton, 0-1 vs. Oregon State
Key Matchup: Colorado, 2:30 PM Friday
As much as Colorado's stock is trending down, Auburn's is trending up. A dominant Southeast Regionals make them the most dangerous four-seed of the tournament, with the same unwavering confidence that won them their Nationals pool in 2016. But with Auburn only having found true form just one tournament ago, it's tough to know what to expect from the underdogs.
Auburn is 0-2 against their Pool C opponents in 2017, with a 13-8 loss to Carleton and a one-point defeat to Oregon State. But no team has scratched double digits against Aetos so far the entire Series. They look like a brand new team.
After only having their offensive handler corps together for the past month, they managed to work the kinks out in time for Regionals. That of course means that their seeding could be artificially low, making them a dangerous opponent for anyone all week.
Especially at Nationals, Auburn will not know when to quit. The leadership of Hank Womble, Eric Sjostrom, Martin Newman, and Michael Volz can propel them forward even when trailing by a seemingly insurmountable margin. Unfortunately for them, UNC has historically shared that characteristic, with the "towel squad" coming close to rivaling the Auburn bench.
In the regional final against Georgia, Auburn was more than comfortable to throw the disc as much as it took to march down the field. The patience displayed by Sjostrom and company should be helpful in facing junk zones that the top three seeds could throw. Patience extends to Auburn's defense as well, with break opportunities being cherished like gold by the Aetos D-line handlers.
Not many will be writing off Auburn after their performance last year and a surprising regional title a few weeks ago — and for good reason. Their unique combination of energy and patience make them a trendy upset pick going into the weekend.
Oregon State Beavers
Seeding: C5, Overall #19
Power Ranking: #23
Overall Record: 26-17
Against the Nationals Field: 3-11
Against the Pool: 0-1 v. Colorado, 1-0 vs. Auburn
Key Matchup: Auburn, 8:30 AM Saturday
The Oregon State Beavers do have one win over Auburn, but beyond that, their 26-17 regular season likely won't turn many heads. But thanks to BYU not participating in the Series after earning a bid for the region, they took advantage of a wide-open fourth bid in the Northwest and can now reap the rewards.
Making Nationals is a huge step forward for a team that has been historically looked down on in the Northwest. Their ability to put away teams below them has been an improvement on years past, and they'll look to grow on the backs of Jacob Ramsey and Eric Callahan.
One thing that Oregon State is not lacking is mental toughness, a rarity for a new face at the National Championships. After suffering a surprising loss to University of Victoria on the first day of Regionals, they managed to turn around their weekend and put themselves in a position to clinch their Nationals bid. But when their 13-10 lead on Utah quickly shrunk, they were up against the wall. The standout OSU seniors took charge and rattled off two straight to take down Utah 15-13. For a team that has never been to the Big Show, they don't shy away from the bright lights.
Still, without having previous results to look towards, its difficult to see this team creating havoc in such a talented pool. But as is the case with any five-seed, one win can throw it all into chaos.