Answers to some of the common questions prospective coaches may ask themselves.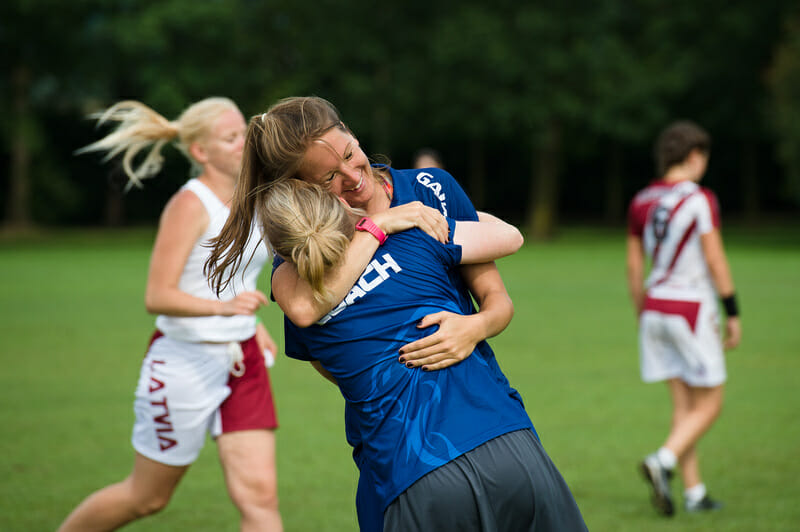 Photo: Kevin Leclaire — UltiPhotos.com
This article is presented by Spin Ultimate; all opinions are those of the author. Please support the brands that make Ultiworld possible and shop at Spin Ultimate!
Those of us who have benefited from a good coach know the impact one can make on a team and in the lives of their players. Coaches play a critical role in the leadership of a team. They help establish the team's vision and execute strategy. They support the development of individual players and the growth of the team as a unit. They can serve as the institutional memory of the team as captains come and go. They advocate and promote the love of the sport.
But, for all the feel-good aspects of coaching, the commitment can involve particularly unglamorous elements as well — overseeing team administration, mediating team disputes, and justifying calls on rostering, playing time, and other difficult decisions. All of which can be intimidating to someone thinking about taking up a coaching role.
A couple years ago, when I suffered a season-ending injury, I decided to explore coaching as a way to stay connected with the sport I love. I didn't necessarily consider myself a standout player or a keen tactician, but felt I did have something to offer from a coaching capacity. Fortunately for me, an experienced coach offered me the opportunity to serve as an assistant and learn under his mentorship. Over the last two years, I've developed a lot as a coach and now have a much more resilient mindset related to the job.
For those who may be considering a similar transition at the end of their playing days, below are some ways that I would respond to questions and concerns I had when I first started out.
How do I know I'm ready to coach?
If you're asking yourself this question, you already have one of the key elements to success: an interest in working with a team. If you begin by keeping the values of the team as your guiding star, your decisions can follow from there.
I often return to the concept of service leadership, described by philosopher Robert K. Greenleaf: "It begins with the natural feeling that one wants to serve, to serve first. Then conscious choice brings one to aspire to lead."
A first step is to set reasonable expectations. Not all coaching experiences are the same. Do your research to find experiences that fit with your availability and with your comfort level. If your schedule is limited, consider taking on activities with a lower barrier to entry, such as clinics or single events. There may be other ways to provide assistance during more time-intensive parts of the season, such as tryouts or tournaments. Before you begin, have a conversation with the team and the leadership about what they expect of you with regards to time and your role. Setting up a check-in point part way through the season is a great way of giving both sides an opportunity to see how the partnership is working.
I don't think I know enough about ultimate to coach and/or I am not good enough at ultimate to coach others.
Before coaching, my experience with ultimate was two years as a grad student and a few seasons of rec. There are players on the team I coach who have more experience than me and are stronger players than I am. In the first two years with the team, I had moments when I let impostor syndrome get the best of me. Who am I to tell them what to do? Why should they listen to me?
But when I think back on the coaches that have had the biggest impact on me (in ultimate and beyond), I realized that I didn't connect with them due to their talent at the sport or their technical expertise. They were not experts. They were guides. They were another set of eyes to help me work through issues. They supported me. They had the ability to boost the team's spirit and to keep us focused. Their commitment to being present and engaged with the team earned my trust.
But what about the rules?
You'll learn them. Keep a copy of the most recent rulebook in your bag. Give copies to your players.
I feel like my explanations fall flat. What am I doing wrong?
While it would it be great to have a foolproof way to introduce zone so everyone gets it immediately, there's no substitute for experience. By trial and error, you'll see what connects. Learning styles will vary from team to team, player to player. Creating an environment that encourages questions will only give you more opportunities to try new explanations and test new metaphors.
What if a player asks me a question I can't answer?
See it as an opportunity for both of you to learn. I often have players ask me if doing X on the field was the right idea or what they should do in Y situation. I'll ask them to walk me through it and to give me their thoughts on what they could try next time. This form of collaborative brainstorming can promote more critical and creative problem solving on the field, as well as building an open channel of communication.
What if I mess up? What happens when it gets hard?
As Shakespeare has said, it is human to err. You will make mistakes. You will wish you had made different calls. How you choose to recover from those mistakes will be the true reflection of your character as a coach. Being able to admit mistakes can foster a spirit of openness on the team. Trust on a team goes both ways. You need to earn your players' trust and you also need to trust that they will be there for you as well. When you acknowledge your errors, you also demonstrate that you trust the relationship to be strong enough to endure whatever mistake was made. If you set yourself up as infallible on top of a pedestal, you also set yourself up for a fall.
And it will get hard. Going back to expectations, it's highly unlikely that over the course of a season there won't be instances where you don't see eye-to-eye with someone on the team — be it another coach, a captain, or one of the players. Be willing to ask for help from other players and coaches in the area or to find support online.
The resolutions might not always feel great to you. Sometimes they might be counterintuitive — it might involve scaling back your commitment or, in extreme cases, removing yourself from the team. These situations, while hard, do not mean an end to your coaching career. In something as dependent on relationships as sports, there are situations in which the chemistry doesn't work. If you choose to learn from the situation, you can incorporate those lessons into a future venture and find a better fit.
What can I look forward to?
Once you start coaching, even though there will be bumps along the way, you have so much to look forward to. There will be big moments that will stay with you — winning a first game or tournament, qualifying for an important event, finishing a season. For me, while watching the team I coach qualify for their first Nationals was an incredible feeling, it represents the culmination of all the smaller moments along the way. Successfully diagnosing an issue in throwing form. Seeing a player pull or layout for the first time. Watching them try out and earn a spot on club teams. Those victories, that feeling of contributing to something larger than me, are why I'll keep coming back to the sideline.