We're at the midway point of the AUDL season.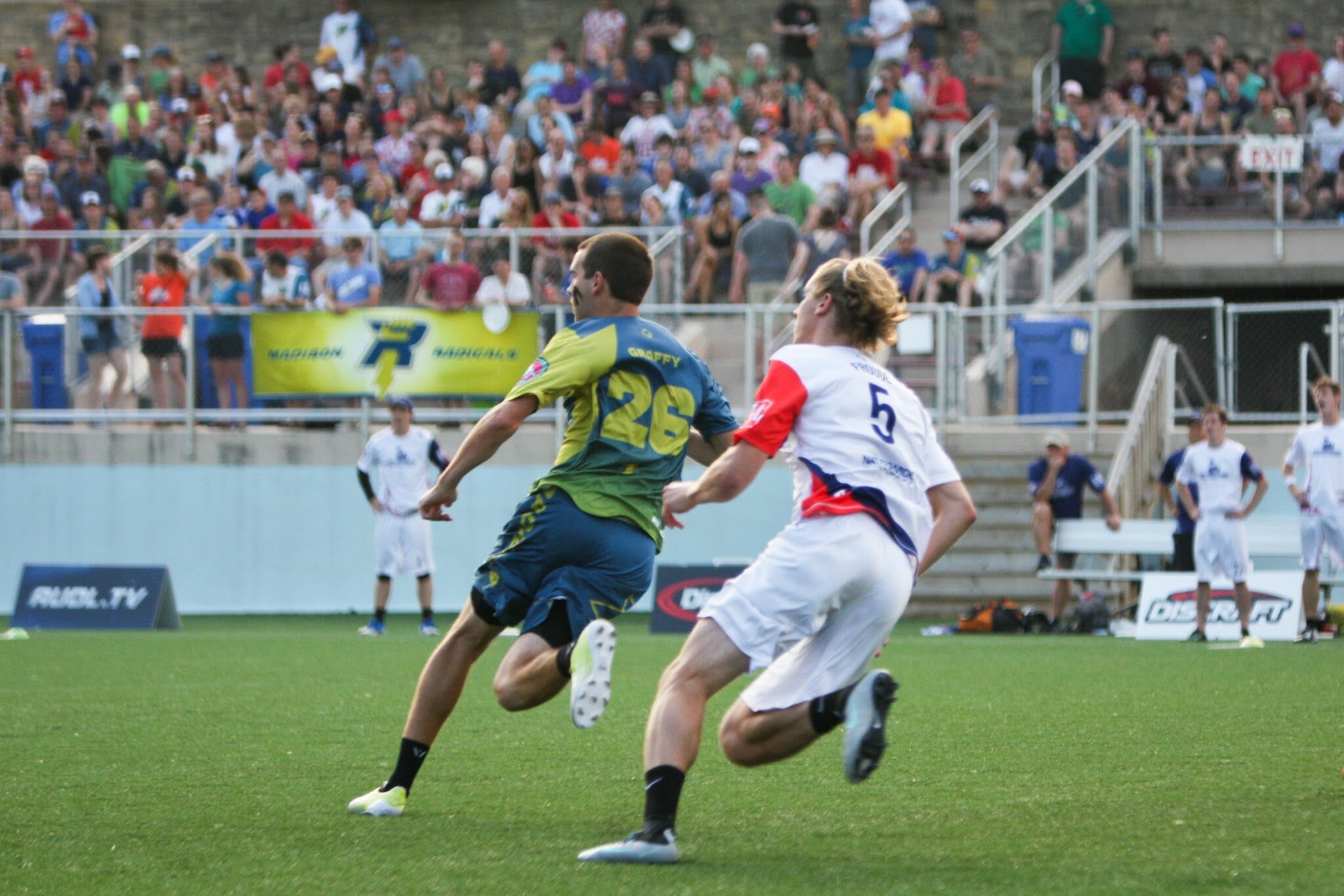 Throughout this AUDL season, Ultiworld will be publishing a weekly Throwaround, a chance for you to catch up on the amazing, funny, and interesting moments that you might have missed from the weekend's games.
Radical No More
Jay Froude and Abe Coffin returned to Breese Stevens Field in Madison on Saturday, after last playing there with the Radicals last August against the Seattle Cascades on Championship Weekend. This time, they were suiting up for the opposition, and given how they played that night — and this season as a whole — the Radicals and their fans might have wondering if the outcome might had been different had they still been with Madison.
Froude has been superb for Dallas this season. He has 36 goals and 22 blocks, leading the Roughnecks in both categories. He's been one of the best players on a championship-contending, star-laden team. And he made SportsCenter wearing a Roughnecks uniform.
As good as Froude has been, though, it was easy to see this coming. He was a great defensive player for Madison. He's getting a little more burn on the offense this year but was always clearly ready to take the next step.
Coffin, a great player in his own right, is a different case. He was fine for Madison last year, playing in four regular season games as a D-line handler on a team that had a rotating case of them alongside Bill Everhart. It always seemed like an odd fit, though, and not just because he was commuting from Arkansas. First, shouldn't he have been playing offense? And wouldn't it have made more sense to have him play a faster-paced style? Based on his performance in Dallas so far, the answers to those questions are yes and yes.
Coffin has been a catalyst for the Dallas offense this year. He has 31 assists and 23 goals, with a higher completion rate than he did last year in the more conservative system in Madison. On Saturday alone, he had five assists and three goals.
Yes, playing alongside guys like Dylan Freechild and Jimmy Mickle makes the job easier. But playing alongside Coffin and Froude makes the superstars' jobs easier too. And for a Madison offense that has reached 25 goals or more just once through seven games, there's no doubt that they miss these guys. Last year, seven games into the season, the Radicals had reached the 25 goal mark five times.
It's not clear when the Radicals will flip the switch to become the championship contender they looked like through all of last season, or if they will flip it at all, or if there is even a switch to be flipped this season. Regardless, it's a tougher climb without Froude and Coffin on the team, and that was never clearer than it was on Saturday night.
A $5,000 Trick Shot
https://www.youtube.com/watch?v=QwAIrK65s1w
When Dave Ohls stepped up to attempt to hit the head of a mannequin from 50 yards away, it's unlikely the DC Breeze knew what they were in for. Ohls is an ultimate veteran, founded the Madison based mixed team NOISE, and has the kind of throwing form that people still talk about years after playing with him. He coaches high schoolers in DC and actually went up after one of his players gave him the selected random ticket (he'll be splitting the prize). Ohls went up there knowing what he was doing. Semi-Pro, this was not.
https://www.youtube.com/watch?v=QwAIrK65s1w
The thing about AUDL games is that the crowd is often small enough that you're bound to end up picking a ringer out of the crowd for one of these contests. While it would be hilarious if this was the straw that broke the camel's back for a franchise, the reality is that these kinds of contests are insured, as was this one. But maybe the sponsors need to rethink some of these sponsorships. Yeah, that's not an easy shot by any stretch, but do we really think this is the last time this happens? This time it was Dave Ohls; next time maybe it's a guy that played for the Condors during the championship days out at an Aviators game in Los Angeles or a retired Fury player in San Francisco.
And why stop at former ultimate players? Soon AUDL players themselves may soon realize the real money isn't a small stipend and travel expenses getting covered: it's in attempting trick shots between quarters of AUDL games. It's only a matter of time before the elite talent leaves the league and is replaced with that annoying guy at league that has never played club and won't stop talking about his 40 time while the best players put on the real show at halftime. Given that Ohls provided the best moment in a double overtime game, maybe that's not such a bad thing.
The Hometown Championship Weekend Team Dream Is Alive
Montreal is hosting Championship Weekend this year. When that announcement was made, the collective reaction was that it was a great choice, but the giant question mark was how the event would be received with the hometown team most likely long since eliminated by then. Then word came out that some Boston players were going to Montreal tryouts. There was hope that maybe the Royal could put together a championship contending team.
https://twitter.com/SinTheFields/status/824316564614873089
Christian Foster, Ben Katz, and Jordan Taylor ultimately joined the team. Those are nice additions, but presumably not enough to bring Montreal to the next level. An opening weekend road trip that included barely getting by Philadelphia in double overtime and a 21-8 walloping from New York seemed to confirm that Montreal was much closer to the bottom of the division than the top.
But would you believe that three players from the French national team could be the difference makers in the playoff race? Nasser Mbae Vogel, Quentin Bonnaud, and Steve Bonneau have all been huge contributors for the Royal. Montreal is now 5-4. While they are far from favorites for coming out of the East, there is a window of opportunity here. The New York Empire have fallen to 2-5 after losing in double OT to DC this weekend. They have a steep hill to climb back into a playoff spot. Montreal has already beaten them once.
If they beat the Empire again in Montreal on July 1st, that could spell the end of New York's playoff hopes. The Ottawa Outlaws entered last weekend with just two losses, but Montreal dismantled them 31-22 in Ottawa on Friday night. Bonnaud had nine goals and Mbae Vogel had seven assists. The Outlaws followed it up with a double digit loss in Toronto. Tough to see them getting back in playoff contention after an effort like that.
I know what you're thinking. New York and Ottawa are one thing, but what about DC and Toronto? Those are the real contenders. Well, Montreal has already beat the Rush once this season, and it was in Toronto. Going up against them in the playoffs would be a different animal, but given their historical (relative) success against Toronto, they'd have a chance.
And DC? The Breeze just lost a game in Philadelphia, and all of a sudden are just one game ahead of Montreal in the standings. The Royal have one game left against DC, at home, and if they can win by four or more in that game, they'll hold the tiebreaker over DC. They'd have a legitimate chance at hosting a playoff game before the final four.
Of Montreal's last five games, four are at home. Still, it's no lock they even make the playoffs, New York is the sleeping giant in this race, but maybe it's time to start taking the Royal seriously as a contender. Maybe that Toronto win wasn't a fluke. The more time the French players spend with the team the more comfortable and dangerous they become.
Maybe the East is more interesting than a DC loss in Toronto for the Rush's fifth consecutive final four appearance that at times seems inevitable.
Maybe the French will make this a fight worth watching.
The Wild West
Entering the weekend, the playoff picture out west seemed clear. San Francisco and San Jose were the class of the division, and the Seattle Cascades were the plucky team that looked like it would cruise toward the final playoff spot. Oh how things have changed.
That was before Los Angeles won in San Jose. After being left for dead, San Diego Growlers went on a two game pacific northwest road trip that was supposed to end their season but ended up bringing them right back in it with a sweep.
San Francisco and San Jose are both 6-2 and it's difficult to see either of those teams falling out of the playoffs. But given how competitive five of the teams are in the West, it's similarly difficult seeing either of the top two finishing the season without another loss or even two.
And Seattle is starting to look vulnerable. The Cascades weren't able to take care of business against a San Diego team on the road that had won a squeaker the night before in Vancouver. The Cascades still only have two losses (vs. five for San Diego and four for Los Angeles) and Mark Burton didn't play this past weekend. But they still have five more road games on the schedule and have to close the season with two games against the FlameThrowers.
Meanwhile, Los Angeles had a successful weekend, even if it ended with disappointment in San Francisco. Tom Doi switched over to the O-line and it looked like a difference maker for the Aviators, as Doi registered seven assists and three goals on the weekend. It was the first time since the opening weekend that Los Angeles scored 24 goals or more in a game.
The road trip sweep was huge for San Diego, keeping their playoff hopes alive and well. They trail Seattle by 1.5 games but that could change in a hurry. The Growlers finish the season with four of their five games at home, never have to travel further than Los Angeles, and don't have to play San Francisco again.
This coming weekend will be huge in the West playoff race. The Cascades go on a two game road trip, stopping first in San Diego then Los Angeles. If they can pull off what San Diego just did and get a two game sweep, then all this drama will seem like a distant memory in a couple weeks. But that's a tall order, and it seems more likely that the playoff race will look even more convoluted this time next week.