The 14 best players from the 2017 D-III college season.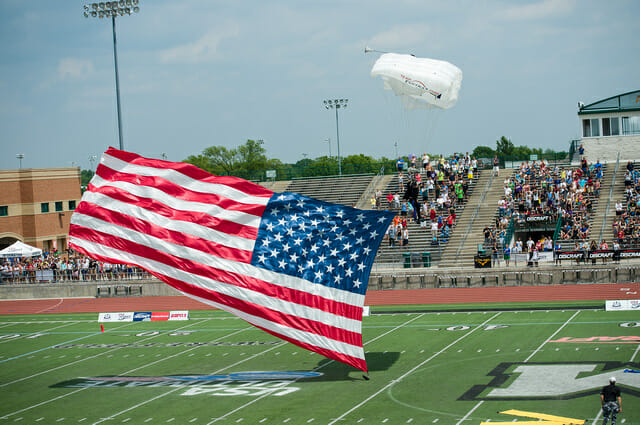 We are pleased to announce Ultiworld's 2017 D-III All-America teams. These 14 players were selected for their performance in the 2017 college season, looking at both the regular season and the full college Series, including Nationals. Please join us in honoring the best college players of this season.
First Team
Henry Babcock (Richmond)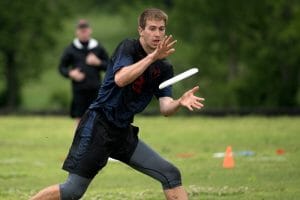 At this point, there isn't much more that needs to be said about Henry Babcock. Chosen by his peers to be the first winner of the Donovan Award and selected by our staff as the 2017 POTY, Babcock is respected by everyone in the division and a unanimous choice for first team All-America. Playing almost exclusively on the D-line, Babcock led Nationals with 25 assists and led his team with seven blocks on the weekend. Equally skilled on both sides of the disc, it should be a treat to watch Babcock continue to grow in the club division.
Dom Schuster (Franciscan)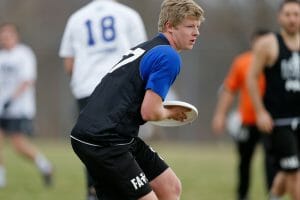 When Schuster was named the 2015 Ultiworld Freshman of the Year after leading Franciscan to a national championship, high expectations were created for what we expected him to become. This season, Schuster met and exceeded those expectations, turning into the most potent offensive player in the division. With smooth cutting that gets him open at will and big throws to unleash once he collects the disc, Schuster is about as dangerous on the offensive side of the disc as a player can be. Unfortunately for fans of the division, Schuster graduated in three years and is tentatively done playing college ultimate. Whether he finds a way to use the rest of his eligibility or not, Schuster has certainly left a lasting impression on the division already.
Jacob Garfinkel (Bryant)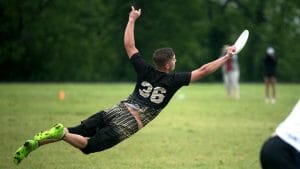 We've already covered Garfinkel's exceptional defensive abilities as our D-III Defensive Player of the Year. As the leader of Bryant's aggressive zone defense, Garfinkel generated important blocks for Craze all season long. However, Garfinkel was just as important for Bryant after the turn as he was in creating it. Despite having an unorthodox four finger grip on his flick, Garfinkel uses his athleticism to run his defender into the ground before getting power positioning and ripping a huck to a stable of athletic cutters. His graduation from Bryant leaves a gaping hole for Craze to fill on both sides of the disc.
Danny Yates (Alabama-Huntsville)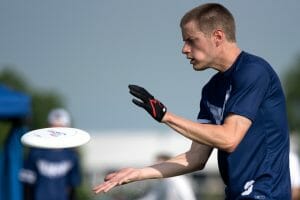 It seems like every year, a surprise team arises and makes a run late into the bracket at D-III Nationals. This year's team was the Alabama-Huntsville Nightmares and their Cinderella run was led by their Donovan nominee and center handler Danny Yates. A 6'1 lefty, Yates can break his mark at will, utilizing a variety of release points and angles to move the disc effortlessly around the field. When teams pushed him downfield, Yates was able to use his size to be a threat in the air, coming down with 10 goals to compliment his 13 assists at Nationals. Most impressive was his consistency and decision-making; Yates finished Nationals with only four turnovers, an incredible number considering his high usage rate.
Alan Villanueva (Air Force)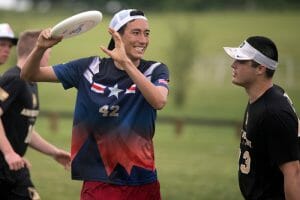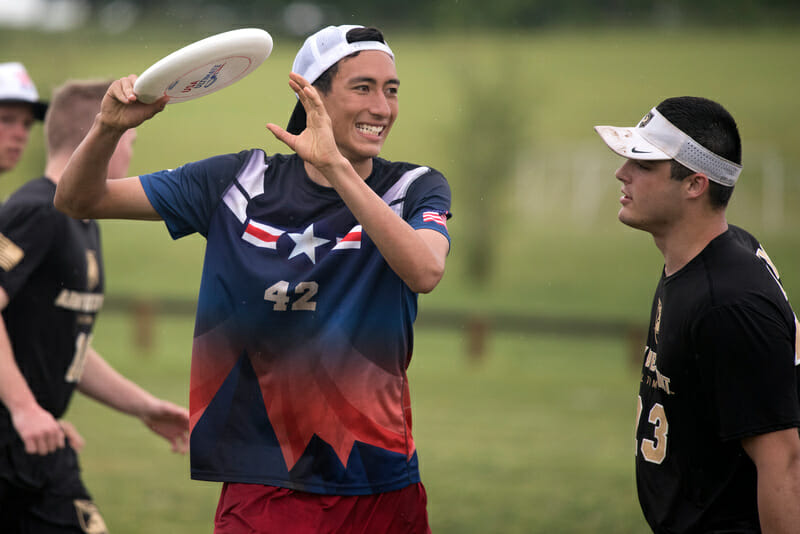 Those who were paying close attention to our awards this year will have noticed that Alan Villanueva finished as the first runner up for both POTY and OPOTY. Villanueva is versatile and dangerous on the offensive side of the disc, and his development this year on defense was enough to put him in the POTY conversation as well. On a team known for their physicality and size, Villanueva's slender, gangly frame makes him stick out from his teammates. However, he's not only the most well-polished thrower on Air Force, but one of the best in the country, and his wingspan and ultimate IQ allow him to come down with discs that you wouldn't expect him to catch. Coming off just his sophomore year, expect Villanueva to be a POTY frontrunner for the next couple of seasons.
Nicky Golini (Dartmouth)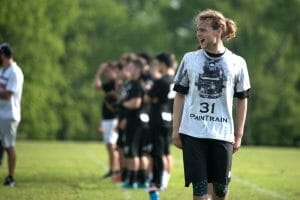 It came as a jolt to the entire division when Dartmouth Pain Train announced that they would be playing Division III this season. An established program at the D-I level, Dartmouth immediately became a contender for the D-III crown, and they were led by their senior captain Nicky Golini. A hybrid who fluctuates between handling and cutting, Golini was truly a Swiss Army knife for Pain Train this season. He led the team in assists at Nationals with 13 and tacked on five goals, but it was the work he did that doesn't show up on a stat sheet that made Golini so crucial for Dartmouth. Initiating their offense, he was the driving force behind Pain Train's disc movement, leading to his teammates being in a position to get the stats. Dartmouth were the victims of a cruel pool and quarters draw, otherwise we would have very likely seen Golini late in the day on Sunday.
Ethan Penner (John Brown)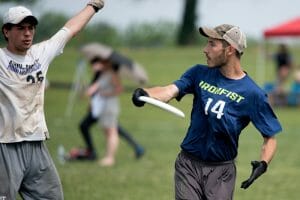 When Ethan Penner decided to come back for his fifth year, John Brown Ironfist believed that they could compete not just to be playing in the bracket of Nationals, but that they could challenge for a championship. While they came up short of that goal, the team did make quarters for the first time, and Penner had the season we expected him to have. Penner's amazingly quick first step makes him a nightmare to guard in the handler space, racking up 13 assists at Nationals. He's also incredibly efficient with the disc, only tallying seven turnovers on the weekend despite his exceptionally high usage rate. After five years of tearing up the division, it'll be interesting to see where Penner's career takes him next. He'll be trying out for U24 this weekend with the hopes that the next stop in his career will be Perth, Australia with Team USA.
Second Team
Chris Johnson (Davidson)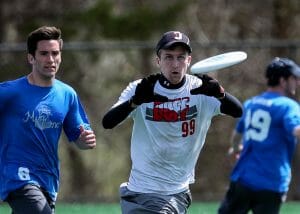 On a team whose style is comparable to death by a thousand paper cuts, Johnson stands out as the player capable of taking out opponents with one big slash. Despite standing only 6' tall, Johnson's wingspan and athleticism made him Davidson's premier deep threat on both sides of the disc, stretching opponents' defenses and taking away the deep space for opposing offenses. Not content with just dominating the deep space, Johnson is also a capable thrower and found himself filling into the backfield quite often in Davidson's horizontal offense. Finishing Nationals with a well-rounded line of 12 goals, 7 assist, and 7 blocks, Johnson was a key factor in DUFF's run to the national championship game.
Chris Selwood (Richmond)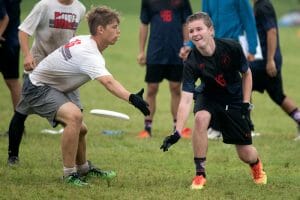 Already impressive for Richmond in 2016, the decision to move Babcock to defense meant that the keys to the Spidermonkeys O-line were being handed to sophomore Chris Selwood, and he handled this responsibility with swagger and style. Against person defenses, Selwood ran his defender into the ground with lightning-quick give-and-gos and he shredded zone defenses with a variety of blades and release points. While his stats from Nationals may not reflect his value and performance, his opponents certainly understood his role, highlighted by the fact that Bryant ran a six-person zone against Richmond in the semifinals with the seventh man shadowing Selwood around the field. With Selwood returning in 2018 for his junior year, expect Richmond to be in contention once again.
Stephen Babcock (Franciscan)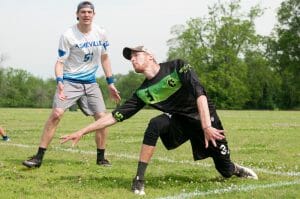 Often overshadowed by his teammates who made flashier plays, Franciscan's Stephen Babcock1 was the Pippen to Schuster's Jordan. Consistently guarding the opposing team's best threat, Babcock was quick enough to guard handlers and athletic enough to handle cutters. He also played both sides of the disc and served as a release valve when teams overloaded Schuster. Babcock finished with 15 assists and only five turnovers at Nationals, giving him one of the best assist-to-turnover ratios at the tournament. While Babcock didn't play with the same kind of flare as Schuster, he was just as important to Franciscan's success this year and will be missed by Fatal next year.
Andrew Roy (Davidson)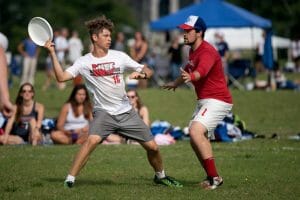 The only freshman on either one of our All American teams, Andrew Roy played with a maturity well beyond his years this season. The Davidson coaching staff heaped a tremendous amount of responsibility on Roy's young shoulders, but he handled the pressure superbly and was a key component of Davidson's run to the national championship game. On offense, Roy played with incredible poise, consistently making the right decision while going every-other to move the disc downfield. Defensively, Roy took the toughest matchups, regardless of physical disparity, as evidenced by his duel with the much-taller Henry Babcock in the final of Nationals. Roy is transferring to Carleton and plans to play for CUT next year, leaving Davidson with the unfortunate task of replacing a player who could have been the cornerstone of their program for years to come.
Ian Betzel (Army)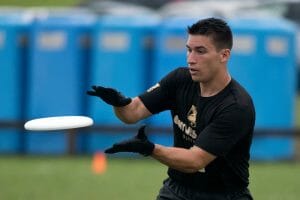 When we learned that Army West Point was the surprise qualifier from the Metro East this season, we were unsure what to expect. Like most military schools, Army were a big and physical team. However, their best player was also their smallest. At 5'6, Ian Betzel was a treat to watch tear up the field for West Point. Using his size to get below marks and break them with ease, Betzel would then dart to get the disc back from his cutter before putting up another shot to one of his athletic teammates. Betzel finished the weekend with 23 assists, putting him second in the category at the tournament and playing his way on to this All American team.
Charlie Schuweiler (St. John's)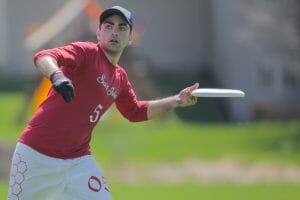 While certainly a name that was known prior to this season, this year was our first time seeing Schuweiler play on the national stage — and he did not disappoint. Riding the momentum of a Regionals where St. John's knocked off rival Carleton GoP, Schuweiler came into Nationals firing. St. John's offense was predicated on getting the disc into Schuweiler's hands as much as possible, and the lefty was capable of throwing goals from all over the field. Despite only playing four games with stat keepers, Schuweiler finished fourth on the weekend with 18 assists. Having just been announced on Drag'N Thrust's roster and with a U24 tryout this weekend, we should be seeing plenty of Schuweiler in the near future.
Grant Mitchell (Colorado College)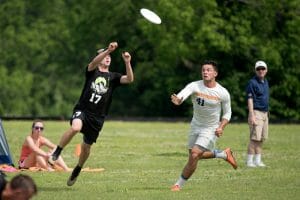 It was a disappointing weekend at Nationals for Colorado College Wasabi. After an impressive regular season, Wasabi fell short of their goal of a national championship due in large part to the absence of their seniors because of conflicts with graduation. However, the player who stepped up most with the team's seniors gone was junior Grant Mitchell. Playing on both sides of the disc, Mitchell was all over the field, pressuring top players on opposing offenses and then converting their mistakes into goals. The lefty cutter made some ridiculous catches to save possession, and he led his team in assists on the weekend with 14. It will be interesting to watch Mitchell develop next year as the leader on their team for the entire season; here's hoping there is no graduation conflict for Wasabi at next year's College Championships.
---
No relation to Richmond's Henry ↩