Thanks to a first-of-its-kind scholarship program, the first-year team at Oklahoma Christian is making big waves in D-III Men's ultimate.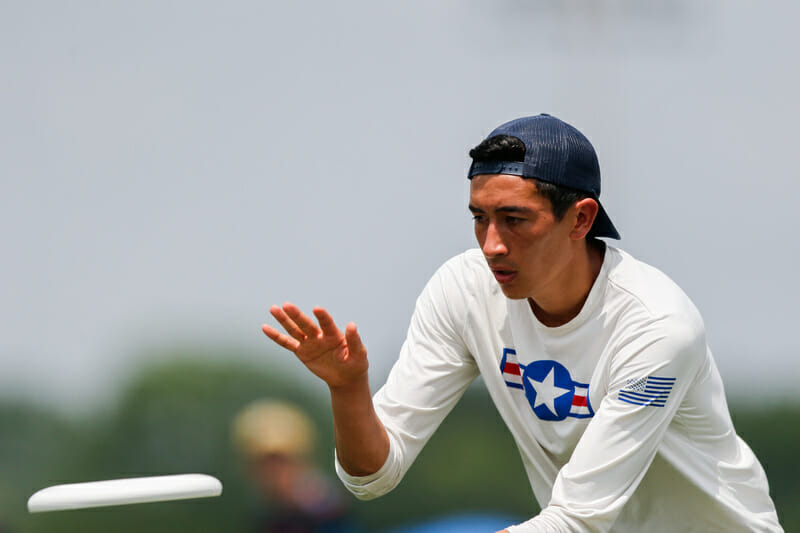 Already on the national radar as a first-year program offering scholarships to play ultimate, the Oklahoma Christian University Eagles rocked D-III men's ultimate yesterday with the announcement that four key members of last season's Air Force squad are joining the program this spring as 5th-year players: reigning Player of the Year Alan Villanueva, two-time Defensive Player of the Year Noa Chun-Moy, All-American Matthew Moshea, and steady handler Ted Jantscher.
Having reached the D-III Championships in all four years of their time at the Air Force Academy, including two trips to the national final, these four players immediately vault the Eagles into Nationals consideration. When factoring in the existing talent on the roster, it's hard to not consider OC as among the favorites to win it all.
Oklahoma Christian first garnered attention with a post on r/ultimate from coach Gabe Cabrera about a year ago titled "Get Paid to Play College Ultimate!" The post was a recruiting pitch that gave vague details about a scholarship program, and it was understandably met with skepticism in the comment section. However, the post worked, as it caught the eye of the program's first two major recruits: Elliott Moore and Kevin van Roosmalen.
The addition of Moore in particular — a 2018 WJUC U20 gold medalist, three-time member of the AUDL's Austin Sol, and member of Austin Doublewide — was enough to put OC in Ultiworld's Top 25 to start the season, and we wrote briefly about the school's scholarship program as a major storyline this season. It was this that caught the attention of the Air Force alumni.
"I was reading the primer and saw 'Oklahoma' and 'scholarships' and thought 'oh snap, we're all going there. What are the odds?'" said Chun-Moy. "I emailed the coach, and three days later, here we are."
In their service with the Air Force, the four players are going to be stationed in Enid, OK, about an hour and a half away from Oklahoma Christian. Villanueva and Jantscher are already there. Moshea is currently living in Colorado Springs and working at the Academy but is moving to Enid mid-March. Chun-Moy won't be making the move until late May. All four players are now enrolled in online MBA courses at Oklahoma Christian. Villanueva, Jantscher, and Moshea will be making the drive for practice as often as work allows, and Chun-Moy will just be flying in for tournaments.
Based on what we know, these players meet USAU's college eligibility criteria: they have a fifth year of eligibility and they're enrolled as full-time students in a degree-seeking program.
The Eagles had middling results in the fall, though Moore didn't join the team until January. Previously the most decorated recruit OC had landed, Moore has competed at the highest levels of the sport and could have walked on to any college roster in the country. But for Moore, the appeal of growing something new outweighed stepping into existing success.
"I think the ability to be a part of something that this program is doing is really cool," Moore said. "The school is putting so much more appreciation and, I hate to say it, legitimacy into the sport that no other school, D-I or D-III, is doing."
The addition of van Roosmalen was notable not just for his on-field talent, but because he was the first international player to commit to the team. A player on multiple Netherlands national teams, van Roosmalen's interest in the program was piqued by the opportunity for a new challenge.
"I saw OC online, and after playing the game in the Netherlands for the Dutch national team, I thought this would be a great new experience for me," said van Roosmalen. "Even though I'm giving up playing for the Dutch national team, I get to be part of something totally different and innovative for ultimate."
According to Cabrera, every player on the roster who is eligible is receiving some amount of scholarship. The scholarships are in no way academic; they are purely given for playing ultimate. The amount that each player receives depends on a handful of factors, including "playing history, present skill level, and how they fit in with the team."
The only thing players pay for out of pocket are their cleats. Uniforms, travel, and hotels are all taken care of by the school. The players have access to varsity fields, facilities, and trainers.
"We're trying to treat ultimate like a varsity sport, the way it should be," said Cabrera.
The school administration echoed that sentiment. "Our vision was that we wanted to treat ultimate like any other NCAA or club sport on campus," said Oklahoma Christian Chief Operations Officer Jeff Dimick. "The AD and I determined we would use the NCAA DII scholarship model. That allowed us to allocate a set amount of scholarship funds and require the coach to recruit a team within that limit… We allocated funds for ultimate (e.g., membership dues, travel, equipment, and uniforms) comparable to our other sports… Our desire at OC is to be a catalyst to legitimize this fast-growing and fascinating sport on the college campus."
When approached for comment, USA Ultimate declined to comment on the situation. They have a call scheduled with OC administration for Friday to make sure everyone is on the same page with how this is all being handled.
This is uncharted territory. There is no precedent for recruiting and scholarships like this in ultimate. A few programs have endowments that help fund teams, and there are schools that recruit from youth programs, but neither compares to this.
This scholarship program certainly gives Oklahoma Christian benefits that other programs just don't have — and raises questions we have yet to really grapple with as a sport. Is it fair that OC are competing in a division that was created to level the playing field for its constituents? Is it USAU's job to keep that playing field level, or is it the responsibility of other schools and programs to catch up? Is it reasonable to expect this system to be replicated at other schools any time soon? Should USAU be working to make that happen?
These are all tough questions, and how they are answered will have a ripple effect on not just D-III ultimate, but the sport as a whole. The players involved with OC are of the belief that this will help ultimate grow and open up opportunities to expand the game.
"I think that, even though it's only for one year, validating that schools can get good players by offering scholarships and relieving financial burden can help this program and will encourage others to do the same," said Villanueva. "Hopefully us doing well can give an example other programs can bring to their schools. That way, we can give young players financial motivation to do well in ultimate."
In terms of on-field success, all the players involved know they have the talent to compete for a national championship but are trying to stay grounded.
"As a team, we don't want to have material goals like making Nationals," said Moore. "We're still a first-year program that is learning a lot and getting experience throughout the year. That said, with the amount of talent we have on the team, I think we could definitely make some noise and hopefully book a trip to Columbus. [The Air Force Alumni] will add to the foundation that we've been working with and building upon. We have some great role players that are going to be essential to our success as a team."