The best in the east go head-to-head in the heat.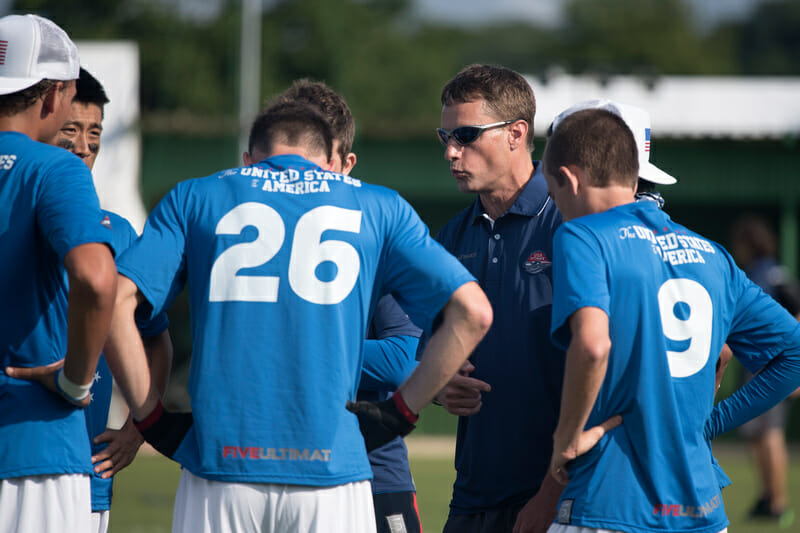 This article was written by Penn State coach Jacob Smith.
COLUMBUS — There was a good mix of nervous energy and excitement at Spindler Soccer Sports Complex on Saturday morning as players congregated for the first of the 2017 Under-24 Team USA tryouts1. As registration came to a close, familiar faces and relative unknowns gathered in their first huddle of the day. Tom Manewitz, U24 US National Team Manager, opened by officially welcoming everyone to the US National Program. He was keen on emphasizing that the athletes should feel a part of the program as they were now leaders and ambassadors to the future of ultimate.
Head coaches Alex Snyder (Women's), Martin Aguilera (Mixed), and Bob Krier (Men's) encouraged those trying out to take the opportunity to enjoy the moment and build relationships with those around them. There was one caveat, though: although each player's chest now read USA, not everyone would be representing the United States in Perth, Australia, come January.
The athletes were split into two groups within each gender and distributed to either single gender or mixed fields for warm-ups, drills, and scrimmages. Each division took on their own flavor of warm-ups with Men's paying serious attention to agility ladders, Women's taking on the familiar All-Star Tour formation, and Mixed going more dynamic with muscle activation and disc drills.
With a 9:00 AM to 5:00 PM schedule in 90 degree heat, it was one hell of a day. Progressions of anything from creative throwing drills to full field 4v4 kept things mentally and physically draining for players as they moved through rotations. While certain moments and players stood out, depth shone through in all aspects of the field. David Hogan, part of the Men's selection committee, said it best, "We've got our work cut out for us this year. Two years ago, it was kind of clear who was going to make the team. This year, it's less clear…the level of depth of this group…it's incredible."
Quick Hits
I spent most of the day watching performances in Women's division with glimpses into the others. Here's what you need to know:
Women's – Very early on, Tracey Lo (Michigan) and Andrea Esparza (Texas) made it clear that they were the most confident throwers on the field. Their crafty breaks, upwind hucks, and swagger left the selection committee in awe. Carolyn Normile (Pittsburgh), Piper Curtis (Dartmouth), and Rachel Kramer (Tufts) dominated in individual defense in 1v1 box drills and during full field scrimmages with point blocks, run-through blocks, and physicality.
As the day progressed, however, so did the fatigue. When adding heavier winds into the equation, both groups experienced sloppy and turnover-heavy points in the afternoon. Fortunately, Case Western teammates Danielle Runzo and Sophie Knowles had unbelievable layout grabs in their respective groups to keep those moments short lived. Runzo went full extension to secure a trailing hammer and Knowles went from a chest-high bid to an immediate cross field huck for a score. In both instances, these plays were instrumental in getting the groups to dial back in and finish strong.
Mixed – While all three divisions had their own level of intensity, the mixed field seemed energizing for the tryouts. With more overall players on the field and the diversity within the groups, high fives, smiles, and positivity radiated from the center field. As a result, it was really fun for the teams to build chemistry over the course of the day. Early on, cross-gender hucks were very much under construction until Tyler Monroe (George Washington) launched a beautiful backhand break huck to Shayna Brock (Central Florida) just before the teams went into the lunch break. The throw was initially a miscommunication but Monroe had put so much spin on the disc that Brock was able to recover for the score as the disc hung in the air. Everyone went nuts.
Later in the day, JD Hastings (UNC Wilmington), Jake Fella (Purdue), Tracey Lo, Sophie Knowles, and Michelle Carey (Georgetown) were dealing in 3v3 mini. With Hastings, Lo, and Fella going every other, I don't think I witnessed them lose a single game.
Men's – One thing was obvious from the far field: there's a new breed of young superstars among the group. Rising juniors Tannor Johnson (Massachusetts), Joe Freund (Virginia Tech), and Mac Hecht (Brown) took difficult yet calculated shots all day long. Despite their youth, each looked comfortable and took leadership among the groups. In addition, Jake McGoogan (NC State) and Jake Fella had excellent Saturdays. With many others going neck and neck in performance, expect Sunday to bring a sense of urgency for those looking to lock a spot on the Men's team.
---
the second tryout will take place next weekend in Denver ↩