The biggest youth tournament of the year!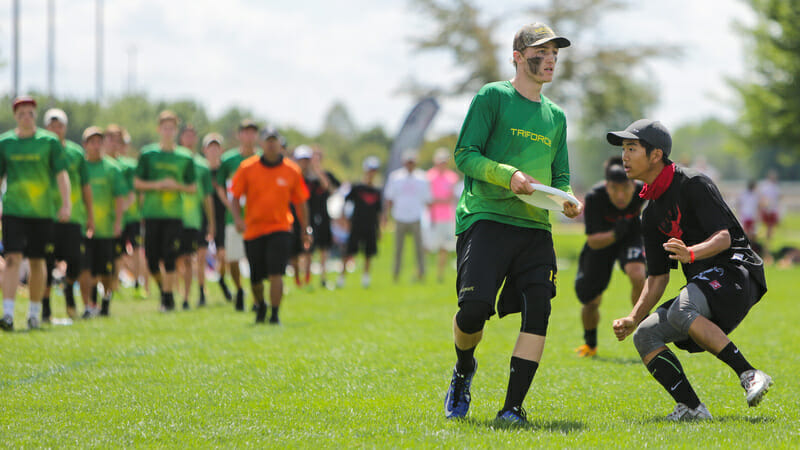 The article is presented by CUT Camps; all opinions are those of the author. Please support the brands that make Ultiworld possible and participate in CUT Camp!
The Youth Club Championships again returns to the National Sports Center in Blaine, Minnesota, this weekend, but the tournament now operates alongside the US Open in the adult Club Division. 30 Boys teams, 16 Girls teams, and 14 Mixed teams will compete in the recently renamed Under-20 Division under a new format.
With last year's champions all looking at least a little bit less dominant this August, there's plenty of opportunity for a shakeup at the top.
We break down each of the three Divisions and the contenders for a 2017 championship.
Boys Division
While historically the U20 Boys Division has featured the most parity in youth club, in recent years, a few top teams have started to separate themselves as the nation's best.
North Carolina's Triforce enters as the one seed and looks to become the first repeat winner in this decade. The nation's top recruit Liam Searles-Bohs is back for the final time and will be seeking to finish off an incredibly decorated youth career with a third YCC championship before enrolling at UNC in the fall. Other stars include Dean Merritt and Michael Lee, who both come off of a year of college experience.
Triforce has shown some vulnerability this year by going down a few breaks before pulling out a win against DC at a warmup tournament but should still be considered a favorite to be playing late on Monday. Seattle may not have made the final last year, but the team gave Triforce its biggest test of the weekend in an instant classic semifinal. Seattle held a 9-4 lead before completely collapsing. That team could have easily been the 2016 champion: this year's team has the talent to win it this year. John Randolph is the big name for this Seattle team after his stellar performance at the High School National Invite, but the roster also features WJUC player Ivan Lee and Oregon player Noah Coolman.
Last year's runners up, New Jersey DEVYL, will also be among the favorites this year. Despite losing the centerpiece of their offense in Mac Rushing, the team returns Conner Russell who played significant minutes for UNC-Wilmington this past year and will be expected to do a lot for DEVYL. The depth of this program is always impressive and should continue to be: they reached into the Philadelphia area for Radnor High School stars Simon Prushan and Henry Ing.
Despite much of the buzz surrounding these first three teams, don't forget that Minnesota Superior was a double game point away from finding themselves in the final last year. The home team returns a decent portion of their roster, including Sam Hammar, who has high level club experience with Sub Zero and was a cutting monster in last year's tournament. Also back on the roster is Jack Lokowich, who had a tournament high 19 goals last year.
Rounding out tier one are Boston, Atlanta, Chicago, and Cincinnati, any of which could challenge for a spot in the final. All except Chicago have reached the final at some point in the last four years. Atlanta looks to be in the best shape out of the four in terms of returners. Jay Burnett is one of the most athletic players in the Division and they return handlers Evan Mapes and Mack Hodges.
The most improved team in the division this year looks to be DC, as they absorb top talent from their mixed team Swing Vote and return most of their roster. Their biggest pickups include Jonathan Malks of the DC Breeze and Anders Juengst of UNC. They would be a scary duo on their own, but when partnered with returners Gus Norrbom (AC 2nd team all-region) and Ben Preiss, who put up a double-double on last year's stat sheet, it makes DC a legitimate contender.
The other standout in tier two is Texas Two Step. Last year, their athleticism and defense could match up with anybody, but their offense wasn't consistent enough to get into the bracket. This year, they return handler Connor Olson, who put up an impressive 16 assists at last year's tournament.
Further down the seedings, New York Little Pony returns Nathan Shapiro, who was a real treat to watch last year. He earned a spot on the actual PoNY roster this year.
New teams in the division with potential include Austin, Oregon, and Philadelphia. Austin absorbs players from last year's Houston Helix team and should be a favorite to break seed despite their ceiling being 17th place due to the format. Philadelphia takes some players from the previously successful mixed teams including Colorado commit Alex Atkins. Oregon has had success in the mixed division, including a title in 2014, so their complete switch to boys should make them a dangerous team.
-Fred Wolf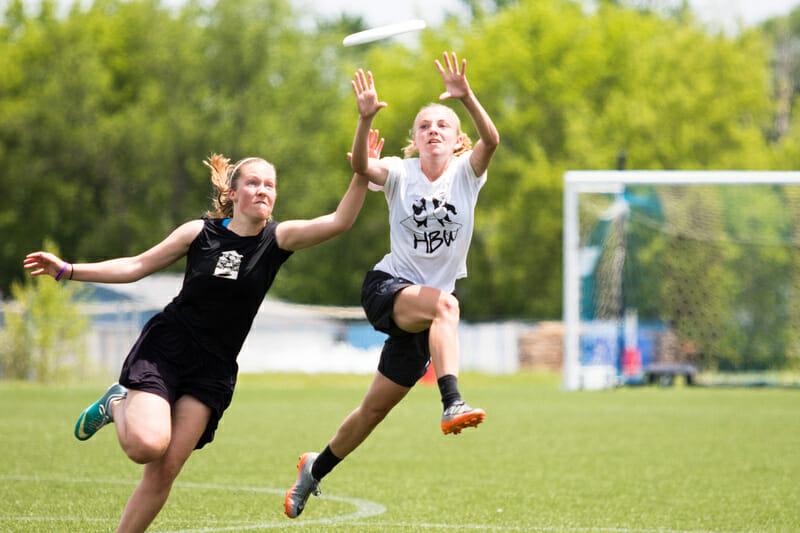 Girls Division
Every year, the field gets deeper for the U20 Girls Division. Seattle is again the top seed and favorite, but, like in 2014 when they almost lost a game, Seattle will be without some of their top players (and, as usual, they eschew rostering age-eligible college players). 2016 scoring leader Claire Trop has been playing with Seattle Riot and is heading off to play soccer for Dartmouth, while standout 2016 teammates Ray McCann, Peixian Rong, Abby Hecko, and Kennadi Hairston have helped load up the girls' side for the 2017 DiscNW Mixed team.
But the Seattle talent pool is anything if not deep. Expect Narwhal to be led by WJUC player and defensive powerhouse Ally Constantino, with Kaia Roast, Tess Barton, and Nina Alworth behind the disc. USA U20 selectee Nariah Sims and U20 alternate Evelyn Reding will command the midfield, along with Bailey Shigley and Meg Manning. They will look deep to Angelina Jeantette-Coca and Anna Goddu.
The primary challenger looks to be the North Carolina Warhawks, combining talent from many top NC teams, including two from the top four in the Ultiworld High School Power Rankings (High Country and CFS) and two others in the top 20 (East Chapel Hill and Green Hope). They bring back almost everyone from their strong 2016 team, including key handlers Kate Lanier (USA U20) and Sydney Rehder, versatile mid Liz Manturuk, and dominant cutters Karen Ehrhardt (Japan U20) and Dawn Culton. The Warhawks had strong results versus club teams at the Cackalacky Challenge, losing only to Phoenix while beating Notorious CLE and Steel to give them a top 30 ranking.
As usual, 2016 runner-up Cincinnati Belle are expected to be a favorite for a semifinal slot. They lost the dynamic Samson twins, but return USA U20 (and 2017 Ultiworld FOTY candidate) Cara Sieber as an initiating cutter, along with steady handler Katherine Fry and outstanding deep Abby Swenson. Belle may again benefit from superior team chemistry, as most of their players competed together under the Holy Family Catholic banner.
It may be a bit of a rebuilding year for perennial semifinalist BUDA, as they lost their central handler (Jo-Z Coppinger) and top two receivers (tournament-leading Kendra Griesman and Casey Banta-Ryan). Expect Renata Pepi, Tess Johnson and Zoe Hecht to step up behind the disc, while Clara Stewart works the midfield.
Texas Tango will also be shooting for a semis spot, after grabbing 5th in 2016. They are dominated again by players from a strong Marcus HS program. They lost top handler Caroline O'Connell to college finalists Texas Melee, but Skye Fernandez and Tanika Graham have shown they are fully capable of taking over and shooting deep to Sesha McMinn (benefiting from a year with Stanford Superfly), Summer Wilson, and Macy Lang.
Pittsburgh Moxie will also be looking to break seed out of a tough Pool B, as they return most of their 2016 lineup including assist leaders Sophia Kosowsky and Sara Liang. Rounding out Pool A are New Jersey DEVYL and Minnesota Superior. DEVYL will be led by their 2016 assist leader Kathryn Stoll, with Jesse Song also in the backfield and Alison Huresky as tall target downfield. Superior will likely rely on Tova Breen throwing to Sofie Fitzsimmons.
From my perspective, Pool D is the most compelling, featuring three teams that have to be thinking about semifinal possibilities, while only two can even make the championship bracket. After disappointing results in the last few YCCs, cATLanta finally brings most of their top talent to Blaine. Expect them to be led by USA U20 Isabel Arevalo, ably supported by (Ultiworld #2) Paideia teammates Kaya Wurtzel, Izzy Pitman, and Bess Renjilian, and boosted by Grady's Mazie Switzer and Brookwood's Mirenli Negron.
The Washington DC area team should also be vastly improved, as the girls fueling Swing Vote's championships the last two years switch from Mixed for 2017. Expect Rogue to be led by Scandal rookie (and HSNI standout) Ella Juengst and USA U20 alternate Caroline Tornquist. Eleanor Heil, Katherine Sanz and Florence Brooks also switch over from Mixed, while DC's primary handler from 2016 Kirsten Knisely is back to work with much stronger support.
Utah is bringing a girls team for the first time, prominently featuring top players from Ultiworld's #1 ranked Lone Peak team, including handler Lizz Bunderson, along with Hailey Saunders and Savannah and Sadie Flanary plus Bingham's Kyra Khoroujnikova and SLC's Wilhelmina Graff.
Rounding out Pool D is another new team, Valley Ultimate, coached by the Tunnell siblings and featuring players from central MA schools (such as Northampton and Amherst).
Topping Pool C, Colorado Cutthroat features handler Akane Kleinkopf (returning from a strong rookie season at Whitman) along with Stacy Gaskill and Harper Ellsworth. Expect Naperville Daydream to be led again by Heist rookie Mindy Radike throwing to Allison Swiatek and Katherine Sandstrom. Philadelphia Forge and St. Louis are both new teams to the division.
-Scott Dunham
Mixed Division
The story of the last two years in the Mixed Division has been the rivalry between Bay Area Happy Cows and DC Swing Vote. However, both teams are facing huge roster turnover and could leave the door open for other contenders. Swing Vote brings back just two players from last year's championship team but features some good young talent from the area. Nicole Getter was a top handler for National Invite champion HB Woodlawn and Matt McKnight is a name that you'll hear in the future. Although they won't be the favorite this year, Swing Vote will not be an easy game for anybody.
Despite also suffering from large turnover, the Happy Cows managed to hang on to some of their stars that led them to two straight finals appearances. Jeremy Dolezal-Ng is one of the most talented players at the tournament and should dominate touches for this team. In last years final, he accounted for eight out of the team's 12 points and will be expected to do even more this year.
Waiting in the wings are last year's semifinalists Seattle and Philadelphia. Seattle has historically been one of the only teams in the division to play a 3-4 gender ratio, sometimes putting four girls downfield. This plays to their strengths and has led them to three straight third place finishes but a title has eluded the city. This year's team, led by U20 Worlds player Carly Campana and drawing talent away from the Girls team, should be one of the favorites this year. Last year, Philadelphia was able to take down the eventual champion in pool play before getting blown out in the semifinals. This year, they lose talent both to aging out and to their newly formed open team but still hold onto some players that make them a contender. Eddie Scott of UMass and Margo Urheim of Tufts will lead the way for Philly.
Further down in the seedings, Cincinnati is fielding a Mixed team for the first time this year, hoping to showcase the depth of their region. Indiana is making a complete switch to the mixed division this year and should be a dangerous matchup. They boys team last year took down Atlanta with some huge plays and a fiery sideline but couldn't keep the momentum going and finished the weekend in 14th. The biggest name in tier two looks like Madison, who returns to the division after a year off. They also prioritize mixed and should be a favorite to break seed.
-Fred Wolf