Triforce makes it a brace.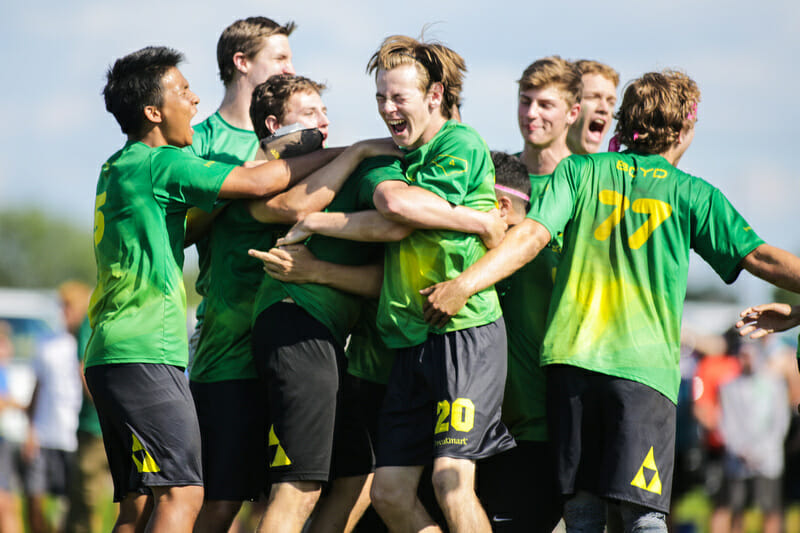 Ultiworld's reporting on the 2017 Youth Club Championships is presented by CUT Camps; all opinions are those of the author. Please support the brands that make Ultiworld possible and participate in CUT Camp!
BLAINE, Minn. — In a rematch of the 2015 final, Triforce (North Carolina) got redemption over BUDA (Boston) in a 15-14 double game point thriller in the U20 Boys final at the 2017 Youth Club Championships, sealing back-to-back victories for the North Carolina powerhouse.
Coming into the game, both teams had secured solid wins in the semis, but Triforce had trouble putting away a resilient DEVYL squad that nearly brought the game to double game point. Triforce and BUDA had seen each other before in pool play in a game Triforce won 15-12.
"It's cool matching up with BUDA because there's a lot of familiarity and mutual respect between both the players and the coaches," said Triforce coach Sol Yanuck.
Offensive patience characterized the opening holds by both teams. Ryan Dinger and Chris Padilla marshaled the offense for Boston all game long through physical play by North Carolina. On the other side, Liam Searles-Bohs, playing in his final game in the Youth Division, was the rock of Triforce's offense, filling a role he'd grown to know well throughout his decorated youth career.
BUDA would get the first break opportunity on a drop by Triforce receiver Peter Barry on a huck from Searles-Bohs. BUDA worked the disc up the forehand side through a physical bid by Jordan Perry and took a 3-1 lead.
Triforce would get two chances to break back after an easy 3-2 hold, but excellent deep defense by Orion Cable and a short field turn by Triforce kept Boston's two point lead alive. The physicality of both teams began to step up as Boston attempted to challenge Triforce more on deep looks and Triforce's defense tried to generate blocks. A great, athletic bid by Triangle defender James Boyd and a deep block by Ted Randby were rewarded with a Triforce break as Tyler French beat Chris Padilla in the air and assisted to Michael Lee to get North Carolina even and back on serve.
Each team played flawless offense all the way to 7-7. The level of physicality from both teams increased and a TMF was issued to BUDA for a bid into the back of John McDonnell. Liam Searles-Bohs and Ryan Dinger both had to fight through strong reset pressure as both teams closed in on halftime. Triforce got a chance to break for half when Searles-Bohs tipped the disc out of reach for a Boston receiver in the end zone. But Triforce couldn't buy a break: Randby dropped a low swing pass, giving Boston a very short field to put in the score to take half.
Triforce looked shaky to start the second half but a block by John McDonnell on a floating forehand pass kept BUDA from locking in another break. Triforce punched in the hold on a high jump ball to Jake Taylor over Chris Padilla. Boston head coach Dan Hourigan was vocal with BUDA defense following the score.
"We've got to win jump balls!" he shouted in the huddle. Unfortunately, that would prove to be a problem for Boston.
The level of trust displayed by Searles-Bohs in his receivers to pull down fifty-fifty shots didn't waver throughout the second half. McDonnell had a huge posterization to tie the game at nine on a floaty backhand huck.
"On offense, we just let our guys ball," said Yanuck.
Boston, meanwhile, stuck to working the disc on the force sideline with Padilla and Dinger controlling the tempo of Boston's offensive holds.
On the defensive side, both teams stuck with matchup defense, ramping up pressure over the course of the second half. Triforce defenders James Boyd and Tyler French got a piece of several Boston passes while Boston focused on forcing backhand and pressuring resets. It's worth noting that the O-line defense of both squads was also extremely effective at preventing breaks until very late in the second half. A hold by BUDA to make it 11-10 was highlighted by the patience of their handlers and the stamina of their cutters, who retained the shape of their cuts throughout a long grueling point. Despite sustaining contact to the face by a poaching Triforce defender, Padilla stayed on the field and was able to beat his man upline for the goal.
As the game entered its final phase, Triforce's cutters began to gain more separation in the deep space. Searles-Bohs took off deep and reeled in an uncontested huck from Perry. BUDA responded in kind with Orion Cable coming down with a huge catch over two defenders at the back of the end zone. Triangle tied the game up at 12 with another hold on an uncontested huck to Perry, who did a great job of releasing from the handler space for a couple of easy goals.
With soft cap coming on as the pull went up, it would be a game capped at 15. After working the disc to midfield, Padilla sent a slightly outside-in forehand to Harrison Landau. The disc tipped off the fingertips of Landau, giving Triforce the late game break opportunity they desperately needed.
After catching an under on the flat side, Barry arced a forehand to Randby that was tipped up into the swirling wind by Marcel Oliart. Randby laid out at full extension almost three feet off the ground to save possession and a quick three passes later found Barry in the end zone for the 13-12 lead. Triforce triumphantly celebrated what would prove to be the decisive moment of the game.
Triforce sent out a kill line to try and put the game away. Perry was able to come away with a run through block, but out of a timeout, Ryan Dinger came up with a huge poach layout block on an up line strike by Searles-Bohs. Chaos ensued on the Triforce goal line as a layout D by Dean Merritt on an inside flick to the open side was answered by a hand block by Chris Padilla on Perry. Boston punched in the goal despite a bad bid by Merritt into the knees of Alex Lerner.
With the sidelines packed with fans and the game tied at 13, it would be a fight to the finish for Triforce. Searles-Bohs pulled down a backhand between two BUDA defenders, putting them on the doorstep of a championship. Boston held on to force double game point as Stephen Mock skied Searles-Bohs on the goal line and Boston punched in the hold. Mock, unfortunately, came off the field with a knee injury sustained on ground contact after the sky.
Redemption for the Triangle would ultimately come down to double game point.
Perry received the centering pass and sent a short inside backhand to Searles-Bohs, who had a clear backhand shot down the center of the field to Barry. Landau took the inside angle to the disc getting a hand on it, but the disc tipped up into the air for Barry, who pulled it down on the goal line. After a short debate about whether Berry was in, Triforce worked the disc back to Searles-Bohs, who broke the mark with a smooth forehand to Barry for the win. Triforce stormed the field and the North Carolina delegation, which had been spectating the game and also locked up a U20 girls championship a few minutes prior, rushed on to celebrate with their teammates.
It was a grueling, physical game that demanded everything that both teams had to offer. The stamina put on display by both squads and the level of play displayed from start to finish turned this game into a classic.
"I've never felt this good while being in so much pain," said Tyler French in the Triforce postgame huddle.
For French and many of the other players who competed against BUDA in 2015, their victory meant much more than just a back to back championship. It was a send off for one of the best boys youth teams ever fielded by the Triangle.
"It feels good," said Searles-Bohs in his post game interview. "I've loved this team for a long time and ending it like this, throwing a jump ball, getting bailed out, feels pretty sick."
For many players on Triforce including Searles-Bohs, another title also marks the passing of a torch to the next generation of players.
It's fair to say we haven't been treated to a final quite like this one. What a way to go out.
If you missed it, this game is now available to all subscribers — even the mini package — in the Ultiworld video store.