Can Toronto keep it competitive this year?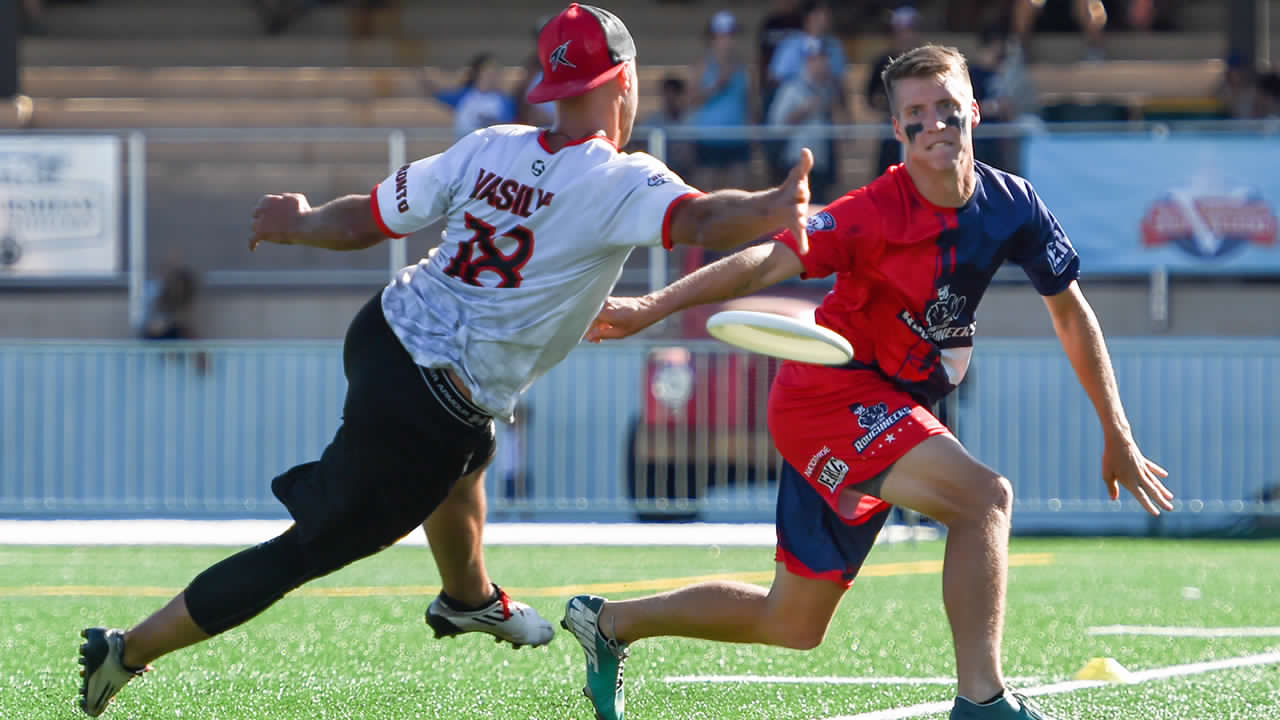 The Dallas Roughnecks have encountered some bumps in the road on the way to their title defense. Three regular season losses. Short rosters. Getting swept by Jacksonville during the regular season. But now it's the playoffs: they've reached championship weekend in Montreal and enter as the undisputed favorites to win it all again. The Roughnecks face an opponent very familiar with this stage, as the Toronto Rush make their fifth consecutive Championship Weekend appearance.
These two teams faced off in the semifinals last year and Dallas won in a walk. The Roughnecks jumped out to a 9-4 lead and never looked back, winning 26-20. A repeat show of dominance isn't out of the question. But there's reason to believe this game will be much closer this year. Dallas hasn't lost a step, but Toronto looks much stronger than they did in 2016.
The difference starts with Mark Lloyd.
While Lloyd played more games for Toronto in 2016, his performance has been better this year. In the quarterfinals against the DC Breeze, Lloyd had four assists, three goals, and two blocks., and did it all while primarily playing defense. He's clearly added an extra dimension to the Rush.
For years the knock on Toronto has been that while their defense is able to generate turnovers against the best teams in the league, they haven't necessarily been able to convert those turnovers into points. Lloyd has been able to help on both fronts: the Toronto D-line hasn't had a playmaker like him before.
https://www.youtube.com/watch?v=P-DIjrfy8JM
The difference in the Toronto defense doesn't stop with Lloyd, though. Isiah Masek-Kelly spent most of his time on defense against DC after primarily playing offense during the regular season. It's a luxury the Rush can afford when they have their full roster. Masek-Kelly might be the best deep defender on the team, and his skillset will be in high demand against the high-flying Dallas offense. Jeremy Norden is new to the Rush this year and his ability to provide a steady hand after the turnover has been a welcome change as well. Toronto hasn't lost any games yet this year in which Lloyd or Norden have appeared.
But the Toronto defense will have its hands full with the Dallas offense. When at full strength, Dallas' O-line is ruthlessly efficient. The Roughnecks converted 74% of their points into scores during the regular season, a full 7% better than a Toronto offense that's known for generating easy scores off its pull plays.
What makes the Dallas offense so good? Its most notable player is clearly Jimmy Mickle. While Mickle has at times struggled this season by forcing throws that aren't necessarily there, he's still the most importance piece to the Roughnecks' offensive attack. For the first time in the AUDL, his completion percentage fell below 90% this year. In the playoffs, though, that number is up to 95%. While he hasn't been throwing to the end zone as often (he has only six assists during the postseason), he hasn't needed to.
That's in part due to getting Kurt Gibson back from a pectoral injury and having players like Matt Jackson and Ben Lohre become reliable contributors to the offense. Those three players all missed time for various reasons during the regular season, part of the reason that the team took three losses during the regular season. But the playoffs are a different animal and Dallas doesn't look anywhere near as vulnerable.
"I think we were able to flip the switch and play our best when it mattered the most," said Roughnecks handler Brandon Malecek. "It also helped getting Kurt back, which allows Freechild to really go bananas on the D-line."
That Roughnecks offense has some very speedy cutters in Abe Coffin and Thomas Slack to throw the disc to; Coffin already has eight goals this postseason. And then there's Malecek, who can serve as a reliable reset or a zone buster. But what's amazing about this offense is who it allows to play defense.
Players like Chris Mazur, Stanley Peterson, Dalton Smith, and Kai Marshall all spent most of their time during the season on offense out of necessity. With the full squad suited up during the playoffs, they've been with the defense. The most notable player that's made that shift is, of course, Dylan Freechild.
https://www.youtube.com/watch?v=TxIFz0A_nF4
Freechild has been the MVP of the Roughnecks this season, combining eye popping stats with efficiency and big plays. Having him play defense against Toronto could make normally easy resets very difficult.
The biggest takeaway from their semifinal last year wasn't that Dallas dominated from start to finish, though the Roughnecks did lead wire to wire. In that game, Toronto's offense put up many hucks, sometimes out of necessity because it was the only option and sometimes out of frustration. "Last year it seemed like we tried to get it all back at once with guys taking more high risk shots," recalled Toronto head coach Sachin Raina. "It'll be important for us to just stay patient and focus on one point at a time."
While players like Thomson McKnight and Connor Armstrong can huck from the handler position, Toronto is most comfortable when a hybrid cutter like Cam Harris is sending the disc deep. In last year's matchup, even the looks that initially looked open in the first half frequently went the Roughnecks' way because players like Dan Emmons and Dillon Larberg caught up and made big plays.
While 2017 is a different year, those guys are back. Dallas may not have any players on Revolver this year, but the Roughnecks are much the same as they were when they won the Championship last year. "Overall, this team is very similar to the squad from last year," said Malecek. "We are going to rely on our defense applying pressure and taking control of the game." That's what happened before and it is easy to see it happening again.
If Toronto is going to win this game, their offense will have to perform at its best, because the Dallas defense looks as good as ever. One thing to watch is how the tone is set early. Last year, Dallas started off with a hold and two immediate breaks. But this year, Dallas has started slow in numerous games. If the Rush can hang with the Roughnecks early, it could make for an exciting game down the stretch.
Opening Pull: Saturday, August 26th at 7:00 PM Eastern
Line: Dallas Roughnecks -4.5
Video: AUDL.tv