San Francisco makes their first appearance at Championship Weekend.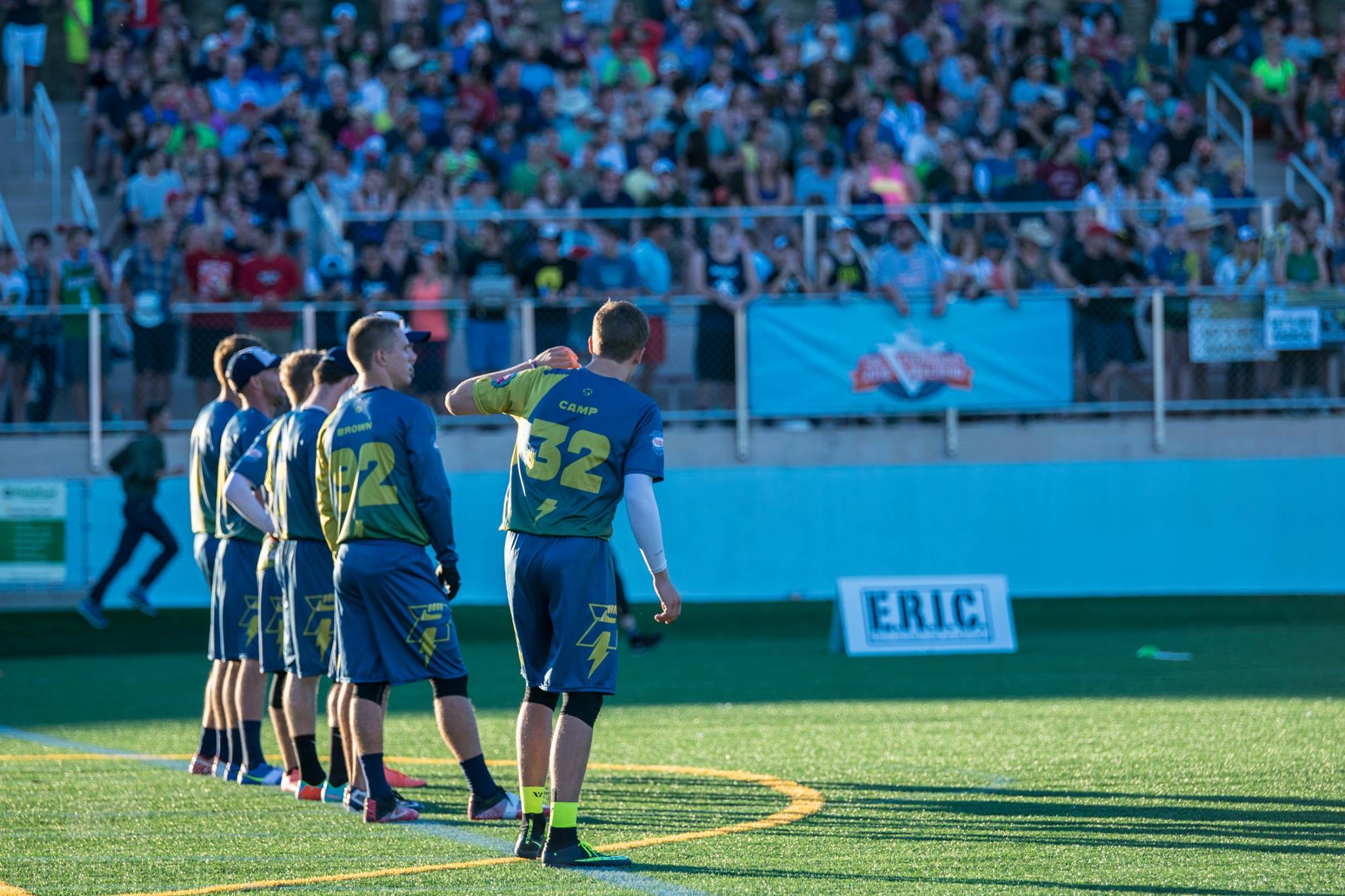 For the fourth year in a row, the Madison Radicals (13-2) find themselves facing off against the winner of the West Division at Championship Weekend. Each time, that's where Madison's season has ended. Will this year be any different?
This time around, it's a new yet familiar opponent for the Radicals. The San Francisco FlameThrowers (11-4) are making their first appearance in the final four, though many of their players have been there before with the San Jose Spiders.
The FlameThrowers are something of an enigma in the AUDL. Their pre-season roster featured big names like Grant Lindsley and Nathan White, both of whom have barely played. In their biggest game of the year in Toronto, they only brought 15 players. Mid-season, they added Eli Kerns and Ashlin Joye to their roster. They split the season series with the Spiders and lost a game at home to Seattle, a team that missed the playoffs.
But it sure looks like they've turned it on for the playoffs. The FlameThrowers blew Los Angeles out of the water in the quarterfinals, winning 33-22. Kerns and Joye combined for ten assists and just one throwaway. Joel Schlachet caught eight goals. It was the sixth time San Francisco had scored 30 or more goals in a game this year, more than any other team at Championship Weekend. Cassidy Rasmussen threw 54 assists during the regular season and is not only a top five talent in the league but also a top five MVP candidate. Have no doubt: this team can play.
The team that will line up across from them is no stranger to this stage. The Madison Radicals are playing in their fifth consecutive final four. Last year, they lost in heartbreaking fashion in front of their home fans to the Seattle Cascades in the semifinals. "We have shown we can compete at the highest level, but winning and competing are not the same thing," said Radicals' head coach Tim DeByl.
Thinking back on when the Radicals blew that seven goal lead in the second half last year, it's easy to forget just how good they looked getting to that point. No team uses the 53 yard wide field better than Madison. Players like Pat Shriwise, Tom Annen, and Dave Wiseman may not appear on any iteration of Team USA, but they made players that do look helpless against them.
The way Madison opened the 2017 season hardly reflected the team that they are capable of being. The Radicals struggled to put away Chicago and Indianapolis, teams they had easily buried in previous seasons. The Radicals lost to the Wind Chill for the first time in three years. Then the ultimate insult came, as they lost at home to Dallas by six points. It was the largest loss in franchise history.
Then the Radicals played Minnesota again. Once again, they built a lead and started to give it away in the third quarter, an all too-familiar feeling for Madison. But, this time, the Radicals fought back and pulled out the win. They were in the driver's seat for the division crown once more.
It looked like a turning point, and DeByl agrees it was. "We were coming off a loss to Dallas where we held the lead until middle of the 3rd and then the wheels fell off and we just never got back in the game," he said. "The same thing happened in [Minnesota] but we managed to claw our way through it and get the win. It felt really good. We have not lost since."
Madison is a team that is never afraid to make an adjustment to confront a weakness: this year is no exception. In their playoff win against Pittsburgh, the Radicals played a nine person rotation for their O-line. It could help keep the offense fresh later in the game and prevent the San Francisco defense from getting comfortable with any one particular set of matchups. For a team that has faltered in the third quarter before, that deeper offense could make a difference.
But the San Francisco FlameThrowers are not the Minnesota Wind Chill or Pittsburgh Thunderbirds. And San Francisco is going to have a full roster at its disposal, with players like Grant Lindsley, Ashlin Joye, Eli Kerns, and Mac Taylor all making the trip along with the usual suspects.
One thing that San Francisco will have no problem adjusting to is its offense. Almost no matter who has suited up for the FlameThrowers this season, their offense has looked crisp and efficient. No team does a better job setting up easy cuts for downfield players than San Francisco. Don't expect that to change this weekend. Cassidy Rasmussen put up awe-inspiring numbers during the regular season, but given the players that will surround him this weekend, he won't need to replicate that for San Francisco to succeed.
Madison will no doubt try a couple different defensive looks to get San Francisco out of its rhythm. The Radicals will disrupt pull plays by throwing double teams early on in the point, switching, and throwing a different kind of zone than the FlameThrowers have seen before. But unless San Francisco suffers from execution errors, it's going to be tough for Madison to generate many turnovers.
The big question is how San Francisco will perform against the Radicals' offense. Often times this year, the FlameThrowers have appeared blasé on defense, content to capitalize on mistakes rather than play lock down defense. Some of that can be attributed to low numbers at certain games, a long regular season, and their competition sitting mostly a step below them this year. But if San Francisco ever falls back into that mentality on Saturday, the Radicals will score quickly and easily. They have an offense that doesn't make many mistakes.
But if the FlameThrowers are able to get a couple breaks in a row at some point, it could be the start of something big. The Radicals have the tendency to try score very quickly after getting broken, which can exacerbate the problem. Madison is great at playing with a lead because they are able to employ different defenses: even if they don't generate a turn, it can be frustrating to play against because it takes so long to score. But the Radicals aren't as comfortable playing from behind. If they give up a string of breaks in the second half, the Radicals probably won't be able to climb back out of that hole.
One thing to watch for in this game is what happens at the ends of quarters. On offense, Madison is typically very efficient in these scenarios. However, in 2014 and 2016, the Radicals allowed momentum killing goals in the semifinals at championship weekend. In 2014, it was a careless decision that led to a San Jose goal. Last year, it was the Will Chen full-field backhand. Both were freak occurrences that aren't likely to be repeated. But if the Radicals were the ones to suffer from another end of quarter dagger, it could be especially damaging.
The FlameThrowers are playing a team that has been preparing for this moment all season. The Radicals are going up against a loaded roster and their own history. It should make for an entertaining game on Saturday.
Opening Pull: Saturday, August 26th at 4:00 PM Eastern
Line: San Francisco -2.5, O/U 52.5
Video: AUDL.tv