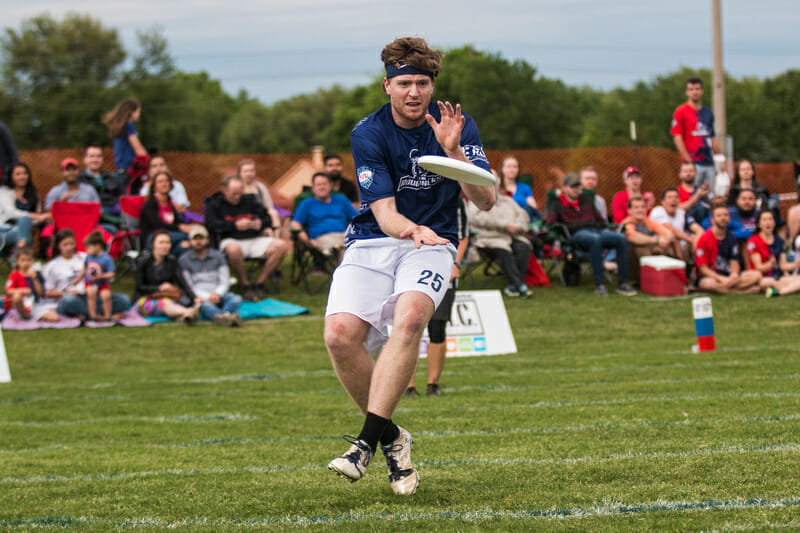 There will be AUDL stars aplenty at Championship Weekend. Many of the best players on the planet will be in Montreal, and they'll need to deliver peak performances for their teams to come away with the trophy.
But ultimate is a seven-on-seven game. For an underdog to win, someone outside the current hierarchy will have to step into the limelight to lead his team to victory. Even on star driven teams like Dallas and San Francisco, it may be that the player with the best weekend doesn't have a single appearance for Team USA on the international stage, let alone a standing invitation every summer. Here are nine players, listed in alphabetical order, that could make the biggest difference for their teams this weekend.
Kevin Brown (Madison Radicals)
Every year from 2014 to 2016, Kevin Brown stepped into a larger role for the Radicals. He moved from seldom used D-line player to O-line centerpiece that had the green light to let it rip. That changed a bit this year since he missed so much time due to injury, only appearing in five regular season games.
Brown is a multidimensional player on a team that needs one. How he plays could determine whether the Madison offense is nearly unstoppable or gives the disc away too freely. In the Radicals' first game against Minnesota this year, Brown led the team with five assists…but also had eight turnovers. The Radicals fell behind early and were never able to recover.
In their playoff game against Pittsburgh, Brown had seven goals and only one turnover. That's not to say that Brown shouldn't look toward the endzone when he does have the disc, but if he's just falling back as a handler, Madison isn't using him to his full potential.
Ben Burelle (Toronto Rush)
Ben Burelle is in his first year with the Toronto Rush and had a pretty good season. He finished with 18 goals and 21 assists, playing on the Toronto O-line. That offense is about to be tested like it hasn't been all season, though. Toronto struggled at times against the Breeze defense in the East Division Final; the Roughnecks defense is at a whole other level. Against the Breeze, the Rush had 18 throwaways despite the fact that D.C. only had five blocks as a team. The Rush won't be able to afford so many unforced errors on Saturday.
Cam Harris and Andrew Carroll will be the most important players on the field, but Toronto is going to need a role player to step up and have a big game. Maybe that player could be Burelle.
When the FlameThrowers came to town, Burelle had three assists and three goals. Last year he led the Vancouver Riptide with 38 goals. The Rush don't need Ben Burelle to be a superstar: that's why they have Carroll and Harris. But they need him, or someone like him, to step up and have as good a game as he's had all year. If he doesn't, Carroll and Harris could end up left without other good options, forced to make questionable decisions that lead to easy Dallas breaks.
Greg Cohen (San Francisco FlameThrowers)
Picking unheralded players from San Francisco isn't easy. Cohen's not an unknown, but he is part of a San Francisco defense that will have its work cut out for it tomorrow. The Madison offense utilizes the full 53 yards of the AUDL field better than any other team in the league. Breaks will probably be at a premium. That means Greg Cohen will need to be on his game for San Francisco.
Cohen is perhaps the most important player on the San Francisco defense. He had four goals and four assists in their quarterfinal game against Los Angeles, which San Francisco won 33-22. That was a strong contrast to his zero assist and two goal performance last year against Seattle in the playoffs. Cohen could end up taking matchups against players like Pat Shriwise and Dave Wiseman, two players that don't often fill up the stat sheet for Madison but are integral to setting up the rest of the team. If he is able to help shut them down, it will give San Francisco a big leg up.
Peter Graffy (Madison Radicals)
Peter Graffy is a former All-AUDL first team player so he won't go unnoticed this weekend. But it could be said that as Peter Graffy goes, so go the Madison Radicals. No player is more important to the Madison defense than Graffy. No player can do more to make sure that the Radicals defense convert any break opportunities presented than he can.
Graffy is also just as capable of disappearing, getting frustrated, and putting up questionable throws which lead to elite offenses getting a second bite at the apple. That's something Madison can't afford.  In their game against the Dallas Roughnecks this season Graffy had just one assist, six completions, one throwaway, and no goals or blocks. The Radicals lost by six.
In their playoff game against Pittsburgh, Graffy had 4 assists, 32 completions, two goals, four blocks, with just one turnover. He had a better completion percentage than Andrew Brown. A repeat performance on that scale is unlikely, but Madison needs Graffy to have a good game. The Radicals are at their best when Graffy is doing more than just looking to huck. When he's distributing the disc and following his throws, he can be very difficult to contain. If that starts to happen against San Francisco, watch out.
Sterling Knoche (Madison Radicals)
Sterling Knoche isn't a big guy, but he ends up making big plays in clutch moments a lot of the time. Numerous times this season Knoche has come through for the Radicals as time runs out at the end of a quarter. Against Pittsburgh, he had three goals and two blocks.
It's difficult to foresee the Radicals winning without Knoche getting at least two blocks. The San Francisco offense is just too good. The Radicals will need a couple of "Wow!" defensive plays to generate enough turnovers to get the lead. Knoche provides their best chance at doing just that.
Ben Lewis (Dallas Roughnecks)
Any number of players from the Dallas defense could be the choice here, but Lewis seems like the most appropriate. He's new to Dallas this season, a low key addition to a defense that remained mostly intact after their championship last year.
Lewis acquitted himself well during the regular season, though he wasn't spectacular. In ten games, he had ten blocks and five goals. When the Roughnecks visited Raleigh in their biggest game of the year, Lewis took his game to a higher level. He led Dallas with three blocks. Dallas is going to count on Lewis and the rest of the D-line to apply tremendous pressure to the opposing offense and give them early momentum. If the lesser known players like Lewis start making big plays, the Roughnecks will be well on their way to another title.
Grant Lindsley (San Francisco FlameThrowers
Obviously Grant Lindsley doesn't qualify as "under the radar." He played for Team USA at the World Games in Poland. He's regarded as one of the best players in the game. But Lindsley has only played in two AUDL games this season, his first appearance in the league since a brief stint with the Minnesota Wind Chill in 2013. He's less accustomed to the field and rules than the other players he'll take the field with and against.
Of course, Lindsley is no stranger to his teammates: he plays club with most of them on Revolver. San Francisco head coach Ryo Kawaoka knows that even given the talent his team has, it will be an adjustment. "The time together as a club team helps, but it is still a different game on the AUDL field," he said. "It's challenging for the folks who played all season long too."
With Lindsley on the roster this weekend, some roles will shift. If the two games he's played this year are any indication, the FlameThrowers should be fine. The competition will be tougher this weekend, though, and for the FlameThrowers to win the championship, they'll probably need Lindsley to get up to speed quickly.
Thomson McKnight (Toronto Rush)
Thomson McKnight has been a staple of the Toronto offense for years. He's never reached all-star status, but he's been a rock. McKnight has never dipped below a 94% completion rate in the last four seasons, always throwing at least 20 assists and 350 completions. The Rush rely on him to start the offense and make sure the disc goes where it's supposed to.
The Roughnecks are going to make life difficult for him. Dallas has a number of strong handler defenders and know that McKnight is the ignition for the Toronto offense. If he can get the disc early and find players cutting under to space, the Toronto offense will be in good shape. If he ends up sending the disc deep early in the possession and struggles to get open for resets, it means the Rush are in trouble. It's not that McKnight can't huck, he can. He has better range than, say, Andrew Brown of the Radicals. But that's not what will generate Toronto's best chances to score. If McKnight is playing well, the way that he normally does, it will mean the Toronto offense is operating smoothly.
Thomas Slack (Dallas Roughnecks)
Thomas Slack was practically unknown before he joined the Roughnecks O-line last year. He wasn't quite as prolific during the regular season this year, appearing in only six games. With players like Ben Lohre and Kurt Gibson joining the O-line for the postseason, one might have figured that Slack would be the odd man out, left without a rotation spot. That wasn't the case, as players like Dylan Freechild, Kai Marshall, Stanley Peterson, and Chris Mazur shifted to the D-line instead.
Slack hasn't lit up the stat sheet in the playoffs, with just one assist and two goals. But he also has 32 touches without a turnover, so he's been involved and efficient. He's played well, even if he hasn't been remarkable. If Toronto commits too much to preventing Jimmy Mickle or Abe Coffin from getting the disc, that's when things could really start to open up for Slack.
Slack isn't keeping opposing coaches up at night, but he is one of the fastest players on the Roughnecks. He has the potential to catch five or more goals in a game this weekend. Even if he doesn't, if he continues to get the disc and play turnover free ultimate, it will be a big positive for Dallas.