Seattle Riot get their first major tournament victory of the season.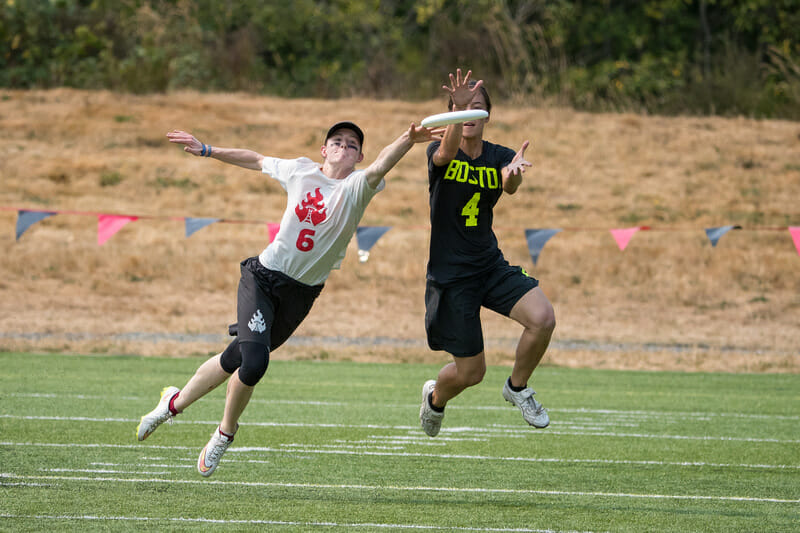 Ultiworld's reporting on the Women's division of the 2017 Pro Championships is presented by VC Ultimate as part of their year-long support of our women's coverage. All opinions are those of the authors. Please support the brands that make Ultiworld possible and shop at VC Ultimate!
BURLINGTON, WA — The women's division title at the 2017 Pro Flight Championships went to the hometown team, as Seattle Riot took down Boston Brute Squad 15-10 in the final. Riot, the third overall seed at the tournament, took an early lead over one-seed Brute Squad that they would never relinquish, as the programs continue their back-and-forth, multi-year rivalry.
The two teams met in favorable conditions, with the sun shining brightly through smoky clouds and very little wind, as had been the case the entire weekend. Brute Squad entered the Monday title game off a close 15-12 semifinal win over Molly Brown, while Riot was coming off a 15-7 rout of Scandal on the other side of the bracket. The final looked to be a clash of evenly matched squads, despite Brute Squad playing without key throwers Emily Baecher and Jojo Emerson.1
Boston's offense played a clean first point and got the early hold in the face of tight one-through-seven person defense from Riot. Seattle answered in kind, holding cleanly despite a near-turn by Kelly Johnson on an under to Jacyln Verzuh.
Riot continued to apply high pressure on all their matchups, forcing tons of resets from the Boston O-line. Brute was able to gradually press forward in spite of the pressure but eventually yielded multiple turns. Becky Malinowski gifted two break chances to Riot on blocked passes, but Riot wouldn't capitalize until they earned a third break chance after tight matchup defense got them a stall on Claudia Tajima. Seattle notched the first break of the game to take a 2-1 lead on a goal by Shira Stern.
Brute responded by putting their D-line on offense, who managed to hold against a poachy force-middle defense from Riot to tie it at 2-2. Riot held their next O point, despite giving up a turnover. Boston went back to their regular O-line for the next point, but Tajima dropped the centering pass, giving Seattle a short field. A textbook dump swing later, Riot made their lead two breaks. They nearly made it three on the ensuing point; Malinowski handed Seattle another turn and it took a big possession-saving layout from Tajima to prevent another break, but Boston got their hold for 4-3.
Boston tried to vary their defensive sets to climb back into the game, going flatter on the mark with poachers in the lane as well as trying a clam set, but the teams traded holds to 7-5. Both teams got big plays in the deep game with Malinowski grabbing a big sky, Tajima slipping deep from the handler set for a score, and Riot's Charlie Eide elevating in traffic to pull down a huck.
Pulling to Boston leading 7-5, Riot forced a punt from Liên Hoffman off the centering pass with lockdown defense. Though Malinowski was able to sky to save possession, she immediately turned the next throw — her fourth turnover of the game — and Riot broke for half, 8-5, on a big huck from Stern to Bailey Zahniser.
The second half opened with two clean holds, despite increased defensive pressure from Boston, to make the count 9-6. That increase in intensity was rewarded on the next Riot O-point when Caitlin O'Connell got a goal line block and a bookends score for the first Boston break of the game. Riot received again but dropped an under cut, and Brute capitalized on the short field for a second break to cut the deficit to 9-8. Riot managed to stop the bleeding on a nice back-shoulder flick from Zahniser to make it 10-8. The next point, another Malinowski turnover gave the Riot D-line a shot at a break, and they cashed in for 11-8 after Stern got open deep.
Seattle tried to change the pace and threw a three-person cup on defense, but to no avail; Boston got a clean hold. Riot answered with a hold of their own off big sky from Verzuh on a floaty flick huck to make it 12-9.
The Boston offense, as it had for much of the game, continued to struggle with execution on their next two points. First, Brute turfed an under off the pull play, which gave Riot a short field break for 13-9. Then Boston underthrew a pull play huck right to Zahniser, which (after a few exchanged turns) Riot converted for another break to make it 14-9. They finally held at 14-10, but gave Seattle two break chances in the process and would have turned it a third time if not for an amazing line-toeing layout from Tajima. There would be no late comback from Brute, as Riot closed the door on their first opportunity: Paige Soper hit Charlie Eide with a beautiful flick huck to win it, 15-10.
The scoreline read like an easy win for Seattle, but the story of the game was the unforced errors by Boston. "We didn't play well," said Boston coach Ariel Jackson, "More importantly, we didn't respond well to when we made mistakes. I like how we ended, we were starting to finally respond well but when you dig that big of a hole, it's hard to come back. I think that's what we need to work on from now until Nationals — how to respond when our first and second look is shut down and having the discipline to not stray too far and try to force something when that happens. Credit to Riot for putting us in that position, which is something we saw at times from other teams throughout the tournament — but Riot did it consistently."
Riot indeed played excellent defense all game. "Our big focus was on working hard on defense and forcing them to have small windows," said Riot co-coach Rohre Titcomb. Riot also punished Boston with disciplined, methodical offense from both lines. "Our offense relies on having a system that works, and not anyone putting the team on their back. We run the offense; the offense will get you open, not you as a person."
Seattle executed and played arguably their best game of the tournament in the biggest game of weekend to win the Pro Championship title. Perennially a team with the talent to win a national championship, Riot entered the weekend with process goals related to the long-term aim of ending their 12-year title drought. Titcomb noted that, "the last few weeks we talked about executing under pressure and our goals for the weekend were related to that; that pressure can come a lot of different way, today it was playing with the tournament on the line."
Riot got a pair of star performances from Calise Cardenas and Charlie Eide, who were open all day under and deep. Both finished with three goals and an assist. Riot's best asset, however, was their team-wide performance. They showed disciplined execution of their offensive system up and down the roster and played great team defense at every position.
Brute Squad's woman of the match was certainly Claudia Tajima, their steadiest contributor. She finished with three goals and numerous layouts to save possessions for Boston. Becky Malinowski stood out as well, stocking the highlight reel with incredible catches, but was also responsible for too many of Boston's unforced errors.
The Top Four Is A Top Five
I underrated Scandal. I said it. The narrative entering the tournament painted a picture of a clear Top 4 in the women's division — Riot, Fury, Molly Brown, and Brute Squad — but Washington DC came to Burlington and made their deserved presence known.
Despite missing a few players on their trip west, Scandal made an early statement by going 3-1 to win pool A, topping Molly Brown and losing to Riot on double game point in the process. Though they may sport the most lethal 1-2 in the country between Jenny Fey (3G/22A/3D) and Sandy Jorgensen (8G/11A/11D), Scandal also has depth. They're a top-tier team that look to be in great position to make a run at Nationals.
The obvious question: what happened against Riot in the semi? Check out the Day 2 recap, but the short story is that they simply tanked in terms of execution. Recall that the same matchup went to DGP two hours earlier. Credit Riot for throwing an array of different defensive looks at them and for bringing intense pressure one through seven,2 but Scandal made a few mistakes early and was mentally shaken for the rest of the semi.
San Francisco Fury also turned in a strong, albeit low-key performance this weekend. They took another loss to Riot in "pre-semis" but it was a tighter game than the scoreline suggests. Alex Snyder and Anna Nazarov are as good a handler battery as any in the country and their defense looks to be making strides. They turn over a few too many deep shots, but there might be a method to that; Fury's attack seems to heavily rely on the underneath game (break and open), and if you can lock that down you can stifle their O. So, even if it means a few extra turnovers right now, it's to their long-term advantage to figure out how to be aggressive and effective deep.
Mercurial Molly Brown?
Denver Molly Brown came into the tournament as the fun new title pick, but after a 4-2 weekend that buzz has died down a bit.
While I'm not sure they can be reasonably named the title favorite heading into the Series, they're still not a team that anybody should be happy to draw in their semi; Molly remains legit. Here's three easy reasons why:
They were the only team to beat Riot this weekend.3
They had great results despite a shorthanded roster.4
Claire Chastain.
Ok, maybe it's not just Claire Chastain, but she's crazy good. She led the tournament with 30 assists.5 But Molly Brown also had three of the top four goal scorers at the tournament — Liza Minor led the tournament with 14, Lisa Pitcaithley and Lisi Lohre both had 13. Maybe that's somewhat a function of a short roster, but it also means that Molly Brown's stars got it done against the best all weekend long. You have to think that a little rest from depth would make them even more effective.
Beyond the offensive fireworks, MB is also a smart defensive team. All weekend (particularly against Riot) we saw them throw backhand roller pulls out the sideline in order to set up a trap zone and manufacture breaks. Outside junk, they play intelligent person sets where their defenders are able to leverage their impressive awareness to poach off and disrupt opposing offenses.
Molly Brown has the the talent to win a title and it will be interesting to see how much an infusion of health/depth can elevate their game.
Don't Sleep On The Elite
While neither were able to pull off a huge upset, both Seattle Underground and San Francisco Nightlock turned in respectable, if unspectacular, performances for the weekend. What's more, both of them showed that they have the talent to give the best teams in the division a run for their money. Nightlock played Brute Squad to 15-13 to begin the tournament and Underground nearly pulled an upset on Molly Brown, taking half 8-6 only to lose 15-13.6
Both Seattle and San Francisco's second teams qualified into the Pro Championships via their results at the Pro-Elite Challenge in July, and each managed to leave Burlington with a win over a Pro Flight team.
No Bid Drama
There wasn't a whole lot drama brewing in terms of bids entering the weekend, but Madison Heist and Vancouver Traffic crushed what little there was with their Saturday results. Though Heist went 0-4, their margins against top teams were close enough to elevate them well above the strength bid cutoff, keeping a second bid for the North Central out of the hands of the Southwest.
Traffic was also in very little danger of losing their bid, short of a complete meltdown, and came away from the weekend with solid results and with a fourth bid for the NW in hand. The Canadian runners-up look to be a decent squad, but decidedly in the 5-8 range. Their deep game is great and they feature a trick zone look, but they never came within six goals of any team that reached bracket play.
---