Brute Squad is back.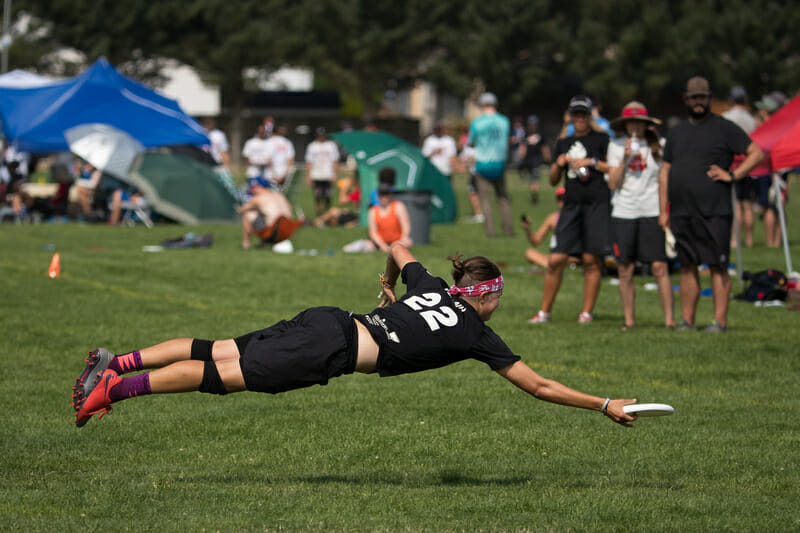 Ultiworld's reporting on the Women's division of the 2017 Pro Championships is presented by VC Ultimate as part of their year-long support of our women's coverage. All opinions are those of the authors. Please support the brands that make Ultiworld possible and shop at VC Ultimate!
BURLINGTON, Wash. — Though the Mixed and Men's divisions began the day in their quarterfinal rounds, the 10-team Women's Division had a round of pool play to begin the day. Pool A was relatively uneventful, with Brute Squad having secured the top spot and Fury, as expected, taking down Traffic to put the two in the second and third positions.
Pool B Saves Its Best For Last
Pool B, however, had some sparks. Seattle Underground gave Denver Molly Brown a legitimate scare, taking half 8-6 and finishing just on the short end of a 15-13 loss. Underground proved they have the athleticism to make any team have to work for a win, and the chemistry developed by having so many college teammates on the same team has helped them overcome some of the hiccups that can plague younger teams. Amanda Kostic had a great throwing day and  — with as many speedy cutters as Underground has — this will be a dangerous team this postseason.
The other game was one we knew would be worth the price of admission: Seattle Riot vs. Washington DC Scandal. Riot came out on top 14-13 in a double-game point thriller. Scandal, as they often are, was led by standout performances from Jenny Fey (1G/6A/1D) and Sandy Jorgensen (2G/3A/3D). They continued to show the quality that was on display yesterday in their victory over Molly Brown, in the face of a handful of defensive looks from Riot. However, Seattle played up to their high-talent potential and got the win, led by throwers Kelly Johnson (4A) and Alyssa Weatherford (3A) plus the cutting talents of Shira Stern (3G) and Jaclyn Verzuh (3G).
Scandal, Riot, and Molly Brown were tied at the top of the pool at 3-1, but Scandal's three point win over Molly was enough to propel them via point diff into the semis with a bye.
Riot Outruns Fury in Elimination
Seattle Riot took down San Francisco Fury 15-11 in their semifinal play-in game, the latest edition of the storied ultimate rivalry. Both teams brought out their full arsenal of defensive sets. Riot showed a few poach-heavy person looks and a cup zone, while Fury showed their force middle, a cup zone of their own, and a more diamond-shaped look. Though the scoreline suggests a wider separation, the game always felt contested. Both teams got their breaks in, and at one point the score was 10-9, with the disc in Fury's hands to tie it at 10. However, that was the beginning of Riot's 4-2 run run to close the game out on soft cap.
In their closing run especially, Riot showed incredible willingness to grind out yards with under cuts and work from the handlers. They were dutifully committed to their horizontal game, relentlessly swinging the disc side-to-side until they could hit a continuation. Their reset game showed impressive patience, with throwers trusting that even when their first dump wasn't open that the top-of-stack play would become the release valve.
Riot and Fury are evenly matched teams. At this point, their games come down to who can execute. Today, that was Riot. Seattle continued to execute on their disciplined game plan, through fatigue and high defensive pressure. Fury acquitted themselves well, but gave the disc away a few too many times on deep shots that didn't pan out. However, on another day, those shots could easily connect and the game could turn out differently.
Riot Dominates Scandal Rematch
Riot and Scandal ran it back on Sunday in the semifinal round, but this time Seattle dug in for a 15-7 win. Riot jumped out to an 8-4 halftime lead, showing impressive D-line offense to capitalize on an inordinately high number of execution errors from Scandal. DC's big names did not have their best performance; Jenny Fey wasn't hitting her shots at her usual clip and the rest of the roster was equally shaky. Riot made life tough on Scandal by playing tight person defense to complement an array of junk, but the turn often came from Scandal simply turfing an open pass or dropping an uncontested catch.
Riot came to play in a big way, with the entire roster contributing to pour on the breaks against DC. In addition to sticking with their methodical horizontal game, Riot worked in a few deep shots that they were able to connect on. Even when it wasn't the most practical away look, Riot made a play: Kristin Gruver got a big sky on a floating huck, Nora Landri went full-extension layout to snag a laser deep, and Kelly Johnson incredibly managed to sneak through traffic to pull down a completion on what looked to be a sure turnover.
The difference between the two games came down to a regression in execution by DC, which hurt them both on the scoreboard and mentally. Coach Alex Ghesquiere noted that there were good mental lessons to be learned from the game, and that it would provide them with good material to work on in the lead up to Nationals, where the two will could meet again late in the championship bracket.
Brute Squad Show Their Potential In A Tight Battle With Molly Brown
Molly Brown came off a close matchup with Underground to win easily over Vancouver Traffic in pre-semis. Molly Brown took advantage of windier conditions to work on their zone defense, using rolling pulls to the sideline as opportunities to set up a sideline trap and generating breaks off of the resulting pressure. Claire Chastain put on a throwing clinic, capitalizing on opportunities at every turn. However, Brute Squad proved to be a more formidable opponent, using their team speed and depth to the fullest.
Lien Hoffmann was seemingly everywhere for Brute Squad's offense, switching between initiating cutter, continuation cutter, and handler with aplomb, while showing some remarkable aerial skill to haul in floaty around throws for goals. She also picked up several key blocks on the rare instances where Brute Squad's offense would turn it. It was thrilling to watch such a complete performance, especially against a great defensive team like Molly Brown. The team speed on Brute Squad, from Hoffmann to Kami Groom to an incredibly fast Becca Ludford was impossible for Molly Brown to counter, with Hoffmann and Ludford open at will in the Brute Squad sidestack iso.
Not to say Molly Brown was lacking weapons, as Brute Squad had no effective answer for Chastain. She showed an ability to be open for a reset on every cut, and despite Brute Squad boasting some of the premier handler defenders in the game, Chastain was distributing across the field with some visionary throwing ability. She makes the Molly Brown offense tick, and her handling skill allows players like Dena Slattery, Lisa Pitcaithley, and Lisi Lohre to break down defenses in the downfield space.
Both teams traded initial breaks and then traded holds to 6-6. At the point, Brute Squad's intense handler defense finally forced a reset turn, allowing the Brute Squad D-line offense to attack the break side and convert a break chance before taking half 8-7.
Brute Squad kept up the pressure out of halftime with a huge Hoffmann sky. Brute Squad forced another turn on the ensuing point, finding Cassie Wong in traffic before punching it in to Groom to go up 10-7. Brute Squad never looked back after that, breaking through Molly Brown's attempted sideline traps with little difficulty.
As the second half wore on, Chastain seemed to take on more of the burden herself, looking to throw deep at every opportunity. However, Brute Squad was up to the task, sending multiple defenders deep to track down streaking Molly Brown cutters and crowd out the downfield space, ensuring each Molly Brown point was a grind instead of a quick strike. Brute Squad truly showed its potential in this game, which should make for an exciting final tomorrow against Seattle Riot.
Watch the Women's final at 3:30 PM EDT on ESPN.com/watch.