The perennial contender, the former champion, the rookie, and the 2016 finalist.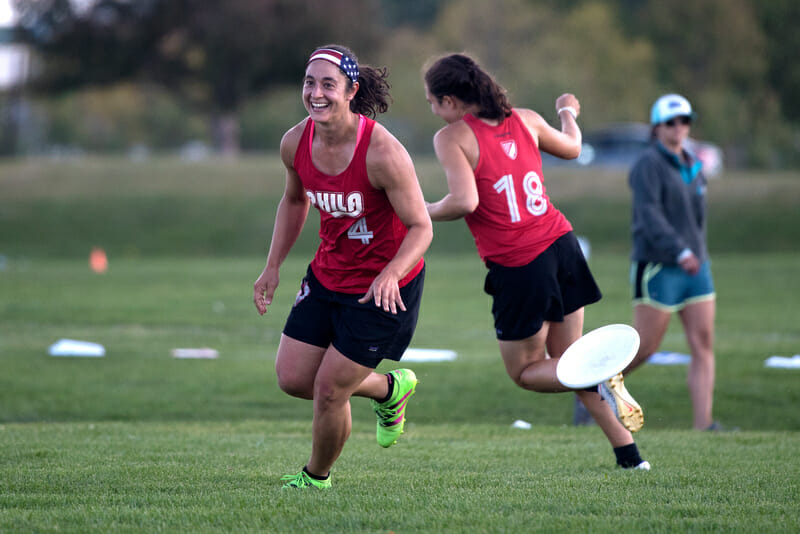 Ultiworld's coverage of the 2017 Club Championships is presented by Tokay Ultimate; all opinions are those of the authors. Please support the brands that make Ultiworld possible and shop at Tokay Ultimate!
For the fans who like storylines, pool B has them all. Former National champs looking to reestablish themselves? Check (Blackbird). First-time qualifiers? Got it (Toro). Last year's silver medalists looking for redemption? Yup (Metro North). Perennial qualifiers who haven't made semis in a decade? You betcha (AMP). Here's what to watch for.
Philadelphia AMP [Pool #1, Overall #2]
After two veteran-heavy seasons in 2013 and 2014, AMP shifted its recruitment focus to the rapidly growing youth talent in the Philadelphia area. The investment started paying dividends in 2016, when AMP had a fantastic regular season and entered Nationals as the #1 seed. College stars Carolyn Normile, Linda Morse, Nico Lake, Calvin Trisolini, and Michael Ing have added firepower and versatility to an already deeply talented roster. 2017 rookie Anna Thompson is having a huge impact on the field and will be a frontrunner for Breakout Player of the Year. Meanwhile, long-time veterans Raha Mozaffari, Matt Zumbrum, and Ben Pelleg will bring experience and poise to the offense, though reports are that Pelleg is still recovering from a hamstring injury at Regionals and may not be at full strength.
AMP chose a lighter tournament load this season, attending only two sanctioned regular season tournaments. They posted a 5-2 record at the Pro-Elite Challenge, splitting decisions with both #1 Seattle Mixtape and #5 Seattle BFG and notching a win over Blackbird. At the US Open, they earned wins over #3 Minneapolis Drag'n Thrust and #4 Boston Slow White, as well as Metro North, with just one loss to Mixtape. With wins over all eight Nationals opponents that they have faced, there's no reason to think they aren't a serious title contender this season.
Priding themselves on their athleticism to win back the disc after turnovers, Philly will take risks early and often each game. Their cutters are fierce and their handlers are fearless. They use flat marks to slow down opposing offenses and creative switches to keep them guessing. The sideline energy is also seemingly endless; there is an intention to the vibe they give off, placing emphasis on attitude and respect, towards each other and opponents alike. With incredible depth at each position, AMP will be a favorite to win the pool. This could be the year AMP breaks the quarters hurdle into semis, but they'll have to prove they can perform in the wind.
Likely Ceiling: National Championship
Likely Floor: Quarterfinals
San Francisco Blackbird [Pool #2, Overall #7]
The Southwest Region has more or less belonged to San Francisco for some time, but the Bay Area scene itself has been in constant flux. The Polar Bears broke onto the scene with a National Championship in 2010, with Blackbird following suit in 2011 and then again in 2012. The Polar Bears reclaimed the throne in 2013 with a regional title, ultimately losing in the National championship game as Minneapolis Drag'n Thrust began their reign. After quiet regular seasons in 2014 and 2015, Blackbird again stole the crown at Regionals and twice lost in bracket play, both times on double game point, to eventual champs Drag'n Thrust. 2016 saw Mischief in the spotlight, bringing home a regional championship and making a semifinals run at Nationals. Meanwhile, Blackbird drew the short end of a brutal pool play draw and missed the championship bracket altogether, although they were able to win three straight placement games to qualify for the Pro Flight.
So which Blackbird are we seeing in 2017? Their resume this season includes a win over third-seeded Drag'n Thrust and close losses to the top two seeds, so there's no doubt they can hang with anyone. They edged out Mischief for the regional title which no doubt gave them better positioning in Sarasota. Gone are huge contributors from last season in Lauren Casey and the Norden brothers, Jeremy and Justin, but new additions have been filling in the gaps nicely. Malina Wiebe has been an absolute goal-scoring machine, while Ryo Kawaoka and Vincenzo Vitiello have added steadying presences in the backfield. Veterans Tim Gilligan and V.Y. Chow are doing a bit of everything, Tommy Hendrickson is still making a big impact on the D line, and Barrs Lang is an offensive superstar. If opponents can contain all of these players… well, they'll still have a former World Games player to deal with in Mac Taylor.
Blackbird has a slower, more deliberate play style than AMP. They similarly employ flat marks, but rely more on savvy poaches than switches. Offensively, they communicate effectively with fakes and use their throwing prowess to throw receivers open, usually from isolation. There's no shortage of players on this team who know how to win, and they have the skills and talent to do it. They may not have the depth necessary for a National title, but expect a quarterfinals appearance from them at least.
Likely Ceiling: Semifinals
Likely Floor: Quarterfinals
Durham Toro [Pool #3, Overall #11]
Historically, it was not uncommon for Nationals first-timers to earn surprise wins in the Mixed division. But with the advent of the Triple Crown Tour, talent began to consolidate among mainstays of the division, and teams making their debut have found it increasingly difficult to get past the prequarters round. Despite being a "favorite" to avoid day one elimination, Toro has drawn the toughest pool four seed and will face an uphill battle to qualify for the championship bracket.
Durham had a steady regular season, beginning with a routing of the competition at Glazed Daze in June. They dropped close games to UPA and Wild Card (the only Nationals opponent they've faced this year) at the Select Flight Invite, but otherwise took care of business. After an unexpected pool play loss to Dub Club at Chesapeake Open, they avenged that loss in the final as they won out to take the title.
Tristan Green brings a wealth of skill and experience from his tenure with Ring of Fire. George Guthrie and Lucas Darden are among team leaders in assists, while Christine Bookhout, Leslie Wills, and Andrew Ryan are frequent targets in the end zone. A large portion of Toro's male roster played for the men's team Los back in the late 2000s, though they credit their younger counterparts and female teammates for their success. Expect to see the grit and tenacity that North Carolina teams are known for as they battle to qualify for prequarters.
Likely Ceiling: Prequarters
Likely Floor: Done on Day One
Connecticut Metro North [Pool #4, Overall #14]
The top three seeds can't be happy with this draw. Last year's National runners-up come in as the tournament 14-seed, despite no losses to any team outside the top 10 and a 5-1 combined record against #8 Mischief and #9 Steamboat. They would be seeded a lot higher if not for their abysmal point differential: Their 5-5 record against non-International teams at TCT events belies a -15 point differential, including four losses (and no wins) by four or more points. But Metro North defeated both AMP and Blackbird in pool play at last year's Nationals, and with most major contributors back in their lineup, they should absolutely not be looked past.
It was likely no easy task to replace last year's Offensive Player of the Year, Chris Mazur, but Metro North has been up for the task, making a few notable additions and expanding veteran roles. Adam Stern joins Andy Bosco as the primary offensive handler duo, with both capable of small ball give-gos, creative breaks to space, or full-field hucks. Elsa Regnéll jumped right into a feature role in the offense, frequently serving as primary isolation cutter off the pull. Familiar faces Lauren Doyle, Eugene Yum, and Seth Canetti are anchors for the D-line but will switch over to O when needed. John Korber is a huge weapon for the offense, cutting relentlessly and throwing continuation hucks.
Metro North will be favorites against an untested Toro, and while they don't have quite as much elite talent as Blackbird or AMP, an upset is not out of the question. They could even win a bracket game or possibly two, but it's unlikely to see a repeat championship appearance.
Likely Ceiling: Semifinals
Likely Floor: Prequarters