Another classic Fury-Scandal matchup on tap.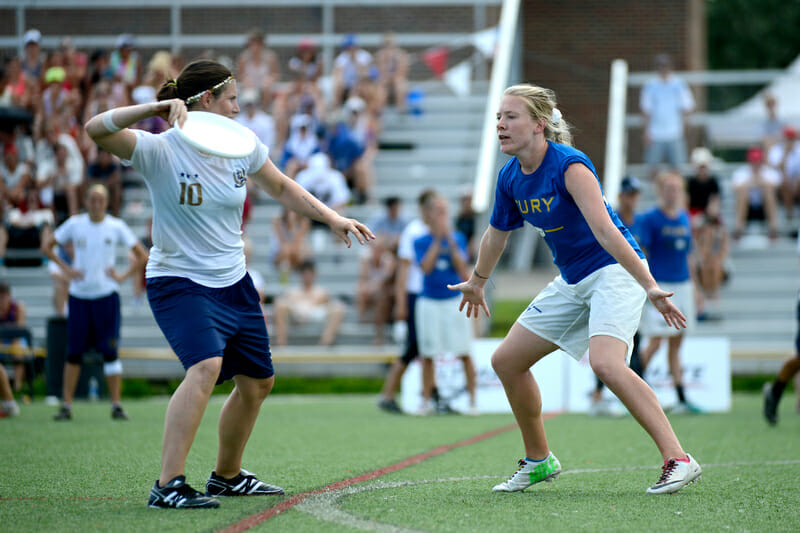 Ultiworld's reporting on the Women's division of the 2017 National Championships is presented by VC Ultimate as part of their year-long support of our women's coverage. All opinions are those of the authors. Please support the brands that make Ultiworld possible and shop at VC Ultimate!
For the second straight season, Pool D features a tantalizing matchup between San Francisco Fury and Washington DC Scandal. The two have had quite the postseason rivalry over the years, and they've treated us to a thriller once already this season at the U.S. Open. There's no doubt that Fury vs Scandal is the marquee game of pool play across the entire division. [Watch it live on Ultiworld!]
With such an showdown headlining the pool, it'd be easy to disregard to the latter seeds, but San Francisco Nightlock makes for an intriguing crosstown rivalry with Fury: they have been one of the top teams in the division in their own right for a few years now. Chicago Nemesis brings a fair amount of their own intrigue to the pool, returning to Nationals after a down year and bringing along some fresh faces to the championships.
Pool D should provide as much excitement as any in the division. Boasting some of the game's biggest icons, two title contenders, and a pair of potential Cinderellas ready to make their mark, Pool D has everything one could hope for in a Club Nationals pool.
San Francisco Fury [Pool #1, Overall #4]
Fury hasn't quite reached the heights many expected of them this season. Of the "Big Four," they're the only team to not play in a tournament final during the regular season. With the additions of Opi Payne and Bethany Kaylor in the offseason and relatively little attrition from the previous year, Fury was arguably the favorite coming into the season.
It's not been a complete disaster for Furym though. They've only lost to the three teams seeded above them, but they've also only notched one victory against that group, a third place game win over Seattle Riot at the U.S. Open. Overall, Fury went 1-6 against Seattle, Boston Brute Squad, and Denver Molly Brown. That's a striking record for a team that should be right on par with those three.
But those games have also provided plenty of insight for Fury, and now they'll look to put that information to use now that it truly matters.
"Every game you play, win or lose, is an opportunity to learn and file away skills into the toolbox," said captain Anna Nazarov. "What works against this team, what was particularly challenging against that team — all of these have given us things to work on at practice and we're just really excited to put it all to work this weekend."
Before Fury can get some revenge on the top three, though, they'll need to deal with another tough test in their own pool. Their game with Scandal is easily the biggest of pool play in the women's division. The ramifications are obvious, and so is the history between the two sides. But more than anything else, the game should be a fun showdown between two exceptionally talented teams.
"We're just really excited to see what they bring," said Nazarov. "They are really great at coming up with new ways to challenge our throwing lanes every time we play, and it's always a fun chess match between [Scandal coach Alex] 'Dutchy' [Ghesquiere] and [Fury coach] Matty [Tsang]. They both know really well how the other thinks, so it's like solving a puzzle – like, what are we good at, what would Dutchy do to stop it, and how would we counter it?"
Before that Scandal game, Fury will have a fun intercity rivalry game with Nightlock and a game with Nemesis, but realistically, neither of those opponents should be much of an obstacle for the nine-time champions. The pool will come down to that battle with Scandal.
If Fury are to win that game and then make it beyond semifinals for the first time since 2014, they will need to clean up their offensive efficiency. In the big games against the elite teams this season, Fury has failed on deep shots at far too high a rate. They have arguably the best backfield in the world and some of the best downfield athletes in the game to form their receiving corps. On paper, there's still no reason for Fury to not be a favorite to win a record 10th championship. But they'll need to shoot at a higher percentage in those game against elite opponents if they are to do just that.
Likely Ceiling: National Championship
Likely Floor: Semifinals
Washington DC Scandal [Pool #2, Overall #5]
This is a very familiar position for Scandal, the No. 5 seed overall, right at the turn in Pool D. After winning back to back National Championships, they've become the bridge between the elite tier of championship contenders and the rest of the field. They are the top challenger, one of the only teams to consistently threaten what was become known as the Big Four. Scandal takes exception to that idea. Over the past two years and this regular season, they've bucked against that label. But they have to prove it.
Let's take a stroll down memory lane. In 2016, DC notched wins over eventual National finalist Seattle Riot and semifinalist Molly Brown during the regular season, positioning themselves as a dangerous No. 5 seed heading into Nationals. In 2015, their best win was over Traffic, who beat one of the top teams themselves, but they did take Brute Squad to double game point at the US Open. In both cases, Scandal was felled by Molly Brown in quarters, including their tense back and forth double game point loss in 2015.
Back in the present, the Mid-Atlantic champs are 1-7 against the teams seeded above them, but you can bet that they are squarely focused on the victory. They defeated Molly Brown 15-12 in pool play at the Pro Championships, an emphatic win. And while they didn't secure any more major victories, Scandal looked impressive. It was the moment their ceiling was visible, this year's vision into the "what could be" Scandal presents each year.
Of course, one of the reasons Scandal is so dangerous even against the best of competition is because they have two of the best players in the world. Jenny Fey is an offensive dynamo and Sandy Jorgensen is a generational athlete in ultimate. It's rare they don't make a dramatic impact in any given game.
But the second reason is that the team has always been excellent at creating buy-in and designing a system to maximize their talents. Seasoned vets like Sarah Itoh, Kristen Franke, and Jessie O'Connor are joined by more recent acquisitions like Amy Zhou, Amel Awadelkarim, and Casey Gorman. Their side stack offensive set takes advantage of their team speed and elite throwers. Zhou stands out as a rising star-stopper downfield and Lisa Kowalski is becoming a solid and consistency producer on offense.
Scandal is simply too talented and too scrappy to be an easy out. The bar is exceptionally high to break through to semifinals and beyond, and while they are capable, they don't have much margin for error. But getting through would finally make clear that the top tier is one team bigger than many people think.
Likely Ceiling: Semifinals
Likely Floor: Quarterfinals
San Francisco Nightlock [Pool #3, Overall #9]
It's been a bit of a rough year for Nightlock. After narrowly missing out on the Pro Flight for 2017, they lost some of their most important players. Most of their newcomers were players still in or very freshly out of college and so they've experienced some growing pains. Their record against the Nationals field is a less than stellar 5-13.
With all that said, it's pretty impressive for a "rough year" to end with being the no. 9 overall seed at Nationals. A handful of those losses were close, including two double game point finishes vs. Seattle Underground and two point losses to perennial powerhouses Boston Brute Squad and Vancouver Traffic. So while the team is young and doesn't have a tremendous record, they are as battle tested as any team in the field.
Nightlock plays with an athletic, aggressive style and are generally not reliant on a couple of players to shoulder the load. Handlers like Sabrina Fong, Rachel Habbert, Marisa Rafter and Natasha Won bring the fire power, while a litany of athletic cutters are the real bread and butter of the team's roster. Players like Jackelyne Nguyen and Shayla Harris have been stars at the college level and have had good regular seasons, and they help fill out the ranks with more experienced playmakers like Claire Sharman and Iris Leung.
Still, if Nightlock are to make it quarterfinals for the third successive year, their whole roster will need to play at a level that they have not yet reached this season. A prequarter game with the second place finisher of Pool A is likely, and that would present a tough, but not unwinnable matchup. Before they can look ahead to potential prequarters matchups, though, Nightlock has to avoid being upset at the hands of Chicago. With the mercurial nature of their season to this point, that outcome almost feels as likely.
Likely Ceiling: Quarterfinals
Likely Floor: Out on Day One
Chicago Nemesis [Pool #4, Overall #16]
The 16 seed at Nationals has won a pool play game in each of the last two seasons, including Nemesis defeating no. 9 seed Quebec Iris in 2015. Chicago will be buoyed by that trend as well as their form in the latter half of the season. Back in August, Chicago surprised by winning the Elite Select Challenge, defeating four Nationals attendees in the process.
The Windy City women excelled in blustery conditions in Appleton, WI, so they'll likely be hoping for similar conditions in Sarasota. The team's zone defense proved effective en route to that win, but it was their offensive efficiency that separated them from the pack. First year Nemesis players Dori Franklin and Jenni Corcoran were solid despite the conditions to power the offense.
Another first year player for Chicago, Julia Butterfield, will also be a critical part of the team's performance this week. Butterfield is a superstar in the college game and has displayed those talents at the elite club level for the first time this year. Chicago is certainly thankful for that, as she leads the team in goals this season.
Butterfield creates matchup problems for most teams in the division due to her combination of athleticism and size. If Chicago is to pull off an upset in pool play, don't be surprised if it's on the back of a huge performance from Butterfield.
After a season of missing out on Nationals, Nemesis is back and they look capable of avoiding that 0-3, tournament ending Thursday. They certainly have more talent than a year ago, but the talent is also young, many of them making their first appearance at Club Nationals. That can create limitations on a team's ability to go deep into a tournament, but it can also allow a team to play carefree enough to pull off an upset or two. As a 16 seed fresh off a Nationals absence, that would make a pretty successful tournament for Chicago.
Likely Ceiling: Prequarters
Likely Floor: Done on Day One