The USA finished a golden 12-0.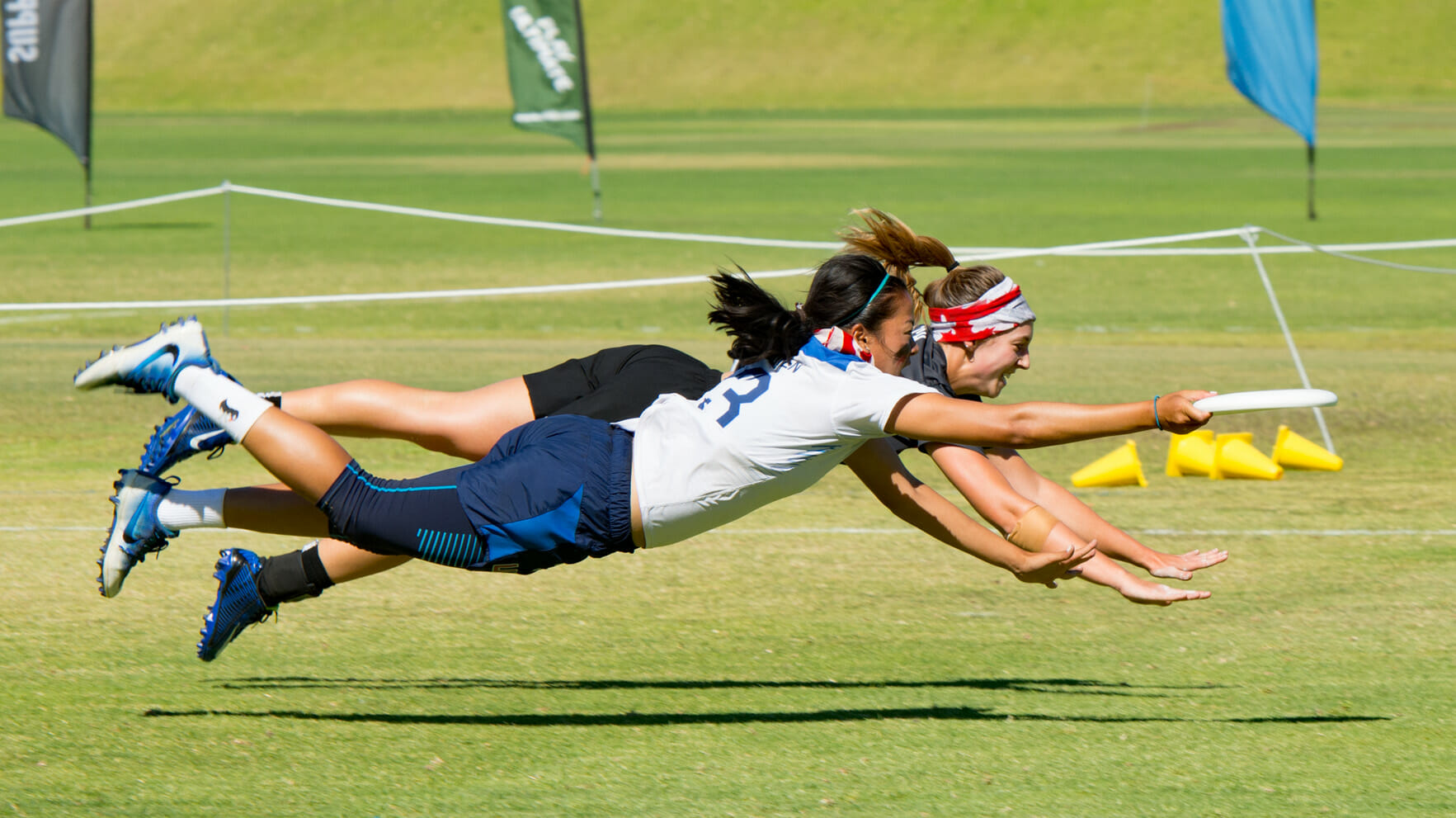 Our coverage of the Under-24 World Championships is presented by VC Ultimate. All opinions are those of the authors. Thanks for supporting the brands that make Ultiworld possible!
The final day of the 2018 Under-24 World Championships was the hottest one yet. The temperature climbed to 98 degrees by midday but was paired with lighter winds than on previous days. For the women's teams in the final bracket playing two full games each, the day was particularly grueling. Despite the conditions, the United States and Canada both easily won their semifinals matchups and prepared for a second showdown in the gold medal match.
"I am pretty nervous about it but I am mostly just excited," said Jenny Wei before the final. Her sentiment echoed the views of other players, trying to relax in whatever shade they could find between games. But not everyone was on edge: U24 veteran Jaclyn Verzuh seemed relaxed as she waited for the final. "Last time I came to U24s, it was the largest stage I had ever played on, and I was handily the youngest person on the team, so there was a lot more wide eyed, big city situation," she said. "Now I feel a little more used to the mental and physical rhythms of Worlds and what it means to maintain excellence throughout the whole time."
Nervous or not, the United States players performed at their best as they defeated Canada 15-6 to clinch the world title.
Jenny Wei finished the game with four assists, and Verzuh had a goal and an assist, along with multiple blocks. Carolyn Normile and Angela Zhu both had two assists and two goals.
The USA set the tone early, breaking to start the game and, after a Canada hold, rattling off five straight, buoyed by a huge backhand huck from Sophie Knowles and deep flicks from Wei and Zhu. To get possession back after a turnover, Wei ran down a Canada huck with a phenomenal burst of speed, running around and past the intended receiver to get to the disc.
As the wind lightened, USA throwing mistakes and intense defensive pressure gave Canada a four point run to get back within one at 6-5, but the game was never close again. Coming out of a timeout, USA scored six in a row. The defensive pressure from Canada was still strong, with USA cutters having to make multiple moves and come almost all the way to the handlers before generating separation. USA also turned the disc over multiple times while trying to transition quickly from defense to offense, but Canada couldn't capitalize. The USA's knack for making a big play was just too much for the Canadians to overcome.
"We went into that game amongst coaches saying we were ready for a battle but it didn't have to be close," said USA coach Alex Snyder after the game.
The highlight of the second half for Canada was Miriam Tingle, who handed Sophie Knowles a rare defeat in the air and scored Canada's only point of the half, running down a huck from Denise Su with no one else able to keep up. For the USA, Nora Landri earned the honor of scoring the final point after multiple blocks and hard, aggressive cutting.
When asked how the USA dominated their division, finishing 12-0, Snyder said, "It was the character of the players we had. Every single player bought into the system and bought into the experience. There was no one that questioned or doubted. Through and through, everyone trusted what the plan was, what the goals were and, most importantly, each other."
The USA players had nothing but praise for their coaches. "Huge kudos to our coaching staff, who I think has done excellent work throughout the week of looking at all of things that are happening and bringing it down to a couple of points which they communicate to us," said Verzuh. "Really keeping it bite sized, small adjustments we can make."
"I am so proud of this group of women," said Snyder. "We asked more and more, and every time they stepped up. This tournament was memorable because it was such an insane schedule. To ask and ask and ask with three days of training camp, a day of rest, and then seven days of a tournament and playing 12 games…as a player I can't imagine getting through that. They did such an incredible job of taking care of themselves and each other, and when we said jump higher, they jumped higher."
Australia Wins Bronze
Australia landed another spot on the podium as their Women's team defeated Colombia in the bronze medal match 15-12, avenging a loss during round robin play.
Kathryn Smith had four assists and a goal and Kim Spragg added a pair of each. Valeria Cardenas played admirably in the loss, finishing with six assists and two goals.
Semis Notes
USA faced Australia in the morning semifinals and cruised to a 15-8 victory. The breeze varied direction through the game but was often a crosswind, allowing Angela Zhu and Cath O'Neil to connect on their deep shots. Australia's Kim Spragg, Alex Prentice, and Michaela Dunmall made for challenging individual matchups. With the score 12-4, Dunmall beat Jacklyn Verzuh in the air on an under cut, then went deep with Tulsa Douglas in coverage. They both came down holding the disc: Australia goal. Dani Runzo, Carolyn Normile, Ella Hansen and Jenny Wei continued to perform at a high level for the United States, combining for seven assists and multiple blocks. However, once USA opened a six point lead, they never lost control and finished out the game with gusto. In the other semifinal, Canada kept ahead of the tired Colombian team for a 15-9 victory.
Photo Gallery