We wrap up our coverage from Perth with some takeaways from afar.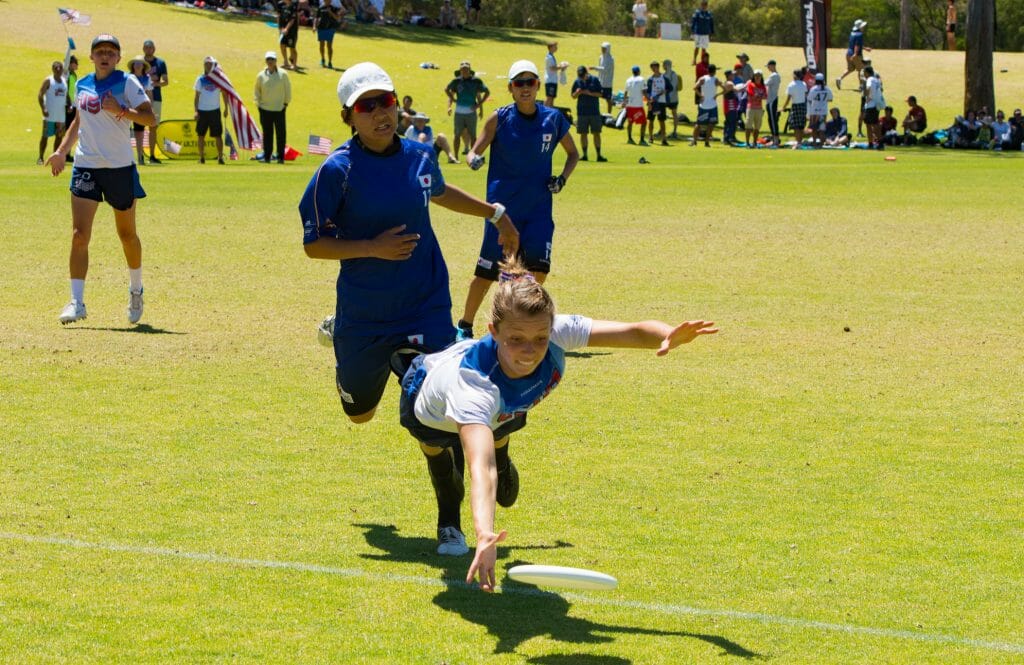 Our coverage of the Under-24 World Championships is presented by VC Ultimate. All opinions are those of the authors. Thanks for supporting the brands that make Ultiworld possible!
With 41 teams playing games across the span of a week on the other side of the world, it's an impossible task for our team to cover every incredible story that came out of the World U24 Championships in Perth. Instead, we've rounded up a few of our staff members to highlight who they believe to be the biggest winners and losers from all of the action:1
Winner: New Zealand Ultimate
Team USA may have walked away with three gold medals, but there was another country that completed a sweep of their own. New Zealand earned an unprecedented three SOTG titles in Australia. While their on-field wins totals may not have been as impressive, the medals they return home with are still commendable. It speaks a lot to the integrity and quality of New Zealand Ultimate that all three divisions could play with dignity and sportsmanship recognized by the entire tournament. With each World Championship event inching ultimate closer to Olympic consideration, the combination of competition and integrity on display from New Zealand is likely the conduct that WFDF hopes to present to the IOC.
By Graham Gerhart
Winner: Kaede Yoshida
The Japanese Women's team were the defending gold medalists coming into this tournament and are likely extremely disappointed with a fifth place finish after being left out of the semifinals. However, in terms of an individual performance, Japan's Kaede Yoshida is a clear winner from this tournament.
This was her first time at a U23 or U24 championship and many may not have known the Japanese captain before last week, but people should keep her name in mind as one of the most athletically dominant players in the game. Her 18 assists and 10 goals are a little overshadowed by her teammate and All-Star Tour member Shiori Ogawa's 17 assists and 30 goals, but that misses the impact Yoshida had on defense. In the game against Colombia, for example, she was able to get both a handblock on Valeria Cardenas and a layout poach block on twin sister Manuela.2 That's just a taste of what Yoshida brought to every big matchup that Japan played.
The biggest disappointment I had in following the tournament was Japan missing semis simply because I wanted to see more of her play. Remember the name as the 22 year old: Kaeda Yoshida will be making an impact in this sport for years to come.
By Ravi Vasudevan
Loser: Canada Men's Team
As harsh as it might be to call a team that went 8-2 on the week a loser of the tournament, the expectations for the Canadian tournament mean that a fifth place finish has to be considered a disappointment.
Unfortunately, it really all boils down to their first game of the tournament, where the Canadians suffered a 15-4 beatdown at the hands of their Australian hosts.This game resulted in the Canadians finishing third in a three-way tie in their pool, putting them on the course to be on the same side of the bracket as the United States. They put up a good fight against the US men, but this team's goals were higher than a moral victory in the quarterfinals.
Credit to the Canadians for refocusing after that first game and beating almost every other team put in front of them, but they'll still be disappointed in themselves for not coming out more focused to begin the tournament.
By Michael Ball
Winner: Japan Mixed Ultimate
If you were to go back and watch the 2015 u23 Mixed final in London, you won't see a Japanese team there. In fact, if you were to look up the semis, they'd also be absent there. That's because Japan Mixed finished seventh in 2015, behind South Africa and Great Britain. Whatever the expectations were for the Japanese coming into the 2018 tournament, it's safe to say they more than met them.
Japan went without a loss until Saturday's final and were within two points of winning a world championship. Finishing with a silver medal in Australia is a remarkable return to form for the Japanese squad. The Asian team matched Team USA blow-for-blow in the final, tied at 11s when cap horn sounded. Losing a tightly contested game to a stacked USA roster safely dispels the ghost of their London performance. It's safe to say their expectations should remain high moving forward.
By Graham Gerhart
Loser: The Game Advisor System
One of the biggest adjustments for players and fans of ultimate contested under USAU rules when watching international competition is the transition from Observers to Game Advisors. While there are reports that in general the Game Advisor system worked as intended during the week-long tournament in Perth, after witnessing a series of disappointing incidents on the high-profile livestream games, it's clear that the system still needs some work.
To be sure, there were times when it appeared that the Game Advisor system worked: players would discuss a call, the GAs would offer their opinion, and things would be resolved quickly and fairly. Other times, it became blatantly obvious that the system is toothless, that it can and will be taken advantage of. The GAs would offer their opinion, and players would all but ignore their input to stick with their call.
What it boils down to is this: because the players don't have to adhere to what the GAs saw, the GAs have no more influence on the game than a heckler in the crowd shouting their opinion. Spirited teams are going to have an honest discussion about calls and make the right decision; unspirited teams are going to make the calls the way that they want with zero repercussions. All the GAs served to do was further highlight which of those two categories teams fall into. With so much on the line at international championship events, I think we can do better.
By Michael Ball
Winner: Joe White
At 2017 D-I College Nationals, Joe White made a name for himself with a breakout showing for Carleton CUT. His star continued to brighten with a solid club season playing for High Five. Watching him play in Perth, you would have never known that he was the youngest player on the USA Men's U24 team.
While his stats aren't particularly impressive (4 assists, 7 goals), White was the most effective cutter for the US men. On countless occasions, handlers found White breaking free as the stall count was rising, providing a release valve for an often stagnant offense. Playing through a nagging hamstring injury, White saved his best performances for the games with the highest stakes and brightest lights; six of his seven goals were scored in the bracket.
It's crazy that White is just about to start his second season of college ultimate. As his throwing and decision making continue to improve, he'll find himself in future POTY and Callahan discussions.
By Michael Ball
Loser: Great Britain's Youth Program
Great Britain is a very successful "country" in ultimate.3 They got a Men's silver medal in WUGC 2012 and WCBU 2015 and were a qualifying country for the 2013 World Games. London's Iceni and Clapham have been the class of Europe for most of the past decade and Clapham even gave Revolver a run for their money and nearly defeated them in WUCC 2014 quarterfinals. However, WU24 has to be a huge disappointment for the Brits. They came in with big expectations but their Men's and Mixed teams finished seventh while their Women's team finished tenth out of 11. Their Men's team faced an embarrassing loss to Germany 15-3 in power pools along the way.
GB youth teams have simply not been that strong internationally in the recent past. Two years ago, they were one point away from a medal in Men's and had a strong fifth place finish in Mixed, though their women placed poorly then as well.4 Looking back at the European Youth Ultimate Championships in the summer of 2017, things started not to look so great. Their Men's U20 finished 12th of 14 and their U17 Men's team finished fifth of 12; they didn't even field a Women's team in either age group. This is a sign that GB youth is getting further away from the top countries of the world and is being surpassed by new European powers in ultimate.
By Ravi Vasudevan
Winner: Italy Men's Team
Anybody who watched the Men's final will agree that the Italians leave this tournament as big winners. While they'll undoubtedly be disappointed in themselves for letting a huge upset slip through their hands, it must be acknowledged that the Italians gave the United States their closest game of the tournament, holding on to a 10-7 lead before succumbing to the comeback.
After middling results in pool play, many will discredit Italy's run to a silver medal as just getting hot at the right time. That would be a disservice to this team; they have some legit talent and played clean, disciplined ultimate. Luca Tognetti was rock solid as a handler and Michele Angella was one of the fastest cutters at the tournament. The future looks bright for men's ultimate in Italy.
By Michael Ball
Loser: The Women's Bracket
It's true that the round-robin format led to some remarkable games in pool play for the Women's division, but it was disappointing to see the reigning gold medalists eliminated from contention in such a harsh and heartbreaking fashion. Yes, Japan suffered three losses during the round robin, but those came by a total of four points — two double game point losses and a 13-11 loss to the US — and the Japanese finished with the second best point differential across the women's division. By the last round of pool play, their fate rested in the hands of a Canadian team that had already secured their semifinal spot and had little incentive to go all out to win a game against Colombia. When the dust finally settled, Australia made semis despite matching Japan with three pool play losses and posting a deficit of -20 in the three games they lost. Ouch.
Few who saw them play at any point in the tournament would make the case that the Japanese women looked only the fifth best side in Perth. They gave the US their closest game during the round robin and have a reputation of storing some hidden defensive machinations for bracket play. Credit where it's due to the Australians and Colombians for doing what they needed to earn a semis berth, and perhaps Japan should have broken out more in pool play to ensure advancement, but I can't shake the feeling we all missed out by not seeing Japan get to take part in bracket play.
By Graham Gerhart
Tip of the hat to:
Singapore Men's
Singapore entered into the men's division among the lowest-seeded teams and the bottom of their pool. While expectations surrounding the team were not very high initially, their victories over New Zealand and Colombia started turning heads. It also earned them a spot in power pools, where they immediately made a statement with a win over a previously undefeated Ireland team.
The team struggled after their early success, but still finished with their heads held high. Four wins and three games decided on double game point was a big accomplishment from the Singapore team. From an island smaller than New York City, they proved that their talent is strong enough to compete pound-for-pound with the best u24 teams in the world.
India Mixed
Anyone that watched the opening game of the u24 tournament will understand why India X deserves a spot on this list. Australia stormed into the game, taking a 7-1 lead. Then, India flipped a switch. India took half. That's a straight 7-0 run from the Southern Asia team. The final chapter of the game saw India win on double game point against a shell-shocked Aussie team. It was a thrilling way to start the tournament.
The Indian team never matched their scorching start. They ended pool play with a 2-4 record and finished 4-5 overall, good enough for 11th place. The team may not have made bracket play, but they were the talk of the tournament for the first few days. In 2015, the Indian mixed team won their first international game ever; in 2018, they beat the previous u24 runner-up team to start their tournament. The future of Indian ultimate seems very bright.
Ireland Men's
They say that the flame that burns twice as bright burns half as long. The Ireland team stormed out the gates to a 3-0 start, beating Great Britain, Switzerland, and China in the process. This was enough to qualify them for the power pool and began mutterings about the potential of a perfect record all tournament. For half a second, the USA Men's team was no longer the clear frontrunner.
Sadly, the power pool is where the Irish luck ran out. Ireland had two disappointing double game point losses to start off their power pool and never recovered. The u24 cinderella story was cut short by the combined power of the Singapore, Japanese, and Australian Men's teams. Ireland dropped into a tough prequarters matchup with team Canada, who was determined to make quarters. Ireland never managed to match the astronomical projections placed upon them by fans after pool play, but still finished with a respectable 5-5 record.
Jacob Fella
Better known as "Specs," Fella came into this tournament as a relative unknown compared to most of his teammates on the USA Men's team. A graduate of Purdue — a Regionals level team not often discussed outside of the Great Lakes — most ultimate fans only knew of Fella if they'd seen his impressive Callahan video.
Perth served as a breakout stage for the big cutter, particularly on the defensive side of the disc. Time after time, when the United States needed a big block, it was Fella who stepped up and made the big play. We'll be keeping an eye out to see where Fella's career takes him.
---