High Tide: yay or nay?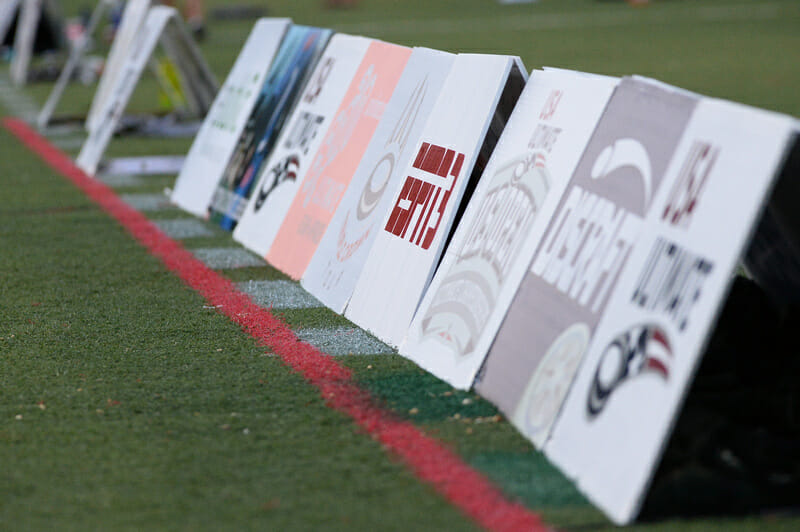 This season, we're trying something a bit different. Every Friday, our team will look at the exciting stories, teams, players, events, quirks, and all the inbetweens, and highlight five that have them hyped for the weekend of ultimate to come. Check out what's caught our eye and let us know what you're looking forward to in the comments.
This Week's Roster
Sam Echevarria, D-III Women's Editor
Mike Ball, D-III Men's Editor
Keith Raynor, College Content Manager
Daniel Prentice, Southeast Reporter
Charlie Eisenhood, Editor-in-Chief
The Five
Dan: Make Tally Classic 
Let me begin by saying that I am biased. It's best to get it out of the way now so you can dismiss my opinion immediately rather than waiting a few more sentences into this. I am from Tallahassee and have been going to Tally Classic since long before I started writing for Ultiworld. But for the life of me, I cannot understand why more top end teams don't attend.
It generally runs in conflict with Men's Centex, and I get that the Austin tournament has more cache. But the fields at Tally are some of the best ultimate fields in the country.1 Truly, that's not an exaggeration. And it takes place in the great state of Florida, which, for all its faults, has more than enough great beaches to satisfy your spring break needs.
And that's what is great about Tally. It maintains a spring break atmosphere no matter the amount of elite teams that show up. In 2016, North Carolina Darkside brought pool noodles as their spirit towel replacements. Notre Dame brings inflatable orcas, rafts, and just about anything else that could be even mildly related to the water. The point is it's a fun time on great fields, and if more teams the caliber of UNC Wilmington and UMass in Men's and Vermont in Women's attend, it could be one of the best tournaments of the season.
No, Tallahassee isn't exactly Austin. But it's a fine city for an ultimate tournament2 and near some of the best spring break beaches in the country. So next year, come on down to Tallahassee for your early March tournament. Don't do it for me. Do it for yourselves!
Keith: "High Tide, Not Die Tide"
What was once my favorite weekend of the college season is now my least favorite.
Back when I was a college player, the annual trip to High Tide (then in Savannah/Tybee Island, GA) with both the American University men's and women's team was one of the highlights of the year. From our traditional team dinner and tournaments, to hanging on the beach, to the new games we made up each year (I spearheaded a Scavenger Hunt for the drive down one year and a couple of rookie competitions in other years), I looked forward to this week of college hijinks and ultimate. It was a chance for us to bond.
But that was then, and this is now. When I was a young coach, I remember trying to convince the team I coached that they should go, recalling the joy I experienced there. Now that I'm old and bitter, I spend all of the week of spring break worrying and avoiding our team GroupMe. There was a phrase that used to float around the team–"High Tide, Not Die Tide"–meant as a word of warning to exercise some modicum of caution. I try to remind them every year. I'm very open to college kids making mistakes but advise them to decide when the costs of those mistakes are simply too high.
Mostly, they do a good job. But between the off field activities, the co-ed play with players who might not be making the best judgment or have control of their bodies, and the spirit of the week, the environment is rife with potential for injury. I fear for someone coming back with a sprained ankle, a concussion, or a torn–I can't even say it. I've seen too many in my time as a coach.
In fact, to prey on me, one year, the team arranged with our men's team a coordinated attack on my fraying nerves. While I was in a nighttime graduate school class, I received a text that our top player had suffered a severe injury after a player on our men's team had accidentally hit her while laying out. Moments later, after a flurry of worried "What's going on?" texts from me, I got a contrite text from the accused gentleman, profusely apologizing for his mistake. At this point, I spiraled. I'm texted my assistant coach, which really only served to create an echo chamber. I walked out of the classroom to make phone calls and get updates about who was headed to the hospital and what the doctors said.
I was relieved, and annoyed, to find out it was all in jest.
I just hope they all make it back in one piece. It's High Tide, not Die Tide.
Sam: Top 6 Reasons to Never Let Sam Name Your College Team
Once in a while, I get a reminder that I'm not as 'with it' when it comes to the D-III Men's division as I'd like to be. Most of the teams I'm familiar with are the ones my college program's men's team would face off against at tournaments both Claremont squads attended, or ones who I'd check out3 for their sweet jerseys. My latest reminder came this week when I found out that both teams at Pacific Lutheran go by the name of Reign while discussing college update with some colleagues. A very dignified name for a sports program Reign is, but I was certainly confused for a solid minute or two wondering why the ladies had matched up against Lewis & Clark Bacchus and Portland Uprise over the weekend (although I have total belief that those would be exciting matches anyway). Twitter came to the rescue — @PLULadyReign and @ReignMenPLU as it clearly and succinctly turns out — but that didn't stop me from having fun with some brainstorming of shared/similar team name changes that, at the very least, entertained me.
Pacific Lutheran Reign (Men's) -> Pacific Lutheran It's Reigning Men
Missouri S&T Miner Threat (Women's) -> Missouri S&T Major Eclipse (of the Heart)
Wheaton Mastodons (Men's) -> Wheaton Mastodons Walking Dinosaurs
Davidson DUFF Women -> Davidson The Power of DUFF
Middlebury Lady Pranksters -> Middlebury Pranking Lies
Whitman Sweets (Men's) -> Whitman Sunglasses (at Night)
Okay, so there's a reason (or six) why no one lets me name their teams. If anyone wants my opinion, though, I would 1000% buy a jersey off any team creatively named for Cyndie Lauper's 'Time After Time,' zero questions asked.
Mike: Fun In The First Rankings
This week saw the first edition of USAU's rankings for this season, and per usual with the first round of rankings, there's a hearty helping of weirdness. Lots of teams at this point are inflated by existing in a rankings bubble, riding deceptively strong results against weak opponents who haven't been exposed as such yet. Because of the lack of connectivity, it's hard to take the bid picture too seriously at this point.
That said, how fun is it to see some random names towards the top? Lancaster Bible College at #1! Sure, they probably aren't even a Nationals quality team, but I would absolutely love to see them play. They blanked two teams in games to 13, playing with a roster of eight players; that's impressive, regardless of the opponent. Is there a chance of them pulling off an upset or two in the series? How great would it be if they turned out to be legitimately good?
How about the Northwest? They currently sit at two bids, something that region hasn't seen in years. Sure, this is likely to change, but it also wouldn't be crazy if they held on to that second bid. Whitman is in a strong position to stay in the top 10, and Pacific Lutheran and Portland have both only played one tournament, meaning they have a lot of their final ranking left to earn. Getting a taste of that strength bid will surely motivate those two programs to make every point matter in the rest of their season.
The relative lack of connectivity in D-III and fewer strength bids available lends to weirdness in the early rankings. It's likely to change as the season progresses, but in the meantime, embrace the weird.
Charlie: Does Ultimate Need Megastars?
Tiger Woods is two shots off the lead at the Valspar Open just a couple hours south of where I'm staying in Tallahassee for the Tally Classic this weekend. If you're not in the golf loop, this is the best golf Tiger has played in years — and golf fans are freaking out. PDGA's livestreaming service crashed today as Tiger surged to the top of the leaderboard. Tiger's effect on ratings has always been enormous; when he's in the hunt, golf fans tune in in droves.
Does ultimate need a Tiger? Obviously, golf is an individual sport, but there are plenty of examples of team sports (NBA, anybody?) that have superstars that draw eyeballs. It sometimes feels that ultimate lacks the star talent that really seems to kickstart interest beyond the average good matchup would create on its own.
Of course, there are many great players in ultimate, but the organizations responsible for making them stars — Ultiworld, USA Ultimate, the AUDL, maybe WFDF — have to do a better job at doing so. This op-ed from Kevin Minderhout has stuck with me: we need more narrative, more rivalries, more stats. We need Serena v. the World. We need LeBron v. Steph. We need a Tiger.
---
On the men's side, anyway. The women's fields are still nice, though! ↩

Hit me up for recommendations on what to do in town. We aren't completely a ghost town here. ↩

not like that ↩