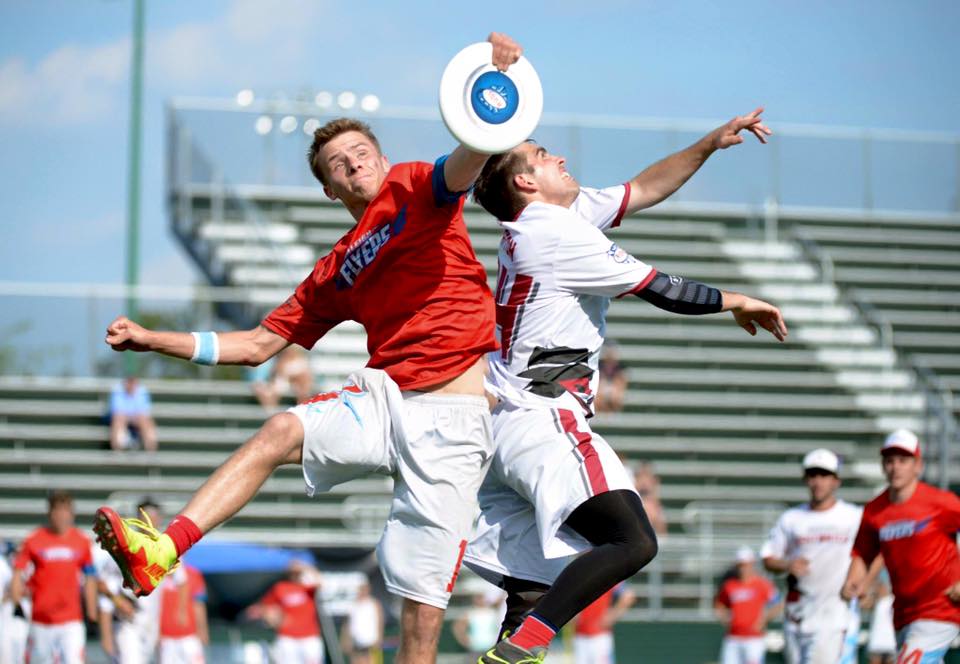 It doesn't feel like that long ago that the San Francisco FlameThrowers hoisted the AUDL trophy as they claimed their first title with a 30-29 victory over the Toronto Rush. But with the 2018 season nearly upon us, it's time to set aside memories of last year and get to work to sort out the best teams in the league this season. With a number of historically dominant teams losing some key players, new franchises may have the opportunity to wedge open the door to a spot at Championship Weekend.
Here are the 2018 preseason AUDL Power Rankings!
1. Raleigh Flyers
The best team in the league that wasn't at Championship Weekend last season is poised to take over pole position — and not just in the South Division. The Raleigh Flyers are bringing back 2017 MVP Jon Nethercutt and giving him a huge new deep target: former Cannon 6'7″ Mischa Freystaetter. Add him to the mix alongside Jack Williams, Jonathan "Goose" Helton, and Jacob Fairfax, and you can see why Raleigh is the clear favorite to start 2018. With a battle-tested defense and Kurt Gibson and Jimmy Mickle out of their Division, Raleigh's ready to hunt for their first championship.
Offseason Grade: A
2. Toronto Rush
The class of the East Division since the team's inception, the Toronto Rush might be the best bet as a lock to make Championship Weekend. This year's team will follow the model from last season: maintain a veteran core, bring in some promising new talent, and sneak up on teams in the postseason. The Rush were one point away from winning their 2nd AUDL Championship last year, slaying the mighty Roughnecks in the semifinals and nearly toppling San Francisco. Pretty much the whole team is back: Andrew Carroll, Mark Lloyd, Cam Harris, and Ben Burelle will be leading the way again.
Offseason Grade: B
3. Madison Radicals
What more is there to say about Madison? Once again, the team will be the favorite in the Midwest. Once again, they will host Championship Weekend. And once again, they will be an underdog in the title race. Don't misunderstand: the Radicals are still talented. The team is extremely tall, which should open up even more defensive options for the league's most creative franchise. But the skill deficit they have to face against the top teams has left them at least a point short every year, and 2018 doesn't look much different.
Offseason Grade: C+
4. Dallas Roughnecks
After running away with the title in 2016, the Roughnecks fell short in 2017, even though Kurt Gibson, Jimmy Mickle, and Dylan Freechild still donned the blue and white. Now, those three are gone, and the team has to come to grips with being the underdog. They're not down and out, though: Jay Froude and Dalton Smith will continue to step into larger roles, and adding Chris LaRocque and Kevin Richardson is a bigger deal than it sounds. Dallas' problem? They're stuck in the south with Raleigh. That medicine doesn't taste so good when they have to take it.
Offseason Grade: D+
5. DC Breeze
Some eyebrows might go up at DC Breeze making the top five, but there's reason to believe that there might be more stability than upheaval in the nation's capital. Rowan McDonnell has continued his steady rise into legitimate stardom, and the team is as deep as ever. Yes, it will hurt to lose Tyler Monroe and Alan Kolick, but lesser-known names like Max Cassell and Lloyd Blake should be able to keep DC safely near the top of the East.
Offseason Grade: C
6. Minnesota Wind Chill
Just how good could Minnesota be this season? While lots of buzz is following Chicago and their pickup of Kurt Gibson, it's Minnesota that should be seen as the greatest threat to Madison's throne. The Wind Chill opened last season with seven straight wins and looked like a new team with Ryan Osgar and Josh Klane cooking on offense. The team loses Brian "Strings" Schoenrock and key defender Jay Drescher, but a plethora of young talent is primed to keep Minnesota plenty competitive.
Offseason Grade: B
7. Austin Sol
Does Austin have a chance to shed its little brother status in Texas? The Roughnecks have owned them since the teams came into existence in 2016, but with Dallas getting worse and Austin getting better…maybe the Sol can nab a home win or two. They steal Matt Bennett from Dallas, and Kiran Thomas, one of the great Texas cutters of the last decade, is emerging from retirement alongside former teammate Mike "Tank" Natenberg, a Team USA representative at the World Games in 2013.
Offseason Grade: B+
8. San Jose Spiders
There will be no more underestimating the Bay Area. San Jose gets into the top 10 as they bring back Justin Norden after a tremendous 62-assist season. Although they cooled off a lot down the stretch, the Spiders still made the playoffs — a feat that few predicted before the season. San Jose may not have a lot of name-brand stars on their team, but 2017 goal leader Jackson Stearns and block leader Brandon Fein are both back, and the rich Bay Area scene offers up plenty of depth down the bench.
Offseason Grade: B
9. Montreal Royal
Last season, the Royal were supposed to stand by as the New York Empire waltzed into the playoffs. Non merci. Riding a strong system and a big home field advantage, Montreal were convincingly the #3 team in the East. With Quentin Bonnaud and Nasser Mbae Vogel coming back and Morgan Hibbert jumping on board this season, the Royal look like they will be a legitimate playoff threat again this year.
Offseason Grade: B+
10. Chicago Wildfire
Kurt Gibson! A return to Midwest relevance! The Wildfire were adrift last season but picking up maybe the greatest player of his generation is a good way to get the train back on the tracks. Ross Barker is also joining the squad, and Pawel Janas is one of the most exciting young players in the league. The Wildfire don't have a lot of depth, but they might be able to get away with that in the Midwest. Also: Kurt Gibson!
Offseason Grade: A+
11. New York Empire
Another splashy offseason for the Empire rings a bit hollow after a lackluster 2017 campaign. The team adds Marques Brownlee and, supposedly, Beau Kittredge, although he is still not on the team's official roster and has not been announced as a player. Assuming he does join the team, the Empire's offense should take a healthy step forward. Ben Jagt and Beau will be a formidable cutting combo. But there are reasons to be a bit worried: last year's team never seemed to realize its potential, and some key contributors like Chris Kocher and Sean Keegan aren't returning.
Offseason Grade: B+ if Beau signs; C- if he doesn't
12. Los Angeles Aviators
Lots of talent returns to Los Angeles this season, and the continuity could bring more success to LA; they're a trendy pick to win the West. It's easy to see why. Mark Elbogen's coming back from an ACL tear, Tom Doi is back, and Eli Friedman will continue to man the backfield. In a wide open West, why not LA?
Offseason Grade: B+
13. San Francisco FlameThrowers
From #1 to #13, it's quite a fall for the FlameThrowers. That's what happens when you lose the large majority of your championship roster in the offseason. There is still plenty of uncertainty about what their team will look like: they've announced very few signings so far (Antoine Davis, Marcelo Sanchez, and Jackelyne Nguyen). And, really, no matter who suits up for the FlameThrowers on opening day, their roster could look totally different six weeks later.
Offseason Grade: F
14. San Diego Growlers
The 2018 Growlers look a lot like the 2017 Growlers but likely a little bit worse. Hunter Corbett is gone. Tyler Bacon is gone. Yes, Sean Ham and Zeke Ivers, the team's goal and assist leaders, respectively, are back, but it's going to be tough to effectively replace some of the production they lose. The good news: the overall power level of the West is down this year, so perhaps they can push to the top of the heap.
Offseason Grade: C-
15. Atlanta Hustle
Change is in the air in Atlanta as mainstay Dylan Tunnell moves on and Nathan Vickroy heads down to Tampa to play with the Cannons. Parker Bray will keep shooting, and Josh Bush is a player to watch (and obviously Matt Smith will keep balling). There's lots of youth on the roster, but it feels like we've been waiting for that youth to really blossom for a few years now. New head coach Miranda Roth Knowles might be the ticket.
Offseason Grade: C-
16. Pittsburgh Thunderbirds
It was a brutal offseason for the Thunderbirds as the team lost Tyler Degirolamo, Max Thorne, and Pat Earles. With the handler core depleted, the Thunderbirds are going to have some searching to do to dial up some offense. Expect some solid defense, but it might be a slow start for the T-birds.
Offseason Grade: D-
17. Tampa Bay Cannons
Extreme makeover: Florida edition! With new owners, a new head in coach in Andrew Roca, and new hometown, the Cannons are thinking about a fresh start. Unfortunately, they lose some really important pieces, like Mischa Freystaetter, Jeremy Langdon, and Chris LaRocque. Picking up Nathan Vickroy is nice, but Tampa Bay has a lot of leaks to plug. There are bright spots: Bobby Ley could have a monster season.
Offseason Grade: D
18. Indianapolis Alleycats
The Alleycats want respect, but respect has to be earned. The 'Cats haven't made the playoffs since 2014. This is their best chance in a while. If Chicago doesn't get it going, the Alleycats could swoop in and take the third spot. They have remarkable roster consistency and add U24 Team USA selection Keegan North this season. Could they steal a game from Madison in Week 2?
Offseason Grade: B+
19. Seattle Cascades
Mark Burton is back for the Cascades, and that's a big deal. He threw an absurd 81 assists last season (1st on the team) and tacked on 36 goals (2nd). He will almost single-handedly keep the Cascades competitive. But many of the other top contributors from last season won't return and the team will look to young Seattle talent to fill in. Notably, three women–Qxhna Titcomb, Steph Lim, and Charlie Eide–made the roster, making the Cascades the only team in the league to roster more than one female player.
Offseason Grade: C-
20. Philadelphia Phoenix
The biggest news for the Phoenix is the addition of Trey Katzenbach as head coach. Elsewhere, the team is bleeding talent (Sean Mott, Nicky Spiva, Marques Brownlee) and might find itself back at the bottom of the East this year. Himalaya Mehta is a nice pickup.
Offseason Grade: D
21. Ottawa Outlaws
For now, Ottawa is the bottom-ranked East team after last year's sixth place finish. But with the addition of Karl Loiseau to a team that clearly underperformed last season, there's lots of room for optimism. Derek Alexander is one of the most exciting handlers to watch.
Offseason Grade: B
22. Nashville Nightwatch
The addition of Stephen Poulos to Nashville hasn't been discussed much because of Nashville's bottom-dwelling status, but he should help the Nightwatch be a more competitive team this season. Unfortunately, that doesn't count for much in the brutally strong South Division.
Offseason Grade: B
23. Detroit Mechanix
There's no way around it: the Mechanix are just awful. There's not much to be excited about after many of the team's most productive players have left. It's hard to see where the wins will come from. Maybe next year.
Offseason Grade: D