The region may have fallen out according to seed, but the tournament had its fair share of chaos along the way.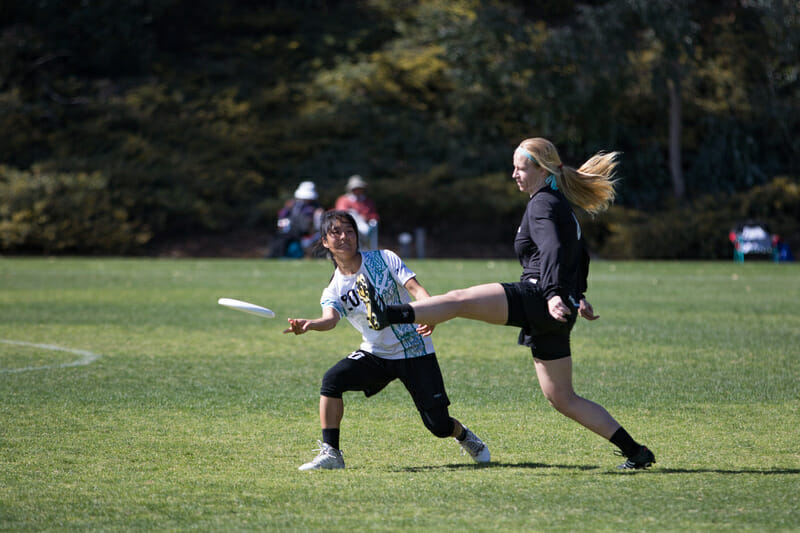 Coverage of D-I women's regionals is presented by VC Ultimate as part of their season-long support of our women's coverage. All opinions are those of the authors. Please support the brands that make Ultiworld possible and shop at VC Ultimate!
UC San Diego, Stanford, and UC Santa Barbara went into Southwest Regionals having earned three bids for the region. When all the dust settled, UCSD, Stanford, and UCSB successfully retained those bids and are headed to Milwaukee. Even with the relentless wind of San Luis Obispo leveling the playing field, the top three seeds still won outright.
After losing to them twice in the regular season, UCSD finally bested Stanford to claim the Regional title in a game that can only be described as a war of attrition. In the game for the final bid, UCSB survived a harrowing match against Cal Poly SLOMotion that was ultimately decided on double game point.
UCSD's Suffocating Defense Helps Win Them The Region
Before Regionals, there was a small debate as to whether #3 UC San Diego or #2 Stanford was truly the best team in the Southwest. After this weekend, it's safe to say we got our answer. Across the seven games that UCSD played this weekend, their opposition managed to accumulate a whopping total of 19 points against them. That's an average of 2.7 points per game.
Their march towards victory started early on Saturday, where the Psychos clinched their pool with three quick games against Northern Arizona, Arizona, and UC Davis. It was very apparent that UCSD's offense was well suited for the wind. Kelli Iwamoto, Samantha Wool, Dena Elimelech, Leanne Go, and their supporting cast were more than happy to slowly work the disc up the field with short, quick passes that the wind could not batter down. Many of their upwind breaks happened because their handler weave was relatively unfazed. Their zone defense didn't give their opposition much of a chance to get back in the game, either.
By the time Sunday rolled around, UCSD had their strategy down pat and were never in danger of losing a game until the final. Even their semifinal match against UCLA was not a close contest. UCLA had just come off a nail-biting victory versus Cal Poly SLO and didn't have the energy to put up much of a fight once the Psychos got going. Most games were a prolonging of the inevitable. From day one, San Diego knew that their Regionals performance would come down to their game against Stanford.
From the very beginning, it was obvious that whichever team could play better in the wind was going to win the game. The wind was very much an extra defender and bent every offensive tactic to its whim. Unfortunately for Stanford, this suited UCSD just fine. The Psychos were aggressive downwind and unafraid to turn the disc over. In the first point, they had multiple turnovers but still came out of it ahead because Stanford could not work the disc upwind against the UCSD zone. On the very next point, the Psychos scored an upwind break.
"We told the team that they won the game in the first two points. After we scored an upwind break we knew exactly how we planned to win out the game," said UCSD coach Carlo Stoun after the game.
As it turned out, their plan was to exhaust Stanford. Instead of maintain any pretense of possession ultimate, UCSD hucked as far as they could every time they picked up the disc, both upwind and downwind. This forced Stanford to work it the entire length of the field and be conservative with the disc, lest UCSD have a chance to huck it again and reset all their hard work.
Stanford's dedication to playing clean ultimate turned out to be their downfall. UCSD's strategy worked to perfection and Stanford's handlers looked tired and flummoxed after only three or four points on the field. UCSD took half 8-2. The moment half was over, UCSD's started playing to hard cap. They completely discarded their offense in favor of deep shots and put far more effort into defense than offense. It was not beautiful ultimate, but it gave them the victory. UCSD won 8-6 by enforcing a strategy that looked more like table tennis than ultimate. Nevertheless, they vanquished the ghosts of their regular season and finally beat Stanford in their third bout this season.
Stanford Suffers Their First Regionals Loss in Four Years
Even though Stanford suffered a loss in their final game of Regionals, they had a fantastic tournament. The team took care of business on Saturday and was never really tested until the final. And if Stanford and UCSD do meet again at Nationals, there will likely be far less wind, which will change the dynamic completely. Overall, Superfly should still be very content with their tournament despite the final result.
Stanford's blueprint for playing at Regionals matched their game plan for much of the regular season. They worked the disc within their system and were very efficient. On defense, they mostly played zone to pressure teams in the wind and would switch to person defense every so often to keep their opponents guessing. Throughout the weekend, Stanford relied heavily on Michelle McGhee and Hallie Dunham to work the disc against zone. With the wind being so intense, the calculated throws of Dunham1 really gave Stanford an advantage for most of their upwind breaks. She assumed the central handler position and marshaled her team, often pointing them to the positions where she wanted them to cut.
UC Santa Barbara Completes Their Cinderella Story
All season long, #17 UC Santa Barbara has surprised teams with their talent and athleticism. After their double game point victory over #25 Cal Poly SLO, they'll have the chance to continue to surprise teams at Nationals.
It wasn't exactly smooth sailing all the way for the Burning Skirts this past weekend, though. While they were undefeated in pool play, their crossover game against UCSD was a bit of a wakeup call. The two teams traded early on and it did seem like there was a chance that UCSB could keep the game close the entire length. But UCSD eventually found their legs and went on a tear to close out the game 13-4. The score doesn't quite reflect how close the game felt and UCSB made many exceptional plays down the stretch, particularly on defense.
"We really just focus on fundamentals, the handblocks and blocked shots that we got on UCSD were because we practice being aggressive marks. During the season we learned to read players throws and get in their way. It worked for us a bit in this game," said Mary Mraovich, one of UCSB's defensive handlers.
UCSB suffered their second defeat during quarterfinals to a surging California team. The Burning Skirts got out to an early lead and were up 11-6 before Cal started rolling. Manisha Daryani's squad played at a level that hadn't been seen all season and the Pie Queen's veterans took over the game against UCSB, erasing the five point deficit. With the game tied at 12-12, UCSB's Kaitlyn Weaver made a costly overthrow and Cal didn't allow the Skirts to get the disc back, winning on double game point. It was a shock for the UCSB team, but they weren't out of contention yet.
Two strong wins over SDSU and UCLA gave them their chance to play for the third bid against Cal Poly SLO, who had just upset Cal. With highly windy conditions, Weaver and Julia Kwasnick were instrumental in helping UCSB gain an upwind break and stifle any chances for Cal Poly to gain one of their own. Nicki Sun had some amazing plays of her own, and skied multiple Cal Poly SLO players for goals, blocks, and critical catches. With the game winding down, and UCSB leading at 13-11, SLOMotion pulled off an impossible upwind goal from strong plays by Caroline Swanson, Danielle Tran, and Chloe Li, the latter of which had been especially impressive with her hucks. SLO punched in the ensuing downwind break to tie the game at 13-13, setting it up for a double game point final. In the end, Nicki Sun reeled in a pass for the goal and sent Santa Barbara back to Nationals for the first time since 2015.
On their tournament as a whole, the team was very happy with their performance, and the coaches were, too. Ronnie Eder, one of the UCSB's two coaches, was particularly impressed with their rookies. "Our rookies really stepped up, especially on defense. They were grabbing and blocking everything."
All-Tournament Team
Dena Elimelech (UC San Diego)
Hallie Dunham (Stanford)
Kelli Iwamoto (UC San Diego)
Katherine Jordak (UCLA)
Julia Kwasnick (UC Santa Barbara)
Jackelyne Nguyen (California)
Kaitlyn Weaver (UC Santa Barbara)
---
As an aside, the tournament was missing Scott Dunham and his ladder. One cannot help but think he may be the key to Stanford's success. ↩