UC San Diego's offense isn't complex, but they've honed it to be very effective in their journey towards the top of the women's division.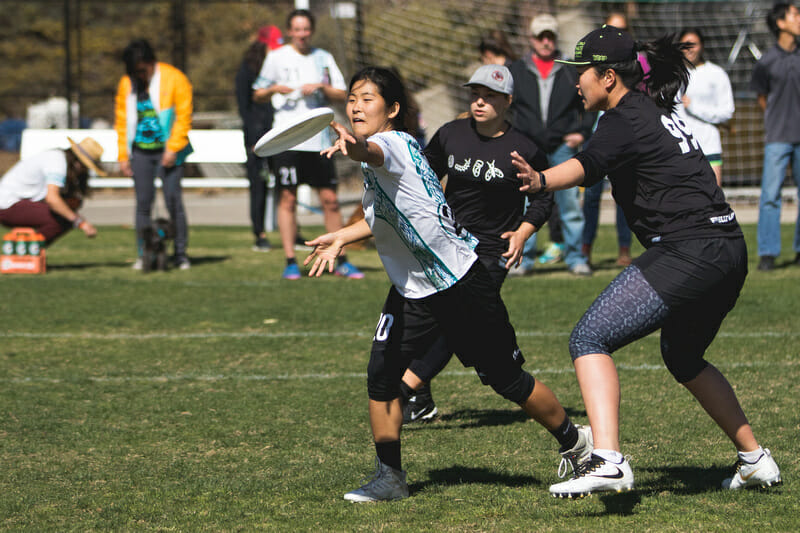 In 2017, UC San Diego was still very much an unproven squad. The team only had three seniors on their roster and had struggled to make it past Regionals for over a decade. To the casual observer, the team appeared to be in full rebuild mode. The narrative changed completely at the 2017 Southwest Regional Championships in Roseville, CA. There, the Psychos upset Southern California to make Nationals for the first time since 2007.
Less than a year later, UCSD ended the regular season ranked third in the entire division with a 23-3 record, including wins over elite programs like Oregon, Texas, and British Columbia. They won the Stanford Invite and haven't placed lower than third at any tournament all season. This past weekend, they dominated en route to claiming the Southwest Regional crown, wrenching it away from Stanford, one of only two teams who had beaten the Psychos all year. It's safe to say UCSD has arrived.
Frankly, no one saw it coming. Even the Psychos' coaches, Alisha and Carlos Stoun, admit that the team has exceeded their expectations in every way. Looking back on their season so far, UCSD's rise may be surprising, but it's not undeserved. The team has cruised to victories through one of the most efficient and structured offenses in the country. For San Diego, their years in development weren't used to cultivate stars, but to create a system.
If you haven't managed to watch a UCSD game this season, here's what you're missing from their offense.
Don't Let the Disc Rest
If you have the opportunity to watch any UCSD footage, try counting the stall. Not to spoil the fun for you, but UCSD will almost never use the full stall count. Rather than holding the disc and waiting for cuts to develop downfield, they will look for the dump pass early. This keeps the defense on its toes, constantly changes angles of attack, and generates low-risk upfield looks.
When the handlers have the disc, they're frequently looking to execute a handler weave. The weave is often effective because their cutters give them plenty of space to work.
It's reminiscent of the 2016 Harvard men's team that made it to the final at Nationals. But while Harvard relied heavily on Mark Vandenberg and John Stubbs, UCSD has a larger range of players to distribute their touches to. They feature only four pure handlers, but about eight players who can get involved to run the weave.
Their weave is effective to advance the disc, but also allows them to just keep the disc moving without relying on risky throws. Unlike many of their competitors, UCSD rarely forces inside break throws, attempt overheads, or relies on high-profile receivers to come down with high passes. They're far more comfortable moving the disc laterally until a break or upline cut becomes available and earns an open throw in power position. This predominantly works because their reset throws—and even short upfield passes—are thrown into space, not directly to the receiver.
As a unit, the team has been trained to look downfield for only two or three stall counts before turning to their handlers. Unless there is an open pass, their cutters do not move the disc to gain yards. By simplifying their decision-making into a series of simple progressions—1) straight pass to open receiver on the break/open side 2) huck to cutter with separation 3) reset pass to handler—UCSD has eliminated a lot of variance and risk from their offense.
Off-Hand Throws
For most teams, highlighting a single throw as a pillar of their offense would be crazy; not so with UCSD. While off-hand throws are growing in popularity, no team uses them as often or as effectively as UCSD. For the Psychos, off-hand throws are used to initiate their offense,
reset the disc,
break the mark,
or beat a zone. Sometimes, it's used for all of these at once.
While their central handler, Kelli Iwamoto, is the primary culprit, the entire UCSD team has practiced their off-hand throws.
The success of these throws stems from one simple fact: college teams don't quite know how to defend against it yet. A high pass that floats upfield out in front of the reset handler—like the one shown above—is almost impossible to guard if the defender is unaware that it's coming.  For most college teams, this pass is reserved for high-stall situations. UCSD uses it every chance they get.
It's been their most effective weapon at the end zone, too. At the endzone line, most defenders will instinctively mark the under space on the force side, and for good reason—it's the place offenses traditionally attack. UCSD often ignores this space, preferring lofty off-hand throws to the break side that sail past the defender into the open hands of their receiver.
It even allows the Psychos to attack the endzone directly from the dump space. This is a throw they make again,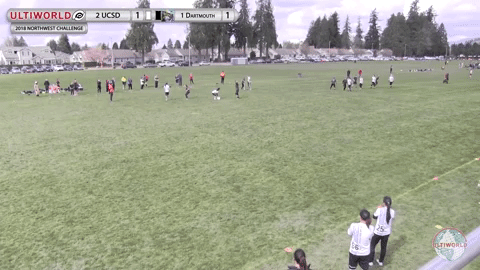 And again,
And again.
If teams adjust their marks and sag farther off to prevent off-hand throws, the UCSD handlers use the extra space to attack windows left open by out-of-position downfield defenders.
Disciplined Structure and Committing to Roles
While their off-hand throws may be the signature flourish of UCSD's game, it's not the engine of their offense. UCSD runs a disciplined vert stack where, similar to a well-made machine, every part has a purpose. UCSD moves the disc at their pace and often won't give time for the defense to set. It's a strategy that's helped them win nearly all of the games they've played.
If you thought that clip looked like simple, fundamental offense, you're right. UCSD doesn't beat teams by featuring the best huckers or deep threats in the division. Instead, they win their games by playing sound, purposeful ultimate, hitting open cutters and dump-swinging when they need to.
That's not to say that there's nothing special about UCSD. If you've watched any full game from their season, there are some consistent traits you may notice. For a start, no player on UCSD keeps the disc in their hand too long. UCSD's offense may be rudimentary, but it's fast. When the disc is in the backfield, the handlers are constantly swinging and resetting the disc to find a safe pass. They never settle for a tight window and are willing to lose yards if it means keeping this disc.
UCSD's cutters have also bought into this system. When they receive the disc, the Psycho cutters will look downfield for one safe pass. If there is no safe option, the cutters immediately turn to look at their handlers.
Punishing Under Marks
In their earlier tournaments, UCSD set a precedent of hucking to their cutters if they had space deep. Even when these throws did not connect, it set the tone for the rest of the season. Over their past few tournaments—especially in their Stanford Invite final—they started to reap the rewards of this system. Players like Alexandra Cruz and Dena Elimelech frequently exploited defenders that didn't respect their deep game, bursting deep from a standstill.
If their defenders are not respecting the deep space, UCSD has the throwers to capitalize on this mistake and gain quick yardage. This is especially important when defenders try to poach in the lane. If a UCSD cutter recognizes the poach, they immediately strike deep for a mid-range gainer or huck. This exposes the poach and forces the defender to respect the player for the rest of the game.
Many of UCSD's fastest goals come from a lapse in judgement from the defense. To adjust, their opponents will often position themselves behind the cutter, giving the cutter room for an open under cut. The threat of aggressive hucks forces more honest marking from the defense. For elite defenders, this is not their preferred role on defense. Watch how Hayley Wahlroos is caught out of position here because she was watching for a chance to play help D.
For the record, there was nothing truly wrong about Wahlroos' positioning. Against lesser teams, her penchant for help defense is invaluable. The only problem is that UCSD has the discipline and skill to punish poaching defenders in a way that many other teams cannot.
Play by the Book
Many teams talk about working on their fundamentals, UCSD has simply taken this concept to the next level. The Psychos coaches haven't reinvented offense in ultimate, nor are they trying to. Instead, they use tried-and-true offensive tactics to win their games. They just currently do it better than almost every team in the women's division.