A wild week in the AUDL.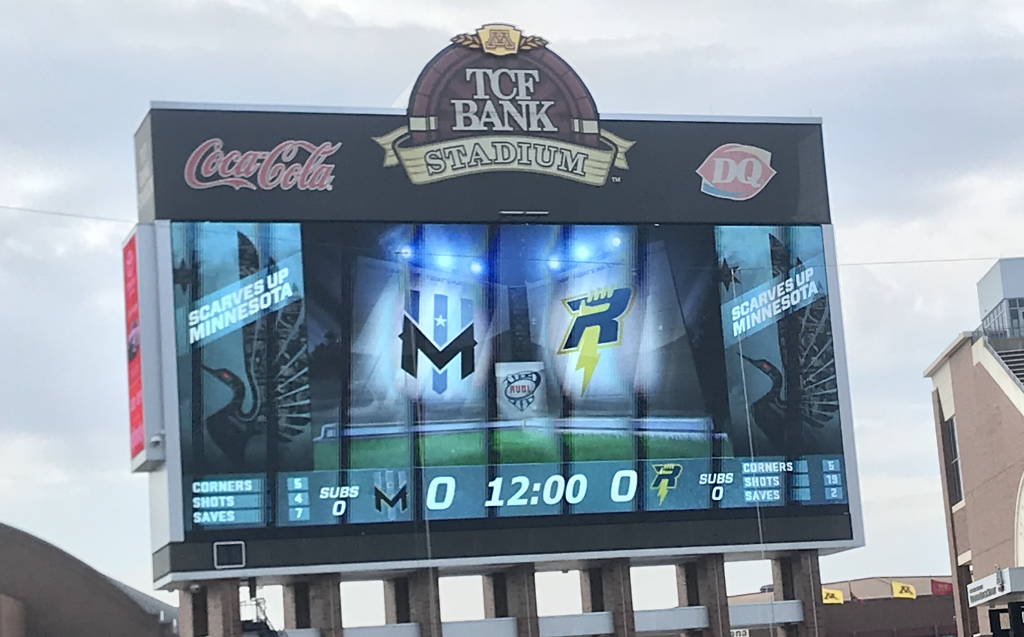 Throughout this AUDL season, Ultiworld will be publishing a weekly Throwaround, a chance for you to catch up on the amazing, funny, and interesting moments that you might have missed from the weekend's games.
Three one-point games, shock upsets, Twitter controversies: week six had it all.
The Scores1
San Diego 31-28 San Jose
Philadelphia 17-14 Montreal
Madison 20-19 Minnesota
Indianapolis 31-22 Detroit
Austin 23-22 Atlanta
Seattle 27-25 San Francisco
Los Angeles 33-31 San Jose
New York 19-18 DC
Raleigh 23-20 Tampa Bay
Nashville 22-20 Austin
Ottawa 22-19 Philadelphia
Indianapolis 27-18 Pittsburgh
Wind Chill Chilled In TCF Bank Stadium Debut
Inside of TCF Bank Stadium, immediately following a home game for the Minnesota United of the MLS, the Madison Radicals beat the Minnesota Wind Chill 20-19 in a game that came down to the final throw.
Several hundred mostly ultimate fans with several groups of soccer fans that stuck around took in the game on a beautiful afternoon in Minneapolis.
The Wind Chill had the opportunity to go up two going into halftime, but a miscue ended a late drive. Madison went on a 6-3 run in the third to take control of the game. An end of the quarter buzzer beater from Minnesota cut Madison's lead to 16-14.
With Madison up one, a few Radicals mistakes gave the Wind Chill a chance to force overtime, but a hail mary at the buzzer fell harmlessly to the turf, giving Madison a 20-19 victory.
Notable: no player on Madison had more than two assists, and Madison's zone forced Minnesota into nearly twice as many attempts in the swirling stadium winds.
– Tanner Jurek
Growlers Win To Stay in 1st
San Diego once again ends the weekend in first place in the division, continuing to put together one of the most surprising stories in the AUDL this season. On Friday night, they beat the San Jose Spiders 31-28. Sean Ham led the offense with five goals and an assist. Many of the Growlers saw playing time on both the O- and D-lines, a strategy not seen as much this time of year, when lines have generally consolidated after a period of early season experimentation.
Meanwhile, for San Jose, this was the start of a tough weekend in SoCal. Notably, Ethan Falat stepped up and threw seven assists and Brandon Fein caught a Callahan, but, despite starting with a 3-0 lead, they went to halftime only up 13-12 before getting outscored by three in the third quarter. The Spiders were not able to mount a serious comeback, letting their deficit swell to six before snagging a few breaks to close the game.
The Spiders are clearly a quality team, with five of their six games decided by three goals or fewer, but they have lost three of those games (as well as the only blowout, a nine point loss in Los Angeles). They have yet to prove that they can win tight games, while San Diego has taken four of their five games within four points (they also have their own blowout loss to LA) to lead the division in wins.
Especially in a league with so few games, these close games will make all the difference in the standings, which, surprisingly, still show the Growlers on top of the division.
– Alex Rubin
Buy Alleycats Stock (But Be Prepared To Sell)
The Indianapolis Alleycats have crushed an easy schedule so far this season. They are 5-1 with with their only loss coming at the hands of the Madison Radicals.
They'll play Pittsburgh again next week and will probably come out of that game 6-1. Then things will start getting more difficult. They'll play a Chicago with a possibly healthy Kurt Gibson, then Minnesota on the road, then Madison at home, then Detroit at home, then Madison on the road, Chicago on the road, and end the season with a matchup that could have big playoff implications: Minnesota at home.
This team has the opportunity to make a name for itself on the national stage but could also finish the season 7-7 or 8-6.
– Tanner Jurek
BBB: Babbit Buzzer Beater
Lonzo Ball would be proud: Jeff Babbitt sent New York fans home happy with the and-one dunk at the buzzer to end a streak of seven-straight losses to the DC Breeze. (Turn down your volume — our mics were a wee bit hot…)
Big baller, indeed.
Fun fact: that was Jeff Babbitt's only goal of the night.
– Charlie Eisenhood
LA Survives a Tough Challenge
Before Saturday, LA's three wins this season were all blowouts, but in the Stadium Game of the Week, they survived a close, high-scoring affair with the San Jose Spiders, winning 33-31. Each team's offense was clicking, with plenty of hucks to dazzle the crowd and some absurd catches to break up the monotony of perfect offense.
Chris Mazur led the way for the Aviators with a whopping nine assists and five goals, pairing nicely with Sean McDougall, the speedster who recently moved over to the O-line and finished with three assists and six goals of his own. He caught literally everything thrown his way, including several layouts on low trailing hucks, and tallied an important short field block to get possession back and save a key hold. After going down 3-1 early and training 16-14 at halftime, LA used a mid-third quarter three goal run to take the lead that they would never give up, holding the rest of the way to ice the game.
Sonny Zaccaro was the unquestioned leader for San Jose with a ridiculous 74 completions. Zach Sabin and Jackson Stearns used their speed and size to combine for 12 goals. LA had a tough time getting blocks on them, but the Aviators were able to do just enough to take advantage of the rare San Jose miscue and steal the win.
Looking ahead, the Aviators are a half game back of first place in the division and look like one of the most impressive teams in the league. They proved Saturday night that they can win close games against quality teams and are certain to be a threat come playoff time. San Jose is still hanging around at 2-4, but this is the kind of game they needed to win if they want to seriously threaten for the division crown.
– Alex Rubin
Indy's Social Media Fails In The Face Of Controversial Play
The lovable little brother of the Midwest Division has started to get some wins recently. This has caused them gain some confidence and start making a little noise on Twitter. Basically gifs, gifs, and more gifs.
But a hard, uncalled flagrant foul from Indy's Keenan Plew vs. Detroit started to make the rounds on social media and people were rightfully not very happy about it.
In true Indianapolis Alleycats Twitter fashion, the response was in gif form. The original tweet has since been deleted.
Backlash was swift. Indy has to be better than this. This isn't how you run a professional Twitter account. This isn't how you win fans or relate with your community. There is no upside to this response. It might be time to change the password and let somebody else take a shot at it.
When a dangerous or malicious act is committed by a player on your team, the role of the Twitter account should be to inform fans of any news related to the incident, whether it be an explanation or update or apology. It should not be used to play the victim.
To Indy's credit, this morning they deleted the witch burning tweet and posted a series of tweets with the following message:
In regards to the play. The play was given to the league and the AlleyCats were willing to respect the league's ruling regardless of what it was. The organization believes in fair play but acknowledges the reality that in a highly athletic, competitive environment play can become overly physical. Though the gif posted in question doesn't provide the entire picture of the mutually overly physical play between both athletes, we acknowledge the poor light it may shed on the organization. The organization will address its players regarding overly physical play and spirit of the game. In regards to our social media responses or lack there of, broad strokes were being made about a person's and organization's character and moral fabric based on a very small sample size.

We acknowledge that a statement should have come quicker however we will continue to promote our team, support our players, engage our fans and post dumb memes.

From the guy who runs the Cats Twitter, this is what I emailed our team captains this morning: I'll apologize to you guys if yesterday's tweets resulted in putting the team in a poor light. I care very much not just about our organization but also about our players. Some of the comments being made regarding both our character and Keenan's were unfair and out of line. I let emotions play a part in what should have been a business response.
But when hours earlier, Indy's Twitter is picking a fight with a critic on Twitter by correcting their spelling, it all feels a little hollow.
Indy needs to do a better job, for themselves and the league they represent.
– Tanner Jurek
Nashville Snaps Brutal 17-Game Losing Streak
Nashville caught Austin a little sluggish on the second game of their back-to-back and delivered a 22-20 win over one of the strongest teams in the league. That's the way to end a losing streak!
Austin ended the trip 1-1 with a narrow 23-22 win over Atlanta.
– Charlie Eisenhood
Great Stuff
Philly Beats Montreal AGAIN!
The Phoenix went on a two-game Canadian road trip this weekend and opened things up with another win over the Montreal Royal, who are going to have to really improve their play to return to the playoffs this season. Philadelphia had 24 blocks in the game, led by Matt Esser's four, as Ethan Peck led the way on offense with two goals and five assists in the 17-14 victory.
It was not a perfect weekend for Philly, though, as they lost their back-to-back in Ottawa, who finally got into the win column. Philly only had 15 blocks in the Ottawa game.
It was Philly's first road trip and first weekend with two games. They got a taste of how tough it can be to get that second win, even if you're playing the Division's bottom team. All in all, Philly remains well-positioned for a potential playoff run. A home and away with New York over the next two weekends will be pivotal.
– Charlie Eisenhood
San Francisco Falling Fast, Four Women Play in SF v. Seattle
Last year's champions are 1-4.
While San Francisco lost many of the stars that won the 2017 Championship, I'm sure they did not expect to be in last place this deep into the season. San Francisco has not been able to keep its entire roster together, with players missing time for various injuries or other commitments. There is so much talent in the Bay Area that it is way too early to count this as a lost season for San Francisco, but if they have any hopes of defending their championship, they need to end their current three game skid. The FlameThrowers are clearly the most talented last place team in the league.
Their loss this weekend hinged on Seattle's execution, though, rather than the FlameThrowers lack of firepower. Mark Burton completed 97% of his passes for 12 assists and Brad Houser hauled in five goals without a turnover. Shane Worthington came away with five blocks to stifle the San Francisco offense. Seattle never trailed in the game, answering every punch the FlameThrowers gave them.
The Gender Equity movement notched a win Saturday night as well. Seattle had two women on the active roster for the game: Steph Lim played about half of Seattle's offensive points and Charlie Eide played about one-third of their defensive points. Natasha Won and Gina Schumacher were the first female players to suit up for the FlameThrowers. Schumacher had one goal.
It's a sign of how women are seeing increased (though certainly not yet equal) opportunities to showcase their talents on the professional stage.
– Alex Rubin
---
Home team in bold. ↩